Washington Redskins:

Cris Collinsworth
December, 19, 2013
12/19/13
9:30
AM ET
Former NFL quarterback
Phil Simms
called it a good thing. Former NFL receiver Cris Collinsworth called the entire mess unprecedented.
When it comes to the
Washington Redskins
and
Robert Griffin
III, there are endless opinions on what has transpired. Because both Simms and Collinsworth played the game and remain in it as broadcasters, for CBS and NBC, respectively, their takes are interesting.
Talking on Showtime's Inside the NFL, Simms said benching Griffin did not bother him.
"You could say performance wise they needed to make a change to help the football team," Simms said. "There are a lot of things, are they doing for spite? Doesn't matter. I do agree with this premise: Sit him down, let him make sure he's healthy, see what he can learn from the sidelines. I don't disagree with that premise -- if you do buy that premise."
Collinsworth then spoke to the dysfunction surrounding the franchise.
"I have honestly never seen anything like what's going on in Washington right now," he said. "I mean, since maybe the old days of the New York Yankees and Billy Martin. It is a soap opera. There are so many layers to what's going on in Washington right now, you just wonder could it ever possibly be fixed. And I guess they're just going to blow it up again and start all over again. Who knows what they're going to do? But this is as strange an end to the football season as I've ever seen."
Simms then returned the conversation to Griffin.
"He did need to step back, RG3," Simms said. "He needed to step back and it does help you… When you come back I do believe it makes you a different, and most of the time a better, player."
It will certainly make him more motivated. And what will make him better is a full offseason devoted to improving in the pocket, something he could not do last offseason. He needs to have a strong offseason to show his teammate how he'll respond to this situation, especially if
Kirk Cousins
continues to play well.
"The most interesting part for Washington's situation is what is happening in that locker room," Collinsworth said, "and how do those players feel about Robert Griffin. I don't know the answer to that question. I've heard bits and pieces of things, but I think Robert could do a lot in this offseason with his work ethic, with his relationship with teammates, to make this football team better next year."
December, 1, 2013
12/01/13
1:30
PM ET
NBC Sunday Night Football analyst Cris Collinsworth is clear where he stands on Mike Shanahan: He should return. He also is clear on the salary cap penalty the
Washington Redskins
endured: It crushed them. My guess is you'll hear a lot about this during tonight's game (8:30 ET).
It's what Collinsworth discussed during an appearance on ESPN980 Friday with Steve Czaban and Chris Cooley.
Here are the highlights (followed by my take):
[+] Enlarge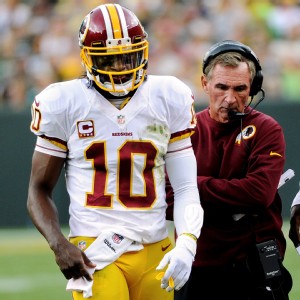 Benny Sieu/USA TODAY SportsBoth QB Robert Griffin III and coach Mike Shanahan have had to deal with great challenges as they try to get the Redskins on the winning path.
Collinsworth said the Redskin need to decide, "We have Robert Griffin III and this is the way he plays quarterback and we have Mike Shanahan and this is the way he's going to play offense and do we believe as a playmaker that you can win football games without being able to sit in the pocket and go one, two, three and read your way through a defense? I don't know that I believe that just alone the read option and the play-action against a single high safety is going to get you to a Super Bowl. People have caught up with that a little bit and like Philadelphia, you're going to have to evolve."
My take:
I agree. I'm a fan of the read option, but even after last season I felt the only way for the offense to evolve was for the passing game to do so.
The hosts then asked if Collinsworth remained firmly behind Shanahan after three straight losses (he had backed him strongly on an Inside the NFL appearance last month).
Collinsworth: "If you were going to ask me what I think is best for the organization, I think what's best is to convince Robert that Mike Shanahan can take him to the next level. ...This offense has been number one, number one, number one, number one through eternity so we know it works and then you put someone with [Griffin's] physical skills into it. When I saw they made this trade I said, 'Oh my god this is going to fantastic. This is going to be the greatest offense we've ever seen.' Unfortunately, the unforeseen came into play and that was the salary cap hit. Anyone who could have foreseen $36 million taken off that team after that trade and after giving up the draft picks, so now not only are you not going to have the draft picks, you're not going to have the money to spend on free agency. Thirty six million, you're talking about at least the best six players on your team being taken off it. If you go to any team out here and take $36 million off it this late in the year when attrition starts to really kick in, I want you to find any team that will be above 3-8."
My take:
When they landed Griffin, and I spoke to NFL types about the offense, no one mentioned the zone read as part of what they would do. They all felt he'd be successful because he was a good fit for what this offense has shown in the past. As for the coaches: If the Redskins finish strong and play well, then yeah bring them back.
Collinsworth continued on about the salary cap, pointing out the parity in the NFL. There's a reason the playoff teams turn over quite a bit from one year to the next. "If every team got an extra $36 million to spend, how do you think the team, the 32nd team, that didn't get it, would do? Would they win very many games?"
To which Czaban pointed out, as I would have, that the Redskins haven't always spent wisely.
Collinsworth: "You've got to hit the right players. But I thought the tough part about it was that when the announcement was made -- on the eve of free agency. You say would they have made the trade for RG3 and given up all the draft picks if they had known they'd take a $36-million hit? My guess is no. [Then you would say], 'OK, we're going to take a $36-million hit? Fine, I'll tell you what we're gonna do. We're gonna go completely young, get rid of all our older players. And we're gonna take this core of newly drafted young key players and play with them for two years while the salary cap hit is underway and then in year three we're gonna explode on the scene.' But when they didn't know when they made the RG3 trade and they gave up all the draft picks, now you can't get the free agents to make the rest of the team. You're dead. The fact that they made the playoffs last year is much more a miracle than the fact they've won three games this year."
My take:
I agree on the timing of the hit. It was brutal and would have altered their strategy and winning the division with a rookie quarterback who still has more to learn was quite an accomplishment. But, fair or not, every team in the NFL also was warned that there would be consequences if the team handled the 2010 uncapped year a certain way. Now, Shanahan could argue that wasn't his decision -- he's not the cap guy or in charge of the organization. But free agency is hit or miss; always has been (not just here). The Redskins drafted 21 players in 2011 and '12 – more than any team in the NFL during this period -- and only four will start Sunday night (a fifth would have if Leonard Hankerson had remained healthy). Only two picks from 2010 will start. It takes time for picks to develop, but there's a good chance after this season only five of the 12 picks in 2011 will be on the roster next season (assuming the same staff returns) and that would mean only seven of their 18 picks from 2010 and '11 would be around. Drafting and developing can help offset free-agency mistakes, or at least keep you more competitive until you can spend again. It will take more than free-agency spending to resurrect the Redskins.
November, 14, 2013
11/14/13
3:00
PM ET
ASHBURN, Va. -- The
Washington Redskins
don't have leadership. That's a conclusion drawn by former Washington Redskins corner
Darrell Green
. He said
London Fletcher
is too old to still be that guy; and Green said
Robert Griffin
III is not
the
leader on the team.
Griffin
Fletcher
Green was part of a roundtable discussion on "Inside the NFL" when the Redskins, naturally, came up. The Washington Post's Dan Steinberg
has the full exchange here
. I'll focus on some of the comments, starting with leadership.
"I don't know if they have a leader," Green said.
The others, apparently, brought up Fletcher.
"Well, London Fletcher is, but I've been that old player before," Green said. "And you're a moral leader, people love you and respect you, but you're really not the leader. You're not. And really, you shouldn't be. Because in my opinion, the leadership should come from the offensive side of the ball, because the game is such an offensive-based game."
It's an interesting point. Green is not around the team often, but he is a smart guy and offers a different perspective. The only problem with this assertion, as someone who covered Green and respected him and still enjoys talking to him when I see him, is that Fletcher was a stronger leader. Green was respected for his play and for what he stood for. But as a cornerback it was difficult for him to provide the sort of leadership Fletcher has during his career. Because Fletcher is the defensive mouthpiece, he's in a much different spot than Green was at the tail end of his career. You can debate his play all you want, but I wouldn't say Fletcher can't lead anymore.
Later in the show, Cris Collinsworth raved about Griffin.
"Robert Griffin is an
unbelievable
leader," Collinsworth said. "Teams are built now around first-, second- and third-year players. They're the great majority of the players on the team. And Robert Griffin is the guy that's gonna take them where they want to go if they just leave the whole thing alone. Next year, you'll go,'Oh my gosh, we almost blew it up, it would have been the dumbest thing ever.' "
Collinsworth, also NBC's Sunday Night Football analyst, then lobbied for Mike Shanahan to remain as coach.
"It's crazy," Collinsworth said. "You just take what the system is. It's perfectly built for [Griffin]. Let them develop him as a pocket passer; next season, they're going to be the favorite to win the division."