Washington Redskins:

Dan Steinberg
December, 6, 2013
12/06/13
9:35
AM ET
Former Washington Redskins tight end Chris Cooley, less than a year removed from his last game, hasn't been shy about expressing his opinions on ESPN980 every day or during the team's broadcasts
.
He discusses his job and how he'd like to be the next Sonny Jurgensen. Saturday: His thoughts on Kyle Shanahan's offense, and the decision that must be made on Mike Shanahan.
You've been honest about your thoughts on the team. Have you received any negative feedback?
[+] Enlarge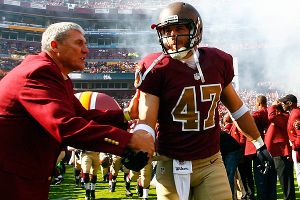 Geoff Burke/USA TODAY SportsFormer Redskins tight end Chris Cooley misses his playing days, but says he's enjoying his current role as a broadcaster for the team's radio network.
Chris Cooley:
I've been really interested in what feedback I would get, and it hasn't been negative. The one awkward spot was when we talked about coach [Mike] Shanahan two weeks ago and [Washington Post writer Dan Steinberg]
printed it
, and I was pretty negative. But it was radio and I apologized to him. I think Mike's a friend. He's a guy I would hang out with when I leave the park. I like him. I passed judgment over the air that was a little harsh and I know it upset him, not from a professional aspect, because he has to deal with that, but because we're friends. But I haven't had too much negative response. ... I started doing film breakdowns so I can say whatever I want to say if it's real. I talked to Trent Dilfer about three weeks ago, and that's the thing he mentioned is you have candid points about things that are really there and people will call you and tell you they're mad you said things, but they can't dislike you, because I can show you what I'm seeing.
A lot of guys in your spot don't take the time to do all that work. Players also have to know you know what you're talking about.
Cooley:
I'm also the first person to say someone did a phenomenal job. I want to be the guy that people say, 'We want him to say good things about us, because if he does it's real, and if he says bad things it's his job.' Two weeks ago we did that film study and I said
Logan Paulsen
played at a D level. I thought he played terrible. The next week he was my player of the game. It's because I graded the film and looked at impact plays versus negative plays, and he was the best on offense. … My job is to be judgmental on how you play on the field and what's going on in the locker room. I'll never personally attack a player.
How did you react to this when you were a player?
Cooley:
[Doc Walker is] pretty hard on guys, especially in games. Over the last couple weeks I sat back and wondered, how many times did Doc talk trash about me? When I say I don't look at a lot of stuff for the most part, that's true. I didn't know if Doc said anything about me. I was more focused on what I was doing and needed to do than what someone said about me. Some players are different. But I've always looked at it like the media has a job to do and they get paid to do, and we're part of that job. I have to respect your profession and help you with what you need, and understand your story is just as important to you as my play was to me.
Are you enjoying this?
Cooley:
At first, no. At first I thought it was tough and I was really busy. I had to get to the point where I had to say no to a lot of things, to TV stuff and a lot of events. All stuff I like to do, but when you put it all together and you have a hundred of them, I didn't like it. Over the last month I do it under the umbrella of my job on radio, the game, the three TV stations I do, and my life. Now I love it. I'm at the Park talking football to assistant coaches. The biggest thing for me is I love the Redskins, and that's super cliché. They gave me so many opportunities to be what I am in life. All I want is for them to have success. I want to be part of that success for as much as I can for as long as I can. … It's a really cool job. Over the last three or four years I started to enjoy the game more than I did, and appreciate the game for what it is. That's why I'm able to do the job the way I am. I watched a lot of film like a coach and spent time learning the offense like a coach and quarterback. That film thing is something I always do, and something we did really well. I got so much good feedback, and then I came home and my girlfriend said, 'I tried to listen, but it was so bad.' I'm like a football nerd. But if you don't get it, it's like, 'Whoa, he's getting way over the top.'
What do you ultimately want to do?
Cooley:
My goal is to be Sonny [Jurgensen]. Sonny had access to the team for a long time. He's a guy people look up to and respect. He travels to every game. He gets paid well. He loves his life. Let's say two or three years from now someone says we want you to call games. That might be something hard to turn down, but it's not a goal of mine. My goal is to be here. My life is ideal right now. The only thing I miss is playing. I watch games and I think I could do [stuff] and I think I miss playing. I'll get over that, and it's not like every day I wake up and wish I was playing. But I do miss being part of the team, I miss the adrenaline, miss that feeling of excitement when you do really well. You just don't get that when you do this job. ... I talk to so many [ex-players] who say, 'I work for this company now where I sell [stuff] and I just go to work.' I miss that feeling of everyone saying you did the best job ever. To some extent I still get it. I now realize If I prepare and do a really good job then I do get some of that.
October, 31, 2013
10/31/13
11:19
AM ET
I was going to poke holes in
Albert Haynesworth
's latest beef against the
Washington Redskins
. I was going to dissect his points and remind all that one person played a huge role in the downturn of Haynesworth's career: Haynesworth himself.
Then I decided it would just be silly. I'll offer a brief assessment of Haynesworth and then let him have the stage so you can get a good chuckle.
Maybe he has some good points, but they get lost because of how he thinks he worked while he was here. One coach from his two-year era said Haynesworth was a bad worker, cutting corners at every turn. Even at the time, when teammates spoke of him, they'd talk about how they liked him but that he didn't quite "get it." When he was signed, a respected NFC general manager warned this would be a bad signing; too many red flags in Haynesworth's past. Even his former defensive line coach in Tennessee, Jim Washburn, said Haynesworth once told him his goal was to be "the richest person in the world."
[+] Enlarge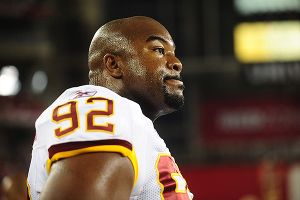 Mark J. Rebilas/USA TODAY SportsAlbert Haynesworth said he has nothing but regret concerning signing with the Redskins.
And if Haynesworth really wanted to be a Hall of Famer, would he have let alterations in how he was used block him? He would have been a terror as a 3-4 nose tackle with his size and quickness (though, sure, he's better as a 4-3 tackle. Still, point is: Two bad years ruined those Hall of Fame chances? Come on).
A lasting image of his time here? Lying on the ground for an extended time in a
Monday night debacle against the
Philadelphia Eagles
-- while the play was ongoing.
Anyway, that's out of the way. Here's a
full transcript of what he said
, courtesy of the nation's No. 1 transcriber, the Washington Post's Dan Steinberg. But here are a few highlights:
"Then, after that year of playing and not doing
ANYTHING
like we did in Tennessee…then we get [Mike] Shanahan in there, aka Red Lobster, as
Fred Smoot
says. He comes in and completely changes the defense to a 3-4, where I'm
reading
. I'm not doing things that I normally do -- exploding and shooting the gaps and creating havoc -- I'm staying on the line, going left and right. Not even going forward.
"I mean, it's like, you can't win with that team. And you think it was just me? I mean, look how he did Donovan [McNabb]. See what's going on with RGIII. I met RGIII. He seemed like an extremely nice guy that's willing to work. Now he's gonna learn -- I mean, I hate to say he's gonna learn -- about [Mike Shanahan], how he's conniving and everything like that, where he's not gonna help him out, it's all about him." The host then pointed out that Shanahan has two Super Bowls to his credit. "He hasn't won a playoff game since Elway retired." (Note: He's won one game since that time).
"... when I signed that deal -- which to me was the worst mistake in my life. You could say yeah I got paid a lot of money -- I don't really care about the money. If I knew it was gonna be like that, I never would have went. I never would have went. I guarantee. Because my goal was to be a Hall of Famer and to be one of the greatest defensive tackles to play the game, not just to go and make money at Washington and in two years my career be over there. I mean, that's not what I'm about. Yeah, I love to make money, but I can make money playing the game and not just some free agent bust or whatever."
You might find this hard to believe, but I don't miss covering what was the Haynesworth train wreck.