Washington Redskins:

Darrell Green
July, 11, 2014
Jul 11
10:00
AM ET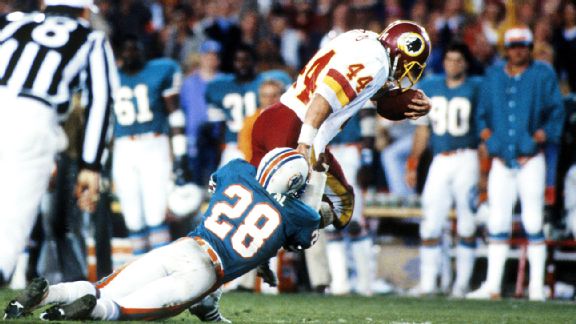 Manny Rubio/USA TODAY Sports
Score:
Redskins 27, Dolphins 17
Date:
Jan. 30, 1983.
Site:
The Rose Bowl, Pasadena, California
From the moment this project was announced, and before I tweeted a word on it, there was only one play in my mind that deserved top billing. When a team hasn't won an NFL title in more than 40 years ... and it trails by four points in the ultimate game ... and it's fourth-and-1 ... and the running back goes the distance? How exactly do you top that?
Fortunately and wisely, the fans agreed with my take. Which is why John Riggins' touchdown run against Miami in Super Bowl XVII was the runaway choice for the top spot. Riggins' run received 76 percent of the more than 30,000 votes and was solidly ahead shortly after the choices appeared on the blog.

Thing is, there were a few choices that didn't even make the list: Mark Moseley's 42-yard field goal in the snow to clinch a playoff spot in 1982; Clint Longley's bomb on Thanksgiving Day (not all memories are good ones); Sean Taylor's return of a blocked field goal attempt in the final seconds that led to a winning Redskins field goal over Dallas; Ken Houston's stop of Dallas running back Walt Garrison at the goal line; Joe Theismann's broken leg; and either of the two Santana Moss touchdown catches in the Monday night comeback win over Dallas. There are others as well.
But the right three were on the board. A Hall of Famer in Darrell Green making one of the biggest plays of a 20-year career. That garnered 16 percent of the vote. A clinching touchdown on an unlikely play -- an interception return by defensive tackle Darryl Grant -- to win the NFC Championship Game at home, providing a moment that likely still brings chills to those in attendance. But it wasn't big enough, receiving just 8 percent of the votes.
Riggins' run happened in the ultimate game. It happened on a fourth down. It gave Washington the lead. Shall I keep going? Based on the votes, the answer is no. You got it. And you got it right.
@john_keim These are great memories, but the list is (1) 70 Chip with John Riggins in Super Bowl and (2) everything else :)

— Dave Scarangella (@DullesDistrict) July 10, 2014
July, 9, 2014
Jul 9
10:00
AM ET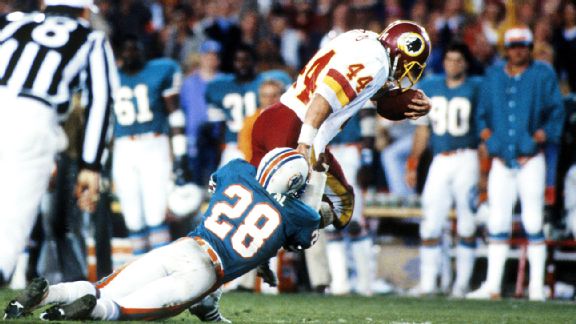 Manny Rubio/USA TODAY Sports
»
VOTE HERE
»
NFC Plays:
East
|
West
|
North
|
South
»
AFC:
East
|
West
|
North
|
South
This is the third of three plays nominated as the most memorable play in team history. We've already featured Darryl Grant's interception return for a touchdown in the 1983 NFC Championship Game and Darrell Green's punt return to beat the
Chicago Bears
in a 1988 playoff game. Please vote for your choice as the Redskins' most memorable play.
Score:
Redskins 27, Dolphins 17
Date:
Jan. 30, 1983
Site:
The Rose Bowl, Pasadena, California
To understand the moment, why it carried the weight that it did, it's important to first look back. Like to the 1950s, when the Redskins posted two winning seasons. Or the 1960s, when they could score but not win. They managed a winning record once, in the final year of the decade. This despite several Hall of Famers on offense.

The Redskins had not won a title of any kind since 1942. They had only reached the postseason seven times since that year (and five since 1945). Yet the fans showed up time and again, knowing what always awaited them in the end. Even when Washington had reached Super Bowl VII, it lost to undefeated Miami.
There was hope, though, with new coach Joe Gibbs, who led the team to an 8-1 mark in the strike-shortened 1982 regular season (his second in charge). Then three double-digit playoff victories put Washington into Super Bowl XVII.
But no titles ever come easy, and the Redskins trailed Miami 17-13 when they took over the ball at their own 18 early in the fourth quarter. They drove to the Dolphins' 43, where they faced fourth-and-1 with 10 minutes, 10 seconds remaining.
John Riggins and the Redskins' run game already had posted good numbers. So everyone had to know what would happen next: a handoff to Riggins. The Dolphins used a six-man front, which meant the play would either be stuffed or a huge one. The Redskins got the latter as tackle Joe Jacoby buried linebacker Kim Bokamper and fullback Otis Wonsley helped seal the end.
That left Riggins one-on-one with corner Don McNeal. Mismatch. Riggins swatted him away and the man nicknamed The Diesel chugged toward the end zone, running for the lead and a place in history. Diesel horns blared in the stands, a signature sound that season. And it became a run that is mentioned seemingly every Super Bowl week. It was the first of three Super Bowl victories under Gibbs, giving Redskins fans a taste of success that had eluded them forever.
For Riggins, it enabled him to post a Super Bowl record 166 yards rushing and then to make this statement after a congratulatory phone call from President Ronald Reagan: "At least for tonight, Ron's the president, but I'm the king." Decades of frustration had ended for Redskins fans. They, too, finally felt like football royalty.
@john_keim The Riggins play will never be matched because it was the game deciding play when we were down in our first SB win. If he had not

— Riggo (@dmoore2004) July 2, 2014
@john_keim made the 1st down (let alone TD) Dolphins would have had the ball with all the momentum with little time left.

— Riggo (@dmoore2004) July 2, 2014
July, 8, 2014
Jul 8
10:00
AM ET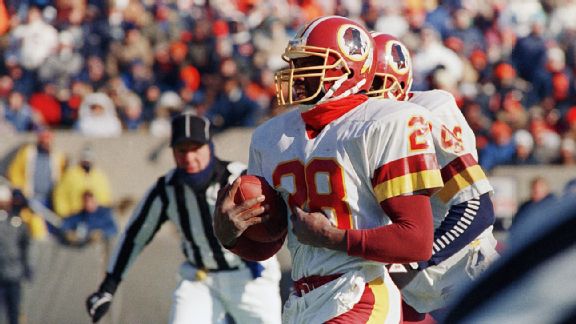 AP Photo/Fred Jewell
»
VOTE HERE
»
NFC Plays:
East
|
West
|
North
|
South
»
AFC:
East
|
West
|
North
|
South
This is the second of three plays nominated as the most memorable play in team history. We already featured Darryl Grant's interception return for a touchdown, and on Wednesday we'll feature John Riggins' game-winning touchdown run in Super Bowl XVII. Please vote for your choice as the Redskins' most memorable play.
Score
: Redskins 21, Bears 17
Date
: Jan. 10, 1988
Site
: Soldier Field
Redskins cornerback Darrell Green had burst onto the scene in a much different situation. Dallas running back Tony Dorsett sped down the field, and as anyone knew at the time, no one caught him from behind. Then Green did just that, a rookie coming out of nowhere -- shot like a bullet -- to tackle Dorsett. Green denied Dorsett an 83-yard touchdown run, tackling him at the 6-yard line and forcing a Cowboys field goal.
It didn't matter that Dallas ended up winning the game. Green announced himself to the NFL, flashing his speed and creating a memory. But it wasn't as big as the one he created in 1988 in a much tougher spot: a first-round playoff game at Chicago.

By then, Green was an established corner, having earned a third Pro Bowl berth that season. The Redskins were an established power.
But they had a rough assignment: win at Chicago for a second straight year in the playoffs. This time they faced bitterly cold conditions. Former defensive end Charles Mann once said the Vaseline he had applied froze to his body that day.
Chicago, just two seasons removed from Super Bowl glory, led 14-0. But the Redskins rallied to tie the game, and, with 11:40 left in the third quarter, Green started a punt return for the ages. He retreated to the Redskins' 48-yard line to field Tommy Barnhardt's punt and started up the right sideline.
Out of the corner of his eye, Green spotted Cap Boso diving at his legs around the 34. Green then created the memory: He hurdled Boso, then cut back inside and, within a few yards, grabbed his left side. He clutched his side for the final 30 yards en route to a 52-yard game-winning punt return.
Green had torn his rib cage on the return and could play only one more snap. But his efforts on this play led to not only a 21-17 win but also a moment that was hard to top in Redskins history. A week later, he defended the final pass at the goal line in the NFC Championship Game victory over Minnesota. But his play against the Bears was more impressive. It required vision, athleticism and toughness. In a Hall of Fame career, it's hard to believe one moment can stand out. The return against Chicago did.
@john_keim Green's punt return for TD at Bears capped off a wild week of trash talk between Dexter Manley & Coach Ditka

— David Devall (@McNubian) July 2, 2014
July, 7, 2014
Jul 7
1:00
PM ET
Redskins cornerback
DeAngelo Hall
is realistic about the rest of his career, which is why he's not planning to match, say, Darrell Green's run. When Green turned 30, some in the Redskins' organization considered the future Hall of Fame cornerback near the end. And a few years earlier, they nearly let him sign with Denver.

Hall
Hall, who turns 31 during the season, might not want to play another 10 years, and he likely won't match Green's 20 seasons overall. But he does want to know how to extend his career, which is why he'll occasionally consult with Green.
"I always pick his brain about little things," Hall said. "He was a freak of nature. The things he can still do now are mind boggling. I don't think I have 20 years in me, but I pick his brain about what were you thinking to get to this point or at that point.
"He always tells me he was never a guy that beat guys up at the line. He looked like he would press, but he was all feet. They were so great. They're still great now. Those are the little things I try to get better on, footwork and doing drills."
But Hall recognizes there were things Green could do that he just can't. His training regimen is among them.
"It was mind blowing," Hall said. "He tells me some of the stuff he did and I said, 'DG, there's no way I can do that. No way I can run 4 400s, 3 300s, 2 200s and then go run these hills with you. I'm dead doing the hills alone.' Anytime you have a guy who can run 4 400s [and] at the same time sprint with the sprinters, that's a beast."
May, 5, 2014
May 5
7:50
AM ET
Bobby Mitchell remains conflicted about the Redskins nickname – but he stopped short of saying it should change.
Mitchell, one of the more beloved players in franchise history – and the first African American acquired by the team -- isn't sure what will happen or even what should occur. He understands the complaints; he doesn't want to abandon his past.
"That's a tough one. That's a tough one," he said at the NFL Hall of Fame FanFest in Cleveland, via ESPN NFL Nation's Pat McManamon. "Because if you go down in my basement, everything is Redskins. Tons of it. I don't know."
He did say that owner Dan Snyder should "answer it a little better than he has" and that "things do change."
Mitchell is the latest ex-player to deliver an opinion on the Redskins nickname, admitting to conflicting feelings. London Fletcher
admitted recently he felt uncomfortable
about it and even spoke to general manager Bruce Allen. Art Monk and Darrell Green discussed the topic last summer; in a subsequent interview
Green cleared up any perception
that both wanted the name changed.
Mitchell said reporters have tried for six months to ask him about this topic, though he did an
interview on it more than a year ago with Hogs Haven
.
On Sunday, Mitchell said when he arrived in Washington, he doesn't remember anyone having a problem with the nickname. And on his first day in town, he was in owner George Preston Marshall's basement to discuss a contract.
I'll let Mitchell take it from there:
"I was sitting there talking to him and I didn't hear much of anything he said because I was so impressed that all around that room were portraits of Indians chiefs. He had every Indian chief that he could name. Big portraits. He was talking and I was just looking. I was so impressed because at that time, Redskins, everybody was going nuts. Mr. Marshall never had an empty seat in his stadium in those days because every team coming up from the south was full of fans. So he was in the black all the time. I was caught up in it like everybody else, the Redskins fans. And that's where it's been all these many, many years.
"And yet I had a couple Indians buddies who was walking around when I was getting my butt kicked about 'you come in here, changing things.' They were part of the group saying, 'You should be helping us.' I said, 'Well nobody's helping me.' Some of those guys I've known for years, the Indian guys. I know what they've gone through, I know what they feel. They have more people speaking out now. In that time there was only two or three of them. So this is a difficult, difficult situation. Dan Snyder has to answer to it a little better than he has. Because things do change. Things do change. When I hear Redskins I still feel the same way about it as I did when I came here in all our glory years. It's just that now when you say, 'Yeah Redskins', you can't help it. Because as a black man I understand what the Indians are saying. I understand. So I don't know how this will work out."
January, 29, 2014
Jan 29
8:53
AM ET
A few thoughts on former Redskins corner
Champ Bailey
:
When I started covering the Redskins, Darrell Green was already deep into a Hall of Fame career. When Bruce Smith joined the Redskins, you knew he was on that path, too. But Bailey is the only player I've covered that I remember thinking after several years: This guy is going to be a Hall of Famer.

Sean Taylor might have gotten there, too. But, remember, he didn't start playing at that level until his third season -- he certainly wasn't bad before then -- and then in his fourth started to really take off and become a major difference-maker. And then he was murdered. It was right at the time when players separate themselves. Taylor was doing so.

Like Taylor, Bailey had all-world talent and both players were great with the ball and could have been standout offensive players. These players were ... just different.

[+] Enlarge

Photo by Scott Halleran/Getty ImagesChamp Bailey played for the Redskins for five seasons before being traded to the Broncos in a deal for RB Clinton Portis.

Bailey made the Pro Bowl in his second season (2000) and didn't miss one until 2008. By then he was long gone from Washington. There was something different about him: He was athletically arrogant. Though he hasn't come across as boastful during his NFL tenure like some other corners do, you better believe he's competitive and felt like he was the NFL's best corner. I remember talking to Bailey about that early in his career in an article for Pro Football Weekly. Bailey was matter-of-fact about where he thought he stood and he could say things without being perceived in a negative light.

He was also immensely talented. Every corner will be beat and when you're a corner like Bailey, people expect perfection. I remember one game against the New York Giants -- I forget the year -- in which Bailey smothered his man off the line all game (I want to say it was Amani Toomer, but could be wrong). I remember the Giants' quarterback looking in that direction and quickly going elsewhere. This happened all game. But Bailey did get beat once and it resulted in a touchdown. The life of a corner. Darrell Green got beat, too.

Bailey was great with the media. That's not to say everyone was yukking it up around him and he was some sort of lively personality or sharing state secrets. No, he was respectful. There were many examples of Bailey being stopped by a group of reporters outside the locker room. He'd answer the questions. Another group would stop him inside the locker room. He'd answer the questions. And then another group would talk to him at his locker. Again, he'd answer the questions. I don't think his demeanor ever changed. That demeanor is one reason he's lasted so long at a position that demands steadiness. Santana Moss is similar in the way he deals with the media.

Bailey learned from his elders, notably Green and Deion Sanders. At the Super Bowl media day, Bailey told reporters, "I give a lot of credit to Darrell Green. He was an older guy and he had won Super Bowls, played in a lot of games, and he definitely helped me out a lot in my first couple years."

Green told ESPN's Elizabeth Merrill for this in-depth look at Bailey and his career that they met twice a week in the morning to watch game film. "My motivation wasn't the fame, and people screaming my name," Green said. "It was going to work and being the best I could be."

Here's what Bailey told reporters on his time in Washington: "I was very fortunate to be drafted by the Redskins, a great organization. But things just didn't work out and I was blessed to go to an even better organization with the Broncos. That was probably the best thing to happen for my career because I've been in a good place, a good city, and have worked for some of the best people in the world."

And Bailey's thoughts on the Redskins now: "They're still a great organization. There's so much history there, and I appreciate them believing in my talents enough to draft me. That was pretty much [former Washington general manager] Charley Casserly all the way, but people forget about him. He's the one that made me a pro."

Casserly made some of his best moves in the 1999 draft to not only land Bailey, but to also leave the organization with three first-round picks in 2000 -- even though he knew he'd likely be gone -- courtesy of a trade with New Orleans. The Redskins turned those three picks into the second and third picks in the draft, grabbing LaVar Arrington and Chris Samuels.

Here's Bailey's secret to his success: "Really, my thing is you find something that works for you. I don't try to push my values and my faith on anybody. You find what works for you. Everybody's built a little different and just believing in myself and what I can do and things like that, that's what's really propelled me to the position I'm in."

I don't know if Bailey is done as a player or when he'll retire. He has the body type to shift to safety if he wants and he's smart and athletic enough to make such a switch. But will he have to? Green told Merrill that he has more time. Green said, "If he is in the mold that I believe he is, he doesn't even have to begin to look over his shoulder for three years, maybe four. I didn't feel like until I was 38 or 39 years old that I needed to take a breath. That's a once-in-a-generation kind of gift. People don't have that. I say it humbly, but it's true. I was blessed that way, and I think Champ is, too."
November, 18, 2013
11/18/13
11:30
AM ET
Washington Redskins
linebacker
London Fletcher
responded to Hall of Famer Darrell Green's comments not only on his leadership, but also Robert Griffin III's. And Fletcher was more irked by what was said about Griffin than himself.
Green, speaking on Inside the NFL last week,
questioned the Redskins' leadership
and said Fletcher might not be the same leader because of his age. Green also said Griffin is not yet
the
leader.
Fletcher had not addressed the comments until long after Sunday's 24-16 loss to the
Philadelphia Eagles
(he did not bring it up; the question was asked).
On Green's assertion that Fletcher's age makes it harder for him to lead: "It depends on the guys you have in the locker room. I don't know what it was like when Darrell was a veteran. But I think the guys still respect me and appreciate what I do on and off the field. Darrell's a well-respected guy around here, but I disagree with him. I think if he came around he'd see it different….I'm sorry when he was an older guy he didn't have a voice in the locker room."
Fletcher went on longer when talking about Griffin's leadership. Fletcher agreed that Griffin is not considered the main leader on the Redskins. But it's hard for any second-year player to be that guy, Fletcher said. But multiple teammates have raved about Griffin's leadership and Fletcher falls into that camp as well. There are times, for example, when Griffin has texted Fletcher to make a suggestion on things that need to be said, knowing that as a second-year player he might not yet be in position to make such comments.
"Robert's been a captain two years in a row," Fletcher said. "That just doesn't happen [your first two years in the NFL]. Sometimes people get caught in what they think leadership should look like. Is it someone yelling in front of someone? Leadership doesn't always roar. Sometimes it's the things you do on the practice field, in the meeting rooms, in the huddle, on the sidelines. Communication. Things like that. I haven't seen many rookies come in and have the qualities he has as far as being a leader. He's a leader, but he doesn't need to be
the
leader right now. There's too much responsibility for him to come in to a franchise that had a 20-year drought at quarterback. There's a lot of pressure on him to perform. He's handled that part of it, but there are enough guys to be leaders.
November, 15, 2013
11/15/13
4:20
PM ET
ASHBURN, Va. -- The
Washington Redskins
have a number of issues, which is why they're 3-6 and need a miracle finish for a second straight season to reach the playoffs. Their defense has struggled. The offense has been inconsistent. And the special teams? How much space do I have? Not enough, probably.
The area I wouldn't say needs repair? Leadership. Which is why it was surprising to hear what Redskins Hall of Famer Darrell Green said the other day, questioning not only
Robert Griffin III
, but
London Fletcher
as well.
"I don't know if they have a leader," Green said on Showtime's Inside the NFL this week.
[+] Enlarge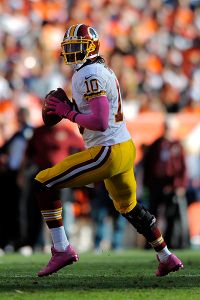 AP Photo/Jack DempseyThe Washington Redskins are 3-6, but Robert Griffin III's leadership isn't among the reasons why.
I covered Green, respected him and his career, got along with him and still enjoy seeing him and catching up. I've been around Redskins teams that lacked leaders; this isn't one of them. One player, talking privately, called those remarks, "B.S." But he didn't use initials. Of course, no team wants to admit they lack leaders. But until Green's comments this wasn't even a topic because it's not something that was viewed in a negative light.
Now, Green has a terrific perspective as a Hall of Famer and someone who played a long time and played the right way. He led as much by example, how he took care of his body and withstood numerous changes to the staff and the game to survive as long as he did. Green still occasionally talks to players, but he's not in the building or around the team that much. That in and of itself doesn't make his comments wrong. And I certainly can see why some outside the organization can view things differently. Griffin made some P.R. missteps in the offseason and the summer with comments that could, if reading between the lines, be damaging.
But when you talk to players, they don't question his leadership. Just the opposite. They'll point to how he prepares and how he plays and how he's willing to say things to the group. He doesn't duck from the responsibilities of his position or standing on the team. There are times he won't speak on controversial topics, though that doesn't necessarily make you a leader, and other times he might not want to admit a failing or a play he did wrong. I think he'll always need to be careful balancing the attention he receives without coming across a certain way in the locker room. But even after an offseason of attention and much focus on him, players who don't hang around him still view him as a leader.
He's not an in-your-face guy who is going to threaten someone if they don't play better. It's not his style. If that's what someone wants, they have the wrong guy.
But the players he's with view him as a leader. They want to follow him because they also know he lives what he says about work, and that he'll do what it takes to win. Hence the dives in traffic each of the past two games. He can improve as a leader, but he is a leader and it does not seem unnatural for him at all.
Green also said Fletcher's age prevents him from being the sort of leader the Redskins need. Green played a long time, so he has a unique perspective and felt he was not the same leader when he was older. But again, I disagree that it means Fletcher isn't as well. Fletcher's play hasn't been the same this season; I'm not breaking news with that comment. However, Green was not the same sort of leader that Fletcher has been throughout his career. Green was highly respected, no doubt. But it's tough for corners to be true leaders. Green was never considered a coach on the field. Like Fletcher.
No player is thought of the same way by everyone in the locker room. There will be some who dislike a guy or think he's just out for himself. It's true of many players I've covered. But Fletcher remains a voice players listen to. In the end, leadership also is about making plays, and if you say that's where Fletcher hasn't led this season, that's fine. But I haven't seen or sensed a big drop-off in this area in the locker room since last season.
The Redskins do miss former special teams captain
Lorenzo Alexander
. But it's his play as much as anything that they miss most. Despite being 3-6, the Redskins haven't changed their approach. What they need are more playmakers who can change their record.
November, 14, 2013
11/14/13
3:00
PM ET
ASHBURN, Va. -- The
Washington Redskins
don't have leadership. That's a conclusion drawn by former Washington Redskins corner
Darrell Green
. He said
London Fletcher
is too old to still be that guy; and Green said
Robert Griffin
III is not
the
leader on the team.
Griffin
Fletcher
Green was part of a roundtable discussion on "Inside the NFL" when the Redskins, naturally, came up. The Washington Post's Dan Steinberg
has the full exchange here
. I'll focus on some of the comments, starting with leadership.
"I don't know if they have a leader," Green said.
The others, apparently, brought up Fletcher.
"Well, London Fletcher is, but I've been that old player before," Green said. "And you're a moral leader, people love you and respect you, but you're really not the leader. You're not. And really, you shouldn't be. Because in my opinion, the leadership should come from the offensive side of the ball, because the game is such an offensive-based game."
It's an interesting point. Green is not around the team often, but he is a smart guy and offers a different perspective. The only problem with this assertion, as someone who covered Green and respected him and still enjoys talking to him when I see him, is that Fletcher was a stronger leader. Green was respected for his play and for what he stood for. But as a cornerback it was difficult for him to provide the sort of leadership Fletcher has during his career. Because Fletcher is the defensive mouthpiece, he's in a much different spot than Green was at the tail end of his career. You can debate his play all you want, but I wouldn't say Fletcher can't lead anymore.
Later in the show, Cris Collinsworth raved about Griffin.
"Robert Griffin is an
unbelievable
leader," Collinsworth said. "Teams are built now around first-, second- and third-year players. They're the great majority of the players on the team. And Robert Griffin is the guy that's gonna take them where they want to go if they just leave the whole thing alone. Next year, you'll go,'Oh my gosh, we almost blew it up, it would have been the dumbest thing ever.' "
Collinsworth, also NBC's Sunday Night Football analyst, then lobbied for Mike Shanahan to remain as coach.
"It's crazy," Collinsworth said. "You just take what the system is. It's perfectly built for [Griffin]. Let them develop him as a pocket passer; next season, they're going to be the favorite to win the division."
November, 12, 2013
11/12/13
7:30
AM ET
ASHBURN, Va. -- The
Washington Redskins
have gone on four excellent runs to turn their season around and close with a flourish since 2001. Will they make it a fifth? Based on their recent play it's tough to predict such a run. But history also shows that these runs aren't always predictable.
Here are the four seasons in which Washington has finished on a hot stretch, taking a season from bad to excellent:
2001
How they started:
The Redskins lost their first five games under coach Marty Schottenheimer -- and looked terrible in doing so. It also happened to follow a horrible preseason. The Redskins were outscored 143-33 in those games.
[+] Enlarge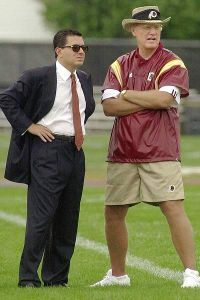 Chris Knight/AP PhotoThe 2001 season was a roller coaster of wins, losses and emotions for Redskins owner Daniel Snyder and coach Marty Schottenheimer.
Low point:
Players were unhappy with Schottenheimer and his methods early in the season, with several voicing their complaints (even mild-mannered second-year offensive tackle
Chris Samuels
was displeased). But the two who were most upset? Corner
Darrell Green
and
Bruce Smith
.
Thoughts of a turnaround:
None. The Redskins had played poorly since the preseason and they had cast-off
Tony Banks
at quarterback and no legitimate playmakers on offense. But what did start to change was the impression of Schottenheimer. Players started to respect his methods. They started to become a tough, physical team. A
LaVar Arrington
interception versus Carolina in a 17-14 win turned it around.
How it ended:
The Redskins won five straight to reach .500 en route to an 8-8 record. Schottenheimer was well-liked by most players in the locker room, though Smith and Green, by most accounts, did not buy in. Owner Dan Snyder did not buy in, a fact that upset numerous players, as he fired Schottenheimer. It was a mistake.
2005
How they started:
The Redskins actually played well at the start of the season, winning their first three games and they were 4-2 after six games. But they lost four of their next five to sit 5-6 after 11 games.
Low point:
The Redskins lost three straight games, including the last two at home. One of those was as bad as the Minnesota game last week as they lost 16-13 to a three-win Oakland team that lost every game the rest of the season. They followed that with an overtime loss at home to San Diego.
Thoughts of a turnaround:
Solid, despite the skid. Players were genuinely confused about what had happened. They knew Gibbs' first year would be a struggle, but I remember talking to players, tackle
Jon Jansen
in particular, about what was happening. Their belief was that they were at least a nine-win team, that they had worked too hard and believed too much in what they were doing. I didn't think they would win every game the rest of the season, but a strong finish? Doable.
How it ended:
The Redskins won their last five regular season games to finish 10-6 and reach the playoffs. No opponent scored more than 20 points and the Redskins topped 30 in each of the last three games.
2007
How they started:
The Redskins won five of their first eight games coming off a 6-10 season. Things looked good.
Low point:
Sean Taylor's death. The Redskins then lost a crushing game to Buffalo, 17-16, and flew to Miami for his funeral. It was their fourth straight defeat as they fell to 5-7.
Thoughts of a turnaround:
None. It was asking too much for them to turn it around given the circumstances. They were a drained team. But, as in 2005, there were a lot of true professionals that provided reason to believe they could win again.
How it ended:
Todd Collins
entered and played well at quarterback for an injured
Jason Campbell
and the offense started to click. The team overall played inspired football and the Redskins won four in a row to reach the playoffs. They lost in the first round and Joe Gibbs retired.
2012
How they started:
Washington lost three straight, including at home to Carolina, 21-13, to fall to 3-6.
Low point:
Losing at home to previously one-win Carolina after two straight defeats to the
New York Giants
and Pittsburgh. Against the Giants, the Redskins played a solid game and lost on a last-minute touchdown pass. But
Robert Griffin III
's heroics provided hope that they were never out of a game. They lost at Pittsburgh in part because of nearly a dozen dropped passes and the Steelers' defense had been dominating all year. Neither were terrible losses. But at home to the Panthers? That was bad.
Thoughts of a turnaround:
After the bye week, the players returned refreshed and energized and expressed a belief that they could play better and finish strong, with fullback
Darrel Young
saying they would do "something special." Too many players believed in what they were doing to write them off; it was similar to the 2005 feeling I had. So I anticipated improved play? But a seven-game streak? No way.
How it ended:
With seven straight wins and a home playoff loss to Seattle, and the injury to Griffin. But with a belief that they had turned a corner.
October, 11, 2013
10/11/13
11:00
AM ET
Another round of Friday mailbag questions, ranging from corner David Amerson to Bacarri Rambo's future as an impact player, with some talk on the 4-3 and hurry-up offense mixed in. All questions were compiled via Twitter (using the hashtag #Redskinsmailbag). Part 2 will run Saturday.
September, 5, 2013
9/05/13
9:45
AM ET
Michael Vick
says he feels rejuvenated. That could be a bad thing for the rest of the NFL; it also could turn out to just be a line uttered by a quarterback in the last year of his contract hoping that is, indeed the case.
We'll find out starting Monday night. Regardless, Vick can't wait.
"I feel like I have the opportunity to do some great things and show my talents I still possess, so that's a bit of excitement," Vick said, "and throughout the course of the summer I've been able to expand on what I've learned and I really feel good about where we're going."
The
Philadelphia Eagles
quarterback earned the starting job under first-year coach Chip Kelly with a solid preseason (28-for-38, 383 yards, two touchdowns, two interceptions). In a conference call with Washington reporters, Vick also said the following:
[+] Enlarge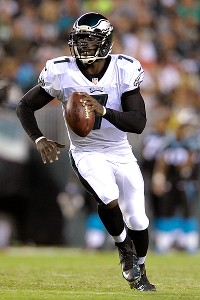 AP Photo/Michael PerezMichael Vick is set to take the reins in Chip Kelly's new offense.
On if he thinks about what it would have been like to run this style of offense for his whole career:
"Yeah, I think about it and what I could have been able to accomplish in that type of offense, but I also respect the fact that I came in 2001 and I had a different set of coaches who build things differently. And I learned so much from them that having that dimension now to my game, adding that only makes me a better quarterback."
My take: Vick is in a good spot now to add several years to his career, if he proves he can run this offense well. He has weapons around him. Perhaps he's in a better spot to run this style of offense now than ever.
On if he feels like he was a "trailblazer" for this particular type of offense:
"Yeah, I feel like I was kind of the ambassador of this offense
in the NFL, like I was the originator. In 2006, I ran for 1,000 yards running the same type of read-option offense, you know it's in the record books and I couldn't have done it without running the read-option. I don't think you can be a dropback passer and run for 1,000 yards in one season, so it was a big accomplishment for me. It was something that I was shooting for. I probably had some other goals set, but it was one of them."
My take: Vick ran the ball 113 times in his first full season as a starter. It was not the same offenses that are being run today, but his legs were a major weapon. He had to learn to be a passer; he did not complete more than 56.4 percent of his passes until 2010 with Philadelphia. Completion percentage is not necessarily the measure of a great passer, but in his first six seasons Vick completed less than 53 percent of his passes three times. He ran as much because he wasn't always an accurate passer and could not sustain an offense with his arm alone.
On the biggest improvement he made in reading defenses in his first two seasons:
"I think from Year 1 to Year 2, the game slowed down for me. I didn't play as a rookie. I only started in three games because I played behind
Chris Chandler
, who was a great, great pocket passer, so I was able to learn from him. Once I started my second year, I was able to see all the things that he had seen and had a better understanding of the game thanks to Coach Dan Reeves. So the transition was easy and it was smooth and I felt like the game had slowed down for me."
My take: This question was asked in relation to Griffin and what growth fans could expect from him. Coaches always say there's a huge improvement from Year 1 to Year 2, just because of the experience and then building on it in the offseason. Griffin was a more accomplished passer than Vick -- better accuracy -- in college and as a rookie. Part of that was the style of offense. Regardless, I expect Griffin to improve the way Vick felt he did -- and then some.
On if mobile quarterbacks take pride in their ability to throw the ball:
"I think as kids when we're in the backyard, we idolize certain guys and we want to be like those guys who we look up to. You don't want to just be viewed as a running quarterback, like all you can do is run or he's just athletic. We put a lot of hard work into our craft and what we do, to be able to go out and execute and run an NFL offense, which is hard, because if anybody could do it, we probably wouldn't be here. Sometimes you don't get credit for what you do, but I think at the end of the day, you've got to be the best football player that you can be."
My take: You don't last as long as Vick has if all you can do is run the ball, though it certainly has helped. He has a strong arm, too. Quarterbacks need to be smart in order to survive a long time. I also remember former Redskins cornerback
Darrell Green
once telling me he did not want to be known just for his speed at corner. There were other things he did well -- and there were other reasons he excelled. But players should embrace their skills and not worry about perception. However, if you want to survive a long time like a
Tom Brady
or
Peyton Manning
, you can't do so by running more than 100 times a year. So, at some point, you'd better take pride in throwing the ball.