Washington Redskins:

Deion Sanders
June, 10, 2014
Jun 10
8:20
AM ET
A little this and that and some comments on stories being written about the Redskins:
Former Redskins safety Brad Edwards is the new athletic director at George Mason University. He certainly hasn't forgotten his football playing past, starting with the guy he says he tries to emulate: Joe Gibbs.
"He's the guy I try to get up every day and model," Edwards said. "Every single day. We all know he had an insane work ethic, and no one will ever question my work ethic. ... You always felt like he wanted you to succeed, but he wasn't going to let you off the hook without doing it exactly the right way."
Edwards also had a funny anecdote involving former defensive coordinator Richie Petitbon. It shows you even smart coordinators sometimes have questionable ideas. But it also shows you when you have a smart player back deep with the gumption to challenge his coach's call.
"He kept calling a seven-man blitz when we were playing the Falcons, and they keep putting Deion Sanders in the slot, which means I'm having to cover Deion Sanders," Edwards said. "So I keep waving off the call, and he's cussing at me, like, 'Make the call!' And I go to the sidelines and I said, 'What do I have to explain to you? The NFL's fastest man. Slow safety. Do you want to ruin my career?'"
Former NFL head coach and defensive coordinator Wade Phillips visited his son at Redskins Park Monday. His son, Wes Phillips, is the tight ends coach. One thing I loved about Phillips when he was with Buffalo years ago: He had a listed phone number. Came in handy when he was up for a job with the Redskins (that he obviously didn't get).
One thing I didn't understand last week: The pushback by some financial people over whether or not players should be paid throughout the year and not just during the season. From what I was told, the players pushed for this and I don't see how it's a bad development. Much easier to make a budget when your payments are spread throughout the year.
I also remember something Antwaan Randle El told me a few years ago. He got his big check as a rookie, spent some money and got to April when the tax man came calling. He had to borrow money to pay his taxes; he never took this into account. That speaks to a few issues, but if all your money is coming in a 17-week span it makes it easier to spend more than what you have – and leave yourself short later. There have been a number of players over the years who seek loans in the offseason for this reason.
My guy Eric Edholm (one of my former editors when I freelanced for Pro Football Weekly) calls the Redskins' signing of receiver DeSean Jackson the most overrated one of the offseason. Edholm wrote, "Oh, they'll make use of Jackson, and chances are, Robert Griffin III will profess his undying love for the guy early on when he's catching bombs and making him look good. But here's my prediction: After two years in D.C., Jackson will have worn out his welcome with a third head coach."
I agree that after two years the Redskins might tire of him. Is it an overrated signing? I'd use another word: risky. That's how most view it anyway. Safe to say based on his on-field history, Jackson will produce and threaten defenses. I always thought he'd be best served going to a team with a strong (and proven) organizational hierarchy. But the Redskins helped themselves in this signing by making it possible to release him after two years and save money on the cap.
Here's an interesting story by NFL.com's Albert Breer, talking to coach Jay Gruden about Griffin and his early impressions on him. A lot of what Gruden says is what the Shanahans used to say: He wants a guy who can run and throw the way he does; he doesn't want to restrict him in the pocket (would be silly); he wants him to get out of bounds more (Griffin improved in this area after his concussion vs. Atlanta, though in certain circumstances he will cut upfield – like against Baltimore).
The telling quote is this one when Gruden talks about how smart Griffin is. "He picked up everything effortlessly. He works hard at it, he studies it, he understands the position and he's willing to learn and willing to take coaching. A guy with as much success as he's had, as early as he is in this young stage of his life, some guys are like, 'Eh, I don't need your coaching, I don't need this, I wanna do it my way.' He's not that way at all. He wants to be coached, he wants to learn the game, he wants to study. He wants to be the greatest. And he knows he has a long way to go, which is refreshing from a guy that's had a Heisman Trophy and as much publicity as he's had. He knows he has work to do, and he's willing to put in the work. That's strikes me as ... I just wasn't expecting that."
Griffin, though, never had his work ethic or motivation questioned. There were some coaches who said Griffin needed to buy in more to what he was being taught, that it would make him more confident in what was being done. It appears Griffin has bought in, but he's also the sort of guy who must buy into all of a person. My guess is he'll be helped even more if he and Gruden do forge something strong. When will we know that's the case? When things get dicey during the season and we don't hear rumors about friction.
January, 29, 2014
Jan 29
8:53
AM ET
A few thoughts on former Redskins corner
Champ Bailey
:
When I started covering the Redskins, Darrell Green was already deep into a Hall of Fame career. When Bruce Smith joined the Redskins, you knew he was on that path, too. But Bailey is the only player I've covered that I remember thinking after several years: This guy is going to be a Hall of Famer.

Sean Taylor might have gotten there, too. But, remember, he didn't start playing at that level until his third season -- he certainly wasn't bad before then -- and then in his fourth started to really take off and become a major difference-maker. And then he was murdered. It was right at the time when players separate themselves. Taylor was doing so.

Like Taylor, Bailey had all-world talent and both players were great with the ball and could have been standout offensive players. These players were ... just different.

[+] Enlarge

Photo by Scott Halleran/Getty ImagesChamp Bailey played for the Redskins for five seasons before being traded to the Broncos in a deal for RB Clinton Portis.

Bailey made the Pro Bowl in his second season (2000) and didn't miss one until 2008. By then he was long gone from Washington. There was something different about him: He was athletically arrogant. Though he hasn't come across as boastful during his NFL tenure like some other corners do, you better believe he's competitive and felt like he was the NFL's best corner. I remember talking to Bailey about that early in his career in an article for Pro Football Weekly. Bailey was matter-of-fact about where he thought he stood and he could say things without being perceived in a negative light.

He was also immensely talented. Every corner will be beat and when you're a corner like Bailey, people expect perfection. I remember one game against the New York Giants -- I forget the year -- in which Bailey smothered his man off the line all game (I want to say it was Amani Toomer, but could be wrong). I remember the Giants' quarterback looking in that direction and quickly going elsewhere. This happened all game. But Bailey did get beat once and it resulted in a touchdown. The life of a corner. Darrell Green got beat, too.

Bailey was great with the media. That's not to say everyone was yukking it up around him and he was some sort of lively personality or sharing state secrets. No, he was respectful. There were many examples of Bailey being stopped by a group of reporters outside the locker room. He'd answer the questions. Another group would stop him inside the locker room. He'd answer the questions. And then another group would talk to him at his locker. Again, he'd answer the questions. I don't think his demeanor ever changed. That demeanor is one reason he's lasted so long at a position that demands steadiness. Santana Moss is similar in the way he deals with the media.

Bailey learned from his elders, notably Green and Deion Sanders. At the Super Bowl media day, Bailey told reporters, "I give a lot of credit to Darrell Green. He was an older guy and he had won Super Bowls, played in a lot of games, and he definitely helped me out a lot in my first couple years."

Green told ESPN's Elizabeth Merrill for this in-depth look at Bailey and his career that they met twice a week in the morning to watch game film. "My motivation wasn't the fame, and people screaming my name," Green said. "It was going to work and being the best I could be."

Here's what Bailey told reporters on his time in Washington: "I was very fortunate to be drafted by the Redskins, a great organization. But things just didn't work out and I was blessed to go to an even better organization with the Broncos. That was probably the best thing to happen for my career because I've been in a good place, a good city, and have worked for some of the best people in the world."

And Bailey's thoughts on the Redskins now: "They're still a great organization. There's so much history there, and I appreciate them believing in my talents enough to draft me. That was pretty much [former Washington general manager] Charley Casserly all the way, but people forget about him. He's the one that made me a pro."

Casserly made some of his best moves in the 1999 draft to not only land Bailey, but to also leave the organization with three first-round picks in 2000 -- even though he knew he'd likely be gone -- courtesy of a trade with New Orleans. The Redskins turned those three picks into the second and third picks in the draft, grabbing LaVar Arrington and Chris Samuels.

Here's Bailey's secret to his success: "Really, my thing is you find something that works for you. I don't try to push my values and my faith on anybody. You find what works for you. Everybody's built a little different and just believing in myself and what I can do and things like that, that's what's really propelled me to the position I'm in."

I don't know if Bailey is done as a player or when he'll retire. He has the body type to shift to safety if he wants and he's smart and athletic enough to make such a switch. But will he have to? Green told Merrill that he has more time. Green said, "If he is in the mold that I believe he is, he doesn't even have to begin to look over his shoulder for three years, maybe four. I didn't feel like until I was 38 or 39 years old that I needed to take a breath. That's a once-in-a-generation kind of gift. People don't have that. I say it humbly, but it's true. I was blessed that way, and I think Champ is, too."
November, 1, 2013
11/01/13
7:45
AM ET
Washington Redskins corner DeAngelo Hall has returned two interceptions and a fumble for touchdowns; he's also played well against the best receivers in the NFL. If his second half is like his first, Hall could be headed to his fourth Pro Bowl.
How do you feel you're playing this year compared to your Pro Bowl years?
DeAngelo Hall:
I feel I'm playing good. It's a tough question to answer. There are a lot of games left. The end result is I want to win games and we haven't been doing that. But at the halfway point I feel I've done a good job. I saw Jerry Jones' comment that Deion [Sanders] could shut Calvin [Johnson] down; anybody who puts their mind to it has a chance. I felt like [Brandon] Carr, I don't know if he was scared of the man or what. He came out against us and played like a Pro Bowler. He got out there and looked timid or the scheme wasn't devised for him to make plays. I haven't watched the [whole] game and saw the end result and saw the one slant that I picked off [against Johnson] that he took 80 yards [against Dallas]. I feel good. The guys I've had to cover this season is nothing short of a who's-who list of receivers.
To me it looks like you're playing better.
[+] Enlarge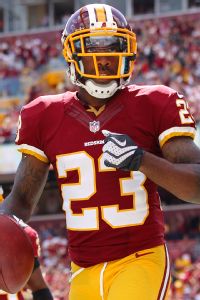 Geoff Burke/USA TODAY SportsPlaying in his 10th NFL season, DeAngelo Hall has been holding his own against some of the best receivers in the game.
Hall:
I feel like I am. Like I said it's hard to say great when you don't win games. As good as Denver was, as good as a lot of other games were …. Chicago I felt I played great; we won the game. I didn't have an interception, a couple pass break-ups, I wasn't around the ball a lot. I held my own against a damn good receiver, but we won the game. I've been in the league long enough. I made a lot of Pro Bowls and had individual success, made a lot of money. I want to win. You get defined by winning and I want to win more than anything now. That's my focus.
You had to take a pay cut in the offseason. Your attitude seems good and you're playing well. Is there a part of you that is bothered by having to do this?
Hall:
I don't know if I took a pay cut for my performance. I like to think not. The cornerback inside me says that's not why. Other things made that happen. The market wasn't what I thought it was and I felt I could still play better than a lot of cornerbacks in this league, so I wanted to come back. I felt comfortable and it was somewhere they'd use me the right way. I think after that [season-ending] Dallas game, they said, 'You're not gonna play nickel and do all the other stuff, play safety; we want you go to out there and lock down a guy.' I was like, I like that. To have an opportunity to do that again I relish that. It was a no-brainer to come back here. The money will take care of itself.
I know the reasons for the pay cut are different, but I've still seen other guys that's it's affected.
Hall:
You ask me that five years ago and my answer would have been different. I'm a much wiser man than I was then. I'm not bitching and complaining. I had a terrible migraine [Thursday] and they wanted me to take the day off. I missed a little bit of the stretching. I still came out and practiced. Mike [Shanahan] was like, "Get back inside and relax." I was like, "No, I want to be out here for these guys." I have to show them I care about this and I want to win games. It's part of the maturation process. A couple years ago you give me a day off I'll take it, regardless of the situation. My head is still banging. I had to come and work with these guys and implement the game plan.
What's underappreciated about your game?
Hall:
I don't know, I don't know… A lot of people think I can't tackle. I feel I'm one of the best tackling corners there is in the league.
I thought that's what you'd say. I don't get it, but that's what I hear about you, too.
Hall:
I hear it, too. I don't know if it's the stigma of corners can't tackle, so they group me in there, too. But I feel I'm a darn good tackler. So that's something underappreciated. I guess my physicalness even at the line, checking receivers. I'm 5-10, 5-11, 190 pounds and there's no way I should win against Calvin and Dez [Bryant] and Demaryius [Thomas] and all the other big guys and I'm able to hold my own.
Of the receivers you've played, who's the toughest?
Hall:
It's hard. I don't want to disrespect anybody. From
Jordy Nelson
to Dez to Calvin to Demaryius to Brandon [Marshall], they all pose different challenges. With Brandon, I didn't press as much because he uses a technique at the line. He'll let you jam him and he'll pull himself through. I didn't want to play as physical with him as I did a lot of the other guys. They're all beasts at what they do. Calvin, they wanted me to do something. I tried it one time and I said, "Hey, that aint' gonna work, this dude is too big; I can't go punk him and throw him around in Cover 2." That dude's just shrugging me off so I have to go back to the drawing board. They're all great receivers who can be game-breakers. If I had to vote all of them to the Pro Bowl I would. They're all beasts.
October, 14, 2013
10/14/13
4:00
AM ET
DALLAS -- Thoughts and observations from the
Washington Redskins
' 31-16
loss
to the
Dallas Cowboys
:
It's shocking that the Redskins lost by 15 points on a night when the defense: held Dallas to 213 yards; held receiver Dez Bryant to 36 yards receiving; held Tony Romo to a 72.9 passer rating. The defense deserves credit. But when you're playing poorly, losses like this happen. Or when you're a bad team. After five games there's no reason to think the Redskins are anything but a bad team. They play like bad teams do, with all the mistakes being made at the wrong times. Anything can still happen, but at least last season they could point to a handful of early games that showed what they could do. What game can they point to this season as proof that they are on the verge of ... anything?
The offense managed 433 total yards and converted 8-of-16 third downs. But they couldn't convert in the red zone and they turned the ball over twice (once when Robert Griffin III was hit and fumbled; he threw an interception in part because the receiver, Santana Moss, slipped after the ball was released. Just a fact. Griffin had other areas you can knock.). It wasn't good enough.
I don't know if Keith Burns is a good special teams coach or not. The Redskins had a guy in Danny Smith who was, like it or not, considered one of the best in the NFL. Yet they made mistakes under Smith, too. So is it now all Burns' fault? The problem for Burns is that, unlike Smith, he did not have a reputation to soften the blow of bad games. He needs to prove himself as a coach. Fair or not, he hasn't done it so far. Sunday, he lost Logan Paulsen on all his special teams units (Fred Davis had to play some; Josh Morgan was in kick coverage in addition to returning kicks and punts). Burns lost Bryan Kehl to an injury. He lost his long snapper. It didn't help.
But there's just no defending special teams this year. They've been bad in all phases. But the Redskins have now surrendered two long returns, one for a touchdown; had a punt blocked and have done little in the return game. Who knew Richard Crawford's injury this summer would hurt so much in the return game?
I always go back to the 2000 season when the Redskins won six of their first eight games with high-profile talent (the Deion Sanders year, in case you forgot). But they finished 8-8 and their coach, Norv Turner, was fired. When fullback Larry Centers was asked about the chemistry, he essentially said you find out about how strong it is when you get punched in the mouth. The Redskins have been drilled in the mouth. They seem to have a strong locker room. But how they respond will impact the next several years. It'll help define Mike Shanahan's tenure in Washington.
I'm just as confused as the Redskins are on the non-fumble in which Jerome Murphy blocked a Dallas player into the ball. The officials said Murphy pushed him into the ball. "I thought you could do it," Murphy said. "That's how we're coached up to do it. If you see someone close to the ball you want to line him up to the ball so you can hit him." Said Shanahan, "You can block somebody into the football if they're engaged." It was not a call that could be challenged. It would have given the Redskins the ball at the Dallas 24. So, yeah, it would have helped. But the Redskins had plenty of other chances. "So many things we can make an excuse for," Darrel Young said. "Controversial call. Move on from it."
Alas, more special teams. And I'll just let Young have the floor: "It's embarrassing for us as a blocking unit. It's not on the returner if he has 10 guys in his face. ... It just sucks man. ... If I have to give a grade on special teams it was an F today. I'm one of the core guys and I played terrible. We lost on special teams. ... This week in practice special teams has to be different. We do the little things right. I guess we're just not executing. Teams aren't outscheming us, they're just outplaying us." So there you go.
Griffin showed more of his old nimbleness and speed, running nine times for 77 yards. But he completed just 19 of 39 passes for 246 yards. If he throws more than 30 passes in a game, this offense is in trouble. It's just not their strength. But he also was under too much pressure and as the pressure increased his throws were more off-target. He needs to be better in the red zone, that's for sure. He is not helping them win games like he did last season. But I saw too many guys losing battles, on the line and at receiver, as well. Griffin needs more help than he did a year ago. I also think Griffin and the coaches will see he left yards out there in the pass game, whether because of overthrows or not seeing an open target.
Dallas lost starting running back DeMarco Murray and their best defensive player in end DeMarcus Ware, both in the first half. It didn't matter. They found a way to win despite something going against them. The blocks we saw on those long returns? I haven't seen those out of the Redskins this year. No big lanes. Nothing. I did see a big lane for Alfred Morris on his touchdown run, yet another example of how his patience forces defenses to overflow to where he's running. Some other runs were missed because blocks couldn't be sustained, whether on linebacker Sean Lee or, in Reed's case, on the backside linebacker. The latter turned one potential solid run into a 3-yarder.
The mistakes in this game, which were plentiful, came after two weeks to prepare.