Washington Redskins:

DeJon Gomes
July, 2, 2014
7/02/14
9:20
AM ET
The
Washington Redskins
' 12-member draft class in 2011 was supposed to yield a number of key players. With those players entering the final year of their original contracts, it has not lived up to expectations -- or hopes. As of now, only one player will enter the season as a guaranteed starter and by this time next year it could well be that only a couple players remain from this group. Injuries didn't help as five of these players have missed an entire season or a substantial part of a year. Here's a look at how they stand:
Kerrigan
LB Ryan Kerrigan (first round):
Established as the starting left outside linebacker. He's become a solid player for Washington and was off to a terrific start last season with 6.5 sacks in the first seven games. Kerrigan injured his knee and, though he said it did not cause any dropoff in his play, he also admitted he lost a little explosiveness because of how it felt (he had just two sacks in the final nine games). Like
Brian Orakpo
, he should benefit from the arrival of outside linebackers coach Brian Baker, defensive end
Jason Hatcher
and rookie linebacker
Trent Murphy
. Kerrigan does well moving around and rushing from the inside. He'll need to get out of the habit of trying to mostly rush with contain. But if others are being effective, Kerrigan will have a solid year with his relentless style. The Redskins gave him the fifth-year extension, so he will return next season -- as he should.
DE Jarvis Jenkins (second round):
Not even guaranteed to start this year, though he'll definitely be in the rotation. And if he does start, he likely won't play as much in the nickel until he proves he can help as a pass-rusher -- something he has yet to do. Jenkins can be valuable at helping against the run. He needs a strong year to garner another contract from the Redskins.
Hankerson
WR Leonard Hankerson (third round):
There's no guarantee he'll even be ready to start the season. He's been inconsistent and has never become the player Washington's previous staff hoped he would be. Injuries haven't helped him at all. But Hankerson lacks any sort of explosiveness after the catch. He'll have a tough time this season coming off his knee injury. Not the way he'd want to enter a contract year.
RB Roy Helu (fourth round):
He can still help, but what he's proven is that while he can at times look excellent in the open field he's not a patient runner from scrimmage, leading to too many short runs. The Redskins drafted
Lache Seastrunk
, but Helu has a big edge over him in the pass game. It's not just about catching the ball, it's about knowing how to run routes and pick up blitzes and recognize coverages. Don't underestimate that aspect of the job because it's huge. But if Seastrunk improves and shows he can be more than a runner from spread formation, then Helu's future beyond 2014 is in doubt. For now, he's insurance if something happens to
Alfred Morris
.
S DeJon Gomes (fifth round):
The Redskins cut him before the 2013 season and he was picked up by Detroit. He's still with the Lions, but will be a reserve and special teamer. He never developed in Washington.
TE Niles Paul (fifth round):
Entered as a receiver with decent speed, but was more known for his blocking on the edge as a rookie and then moved to tight end in his second season (after some discussion of trying safety instead). Paul hasn't become the sort of tight end the coaches felt he might, but he was better last year than in 2012. Still, he's a third tight end who can block on the move. The Redskins drafted
Ted Bolser
, but based on watching his college tape and again this spring, he did not seem like a real threat to unseat Paul. The latter is a key special teams player, too. He's a tough guy and adds a lot on that unit.
Royster
RB Evan Royster (sixth round):
Will enter once again as a guy on the bubble. He was insurance last year and carried the ball twice and caught one pass. With Morris, Helu and Seastrunk, it's hard to imagine Royster being anything other than insurance again. It will depend, too, on how
Chris Thompson
looks this summer -- and how many backs Jay Gruden wants to keep. Tough to see Royster being around in 2015.
WR Aldrick Robinson (sixth round):
He improved down the stretch, but to expect a big leap this season would require much faith. Robinson has had to learn how to run routes at the proper speed and depth, something he did get better at in 2013. But like Hankerson he needs to improve his consistency. At best he's a fourth receiver this season and if
Ryan Grant
progresses, he'll eventually bump him from this role (not a lock for that to be the case this year however; Grant needs to get a lot stronger). Another guy who could be gone after this season.
CB Brandyn Thompson (seventh round):
Cut before the 2012 season; now plays for Ottawa in the CFL.
OT Maurice Hurt (seventh round):
Has never really looked in great shape. He missed all of last season with a knee injury and will have a tough time making the roster. Worked at right tackle in the spring. He's not a right tackle.
LB Markus White (seventh round):
He looked the part, but never quite grasped the position. Cut during the 2012 season. He spent time with Tampa Bay that season, but was cut last August. He now plays for Saskatchewan in the CFL.
NT Chris Neild (seventh round):
Opened with a flash as a rookie with two sacks early in the season. His game, though, is not built on sacks so that was an anomaly. He's a try-hard guy, but will have a real tough time making the roster.
October, 16, 2013
10/16/13
2:45
PM ET
ASHBURN, Va. -- The
Washington Redskins
have a list of problems on special teams. Here's another: Not all the players have bought into the system being used by first-year coach
Keith Burns
.
He changed the system Washington had used under long-time coach Danny Smith, who bolted for Pittsburgh in the offseason. It's been a rough adjustment. Washington ranks 32nd defending punts, 28th in kickoffs, 27th in punt returns and 30th in kick returns.
[+] Enlarge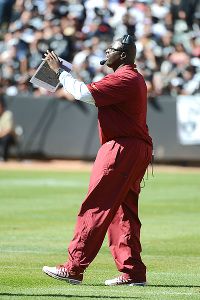 Kyle Terada/USA TODAY SportsRedskins players have required an adjustment period in order to trust Keith Burns, who replaced long-time special teams coach Danny Smith.
"I don't think everybody is completely buying in to certain aspects of the teachings," Redskins special teamer
Niles Paul
said. "But I feel we're getting to a point where we are starting to trust Keith and we need to put it on film."
Paul said the lack of trust stems from the change in philosophies. Smith was highly popular with the players; he was known for being vocal during practices but also for establishing a good rapport with them. A number of players would visit Smith in the offseason at his office.
"Burns is a different individual from Danny," Paul said. "Everybody here loved Danny and having Danny here was very beneficial to everybody. But Keith is a different guy with a different scheme and everyone has to get used to that. Everyone has to believe in the coaching. At the end of the day we have to make plays when you're out there.
"You go from Danny who has been here, lord knows how long, to a new guy and everybody loved Danny. Everybody trusted Danny."
Among the subtle changes: the way the players are asked to block in protection. They used to kick their way back out of a two-point stance; now they're standing balanced and stepping back. On kick coverage, they've gone from being able to get around double teams to make plays --
Lorenzo Alexander
excelled at this -- to having to take on those double teams.
"With Keith it's more about business," Paul said. "Keith is a different guy with a different scheme and you have a lot of dudes who come from believing in what Danny does. Now we have to trust in what Keith does."
Paul was not the only player who felt the Redskins were still developing a trust in Burns, though a couple others declined to say anything on the record.
"It's definitely a little bit different, but at the end of the day we get paid to go make plays, whether it's because of the system or in spite of the system," said Redskins special teamer
Reed Doughty
, who has been a game-day captain for this group. "Whatever your feelings are it really doesn't matter. It's still a reflection of us."
There are other issues that must be addressed, too. The Redskins lost Alexander to free agency in the offseason -- Arizona made him a more lucrative offer and gave him a chance to start.
DeJon Gomes
, a core special teamer the previous two years, was cut because he struggled at safety. Now
Bryan Kehl
, considered one of the core players, is out for the season with a torn ACL.
In years past, Doughty said there were always four or five players who participated on all the special teams. That made it easy to form a core and take charge of the units. That's not the case this season.
"You know what to expect every week," said Doughty, referring to the importance of core players.
Like most players coming into the NFL, Paul was not a special teamer in college. But when he joined the Redskins in 2011, he had Alexander and Doughty to tutor him.
"I wanted to be part of that," he said. "I was so hungry I wanted to be on everything, to show I deserved to be on the field. We need to get back to that. We need 11 players who love being out there, who want to be out there and who want to make plays."
Doughty said they will start watching film together on Fridays, something that was done in the mid-2000s when then special teams captain
Rock Cartwright
was around.
"Maybe for some young guys, to help them understand what we're looking for," Doughty said. "When you do that as a group it helps you say, 'I'm going to work off this if you see this.' Or, 'If you see this I'm going to play off you.' "
Whatever the reasons for Washington's plight, it needs to change.
"If we want to win any games this year we have to improve special teams," Paul said. "We have to figure it out soon too. What happened on Sunday was a wakeup call and unacceptable and embarrassing as a unit."
August, 29, 2013
8/29/13
11:00
AM ET
Taking a look at some of the Redskins roster battles as they reach the final cuts. Here's a look at their secondary:

How many:
The Redskins could keep 11 if they want, though that number could be reduced when end
Jarvis Jenkins
and linebacker
Rob Jackson
return from their four-game suspensions. They could also give that extra spot to the offense. For now, let's go with 11 -- six corners, five safeties. Does the area with the least depth deserve the most players? Especially for a head coach who stresses keeping the best 53? If that's the case then, no, they won't get 11. Still, keeping that many would allow them to cover up issues with versatility, rotating safeties as they did in the second half of last season depending on the situation. And probably one of them likely would get cut when Jackson and Jenkins return.
Locks:
DeAngelo Hall
,
David Amerson
,
Bacarri Rambo
,
Reed Doughty
,
Brandon Meriweather
(if healthy),
Josh Wilson
,
E.J. Biggers
. I'm a little shaky on this only because there are injury issues that coaches clearly need to see have been resolved, with Meriweather and Wilson. If healthy, they're key parts to the secondary. Though Biggers hasn't always jumped out in the preseason, and I'm not sold on him covering in the slot (does blitz well from here), he does have a history with secondary coach Raheem Morris and they like the fact that he's a little taller and long-armed and versatile. So do I.
Looking good:
Chase Minnifield
. I have a real hard time seeing him get cut. He's proven to be a smart, feisty corner and aggressive. He plays with an attitude. Minnifield has some things to learn and needs to show he can cover consistently when not jamming the receiver. But he plays the run well and after missing last season thanks to two knee surgeries, Minnifield has proven he can still play.
On the bubble:
DeJon Gomes
,
Jose Gumbs
,
Jerome Murphy
,
Jordan Pugh
. Before Richard Crawford's injury, I had Gomes out. It would not surprise me if that still happens, especially if Meriweather looks fine tonight, lessening the need for another in-the-box safety (with Doughty on that list as well). Gomes is unreliable when playing deep and I'm not sure that he's progressed enough to keep a roster spot, despite his special-teams play. Murphy and Gumbs both have jumped up with their training camp and preseason performances. The coaches like how physical Murphy plays at corner, almost with a linebacker's mentality. More important, he's a terrific special-teams player and that's where he'd mostly play. Gumbs is a big-time hitter learning how to play free safety -- he's more comfortable in the box. Pugh rarely jumps out, but the Redskins worked him hard this summer at becoming better when needing to play up. I somehow think Murphy earns a roster spot with Gumbs as a dark horse, perhaps as a fifth safety. What helps Washington a little bit is the versatility it has at corner, allowing the Redskins to mix up coverages even more and perhaps take one fewer safety if necessary. Their talent clearly is at corner.