Washington Redskins:

Dez Bryan
June, 21, 2014
Jun 21
2:00
PM ET
1. I've mentioned
Washington Redskins
outside linebackers coach Brian Baker a number of times and wanted to give you more of a feel for him as a coach, just by listening to him during practice with his players. A few things I noticed: He's constantly teaching and reminding players when what they've done is right or wrong. It's constant. He even chastised one player (wasn't quite sure who) for not having his eyes on him when he was speaking.
2. During pass-rush drills, he reminded the players, "don't let them control your body! Keep your elbows tight!" It's a point of emphasis. At one point, he told rookie
Trent Murphy
, "Give me one good one 93; I need one good one before we move on!" Murphy gave it to him. Baker worked with players on where their hands should be on the blocker at the snap (obviously not low, but he worked on getting the hands right before the snap, too). Baker: "You can't let him get into your chest. The closer you are the higher you put your hands."
[+] Enlarge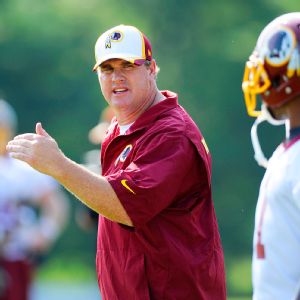 AP Photo/Nick WassJay Gruden had his coaches concentrating on special teams during the Redskins' minicamp.
3. And, finally, I like that Baker does not have a one-size-fits-all approach to pass rushing. He worked with
Brandon Jenkins
on his footwork off the snap when positioned at right outside linebacker. It's a little different than on the right side and he wanted to make sure he stayed on the right path from the get-go. But he also told Jenkins, "You can't get it to look like everyone else. You've just got to get it right. Make it work for you." He also worked with Jenkins on accelerating at the top of the rush -- it's where you win.
4. I don't know what sort of difference one outside linebackers coach can make, but I also know it can't be overlooked. He's a legit coach.
5. Redskins coach Jay Gruden incorporated more of his coaches in special teams drills. It's not as if other coaches in past years did nothing here, but it was noticeable this past week. Secondary coach Raheem Morris worked with the flyers in punt coverage while receivers coach Ike Hilliard showed them how to get off a jam. Baker helped with the tackling drills. Gruden said it enables special teams coach Ben Kotwica to get more out of his allotted 10-15 minutes. There is a definite increased emphasis on special teams, starting from early in the offseason.
6. The Redskins now know
they'll face
quarterback
Ryan Fitzpatrick
in the season opener against Houston. Not sure it's a big surprise and not sure it really matters. Fitzpatrick was 9-5 as a starter from Nov. 14, 2010 to Oct. 30, 2011 -- that includes the 23-0 shutout of Washington. Since then, Fitzpatrick is 10-23 as a starter. Of course, his first NFL start came against Washington, a 24-9 loss while with Cincinnati in 2005. Fitzpatrick has thrown 106 touchdown passes to 93 interceptions in his career.
7. Three months later
DeSean Jackson
remains
a big topic in Philadelphia
. It started, again, with running back
LeSean McCoy
saying Jackson's release caught everyone's attention. It let them know if you don't buy in, you will be cut. Kelly refuted that notion. "I don't send messages to other players by how I deal with other players," Kelly told Eagles reporters. "And how LeSean McCoy interprets things … LeSean has a beautiful mind. Sometimes trying to analyze that mind I don't wrap myself around that too much. Or bother myself too much with that. However LeSean interprets things is how LeSean interprets things." The
Eagles do think they have enough speed
minus Jackson to still thrive.
8. There was a big to-do over
the Patriots having a Jets playbook
and that led to a discussion over whether it made a difference. Some who have covered the NFL a long time insist it means nothing; others who have covered it a long time insist it does. With players switching teams all the time, I doubt it's a big secret what's in various playbooks and coaches study so much tape that there shouldn't be many surprises. The bigger issue is when you know another coach's tendencies. I say that because some coaches here in the past felt that part of the success they had against Giants quarterback
Eli Manning
stemmed from having their playbook. But it also helped that they felt offensive coordinator Kevin Gilbride didn't change a whole lot. Tendencies mattered more.
9. One player who must have a strong year for Dallas: cornerback
Morris Claiborne
. The Cowboys traded up to get him with the sixth overall pick in 2012, but his impact has been poor. Claiborne has picked off two passes, has battled nagging injuries and lost his starting job last year. This is the time of year for player optimism and Claiborne is no different.
Everyone is saying the right things about Claiborne
, as you would expect. But they like that he's competing. One nugget: Claiborne pulled a rookie corner off the field in order to face receiver
Dez Bryant
in practice. "Me and him talked about it before we even started up that we want to be the best and we want to go against each other," Claiborne said. "We feel like we both compete at a high level. I get good work when I go against him and it's vice versa. When I'm not up there, he's telling me to come. We're trying to help each other so we can be the best for our team."
10. The Redskins nearly had
Antrel Rolle
in the 2005 draft, but he went one pick ahead of them at No. 8 to Arizona, so they drafted
Carlos Rogers
instead. Rolle, a corner when he came out,
continues to improve at safety
. Giants safeties coach Dave Merritt said of Rolle, "Before, as far as formations, he didn't see formations. He didn't really see the route concepts. Now, the last two years, it's all coming together for him and he's feeling more comfortable. So with Antrel's ability to continue to learn and grow, he hasn't really scratched his ability as a safety yet. Last year was a glimpse of what Antrel could actually become."
December, 22, 2013
12/22/13
9:00
PM ET
1. Mike Shanahan keeps saying he'll meet with owner Dan Snyder after the season and until that happens there is no decision on his future. OK. But I just don't see him returning because at this point it doesn't make any sense. I'll just say this: The Redskins will not get caught flat-footed looking for his successor, like they were when Joe Gibbs resigned after the 2007 season.
2. Regardless if owner Dan Snyder still likes Shanahan or not, you just reach a point where you say change is necessary. Continuity is good and the Redskins need it; they'll soon be on their fourth head coach in seven seasons. They've changed schemes and personnel too often and it's a brutal way to try and win. But you don't become good because you're stable, you become stable because you're good. That's why the Steelers and Patriots and other patient teams don't panic after a bad year or two. The organizational foundation is there. Take away all the stories that have come out and at 3-12 it would still be difficult to justify another season. It's become a football decision as much as anything. There are smart coaches here, but the bottom line is the Redskins are 24-39 in the past four seasons and facing more roster turnover.

Shanahan
3. You could predict the Steve Spurrier 5-11 season; you could see the Jim Zorn collapse as well. Neither one of those regimes had a chance for a number of reasons. This season? Maybe a 6-10 season because of
Robert Griffin
III's knee and some issues related to the cap. But possibly 3-13? No way. The last time I covered a 3-13 season was Norv Turner's first year and that was the first step of a massive rebuild. This was in Year 4 of a regime that showed promise a year ago at this time. When they hired Shanahan to pair with general manager Bruce Allen, my thought was that, if nothing else, the Redskins wouldn't suffer through this sort of season. And now they have. It's an all-around debacle.
4. I don't know who the next head coach will be, but I know Baylor's Art Briles' name will always be mentioned because of his connection to Robert Griffin III. Yes, it already has been, though mostly to say he'd be receptive to the job. I've said it before and will say it again: That would be a major risk and put too much pressure on Griffin. One respected veteran, who likes Griffin, said of that possibility, "It would be bad for him and it would be bad for the locker room. It would put him in a tight spot." Just because of the perception players would have that Griffin played a role in Shanahan's ouster in order to get his college coach hired. Not a good look.
5. Now, onto the field. Maybe I'll change my mind after watching
Kirk Cousins
again in the next couple days, but he was rather ordinary Sunday. He did not play like a guy that will force other teams to surrender a high pick for him in May. He needs time and it would not be the worst thing in the world, at all, for the Redskins to bring him back as insurance for Griffin.
6. Cousins threw another interception on an inside route. Like with the two picks last week, Cousins failed to lead receiver
Santana Moss
; wasn't wild about the QB's footwork on the play. Maybe Moss should have caught the ball, though few I think would have. Instead he tried to turn around and it caromed off his hands. I like that Cousins owns his mistakes. But there were a few other passes that were nearly intercepted (this is where it's helpful to watch the game again to get a stronger feel for what happened. I do know on one it didn't look like
Josh Morgan
did a whole lot to help him out).
7. I still like that Cousins does not lock onto one receiver. He also made a nice throw on a 19-yard pass to
Pierre Garcon
in which right tackle
Tyler Polumbus
' presence prevented Cousins from stepping into the throw. Cousins has to go through so many situations before you can do more than guesswork about his future. I didn't like that Cousins failed in the fourth quarter, completing 2 of 8 passes for 18 yards. It was a chance for him to carve out a place for himself in this rivalry and he couldn't get the job done. It's not all on him, but he would have received the glory, so ...
8. The inability to pressure with four defenders was a problem for much of the year and it was again Sunday, especially after
Brian Orakpo
went out. But even with Orakpo the rush was too quiet, except for when they paired he and
Ryan Kerrigan
on the left side. They ran a blitz to free up
Brandon Meriweather
running wide, with the others inside. Meriweather was unblocked. Kerrigan ran a stunt to the inside for his sack. An end with pass-rush skills needs to be found.
9. But mostly nothing came from the rush. Every time they've played
Tony Romo
and he gets that much time he beats them. They're not good enough in zone coverage to let Romo have that sort of time. On the touchdown, the Redskins were in a zone and used a four-man rush. The coverage did well initially because Romo couldn't find anyone. But he had too much time, slipped to his right and corner
DeAngelo Hall
said he was concerned for Meriweather in the back of the end zone with
Dez Bryant
. So Hall sunk deeper. Meanwhile, with linebacker
Perry Riley
playing inside and reading Romo's eyes, that left
DeMarco Murray
open in the flat. Hall said he thought Riley might slide over to get the back; Riley said he did not know Hall had sunk so deep. You can't give Romo that sort of time.
10. The ability to extend plays in the red zone is why mobile quarterbacks are so valuable. Romo passed up opportunities to run so it's not about him gaining yards with his legs. His 51-yard pass to receiver
Terrance Williams
came from him extending the play. Once Griffin reaches the point where he understands it's just about extending plays he'll be more dangerous. "That's what makes Robert so dangerous and makes all the mobile quarterbacks so dangerous," Redskins corner
Josh Wilson
said. "When they're out of the pocket, it's not on a designed play so it's draw it up in the dirt. It's tough for a defender."