Washington Redskins:

Dez Bryant
December, 23, 2013
12/23/13
12:00
PM ET
The
Washington Redskins
failed to apply enough pressure on
Tony Romo
throughout the game Sunday, but especially on the final drive. In the past they have taken more chances against him by blitzing in late-game situations. It failed in a loss at Dallas two years ago. It worked in forcing an interception in last season's regular-season finale.
But there were no blitzes on the final drive. And the Redskins' four-man rush failed, once again, to produce. Romo was never even hit on the final series. Is that Jim Haslett's fault? Don't know; I do know that in the past coach Mike Shanahan will make defensive calls -- or at least say what he wants run.
Anyway, here's a look at Dallas' winning drive and how much time Romo had to throw.
[+] Enlarge

Greg Fiume/Getty ImagesTony Romo's ability to extend plays hurt the Redskins on Dallas' game-winning touchdown drive.

First-and-10, Dallas 13-yard line. The Redskins rush four, with linebacker Darryl Tapp, aligned on the left outside Ryan Kerrigan, stunting to the middle. Romo unloaded a pass to receiver Terrance Williams in 2.4 seconds. Romo was not close to being hit.

Second-and-10, Dallas 13: Tapp lined up on the right side, this time with Kerrigan still on the left. Both looped inside through the interior. Both actually had decent push, too, but the ends -- Barry Cofield and Chris Baker -- failed to generate any push, so the pocket remained clean enough. After 3.8 seconds, Romo connected with Williams, facing man coverage from corner David Amerson, for 15 yards.

First-and-10, Dallas 28: Tapp again was on the right side. He tried a spin move against left tackle Tyron Smith, but it did nothing. There was little pressure. But after 3.3 seconds, Romo threw incomplete to Dez Bryant as cornerback DeAngelo Hall tipped the ball away.

Second-and-10, Dallas 28: This was the killer, but it shows why extending a play is so vital. The Redskins showed seven at the line, as they had done a couple times throughout the game. They had run various plays off this look, which resulted in pressures or at least some confusion by the Dallas front. Not this time. Tapp aligned over the right guard and about a half yard deeper than the others along the front and just inside Kerrigan. Safety Brandon Meriweather was outside Kerrigan. But they only rushed four, with Kerrigan and Tapp running a little stunt. Kerrigan moved to the inside, but Tapp did not get too wide nor did he generate any push. With no contain rush on the outside, Romo could escape to his right and, after 5.1 seconds, unleash a 51-yard pass to Williams. It did not help that cornerback Josh Wilson slipped and fell on the play.

First-and-10, Redskins' 21: Tough one to defend with any amount of rushers as Romo threw a smoke route to Bryant on the right side (in 0.9 seconds). Hall missed the tackle and Bryant gained 17 yards.

Fourth-and-goal, Redskins' 10: This was a basic four-man rush, with all four running straight up field. There was no real pressure, but Romo did not have any open targets, either. Baker started to drive the right guard back for the start of a solid rush. But Baker lost his footing and a gap was created for Romo to run through. Kerrigan was lined up wide left and was chipped by the running back. He then rushed contain. Meanwhile, after Baker fell, Romo ran through the opening and hit DeMarco Murray for the winning touchdown. Romo extended the play for 5.0 seconds.
November, 1, 2013
11/01/13
7:45
AM ET
Washington Redskins corner DeAngelo Hall has returned two interceptions and a fumble for touchdowns; he's also played well against the best receivers in the NFL. If his second half is like his first, Hall could be headed to his fourth Pro Bowl.
How do you feel you're playing this year compared to your Pro Bowl years?
DeAngelo Hall:
I feel I'm playing good. It's a tough question to answer. There are a lot of games left. The end result is I want to win games and we haven't been doing that. But at the halfway point I feel I've done a good job. I saw Jerry Jones' comment that Deion [Sanders] could shut Calvin [Johnson] down; anybody who puts their mind to it has a chance. I felt like [Brandon] Carr, I don't know if he was scared of the man or what. He came out against us and played like a Pro Bowler. He got out there and looked timid or the scheme wasn't devised for him to make plays. I haven't watched the [whole] game and saw the end result and saw the one slant that I picked off [against Johnson] that he took 80 yards [against Dallas]. I feel good. The guys I've had to cover this season is nothing short of a who's-who list of receivers.
To me it looks like you're playing better.
[+] Enlarge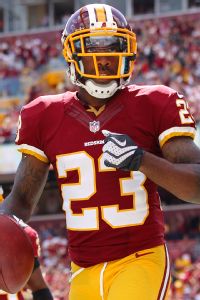 Geoff Burke/USA TODAY SportsPlaying in his 10th NFL season, DeAngelo Hall has been holding his own against some of the best receivers in the game.
Hall:
I feel like I am. Like I said it's hard to say great when you don't win games. As good as Denver was, as good as a lot of other games were …. Chicago I felt I played great; we won the game. I didn't have an interception, a couple pass break-ups, I wasn't around the ball a lot. I held my own against a damn good receiver, but we won the game. I've been in the league long enough. I made a lot of Pro Bowls and had individual success, made a lot of money. I want to win. You get defined by winning and I want to win more than anything now. That's my focus.
You had to take a pay cut in the offseason. Your attitude seems good and you're playing well. Is there a part of you that is bothered by having to do this?
Hall:
I don't know if I took a pay cut for my performance. I like to think not. The cornerback inside me says that's not why. Other things made that happen. The market wasn't what I thought it was and I felt I could still play better than a lot of cornerbacks in this league, so I wanted to come back. I felt comfortable and it was somewhere they'd use me the right way. I think after that [season-ending] Dallas game, they said, 'You're not gonna play nickel and do all the other stuff, play safety; we want you go to out there and lock down a guy.' I was like, I like that. To have an opportunity to do that again I relish that. It was a no-brainer to come back here. The money will take care of itself.
I know the reasons for the pay cut are different, but I've still seen other guys that's it's affected.
Hall:
You ask me that five years ago and my answer would have been different. I'm a much wiser man than I was then. I'm not bitching and complaining. I had a terrible migraine [Thursday] and they wanted me to take the day off. I missed a little bit of the stretching. I still came out and practiced. Mike [Shanahan] was like, "Get back inside and relax." I was like, "No, I want to be out here for these guys." I have to show them I care about this and I want to win games. It's part of the maturation process. A couple years ago you give me a day off I'll take it, regardless of the situation. My head is still banging. I had to come and work with these guys and implement the game plan.
What's underappreciated about your game?
Hall:
I don't know, I don't know… A lot of people think I can't tackle. I feel I'm one of the best tackling corners there is in the league.
I thought that's what you'd say. I don't get it, but that's what I hear about you, too.
Hall:
I hear it, too. I don't know if it's the stigma of corners can't tackle, so they group me in there, too. But I feel I'm a darn good tackler. So that's something underappreciated. I guess my physicalness even at the line, checking receivers. I'm 5-10, 5-11, 190 pounds and there's no way I should win against Calvin and Dez [Bryant] and Demaryius [Thomas] and all the other big guys and I'm able to hold my own.
Of the receivers you've played, who's the toughest?
Hall:
It's hard. I don't want to disrespect anybody. From
Jordy Nelson
to Dez to Calvin to Demaryius to Brandon [Marshall], they all pose different challenges. With Brandon, I didn't press as much because he uses a technique at the line. He'll let you jam him and he'll pull himself through. I didn't want to play as physical with him as I did a lot of the other guys. They're all beasts at what they do. Calvin, they wanted me to do something. I tried it one time and I said, "Hey, that aint' gonna work, this dude is too big; I can't go punk him and throw him around in Cover 2." That dude's just shrugging me off so I have to go back to the drawing board. They're all great receivers who can be game-breakers. If I had to vote all of them to the Pro Bowl I would. They're all beasts.
October, 18, 2013
10/18/13
12:00
PM ET
ASHBURN, Va. -- The
Washington Redskins
have a question for
DeAngelo Hall
: Why can't you play as well every game as you did last week against
Dez Bryant
?
"Now that we saw it on tape," defensive coordinator Jim Haslett said, "I want to see it every week now."
Obviously it's not that easy and if Hall did do that every week he'd be a perennial Pro Bowl player. The Redskins' coverage overall did a good job limiting downfield plays and
Dallas Cowboys
quarterback
Tony Romo
was quick to hit his checkdowns; he also threw only 30 passes (completing five to Bryant for 36 yards, his second-lowest output of the season).
[+] Enlarge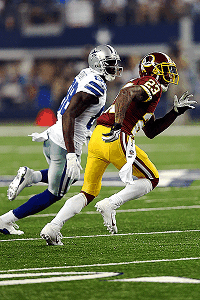 AP Photo/Paul SpinelliRedskins CB DeAngelo Hall showed off his solid cover skills against star Dallas receiver Dez Bryant last Sunday.
You can come up with other reasons why perhaps Dallas did not hit Bryant more. The bottom line: a receiver averaging 76.5 yards per game was held to 36. And Hall played a big role, facing him whenever they played man.
This week Hall will face Chicago's
Brandon Marshall
.
"It's just a competition," Hall said. "[Secondary coach Raheem Morris] was joking about me in practice saying, 'If you watch D-Hall in practice you'll be like, oh man, this guy is terrible.' But you see him in a game and he turns it up to another level."
That's when Hall channeled his inner Allen Iverson.
"I'm like, practice is practice," Hall said. "I have to find a way to protect myself, protect my body, train my mind. You can't go 100 percent every play in practice and think you can carry it over to the game. It's not humanly possible. You use the week to prepare yourself physically to go out and play Sunday. You get hyped, man, you get hyped. Anytime you have a guy across from you that you respect as a player, you want to win that matchup."
Hall did a solid job against Bryant in the season finale last season (four catches, 71 yards but not all versus Hall; Bryant also was dealing with some back pain). And Hall had some good moments in Week 3 against
Calvin Johnson
, jamming him at the line then intercepting a pass and returning it for a touchdown in the first quarter.
But he's also had his not-so-good moments.
"If he did it one time, why can't you do it every week?" Haslett said. "I say that to our guys up front. For instance, [defensive lineman]
Chris Baker
, two weeks ago against Oakland, it was his best game he's played. I told him, 'You've set a standard for yourself. We've got to have that every week.' We tackled much better this week. We were a really good tackling team this week. So, I want to see it every week. You set a standard for yourself. Let's do it every week now."
Nobody would like that more than Hall. He also knows that's difficult.
"It can be tough, depending on the circumstances in a game," Hall said. "This is an offensive league."
October, 16, 2013
10/16/13
11:00
AM ET
Thoughts and observations after the re-watching the Washington Redskins' defense versus Dallas:
1. The Redskins did a good job covering Cowboys receiver
Dez Bryant
, using a mix of man and zone but usually having
DeAngelo Hall
in his area. Hall plays tighter on Bryant, knowing how much he runs comebacks and digs. But teammates helped: the linebackers did an excellent job for the most part of running at him on their drops, or at least getting enough depth to muddy the passing lane. This was a well-coordinated effort at times to take Bryant and the deeper passing game away.
2. One example on the first play of the second series: Hall is aligned against Bryant and it looks like man coverage. At the snap Bryant runs a shallow cross with Hall going with him at first. Then Hall backs into a three-deep look. Slot receiver
Miles Austin
, on the left, could have been open as linebacker Brian Orkapo, aligned over him and several yards off, rushed. But linebacker
London Fletcher
dropped into coverage, taking the slant away.
Josh Wilson
was near Bryan and Hall was about five yards behind him. Maybe if
Tony Romo
had been more patient he could have had a bigger play, but he was quick to check it down. He did not force passes Sunday.
3. The Redskins, for the most part, did a good job getting Romo to move off his spot yet not get outside. Late in the first half they sent Riley and Fletcher through the right guard, causing Romo to slide left and throw. The pass was behind his intended target.
4. Hall did a nice job all night in limiting Bryant after the catch; his tight coverage helped prevent Bryant from getting momentum after the reception. Hall did miss one tackle, leading to nine extra yards. But overall Bryant was tackled shortly after the catch. One of Hall's best plays was the tipped pass in the end zone or Dallas would have had another touchdown. He was in cover-2 but the Cowboys occupied the safety on that side,
Brandon Meriweather
, with a Bryant post. Fortunately for Washington, there was no receiver in front of Hall so he continued to drop, allowing him to get his fingertips on the ball. He was clearly upset with Meriweather after the play, but if Meriweather leaves early, then Bryant is wide open.
5. I like Dallas' rookie center
Travis Frederick
, who did a nice job against nose tackle
Barry Cofield
. Frederick opened the hole on the Cowboys' first touchdown by moving Cofield out of the way. There were times when Cofield got past him with his swim move and he did better as the game went on. But Frederick will be a solid player for the Cowboys. I liked how he handled one rush on the opening drive. He was engaged with defensive end
Stephen Bowen
(who had a pretty solid game) when he saw linebacker
Perry Riley
start to rush. A tight end in the backfield came over to help with Bowen and Frederick calmly slid to his left to pick up Riley. The pass was incomplete, but Frederick did a nice job.
6.
David Amerson
was beat off the line of scrimmage by receiver Miles Austin on his holding penalty in the first quarter. Amerson was a little impatient with his feet allowing Austin to get past him.
7. One attribute defensive coordinator Jim Haslett has wanted at safety is speed. It's especially desirable when trying to disguise coverages, allowing players to wait until the last second to shift. Or they can show different looks knowing the player is fast enough to get to the real coverage. That's one benefit of using three corners and a safety at times. On one first-quarter play, corner Josh Wilson was aligned in the slot, then dropped back into a cover-2 look. The downfield coverage was good; two missed tackles (Amerson, Riley) led to a 14-yard gain.
8. Yes, the Redskins' defensive numbers look a little better because of the Cowboys' punt return for a touchdown as well as starting one drive at the 15-yard line. But Washington held Dallas to 213 total yards and only 4.3 yards per play. That's impressive.
9. The Redskins' rushers were told to attack Romo on his outside shoulder, preventing him from getting outside the pocket. They were successful, for the most part. But on his 15-yard touchdown pass to receiver
Terrance Williams
, Romo was able to get outside. Wilson blitzed from the slot on Romo's right. But, while his initial path was to his outside, Wilson then took an inside path as Romo moved in the pocket. He then got wide and hit Williams with a beautiful throw. Corner
E.J. Biggers
got caught looking inside a bit too much in man coverage and did not plaster Williams soon enough, allowing him to get to the back of the end zone.
10. We point out the times when Redskins quarterback Robert Griffin III misses open receivers, but it happens to all of them. Romo didn't see Bryant wide open about 18 yards downfield on a dig. No one was within five yards of him. Romo even had a clean pocket, but he opted for the checkdown. Maybe he felt the Redskins had been taking him away all game so he didn't anticipate him being open. Whatever; it was a missed opportunity.
11. Linebacker
Brian Orakpo
was not credited with any sort of defensive stat in the game book. Yes, it looked like he was held on one play (there were a couple that were missed; one of the most glaring involved Bowen, who after he got past the guard to the inside, was clearly being pulled at his jersey – with an official in view). But Orakpo needs to make more noise.
October, 14, 2013
10/14/13
3:00
PM ET
A review of four hot issues following the
Washington Redskins
'
31-16 loss
to the
Dallas Cowboys
:
It's tough to defend the clock management at the end of the first half.
Redskins coach Mike Shanahan defended the way Washington handled the timeouts and play calls during that span. Shanahan knows more about coaching than I'll ever know, but in this case, there is this: The Redskins had a chance to stop the clock at Dallas' 17 with 37 seconds left. They would have had one timeout left. Conceivably, they could have run several more plays by stopping the clock at this point. They also would have been more limited to where they could throw with only one timeout, or whether they could run the ball. Still, they trailed 14-3 at the time and had a chance to gain momentum before the half. Instead, the Redskins ran three plays, including a quarterback keeper on third-and-10. They got their field goal; but they also lost a chance for more plays and perhaps more points.
[+] Enlarge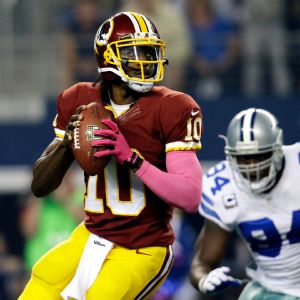 AP Photo/Tim SharpRobert Griffin III finished the loss to the Cowboys with 19 completions for 246 yards and no TDs.
Robert Griffin III regressed during the game from a passing standpoint.
He completed 9-of-21 passes for only 112 yards in the second half, looking off-target on too many throws. The interception in the end zone wasn't just on him, as receiver
Santana Moss
slipped and fell after the ball had been thrown. Griffin was under duress often and it possibly affected his accuracy. Regardless, Griffin's passer rating got worse with each quarter, starting with a 111.5 rating in the first and finishing with a 25.0 in the fourth. He ran well; it wasn't nearly enough.
Washington's defense played its best game of the season,
bothering quarterback
Tony Romo
enough to hurt his accuracy. Corner
DeAngelo Hall
did a terrific job on receiver
Dez Bryant
and, after a bad first series, the defense did a better job tackling. For the third straight game, they also stopped the run. For the first time this season, they did not allow a play of more than 20 yards. After a horrific start, the defense can feel better about themselves entering the Chicago game.
Bad calls occur every game.
But the Redskins lost a chance to gain early momentum when the officials ruled that
B.W. Webb
was a passive player when he was blocked into the ball on a Washington punt. That meant it was not a fumble. But former vice president of officiating Mike Pereira told WFJK-FM's Grant Paulsen that he would have ruled it a fumble because Webb was an active blocker, extending his arms to block Washington's
Jerome Murphy
. The Redskins would have had the ball at the Cowboys' 24 trailing by a touchdown. They did force a punt and drove for a field goal. But they lost a chance at more points.
October, 13, 2013
10/13/13
2:00
PM ET
*How much do players get caught up in the Dallas-Washington rivalry? I'm sure some do -- running back
Alfred Morris
grew up a Redskins fan and said the other day, "If you don't beat anybody, you've got to beat the Cowboys." Former Redskins left tackle
Chris Samuels
came to Washington with a hatred of the Cowboys.
*But more players are like nose tackle
Barry Cofield
, who said earlier this week, "I've had people tell me they don't care if we lose every other game, as long as we beat Dallas twice. It sounds crazy to me. But it gives you a glimpse inside the mindset of the fans, and we're going to carry that [emotion] with us down to Dallas." One player, in a casual conversation Friday, said that players don't really get into this game more than the other division games. Any team you play twice a year helps foster certain feelings.
*It would help if these teams were consistently good and having to go through one another to, say, win the division or have playoff success. That has rarely been the case in the past 15-20 years. That's why it was good for the NFL that they met in the regular-season finale with the NFC East title on the line. But that doesn't mean fans of both teams don't feel a certain way, at least not based on seeing interactions between flight attendants and fans or gate agents on my flight to Dallas. Anyone wearing Cowboys or Redskins garb was subject to some sort of comment.
*"NFL Matchup" is one of my favorite shows and they talked this week about corner
DeAngelo Hall
and some missteps he's had this season. In some cases they're right. But one play they highlighted this week should have been more about coaching than Hall's play. It was a touchdown pass versus Green Bay to
Jordy Nelson
in which Hall, looking like he would stay with Nelson, shot up to the flat. That left Nelson open with safety
Bacarri Rambo
scrambling to cover him. But Hall's job on that play was to try to trap quarterback
Aaron Rodgers
on the play, conning him into throwing to the flat. The coaches acknowledged it was a bad decision and I agree. Rambo clearly is not a guy who could have made up that much ground to cover Nelson.
*The show also highlighted something else I'm not always fond of: the linebackers' drops when the Redskins show seven and rush four. It can be tough to get back deep enough to defend certain routes, especially if the corners aren't going to play tight. It led to a touchdown to, yes, Nelson on a post. Hall was off; the linebackers failed to get enough depth. Touchdown. That's too much Green Bay talk, but it was brought up after watching the show. Just an example of little things that can lead to big gains in the pass game for the opposition.
*That said, Hall needs to have another strong competitive game when facing receiver
Dez Bryant
. Say what you want about Hall, he does compete hard and has a lot of pride. The tough part going against Dallas is that quarterback
Tony Romo
is throwing the ball well and using lots of weapons. Even slot receiver
Cole Beasley
could be a pain in the rear for Washington Sunday night. But I remember at times last season when Beasley's height (he's listed at 5-foot-8) impacted the play in a negative way. Either Romo didn't see him or had to try and lead him differently over the middle (once leading to a Hall interception) if he's tightly covered.
*Quarterback
Robert Griffin
III has a chance to have the sort of game that announces he's back (whether or not he would be 100 percent himself is another matter; but the chance for a breakout game exists). And it'll happen if the Redskins establish the run early. Oakland's defense is pretty good; Griffin finished with a strong game. He must get it done early (but don't forget: Griffin did little in the first quarter of last season's Thanksgiving Day win; two first downs in the first quarter). Washington needs the offense to show something more in the first half. Otherwise: 1-4.
October, 12, 2013
10/12/13
10:00
AM ET
October, 11, 2013
10/11/13
5:35
PM ET
ASHBURN, Va. -- The play begins with a little pressure and Dallas quarterback
Tony Romo
starting to get trapped in the pocket. This is when the damage can start if all lanes aren't clogged. And, on this play in the 2011 season finale, they weren't. As linebacker
Brian Orakpo
pushed a little too far inside -- perhaps only by a foot -- Romo saw the opening he needed.
He spun to the outside, kept his eyes upfield, hit
Jason Witten
at the Redskins' 34 and, a few seconds later, celebrated a 68-yard touchdown pass.
[+] Enlarge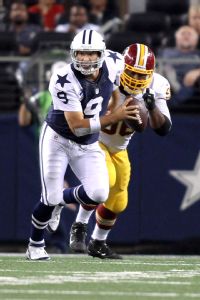 Tim Heitman/USA TODAY SportsRedskins pass rushers have learned to always stay on their feet when chasing the elusive Tony Romo.
Flash ahead to last season, once more in the finale. Once again, Romo is trapped. This time, on a slight rollout to his right, Romo is under pressure from blitzing linebacker
Perry Riley
. Then Romo does his other trick: the pump fake. Riley leaps, Romo buys himself more time, then hits receiver
Dez Bryant
for 23 yards.
"He's probably as good as I've seen, a guy that can stay alive in the pocket," Redskins defensive coordinator Jim Haslett said, "scramble, move side to side, left to right, both sides, and step up and have the ability to still clear the field, look downfield and complete passes. He's probably as good as I've ever seen do that."
The Redskins have learned plenty of lessons when it comes to defending Romo. They sent extra rushers at him in last year's 28-18 season finale win; against five-plus rushers, Romo completed 11-of-23 passes for 135 yards, one touchdown and two interceptions. In the first game, Romo was 9-of-15 for 105 yards against five-or-more rushers. But this season, he's completed 43-of-64 passes for 425 yards and five touchdowns against five-plus rushers -- and no interceptions.
Washington had success running stunts and blitzing up the middle last season. However, the Cowboys have a new starting center, rookie
Travis Frederick
.
"He does a good job to see if there's an overload and he does a good job cleaning up the pile," Redskins linebacker
Ryan Kerrigan
said.
Still, the Redskins must somehow contain Romo in the pocket. His 85-yard touchdown pass to receiver Dez Bryant last Thanksgiving resulted from a scramble in which he extended the play for 5.1 seconds. Back to the 2011 finale: Dallas scored an earlier touchdown when Romo slid out of the pocket to his left and, right before reaching the line of scrimmage, threw to receiver
Laurent Robinson
for a 7-yard touchdown.
"It's tough to do because you want to be wide open how you pass rush," Redskins linebacker Ryan Kerrigan said. "You don't want to be thinking, 'Oh man I have to keep the quarterback contained.' That's the biggest challenge. I don't want to say it slows you down, but it prevents you from doing what you normally want to do. You can be rushing for three or four seconds and trying to be in good contain and you happen to slip an edge and he escapes one way or another and he makes a play.
"What you initially want to do is collapse the pocket and get pressure in his face. In the second game [last season] we did a good job of that. You want to collapse the pocket and hope you can slip an edge."
And don't fall for the pump fake.
"That's the one thing you can't do," said Kerrigan, who has two sacks and a forced fumble in four games against Dallas. "He'll pump fake you 'til the cows come home. You've got to stay on your feet. Put your hands up, but don't leave your feet."
Kerrigan deflected a pass last season following that strategy. Orakpo has yet to record a sack against Dallas in six games.
"Sacks come and if they don't, they don't," Orakpo said. "So it doesn't bother me."
But what does bother him is trying to corral Romo. He praised Romo's pocket awareness and said he has a good feel for when pressure is coming off the edges. And that spin move can be a killer. Orakpo called it Romo's "patented" move.
"He got me on that a couple times," Orakpo said. "That same spin off the back shoulder, spin off of it and make something downfield. It's hard to keep him in the pocket, but at the same time you've got to be disciplined."
Orakpo learned that two years ago, when his rush brought him enough inside to allow Romo to spin outside contain. That's why a point of emphasis this week was rushing at Romo's upfield shoulder, making the path just a bit wider.
"He does a good job of acting like he doesn't see you," Orakpo said. "That's why he gets defenders reaching and lunging, thinking they have to deliver a big blow and then at the last minute he spins right off them."
It's not as if Romo owns the Redskins. Since Mike Shanahan arrived, the Redskins are 3-3 against Dallas (3-2 vs. Romo). He has thrown nine touchdown passes and six interceptions against them. Washington knows what to do. But if the Redskins don't do it, they know what will happen.
October, 10, 2013
10/10/13
5:35
PM ET
ASHBURN, Va. -- The
Washington Redskins
know how
Dez Bryant
can hurt them. They know what he likes to do. The trick, once again, is making sure that what he does won't beat them.
Bryant has done some damage in five games against the Redskins, with 27 catches for 403 yards and three touchdowns. But he's had just one huge game -- an eight-catch, 145-yard, two-touchdown effort last Thanksgiving.
Wilson
"He's fast and physical. He's a little more agile than Calvin [Johnson]," Redskins corner
Josh Wilson
said. "He can do it all."
But it's not as if he's hurt the Redskins every game. The Redskins switched up looks against him in both games, using
Cedric Griffin
and Wilson against him in the first game and
DeAngelo Hall
in the second. Not every time did they play man coverage, either, with a mix of cover-three and some cover-two zones, among other looks.
Redskins defensive coordinator Jim Haslett said he's not sure how they'll defend Bryant this time, but said, "DeAngelo thrives in these situations. Good players usually do." Besides, Wilson is playing more in the slot on third downs and rookie
David Amerson
, who has the length, is still a bit raw for a full-time match-up versus Bryant.
Here's what Wilson learned in his time going against Bryant:
1. Stay alert.
When
Tony Romo
gets on the move and outside the pocket, Bryant becomes even more dangerous. That's how he scored on an 85-yard touchdown catch-and-run against Washington on Thanksgiving. He started split left and ran a post against Josh Wilson. When Romo scooted the other way, Bryant took off as well, gaining separation for a catch and then 70-yard run. "You have to know, just like [Denver's
Dominique Rodgers-Cromartie
] had an unfortunate play," Wilson said. "He'll slow down and lull you to sleep and if you let that happen he'll catch you off guard and it will lead to a big play. He can take off and just start running at any point.
"He does the scramble play better than anybody."
2. Try to jam him.
The Redskins played physical against him last year. In the first game, Griffin and Wilson covered him more than anyone, with Hall aligned in the slot. Wilson would jam him at the line; sometimes he'd wait until Bryant ran a couple yards and then applied the jam. Hall was physical and played more for comebacks -- knowing he had the speed to recover if Bryant went past him. On one incompletion last year as Bryant plants for the comeback, Hall is less than a yard off him and broke up the pass. "You've got to take away the timing. Anytime him and Tony get in a rhythm they're hard to stop. One thing about when you get in a guy's face there are times when you'll be successful, but there will be times when he makes plays. He's a great player. I believe you have to get your hands on him to slow him down."
3. Get some help
. Wilson at times would play him inside, knowing it gave him position to stick with him to the outside and if Bryant somehow got to the inside, there was safety help. Other times the linebackers had to help. For example, in the second game
Ryan Kerrigan
when dropping into a zone, would be aware of Bryant. If he were running an inside route, Kerrigan would run at him before settling into his zone to take him away. "With great players you can't do the same things all the time," Wilson said.
4. Be aware of the back shoulder pass.
Romo completed one of those to Bryant for a touchdown in the Thanksgiving Day game, putting it low and wide. Wilson, with good coverage, had no shot. Hall defended one such pass attempt in the second game, waiting for Bryant to make his move off the line then being physical with him, throwing off the timing of the play. Romo threw too wide. "You have to try and play blind and hope you can get it," Wilson said. "There's no technique for that. It's hard for anybody [when] they've been playing together for a while so they know each other. It's a hard pass because you can't pick it off. You can't make a play on it other than just break it up. You can stop it by not letting him get in your blind spot or stay outside."
October, 10, 2013
10/10/13
10:15
AM ET
Some interesting numbers, focusing on Robert Griffin III and his numbers on third down and in the red zone; and some Dallas passing numbers, some of which will please Redskins fans:
Quarterbacks make their money on third down and in the red zone. If that's the case, then Griffin needs to start earning his on third down. Defenses are blitzing him more, especially on third down, as they're forcing him to win with his arm. But this also speaks to the importance of the early downs. When Griffin and the Washington Redskins' offense faces a third and four or less, he's converted 7-of-13 third downs into first downs with his throws. But after that? Griffin's passes have resulted in only 7-of-31 conversions. The key is the 31, which is way too many. That means that of his third-down drop-backs, 67.3 percent have been in third and five or more. And when it's third-and-8 or more, Griffin's throws have resulted in first downs only 3 of 19 times. Griffin did a good job in the second half against an underrated Oakland defense before the bye, converting 3-of-6 third downs with his arm. His ability to maneuver in the pocket helped convert two of those, a 32-yard pass to Logan Paulsen (who eventually fumbled) and ta 17-yard pass to Leonard Hankerson (on the go-ahead touchdown drive).
In the red zone, Griffin has completed 11-of-20 passes for 81 yards, five touchdowns (one coming versus Oakland) and an interception. His completions, attempts and touchdowns are the league average in the red zone. Just for comparison: Dallas' Tony Romo has completed 15-of-25 passes for 91 yards and nine touchdowns and an interception. And, looking a couple weeks out, Denver's Peyton Manning is 27-31 with 15 touchdowns and no picks.

From my guys at ESPN Stats & Information: "Through 5 weeks, every NFC East team has a losing record and the division has a combined record of 5-14, worst in the NFL. According to the Elias Sports Bureau, this is the only time an entire division has been under .500 through 5 weeks since the merger in 1970." I still think, for now at least, that it'll take nine wins to capture the division.

Griffin has scored just one rushing touchdown in the past 14 games after rushing for six in his first six games. Yes, the knee injury has had something to do with that, but at least last year so, too, did the way teams defended Washington in the red zone. They went to more man coverages, putting the receivers in a better situation and prompting Washington to throw more. The result: Griffin threw six touchdown passes in the red zone in his final five games compared to four in the first nine games. This season he has five touchdown passes in the red zone and no rushing attempts in the red zone. I would expect that to change the more comfortable he gets, whether on designed runs or scrambles.

Stat that should give the Redskins optimism: Dallas has allowed a league-high 14 touchdown passes this season (the Cowboys have only allowed two rushing touchdowns). They've been horrible on downfield throws, with quarterbacks completing 56.8 percent of passes at least 15 yards downfield (compared to 49.5 percent last season). The NFL average is 42.5 percent. The inability to get consistent pressure with their four-man rush has been an issue; they've also faced quarterbacks willing to take shots downfield in Eli Manning, Peyton Manning and Philip Rivers.

Stat that won't provide optimism: Dallas receiver Dez Bryant has an NFL-best 16 touchdown receptions since Week 10 of the 2012 season. That's five more than the next highest total (Denver's Wes Welker). Bryant has caught a touchdown pass in 11 of those 13 games. One in which he did not? The 2012 season finale at Washington.

Romo has thrown eight interceptions in his past 14 games; five occurred in the two losses to Washington last season.
October, 9, 2013
10/09/13
8:15
AM ET
Romo

Can they slow down Dallas' offense? The Cowboys have scored 30 or more points in three of their five games. Denver's defense looked atrocious against Dallas on Sunday in allowing 48 points. Dallas does have a lot of talent, but the Redskins' familiarity helps. Last season they swept the Cowboys by applying enough pressure on quarterback Tony Romo and mostly keeping him contained in the pocket. They accomplished this with stunts, linebacker blitzes up the middle and off the edge. Romo still got outside on occasion, but the Redskins forced him into mistakes. He threw six interceptions in his last nine games, five coming against the Redskins. Also, corner DeAngelo Hall must, once again, be physical with receiver Dez Bryant -- Hall is confident in his ability to stay with Bryant downfield. Problem is, the Cowboys have other weapons and the Redskins have played poorly against good offenses this season. And know this: Romo has thrown five touchdown passes to no interceptions against a five-man rush or more with a 111.8 passer rating; 10 of his 13 sacks have come against four-man rushes, according to ESPN Stats & Information.
Can Robert Griffin III repeat his huge day? He's a different player than he was in that Thanksgiving Day game when he got into a zone (304 yards, four touchdowns). Griffin made some unreal throws in that win. But he's facing a worse defense than he did against Oakland, where he started to show more signs of his old self -- as well as signs of growth in escaping trouble, but keeping his eyes downfield and making plays. What Griffin needs is a fast start, something he has not had in any game this season. Dallas ranks 31st against the pass and not just because it faced Peyton Manning. The Cowboys were 27th entering that game.

Morris

Will Alfred Morris play? He practiced all of Monday and usually if there are questions about players they sit that one out. But Wednesday is a big day; if he practices full, then it looks good for Morris. He finished his rookie regular season with a 200-yard effort against Dallas. Yes, much has changed for Dallas since that game (the Cowboys are now in a 4-3 front; they've been better stopping the run at 3.8 yards per carry). But with the potency of Dallas offense, the Redskins could use a strong game on the ground to control the ball. Besides, the Redskins do a good job manipulating defenses once they start running well. Also, given Dallas' troubles covering backs -- linebacker Bruce Carter in particular -- perhaps this is another chance for Roy Helu to shine on third down.
Will they use more hurry up? Perhaps. But the Redskins did so against Oakland because of how varied the Raiders' fronts were; they were constantly showing a different one. Dallas does not do that, certainly not to that extent; the Cowboys will rotate DeMarcus Ware between right and left end and he'll often stand up at end. Could they use this strategy to change the pace or create a spark? Sure. But this is a defense that already has allowed three 400-yard passers. The Redskins should be able to create a spark without the hurry up. But it is a good changeup tactic.
What happens if they lose? With so many games left you can never officially count a team out. However, this is (obviously) a huge game if the Redskins want to reach their preseason expectations. Then you add on the other aspects: Does this season then go downhill fast, with upcoming games against Chicago and Denver? If that's the case, what does owner Dan Snyder do with coach Mike Shanahan, who has one year left on his deal? Potentially, he could go four years with just one (extended) stretch of (very) good football. Yes, that's getting ahead of ourselves because there's so much time left. But a 1-4 start will lead to serious questions about the direction of the franchise. Again.
October, 8, 2013
10/08/13
7:55
AM ET
Once again after a brilliant outing, the focus is on Dallas quarterback Tony Romo. But it's mostly on the last throw he made -- an interception -- than on the five touchdowns. At least in the eyes of his critics.
Romo, though,
has plenty of defenders
in his locker room. Of course, they're going to stick up for him publicly.
"In my eyes, Romo is a fighter," wide receiver
Dez Bryant
told Dallas reporters. "I don't think no quarterback in this league takes as much criticism as he takes, and he still goes out there and acts like he hasn't heard anything. I know he heard it, but he don't let it get to him. He goes out there and performs the best way he possibly can, and we're going to forever back him."
Romo's coach, Jason Garrett, said
he should have thrown to the checkdown
. The problem with Romo is that he was on fire; my guess is at some point you feel you can complete every throw no matter how tight a window. Turns out that's not the case. And Romo
needs to channel his inner Peyton Manning
.
*The stat for Romo's critics: He's 19-24 as a starter since 2010. The stat for his fans: His passer rating (114.3) is second in the NFL behind Denver's Peyton Manning. Romo has 13 touchdowns, two interceptions and a 71.8 completion percentage. Meanwhile,
Romo plows forward
.
*Lost in the attention surrounding Romo?
The putrid play of Dallas' defense
-- not just in this game, but in the first five. The Cowboys already have allowed three passers to surpass 400 yards, becoming the fourth team in NFL history to do so. With 11 games remaining. Yikes.
Sure, some of it stems from the
quarterbacks Dallas has faced
. But the Cowboys have defensive issues, ranging from adjusting to a new scheme to losing key players to subpar performances. And the pass rush produced 13 sacks in the first three games; two in the last two. End
DeMarcus Ware
hasn't been as lethal.
*There are some excellent numbers on an ESPN.com
breakdown of the Cowboys
, from Romo's passing stats out of an empty backfield -- they're really good -- to the damage inflicted by tight ends and running backs against their defense -- it's really bad. Take note; it'll make you sound smarter all week and during the game.
*Life in Jerry Jones' world. After calling Sunday's loss a moral victory -- teams that are supposed to contend for a division title don't have such games at home -- he
offered support
for coordinator Monte Kiffin. Jones wanted Rob Ryan gone so he'll naturally defend Kiffin.
October, 7, 2013
10/07/13
5:45
PM ET
ASHBURN, Va. -- The offense they just happen to face next put on an impressive display: 48 points; 522 yards; five touchdown passes. It didn't leave
Washington Redskins
cornerback
DeAngelo Hall
shaking, afraid or fearful. It did leave him appreciative.
Dallas
might have lost to Denver, 51-48, Sunday but the Cowboys forced others to take notice -- at least of their offensive potential.

Hall
"They looked amazing," Hall said of the Cowboys' offense. "I didn't think there would be an offense that could keep up with
Peyton [Manning]
and those guys. Dallas and
Tony Romo
never cease to amaze me."
The Redskins play at Dallas on Sunday night -- and face Denver two weeks later. Washington enters ranked 32 overall and 27th against the pass.
"We definitely look forward to the challenge," Hall said. "[Familiarity] will help us a lot. We know these guys going against them twice a year for the last couple years. The offense isn't going to change. Those guys were just in a zone."
Especially the quarterback.
Romo threw for 506 yards and one untimely interception in the loss. He finished with a passer rating of 140.0.
"He was just in a zone, he was locked in," Hall said. "When you play the best it brings the best out of you, and Tony knowing it was Peyton Manning and knowing that kind of offense, they probably had a lot of motivation. Those guys came to play.
Dez [Bryant]
came to play. … They were out there running and gunning.
"When you're in a zone like Michael Jordan or Kobe [Bryant], you feel like the rim is as wide as the ocean and it seems like it could go in. Watching the game from the couch it felt like that with Tony. Everything worked perfect. When you're in a zone, it's hard to combat that."
Meanwhile, three teammates -- tight end
Jason Witten
, receiver
Dez Bryant
and receiver
Terrance Williams
all finished with at least 121 yards receiving.
"It just shows how powerful their offense can be," Redskins defensive end
Stephen Bowen
said. "They have a good group on offense, man."
"Tony Romo was on point," Redskins safety
Brandon Meriweather
said. "The receivers were on point with him."
But Hall said that he noticed a difference in how Denver's corners played Dallas, saying they might have taken a slightly different approach if they were as familiar with them as the Redskins.
"I was so frustrated watching [
Dominique Rodgers-Cromartie
]," Hall said of the Denver corner. "I felt he was in good position a couple times, but not knowing that Dallas offense he eased up for one second. If you ease up for one second it can be six or 70 yards or 80 yards. That's what happened a couple times to the Denver secondary."