Washington Redskins:

Drew Brees
March, 10, 2014
Mar 10
7:30
AM ET
With running back
Darren Sproles
done in New Orleans (his release has not yet hit the transactions wire), it led to another round of "should the Redskins pursue" questions via Twitter. So, should they go after Sproles? Well, I have a few thoughts. As always.
[+] Enlarge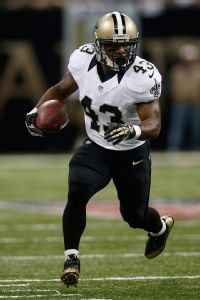 Chris Graythen/Getty ImagesRunning back Darren Sproles had 71 receptions for 604 yards last season, his eighth in the NFL.
1. Yes, I would be interested in signing Sproles if I were the
Washington Redskins
. But you need to know exactly what you're getting. Do not expect the Sproles from 2011, when he set an NFL record with 2,696 all-purpose yards for the Saints and was one of the most dynamic players in the NFL. That is not who he was last season. In 2013, Sproles had 1,273 all-purpose yards. He also will not necessarily solve the issues at returner. In five of the past six years he's averaged 8.0 yards or less on punt returns. Last season he averaged 21.3 yards on 12 kick returns (though he has a 25.3 career average and was at 26.8 in 2012). He's a limited role guy, so you can't pay a lot for him. My guess is the Redskins knew he would be getting released just by analyzing other teams' cap numbers; I haven't heard his name mentioned, so perhaps they made up their minds already. He's 30, and I wouldn't trust a move on anything other than a smaller deal. You just don't give a good chunk to players over 30. Not good business.
2. That said, it doesn't take long to figure out he can still play. Just for kicks (well, for research, too), I watched some of his games last season. Sproles remains an effective back, able to make defenders miss in the open field with a hard juke or quick shake. He sets up blockers well in the open field because he can show inside, then quickly cut outside.
3. Also, and this is big: In two of the three games I watched, I saw the opposing defense (Miami, Philadephia) send two defenders his way on a route several times. And that left gaps in the defense that benefited, for example, tight end
Jimmy Graham
. It gave quarterback
Drew Brees
enough of a window to exploit, and it occurred simply because Sproles was sent to the flat. Also, Brees scrambled up the middle on occasion because linebackers vacated areas to double Sproles. They couldn't do that with a quarterback such as
Robert Griffin III
, who obviously looks to run more. Again, I'm not saying Sproles is the best and they must sign him. But am I interested because he could help them? Absolutely -- and for the right price, he's a good weapon. Sproles is a matchup headache capable of running good routes from multiple spots.
4. Yes, Jay Gruden had
Giovani Bernard
in Cincinnati as a big weapon. Sproles could fill that role here. But keep in mind that Bengals quarterback
Andy Dalton
's lack of arm strength -- especially compared to Griffin's -- almost required that the Bengals have a guy like Bernard, someone Dalton could easily dump the ball to. Sproles would be a good check-down guy for Griffin, but if they sign another receiver, the plan is to get the ball downfield more. That is likely the plan, anyway; I know the coaches think
Jordan Reed
will be an excellent target on deeper throws. That would lessen the desire for a guy like Sproles, though Sproles would still be a weapon. It's not as if Brees was just a check-down guy.
5. If the Redskins somehow pursued Sproles -- and I don't know that they will -- it should not mean the end of
Roy Helu
. As a running back, Sproles works best in a spread formation when he can hit gaps up the middle against, say, a five-man box. If something happened to starting running back
Alfred Morris
, I would not want Sproles as the full-time guy. Nor would the Redskins. The Saints were able to incorporate three backs into their offense, and I think the Redskins could as well. Sproles would replace a guy like
Chris Thompson
.
February, 24, 2014
Feb 24
11:30
AM ET
After a week-long series, in which
Louis Riddick
provided analysis of various Redskins situations -- from the retention of Jim Haslett to whether or not the Redskins should re-sign
Brian Orakpo
-- there's still more in leftover form. This time Riddick, a former NFL player, scout and executive who is now part of ESPN's NFL Insiders, opines on a variety of topics. Earlier Monday, I did the same with former NFL scout, and current ESPN NFL scout, Matt Williamson.
You can read his leftover takes here.
Here's Riddick on:
Jay Gruden:
"It'll be interesting to see how he is able to distill confidence in that team. What stood out to me in his press conference was how he wanted guys to be confident and wanted guys to believe they could be winners, that they deserved to be winners and he wanted them to believe he would make them into winners. The mindset he takes as far as the approach he takes toward changing that mindset is very important. It seems like he understands that and is aware of that. I like that. How much do the people at the management level allow him to run the team the way he sees fit and not undermine him knowingly or unknowingly and being conscious of that and allow him to establish his hold on the team and locker room will determine [that success].
"I don't know much about his individual leadership style and how he interacts with players, but allowing him to do it his way will be important, very important. One thing I do know based on what he says is that he understands the place needs to feel good about themselves. There weren't many reasons to feel good about themselves in the recent past. The psychology of the game is huge for me. Not enough attention is paid to it, not enough time and resources are committed to it. The teams doing it, you're seeing results mainly with a Super Bowl championship. I believe in it wholeheartedly and other teams led by coaches from the same mold as Pete Carroll are trying to do the same thing. …I like that from what I've heard [from Gruden]."
Gruden's offense:
"His offense is fine. The one thing I'm interested to see is what profile he wants along the line. Cincinnati's line is a big gap power blocking line. They don't have anyone there that fits that profile other than
Trent Williams
. Will Gruden become a guy who's more finesse zone blocking? They can't trade out all four guys. Or will he say we need to massively overhaul this so I can get the run game I want here? The passing game, obviously they like to push the ball down the field and like to take shots off play action. Do they have a guy other than Pierre to get downfield?"
Copying Seattle's defensive philosophy:
"The whole concept of timing disruption at the line, ball skills down the field and rush the passer with ferocity have been mainstays of the NFL for years. It's never gone away. It's just not as sexy to talk about as it is throwing for 5,000 yards and 50 touchdowns and lighting up the scoreboard as we've seen
Peyton Manning
and
Drew Brees
do. It's funny how it always comes back to you better play the style of defense Seattle plays, the style of defense the Ravens and Steelers have played historically. You better be able to rush the passer and tackle well and disrupt the ball and disrupt the offense at the line. You always need that. The Star Wars numbers are nice, but defense still wins, physicality still wins. You better make sure you have enough of that.
"Seattle doesn't try to be that complex. They try to be simple enough -- not to make it elementary and easy to pick apart, but simple enough to where they're supremely confident in what they're doing and break down what you're trying to do to them. They knew what was coming in the Super Bowl. All the rhetoric about Peyton able to do so many things with personnel variations and formations and there's no way to handle all of this… They can only do so many things too. There are certain concepts tried and true from a route tree and run game perspective. There's been so much emphasis on offense in recent years that people lost respect for what great defense is all about."
In case you missed it
Here's what Williamson and Riddick had to say on Redskins' free agency
, plus links to the other four articles in the series.
February, 15, 2014
Feb 15
1:30
PM ET
Matt LaFleur knew what he wanted
Robert Griffin
III to focus on in the offseason. LaFleur, of course, won't get the chance to work with him anymore. But he still knows what the Redskins quarterback must do. It's nothing magical, either.
Griffin
"His sole focus will be on football so he won't have to worry about a his knee," said LaFleur, fired as the Redskins quarterbacks coach after the season and now in the same position with Notre Dame. "He'll get to focus on the position. It will pay dividends for him."
As LaFleur said
in a piece earlier in the week
, the biggest jump a quarterback often makes is from his first to second year. Griffin's jump was slowed because he spent all of last offseason rehabbing his surgically repaired right knee.
But this offseason Griffin needs to improve his play in the pocket, from footwork to making faster decisions. LaFleur said what will help Griffin is getting a stronger feel for knowing plays inside and out -- and knowing how to attack certain coverages. He faced a greater variety of looks in 2013 as defenses didn't fear his legs as much as in his rookie season. Not having to wear a brace could/should help Griffin, too.
"There's a strength and weakness to every play," LaFleur said. "Plays are designed to attack certain coverages and schemes. If you know that inside and out, what each play is and why we're running this play and you don't have to think about it when you're at the line and you just react, you're going to be light years ahead of where you were.
"You watch the great quarterbacks like
Peyton Manning
and
Drew Brees
and
Tom Brady
,
Aaron Rodgers
. They all play so fast but it's under control because they know what the defense is presenting to them before it happens. It allows them to anticipate things a little quicker and that makes all the difference in the world. If you're a little off and you're late, it's the difference between a completion and an incompletion."
And that's where Griffin must take his game. During his rookie season, then-coach Mike Shanahan would say that in several years Griffin would look back on his first couple of seasons and realize how much he didn't know. Griffin still was learning to throw with anticipation at an NFL level. As LaFleur said about his running, "He's a world-class athlete. It's just knowing when to escape and when to check the ball down."
And knowing the game in greater detail -- Griffin already is working on his game-- will speed his decision-making.
"He has a better understanding, having two years in the league," LaFleur said. "He'll have a much better understanding of what defenses are trying to do to him and he'll be able to recognize and play the position faster.
"That will allow him to be better in the pocket, just recognition so there's no hesitation to progress from your No. 2 to No. 3 [target]. If you watch most quarterbacks in the league if you take more than two hitches there's a good chance you'll be sacked. By recognizing things it allows you to get to your fourth or fifth read on your second hitch and get the ball out of your hand. Like all quarterbacks the more experience you get the better you're going to be."
February, 11, 2014
Feb 11
4:10
PM ET
Former
Chicago Bears
general manager Jerry Angelo echoed what others have said about
Robert Griffin III
this past season: he wasn't good enough and he needs to make changes to his game.
Griffin
Which is why Angelo gave him a low grade and placed him 21st among NFL quarterbacks. Angelo also rated him as a 6.9 on his nine-point scale.
For Angelo (writing on the scouting website
Sidelineview.com
), falling between a 6.5-6.9 means a quarterback "has strong traits, but hasn't done it. Lack of experience, injuries, missing intangible may be the reason for his erratic play. Still a work in progress. He can move up or down."
That about sums up Griffin after his second NFL season. Here's what Angelo wrote on Griffin:
"Talented, but yet to define himself as an NFL quarterback. He won't have a successful career by working outside the pocket. No one at his position did or will. Too many games and too many hits keep QB's from having a career based on their feet, rather than their pocket accuracy."
Right below Griffin: St. Louis'
Sam Bradford
, a former top pick in the NFL draft (and a guy former Redskins coach Mike Shanahan loved).
New York Giants
quarterback
Eli Manning
was only rated a 7.0; Dallas'
Tony Romo
(7.9) and Philadelphia's
Nick Foles
(8.0) were the tops in the NFC East.
Cousins
Angelo was not high on backup
Kirk Cousins
, giving him a 5.4 grade. On Angelo's scale, that means a quarterback is a "band-aid, can get you through a game. Not a starter. He lacks the arm strength or needed accuracy. May also be missing something intangible, i.e. toughness, instincts etc. Cannot win with him, regardless of supporting cast or coaching."
And here's what he wrote about Cousins:
"Smart, hard working and well liked and respected. Lacks the arm talent to start and become a guy you can win with."
Safe to say if Angelo were still employed in the NFL, he would not be among the teams willing to give up a high draft pick for Cousins.
Angelo listed seven quarterbacks as elite this past season (in order):
Peyton Manning
,
Tom Brady
,
Aaron Rodgers
,
Cam Newton
,
Drew Brees
,
Philip Rivers
and
Andrew Luck
. Here's the
rest of the article.
January, 29, 2014
Jan 29
10:00
AM ET
If you're going to pick one quarterback to lead a game-winning drive with two minutes left in the Super Bowl,
Tom Brady
is a good one to have. He'd be my choice, considering that, you know, he's done it twice already. Not surprisingly, Brady was the choice of the players as well.
The problem this year, though, is that I would not trust the talent around Brady to make it work. Which is why Denver's
Peyton Manning
was second on the list; not only is Manning a great quarterback but he also has terrific talent. That combination is why I'd take Manning this year in that role. But if I could pick one guy and pair him with whomever? It's Brady.
Of course,
Eli Manning
has done it twice as well -- against Brady's Patriots. And, better yet for the Giants, he left Brady only 29 seconds in their first Super Bowl meeting and 57 seconds and no time outs in the second. Of course, Brady led a touchdown drive before Manning's first heroics and if
Wes Welker
hadn't dropped a pass would have led a scoring drive in the second meeting.
I wouldn't pick Eli Manning ahead of Brady or his brother, but I'll take a guy who's done it and I'm surprised a little bit at where he rated. Then again, with him it depends on the year whether he's a guy you'd want in that spot or not. He only received nine votes, which trailed No. 5
Ben Roethlisberger
by 11. Roethlisberger had his own magic two-minute drive to win one. It's hard to argue with No. 3 (
Aaron Rodgers
) and No. 4 (
Drew Brees
). And I know they haven't done it in a Super Bowl. I'm quite sure they're capable.
Still, of this group nothing tops for me Brady's first season as a starter. The Patriots got the ball back at their own 17, in a tie game and with no time outs and 1:30 to play. Conventional wisdom says to get to overtime. But the Patriots were aggressive and Brady drove them 53 yards in eight plays, with a 23-yard pass to
Troy Brown
. A year later it was easier: the Pats started at their own 40 with three timeouts and 1:04 left. Both ended in
Adam Vinatieri
field goals and Super Bowl titles. I'll take it.
Redskins angle:
There really isn't one because quarterback
Robert Griffin III
did not receive a vote. Nor should he at this point. Griffin showed poise as a rookie in these situations and helped himself by being able to run or extend plays. Defenses forced him to be patient by typically sitting back in cover-2 zones. The Redskins were not in many situations to win or tie games in the final minutes in Griffin's 13 starts this past season. He could have helped himself in some of the situations that did arise, but that was more in finishing drives than getting them going. Will experience help? When you start leading game-winning drives on a consistent basis, you reach a different level of quarterback. Here's how the Redskins fared in those spots under Griffin this year:
Against Detroit, they took over at their own 20 with 38 seconds left and no timeouts trailing by seven. They moved the ball 31 yards before a failed Hail Mary pass ended the game.
Against Chicago, they drove 75 yards in 12 plays, starting with 3:57 remaining and scoring on a three-yard Griffin pass to tight end Jordan Reed with 45 seconds left in a 45-41 win.
Then came two low points. A nice drive against Minnesota -- 14 plays, 76 yards in the final 3:36 – ended with three incompletions from the Vikings' 4-yard line in a 34-27 loss. That preceded another disastrous finish as the Redskins moved from their own 4 to the Philadelphia 18 in a 24-16 game. But Griffin was intercepted when he tried to throw the ball out of the end zone while backpedaling.
Two games later, Griffin drove the Redskins from their own 20 with 2:32 remaining to the New York Giants' 49-yard line. But on fourth down receiver
Pierre Garcon
had the ball stripped from him to end the threat.
January, 22, 2014
Jan 22
8:50
AM ET
Jay Gruden tailored his offense in Cincinnati to his quarterback. He's going to do the same in Washington. That means the Redskins' offense will have a different look than the Bengals. It also means
Robert Griffin III
's legs will continue to be a major weapon.
Gruden made it clear the day he was hired that he liked the zone read-option, so obviously he wants Griffin to use his legs. And Gruden's agent, Bob LaMonte, stressed after Gruden was hired that a big reason for his excitement was Griffin's ability to be dynamic. That doesn't mean just throwing the ball. So there wasn't much doubt how Gruden would want to use Griffin. Just in case, though, he went a little further in a story for Sports Illustrated's Monday Morning Quarterback.
[+] Enlarge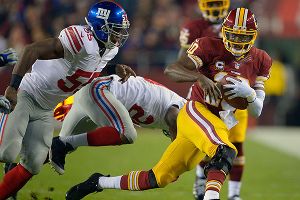 John McDonnell/The Washington Post/Getty ImagesRedskins fans can expect to see Robert Griffin III on the move in Jay Gruden's offense.
"I worked with
Andy Dalton
for three years in Cincinnati, and built a foundation of concepts and protections that I think worked well with him,"
Gruden told MMQB
. "With Robert, we'll obviously use his skill set differently. When it comes to the quarterback position, my job is to make him comfortable and productive. I'm not going to try to turn RG3 into Andy Dalton or
Drew Brees
. He isn't them. They're not him. I would be foolish to try to turn RG3 into a pocket passer. It would be foolish. The way he is as a runner, we have to take advantage of that. He strikes fear into defensive coordinators when he runs outside. I'm going to let him be himself."
Griffin needs to be himself, but at times that conflicted with what the Redskins needed. Or with what he truly wanted to be, which was a pocket passer who could extend plays. That's what the Redskins really need, for Griffin to extend and then make big plays downfield. Like he did as a rookie against the
New York Giants
on fourth down. Putting fear into defensive coordinators does not mean he has to scramble and run the ball. Rather, it's that ability to extend plays that scares anyone.
Griffin does need to develop as a pocket passer, but to limit him there at this point would be wrong. He has to grow more into that role, and the Redskins would love for that to happen. They always pointed to Green Bay's
Aaron Rodgers
as a guy whose game they would like him to emulate; he extends plays with his legs. Yes, when you do that there are more risks for hits. But when you can't, that risk is there in the pocket. And when you're in the red zone, the ability to extend a play is crucial. Look how many big plays were made by San Francisco and Seattle because of the quarterback's mobility.
And for Griffin to become a better pocket passer, he has work to do, developing more consistent fundamentals and progressing through reads a little faster. That's natural for a young quarterback who did not need to worry about either aspect in college. The problems weren't all on him last year, but this is how he can help. A good offseason of work will help, as, perhaps, will greater trust in what he's being told and by whom.
Griffin does not have to become
Peyton Manning
or Brees to win and be successful. Griffin won being himself as a rookie. He also was hurt twice being himself (the concussion and knee injury both occurred on scrambles). Defenses played him without as much fear this season, especially early in the year when he first returned from his knee surgery. They knew he couldn't hurt them with his legs like he did in 2012.
Another year removed from surgery and, perhaps, without the brace, Griffin can get back to that point. But he can help himself in little ways, by keeping his eyes downfield as he runs, allowing potential big plays to develop; it's what Seattle's
Russell Wilson
has done in the playoffs. Wilson is still improving as a quarterback, and there are things he does that Griffin did this season as well -- missing open guys, throwing behind receivers on slants. It gets overshadowed because of the team Seattle built around him, allowing the Seahawks to still win. But Wilson is more focused on extending plays rather than taking off and running, and he can deliver strong passes from the pocket when necessary (as can Griffin).
I'm quite sure Gruden understands the risks of a quarterback who runs too much. Heck, in college and when he played professionally, Gruden was a quarterback who ran too much. His brother, Jon, hates the zone-read because he says it will shorten careers. It makes sense that the two have discussed this topic. So it's safe to say Gruden wants Griffin to develop as a passer and get to a point where he doesn't have to rely on his legs. Griffin wants that as well.
But it's good that Gruden will focus on what Griffin does best, rather than force him into a style that doesn't suit him. They just need to find the right balance.