Washington Redskins:

Eddie Royal
April, 1, 2014
4/01/14
9:05
AM ET
Here's what I know as of Tuesday morning regarding receiver
DeSean Jackson
and the Redskins:
There is not yet a deal, according to multiple sources. But to say it doesn't look promising for the Redskins would be wrong. Very wrong. However, I've seen them close to making other big acquisitions over the years only to lose out at the last minute (Jay Cutler, Eddie Royal). So until a contract is signed, nothing is done. Various reports out of Philadelphia have called it a done deal (97.5's Tim McManus and ABC-6's Jeff Skversky). Skversky caught up with Jackson at Dulles airport. Perhaps that's what Jackson is telling people. Royal told people the same thing a couple of years ago. So did Cutler. Hence the caution.
Would I be surprised if it doesn't happen? At this point, yes. And I think those who have spent time around Jackson in the past few days would say the same thing. One person said he was very confident it would happen.
Jackson will visit Redskins Park Tuesday and meet with the coaches and members of the front office. He dined with some of the coaches Monday night.
Though I wonder if this is a unanimous decision in the organization, I was told that coach Jay Gruden really wants Jackson. I was also told that Jackson was very, very high on his desire to join the Redskins. When both sides really want something, it's the first, second and third steps toward making that happen. But even the person who said Jackson was that high on the Redskins acknowledged that the money had to be right. So desire won't trump all.
There is a great deal of excitement by the players over Jackson's potential arrival and what could be done in this offense. There's a sense by some that Jackson is driven as much by his late father as anything and that he's not as bad as portrayed.
And the addition of safety Ryan Clark adds even stronger leadership in the locker room to help diffuse any potential situations. Some things always pop up, but some players need more attention.
November, 1, 2013
11/01/13
6:30
PM ET
1. When a team that had high expectations stumbles to a 2-5 start, you'd think that injuries would have played a big factor. They haven't. And that's one of the odd things about this start. Aside from safety the Redskins have been a healthy team and this week's injury report reflects that as only safety
Jose Gumbs
is listed as questionable. Everyone else is probable.
2. Safety
Reed Doughty
had a good week of work coming off his concussion and receiver
Pierre Garcon
was full speed in practice after hurting his calf against the Broncos. Tight end
Logan Paulsen
tweaked his left knee against Denver, but like those two is probable for Sunday.
[+] Enlarge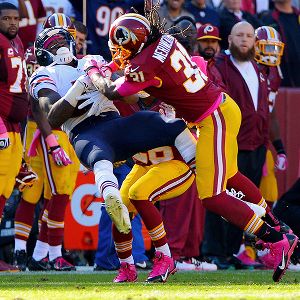 Ricky Carioti/Getty ImagesMike Shanahan isn't worried that Brandon Meriweather will be hesitant after the safety served a one-game suspension for illegal hits.
3. Redskins coach Mike Shanahan said he's not concerned that safety
Brandon Meriweather
will somehow be hesitant on the field coming off his one-game suspension for illegal hits. "Not really," Shanahan said. "I think sometimes people get a little carried away with that. We understand what the rules are and he's been penalized for it. We've been penalized as a team as well. So he knows where the emphasis is and he wants to play football for a long time. When he does get that hit, he's going to try to hit in the right area. Hopefully he does."
4. For San Diego, receiver
Eddie Royal
did not practice for a third consecutive day and is questionable for Sunday because of a toe injury. Linebacker
Donald Butler
(groin) is doubtful and guard
Chad Rinehart
(toe), the ex-Redskin, is questionable. Rinehart was limited in practice.
5. It would be a big disappointment for Royal if he can't play Sunday. He grew up in Northern Virginia and graduated from Westfield High School in Chantilly. (Note: He and Redskins running back
Evan Royster
played together on a state championship team, one that beat Percy Harvin's team to win a title.) Royal was
this
close to signing with Washington in the 2012 offseason; had he done so, then veteran
Santana Moss
likely would have been gone as both are slot receivers.
"I was real close," Royal said. "It would've been a good deal just being able to play at home and play for Coach [Mike] Shanahan. It was an opportunity for me to make all that happen, but San Diego was a better fit for me and I'm happy with my decision. I've got a lot of respect for the Redskins and that was my favorite team growing up, so it's hard to say no to those guys."
Shanahan drafted Royal in 2008 with Denver.
"He's a class individual," Shanahan said of Royal. "He's an excellent slot guy, punt returner, kickoff returner. He can get open, does a lot of the things that Moss has done for us the last few years -- quality guy."
6. Shanahan said the coaches will start preparing for Thursday's game at Minnesota at some point this weekend. He said it's easier as a head coach to start getting ahead than it is for a coordinator because he doesn't have to prepare a game plan. "As a coordinator I couldn't do it in my early years," Shanahan said. "As a head coach, you do have some time where you look a little bit. It's a little different and it does take some getting used to. Some people can't do it."
Friday, for example, the offensive staff is focused on putting together their first 20 plays for Sunday and they also must put together a film for Saturday's meeting.
"So you don't have a lot of time before the game," Shanahan said. "You may wake up early Sunday if it's an early game and study a couple hours -- two or three hours -- just to get a little jump on things because you already got your game plan together, same thing on defense. So it's a little bit tougher. Sometimes they'll do it here in the morning or do it a little bit later on a Friday night. A lot of different ways people do it."
October, 30, 2013
10/30/13
7:40
PM ET
ASHBURN, Va. --
Washington Redskins
safety
Jose Gumbs
, who started Sunday's game at the
Denver Broncos
, did not practice Wednesday because he's still nursing a sprained ankle from that game. With
Reed Doughty
and
Brandon Meriweather
back this week, Gumbs would likely not have a role from scrimmage. But they like his special teams play so if he can't play it would hurt them in that area.
Receiver
Pierre Garcon
(calf) was limited, but everyone else participated fully -- including Doughty, who missed Sunday's loss because of a concussion.
Meanwhile for the
San Diego Chargers
, corner
Donald Butler
(groin), tackle
Mike Remmers
(ankle) and receiver
Eddie Royal
(toe) did not practice. Guard
Chad Rinehart
(toe) was limited. Rinehart was a third-round pick by Washington in 2008. He lasted two seasons, starting only four games.