Washington Redskins:

Eric Berry
April, 18, 2014
Apr 18
3:10
PM ET
The
Washington Redskins
' defense is optimistic about where it's headed, thanks to the addition of
Jason Hatcher
and a tweaked philosophy regarding the pass rush. Whether their play matches that optimism always remains the biggest hurdle. What's not in doubt: They will have two players among the most expensive at their positions when it comes to the salary cap. The fact both are in their front seven isn't a coincidence as the Redskins' offseason goal has been to improve the pass rush. So, after breaking down where the
Redskins' top cap hits at each position offensively stood in comparison to their NFL counterparts
earlier this week, it's time to take a look at the defense.
Safety
NFL's top five cap hits
Eric Berry
,
Kansas City Chiefs
$11,619,700
Eric Weddle
,
San Diego Chargers
, $10,100,000
Antrel Rolle
,
New York Giants
, $9,250,000
Dashon Goldson
,
Tampa Bay Buccaneers
, $9,000,000
Michael Griffin
,
Tennessee Titans
, $8,000,000
Meriweather
Redskins' top cap hit
Brandon Meriweather
(59th), $1,000,000
Summing it up:
Notice who's not in the top five?
Jairus Byrd
, after his new deal with New Orleans. But don't worry: He's set to take up the most cap room in 2015 at $10.3 million. I like Byrd, but not at that figure (I'd have paid
Sean Taylor
that sort of cash). But Byrd was never really a legitimate option for the Redskins.
Mike Mitchell
was and he'll count $2.2 million this season and $4.95 million in 2015. But the overriding point is Washington views the best way to help this position is by bolstering the pass rush. Starters Meriweather and
Ryan Clark
both are on one-year contracts, so this position is still a question mark beyond this season (and still will be one entering the year).
Corner
NFL's top five cap hits
Brandon Carr
, Dallas, $12,217,000
Johnathan Joseph
, Houston, $11,250,000
Lardarius Webb
, Baltimore, $10,500,000
Brandon Flowers
, Kansas City, $10,500,000
Tramon Williams
, Green Bay, $9,500,000
Porter
Redskins' top cap hit
Tracy Porter
(43rd), $2,800,000
Summing it up:
Next season,
Darrelle Revis
' cap hit jumps to $25 million. Which means he's playing on a one-year deal. Is it a good thing the Redskins' biggest cap hit here belongs to Porter, who has battled injury issues along with consistency during his career? Of course, it's not like he occupies a lot of space.
DeAngelo Hall
's cap hit is $2,062,500 but that jumps to $4,812,500 in 2015. By then the Redskins need young corner
David Amerson
to have fully emerged -- can he become their best corner? If not, then they'll have to start looking for a No. 1 corner. By the way, the top five on the list for 2014? They've combined for four Pro Bowl appearances and one All-Pro spot (Joseph). But Carr did do a good job vs. Washington last year in the first game but not the second (and in at least one game against then-Eagles receiver
DeSean Jackson
).
Linebacker
NFL's top five cap hits
Lawrence Timmons
, $11,816,250
Tamba Hali
, Kansas City, $11,464,706
Brian Orakpo
, Washington, $11,455,000
Clay Matthews
, Green Bay, $10,943,750
James Laurinaitis
, St. Louis, $10,400,000
Orakpo
Redskins' top cap hit
Orakpo
Summing it up:
That's quite a list for Orakpo to be part of, but to stay on there after this season -- at least in Washington -- he'll have to be a little more productive. But even if he has another season like last year, Orakpo will still be in the $10-million range. When Hali got paid, he responded with sack totals of 12, nine and 11 in the next three seasons (with nine forced fumbles and one interception). I don't think anyone says Hali's overpaid (well, at least not many). In Orakpo's last three full seasons, he has a combined 27.5 sacks, but only four forced fumbles. More game-changing plays and he'll get the contract he desires. Another interesting part on this is that two of the five are inside linebackers, though Timmons plays in a 3-4 and Laurinaitis in a 4-3.
Defensive tackle
NFL's top five cap hits
Ndamukong Suh
, Detroit, $22,412,000
Haloti Ngata
, Baltimore, $16,000,000
Gerald McCoy
, Tampa Bay, $15,627,253
Geno Atkins
, Cincinnati, $9,000,000
Barry Cofield
, Washington, $7,667,500
Cofield
Redskins' top cap hit
Cofield
Summing it up:
Cofield's base salary jumped from $840,000 last season to $4.55 million (the lower figure was the result of a restructuring last spring in which $3.5 million in base salary was converted to a signing bonus). This is as high as Cofield's cap number will be and in two years it falls to $6,877,500. I know the coaches felt he would become the NFL's top nose tackle by this time. That's not the case, but Cofield does have his strengths and has done a nice job with Washington. For a short stretch last season he was playing as well as anyone on the team defensively, and he always plays hard. He'll be helped by having Hatcher in the pass rush, perhaps giving Cofield more one-on-one matchups. If that happens, then perhaps Cofield will have the sort of season in all phases that coaches have hoped for.
Defensive end
NFL's top five cap hits
Mario Williams
, Buffalo, $18,800,000
Charles Johnson
, Carolina, $16,420,000
Chris Long
, St. Louis, $14,900,000
Greg Hardy
, Carolina, $13,116,000
Calais Campbell
, Arizona, $11,250,000

Bowen
Redskins' top cap hit
Stephen Bowen
(15th), $7,020,000
Summing it up:
All of the top five on this list play in a 4-3, where ends can excel as playmakers and, therefore, command big bucks. The 3-4 ends, typically, are not -- with some exceptions. Bowen has not been a playmaker, though for a while he was an effective player both against the run and as a rusher. However, he has just one sack since the 2011 season (26 games). And after microfracture surgery and being 30, I wonder about the level at which he'll be able to play. Multiple Redskins sources said they still expect him to be in the Redskins' plans, but will it be at this cap figure? That's a big hit for someone in his situation. If Bowen returns healthy and plays well, the Redskins will greatly benefit. If not? That's a lot of cap room to occupy. One more note: Johnson and Hardy combine for approximately 23 percent of Carolina's cap.
December, 6, 2013
12/06/13
10:00
AM ET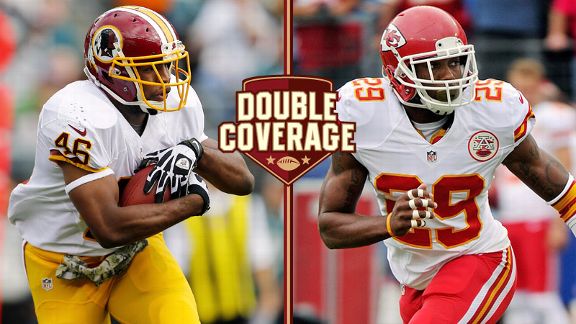 Getty ImagesWashington's Alfred Morris, left, and KC's Eric Berry lead teams trying to end losing streaks.
Fortunes have turned this season for the
Washington Redskins
and
Kansas City Chiefs
. The Redskins, who won the NFC East championship last season, are 3-9. After winning just two games last season, the Chiefs are 9-3 and can clinch a playoff spot Sunday if they beat the Redskins and either the
Baltimore Ravens
or the
Miami Dolphins
lose. But the Chiefs have lost three straight, and their chances for winning the AFC West are virtually gone after being swept in their two games against the
Denver Broncos
.
ESPN.com's Chiefs reporter Adam Teicher and Redskins reporter John Keim discuss Sunday's game:
Teicher:
This is a complicated question, but what's happened this season with
Robert Griffin III
? Still bothered by the knee? Feeling the effects of missing offseason practice?
Keim:
Yeah, it's complicated because there are a lot of issues that have added up to him having an inconsistent sophomore season. The knee played a factor early in that he wasn't going to run a lot and wanted to be more of a dropback passer (partly because he was fooled by last season's success). The knee brace restricts him a little, but he just hasn't regained his explosiveness. He's still fast, but that first-step burst isn't the same, and that hurts on some of the read-option or escaping trouble. Defenses are playing them different -- teams with good fronts can sit back and take away their play-action. They've seen coverages they didn't see a lot of last season, and a greater variety of stunts and blitzes (knowing Griffin might not hurt them as badly). Missing the offseason really hurt Griffin's ability to develop as a passer, and that has been a big issue. There are games when he looks solid, like against the Giants, but he also has had a couple of games that are as bad as any since he entered the NFL. Because he came from a much less complex passing system at Baylor, he needs a full offseason of work.
Adam, who would have thought
Alex Smith
would be the quarterback with the better team in this game? What sort of difference has he made for the Chiefs?
Teicher:
His stats haven't been great until the past couple of games, but he's actually had a pretty good season. He's been burned to some extent by dropped passes or his statistics would actually look a lot better. Through the nine-game winning streak to start the season, Smith played well enough not to mess up a good thing. He wasn't committing turnovers, and, although he wasn't making many big plays in the passing game, he was bailing the Chiefs out of some tough situations, whether scrambling or on the option or on a called play. Lately, they have needed more points and big plays, and he has delivered.
Kansas City has given up some yards via the running game this season. Give us a little scouting report on how Washington uses
Alfred Morris
and
Roy Helu
, and what there is to choose from between those guys. Also, do most of RG III's rushing yards come on the option, called runs or scrambles?
Keim:
The Redskins love to use a lot of stretch-zone and outside zone runs with Morris and Helu. Both can run inside. They will use some boot action off the stretch-zone, as well. Morris does a much better job than Helu of setting up defenders by pressing the hole and cutting. He gets linebackers to overflow, then cuts back. Morris is more patient than Helu, who hits holes as fast as he can run, and that often means he doesn't set up defenders and therefore doesn't create lanes for himself. He's a bigger threat in the open field as a receiver. Helu is used more as a third-down back, but he is capable of running and does have the speed to break a long run. But, again, just not patient enough, and therefore gets a lot of 2-yard runs. As for Griffin, he's averaging 5.46 yards per carry off zone-read runs (compared with 8.0 last season). His longer runs have come off scrambles -- but that also depends on whether a team plays a lot of man coverage. He's just not as explosive off the zone-read runs, but teams have adjusted to it -- they are more disciplined against it, and safeties are more aggressive coming up to defend.
Looking at the Chiefs' defense, how would you assess them at this point after such a dominant start?
Teicher:
Not very good. The Chiefs have allowed more than 400 yards in each of their past four games. They are going to give up some yards, given the style they play (pressure on the quarterback, cornerbacks frequently in one-on-one coverage). Kansas City gave up some yards and big plays early in the season. But now, the Chiefs are not getting to the quarterback often, are rarely forcing him into mistakes, and are not getting the turnovers and favorable field position that made them so successful early in the season. That is why I think Washington could move the ball and score some points against Kansas City. The Chiefs played against a series of journeymen, backups or inexperienced players at quarterback over several weeks and feasted against those guys. The past three weeks, though, they have faced
Peyton Manning
twice and
Philip Rivers
and haven't fared very well. Given Griffin's dual-threat abilities and Washington's running game, Kansas City has some things to worry about.
The Redskins have given up a ton of points. The run defense looks as if it has been decent, but Washington has been horrible against the pass. Pinpoint the problems areas in that regard for the Redskins.
Keim:
The Redskins have not generated enough pressure from their four-man rushes, although there are times when they get what they would consider good rushes but it's not making enough of an impact. I don't sense that quarterbacks are uncomfortable in the pocket. Sometimes it is because the coverage behind them is too soft, especially when they play zone. Washington has a lot of holes in its zone coverages, and quarterbacks can quickly find them. Makes it tough to then pressure. Cornerback
DeAngelo Hall
has been solid and made some big plays; he's much better now in tight man coverage. But the safeties as a group have struggled, sometimes because of injury, and other times because of performance. The Redskins have to upgrade here.
Brandon Meriweather
is OK, but he's one bad hit from a longer suspension. They have had to mix and match a lot at safety to try to make it work. But it's not just here; the inside linebackers have not had a strong season. Cornerback
Josh Wilson
plays the run well out of the slot but can be picked on. He's up and down. Rookie cornerback
David Amerson
can make big plays but also can surrender them (although some of that has subsided). It is an inconsistent group, and it is why defensive coordinator Jim Haslett is under fire. It is not all his fault, as there are times the calls aren't his, but that is life in the NFL.
How big a difference has coach Andy Reid made --- and are the Chiefs a legitimate contender?
Teicher:
He has made a huge difference. He has given direction to an organization that before had a lot of guys pulling in a lot of different directions. Reid came through the door for the first time with an impressive résumé, and players -- tired of the losing and the way things had been -- were more than willing to listen. He has been able to get a lot of guys to put aside personal goals for the greater good. But I don't see the Chiefs as being legitimate contenders, not this season. Even during their nine-game winning streak, there were some red flags everyone knew were going to be problems down the road. The two games against the Broncos, particularly last week's, showed a wide gap between the Chiefs and one of the league's premier teams.
.