Washington Redskins:

Giovani Bernard
July, 16, 2014
7/16/14
1:00
PM ET
Two years ago the
Washington Redskins
had one of the most potent running games in the NFL, a mix of conventional and new school with the zone read option. It worked. They led the NFL in rushing yards, were second in yards per carry and gained more first downs than any team courtesy of the run.
Morris
It wasn't just the zone read. While the Redskins averaged 6.18 yards per carry with that tactic, they still averaged 4.94 yards on their 401 traditional runs. That average alone was topped by only three other teams. The zone read helped, but so, too, did
Alfred Morris
being an excellent fit in the outside zone running scheme.
As he improved his tracks on runs, the Redskins' run game flourished even more. Morris' ability to plant and cut and make the first defender miss meant the run game would work even minus the zone read aspect.
Last season, the Redskins ranked third in the NFL in yards per rush (4.78). They averaged 5.33 yards on zone read carries and 4.65 on traditional runs; the latter number would have left them tied for third.
Here's the point: The run game has worked the past two years, with or without the zone read option. That's a big reason why offensive coordinator Sean McVay said shortly after getting his new position that "the run game will be very similar."

Lauvao
The offseason moves suggest that's the case. The Redskins added a bigger player at left guard in
Shawn Lauvao
, but he moves well -- after the Redskins signed him, multiple Browns sources said he'd be a good fit in the outside zone game. Lauvao might not be a great guard, but he's bigger than
Kory Lichtensteiger
, now at center, by a good 20 pounds. Lichtensteiger moves better than former center
Will Montgomery
but is not as strong.
Meanwhile, the two linemen they drafted, guard
Spencer Long
and tackle
Morgan Moses
, both can move. The problem for Moses is that in college he was inconsistent getting to linebackers in the run game. It's yet another area he must improve before he's truly ready to start. Long, nearly 10 pounds heavier than starting right guard
Chris Chester
, spent a lot of time pulling at Nebraska but he also plays with strength. The Redskins definitely left yards on the field in the run game last season, sometimes because the backside blockers failed to get their men and other times because Morris needed to make a stronger cut down the field.
On paper, bigger should also equal more ability to play smash mouth when needed, adding more versatility to the ground game. But I'm not sold that Lauvao, for example, is as strong in that sort of situation. That's not what he showed in Cleveland (whether at the line or when reaching linebackers).
Bernard
Redskins coach Jay Gruden did not have the run game in Cincinnati that he'll have in Washington.
BenJarvus Green-Ellis
is a bubble player for the Bengals this season; he carried the ball a combined 498 times the past two seasons. Gruden opted for a mix, with
Giovani Bernard
receiving 170 carries in 2013, in part because he had no one such as Morris.
Meanwhile, the Redskins actually led the NFL in rushing versus seven-man fronts (275 times for an NFL-best 1,332 yards).
Perhaps Gruden's influence will result in more carries against five- and six-man fronts. The Bengals had 51 more such plays than Washington a year ago, a function of formation and likely also game situations. Then again, two years ago the Redskins had more runs against those fronts than Cincinnati.
But with
DeSean Jackson
,
Pierre Garcon
,
Andre Roberts
and tight end
Jordan Reed
, Gruden has more weapons in the pass game as well. Which, of course, could lead to more spread formations -- and runs against even more favorable fronts.
Helu
Meanwhile,
Roy Helu
can catch the ball and perhaps he'll run better out of a shotgun spread formation than in the outside zone. But I can't imagine him in a Giovani Bernard role; the Bengals' back had 226 touches from scrimmage last season. Though Helu averaged 4.4 yards per carry, he's not a move-the-chains runner (eight carries against an eight-man front resulted in a total of 14 yards). Even against seven-man fronts Helu averaged 4.06 yards, which is fine but is much less than Morris (4.96, with an NFL-best 937 rushing yards against that type of front).
The point? Helu will be able to handle the third-down duties again, but there's little reason to take a whole lot away from Morris. And rookie
Lache Seastrunk
has a lot to prove -- as a third-down back in particular -- before being ready for anything other than pinch-hitting duty as a runner. But he's a potentially good fit in the spread.
Chris Thompson
is, too, but size and durability remain two big issues for him.
Do not assume the Redskins will see fewer eight-man boxes compared to last season. In 2013, Morris only ran 44 times against an eight-man box, which was six fewer times than he did so as a rookie. So it's not a given he'll pile up more yards because of fewer eight-man boxes. But given the success of the past two years and that Gruden wants to keep it mostly the same, there's also no reason to think Morris or the Redskins' run game will suddenly drop off. That is, unless Gruden falls too much in love with the weapons at receiver.
June, 28, 2014
6/28/14
10:00
AM ET
The second round of mail focused on
Alfred Morris
' role, Jay Gruden's AFL days,
Tanard Jackson
's future and more. Enjoy.
@john_keim #redskinsmailbag Do you see Alf's role next yr being more like BGE or closer to the last 2 years for him?

— NP (@enkay85) June 27, 2014
John Keim: Well, he's better than BenJarvus Green-Ellis so I would expect Alfred Morris to get a lot more carries. Plus I'm not sold that the Redskins have their Giovani Bernard type to take away that many carries from Morris. Roy Helu will get some and perhaps Lache Seastrunk, especially in the spread. But I would expect Morris to still be a factor. But how much of one? Honestly don't know yet. I know the Redskins will keep the same run game, but I also know Jay Gruden's reputation is that he likes to throw the ball (it was also Kyle Shanahan's, too, until he landed Morris and Robert Griffin III). Morris "only" had 276 carries last season compared to 335 as a rookie (losing so often last year didn't help). I could see his totals being closer to last year than his rookie year, just because of the added weapons in the pass game. Green-Ellis, by the way, carried 278 times two years ago but only averaged 3.9 yards per carry. Morris averaged 4.6 yards last year and 4.8 as a rookie. Big difference.
@john_keim #RedskinsMailBag Do you think Tanard will make the team?

— Rob (@CaptainBudz) June 27, 2014
Keim: If I had to guess right now I'd say yes, but there's so much more that needs to be seen -- and not just with Jackson. There's no way to fully know where his game is at based off the spring. Heck, he admitted he wasn't able to stay in the best shape during his suspension because he also had to work. Understandable. But now you have someone who needs to get back into NFL shape and then prove he can still play after missing two years. Maybe he'll get there; too early to know. Then it also depends on how others are doing as well. Has Bacarri Rambo improved at all? How does Akeem Davis look? Davis could sneak his way onto the roster. Jackson was a talented player once upon a time. He just needs to prove he still is one this summer. If so, he'll be fine.
@john_keim With no NFL head coaching experience, do you give any value to Gruden's winning pedigree as an AFL head coach? #redskinsmailbag

— Big John (@Big_John_1906) June 20, 2014
Keim: Not a whole lot. Maybe others do, especially if they're trying to paint a certain picture, but I don't. Then again, had he been a losing coach there ... Steve Spurrier had a winning pedigree in college, as did many others who tried to make that leap. It does help that Gruden has been in charge, but it's such a different game and level. I'm sure certain aspects translate, but I'm not about to go overboard with that experience. What helps is that he's been immersed in the pro culture since he was a kid because of his father and brother. What also helps is that he's been exposed to good coaches throughout his career, from Howard Schnellenberger to his brother Jon to Marvin Lewis.
#redskinsmailbag How do you feel special teams and the secondary has improved this off season?

— Aeh Vee (@AehVee) June 22, 2014
Keim: I really like what they've done on special teams this offseason and it's sort of gotten lost at times with all the other storylines. But they bolstered the unit by adding linebackers who can help here -- not just the veterans in Darryl Sharpton, Akeem Jordan and Adam Hayward, but also drafting Trent Murphy. Rookie corner Bashaud Breeland will help, too. The Redskins kept too many players last year who were low on their position totem pole, yet provided poor help on special teams. Those days must be over if they want to build anything right. Not sure yet about the kicker Zach Hocker and if he's an improvement. Still concerned about punter. As for the secondary, they improved the leadership by adding Ryan Clark and they need David Amerson to play well. The biggest way they can help this group is by applying more pressure with their front seven. If that happens, then the secondary will benefit.
@john_keim #redskinsmailbag #redskins who will be the possible starters on offense?

— Alexandre Castello (@alexcastello29) June 26, 2014
Keim: Easier to just link to the story I wrote on that earlier this week. It's how the starting lineup looks entering training camp. The only position I can see changing is right guard. Otherwise, things are pretty well set.
@john_keim How do you think Gruden's success coaching-up Andy Dalton will translate to him working with #RGIII? #redskinsmailbag

— sonny katz (@DCLeisurist) June 26, 2014
Keim: Well, the one thing I liked that Gruden did with Dalton is played to his strength as a passer, which is why he incorporated Giovani Bernard into the game plan. Dalton was not a strong-armed passer so he gave him a good option underneath. Obviously Griffin has a stronger arm so he can do different things. But the point is that it seems like he'll focus more on what his quarterbacks can do and then build his offense. At least I think that's the case. Until we see him with a different quarterback we really won't know how much he'll adapt. Gruden also had a strong relationship with Dalton, which if he builds the same with Griffin will help. But one knock against him in Cincinnati is that perhaps he got too close. So it's the opposite of what happened in Washington.
May, 27, 2014
5/27/14
1:45
PM ET
The
Washington Redskins
knew they couldn't count on a draft pick starting immediately, not without a first-round pick. If it happened? Great. So they filled their perceived immediate needs in free agency and hoped several in the draft class could fill roles, some more prominent.
Coach Jay Gruden said the Redskins' free-agency signings should allow the rookies to develop without needing to start immediately. I'll take a look at how the rookies fit in and when they might be needed to play bigger roles.
Player:
RB
Lache Seastrunk
Why they don't need him as a starter:
Well, they still have
Alfred Morris
who has rushed for 2,888 yards in his first two seasons. Yes, he needs to improve in the pass game but Morris is adept at constantly getting extra yards – taking what's available and then some. They also have
Roy Helu
as a third-down back and backup so Seastrunk, a sixth-round pick, would not be needed for anything other than pinch-hitting duty this year.
Future role:
Change-of-pace back/third downs. There was concern among analysts before the draft that Seastrunk would not be durable enough for a full-time role. Seastrunk missed a couple games in two seasons because of groin and hamstring issues. He's only 5-foot-9 and 201 pounds, but Cincinnati's
Giovani Bernard
is the same height and seven pounds heavier. So he's probably a good model for Seastrunk in the future. Last season, under then-offensive coordinator Jay Gruden, Bernard ran the ball 170 times and caught 56 passes.
When he might need to be ready:
2015. That is, for a bigger role. Helu is a free agent after next season so if Seastrunk develops then the Redskins can move on from Helu if so desired. Morris remains under contract for two more seasons and, barring injury, he remains a good fit in the run game (considering the Redskins won't be changing a whole lot in this area). The Redskins also have
Evan Royster
and second-year back
Chris Thompson
, though it's hard to imagine a new coach cutting one of his draft picks to keep someone else's. Besides, Seastrunk was effective at making defenders miss in college, especially in a spread situation. It would work well under Gruden.
What he must work on:
Everything that pertains to third downs. He will have to show in a game that his hands aren't an issue, either -- in the pass game or when it comes to fumbling. But this is not just about can he catch the ball; with work I'm sure he can improve if it is indeed an issue. But he needs to learn how to run routes out of the backfield, not just going to the flat but learning how to set up a linebacker and break free. Morris is still learning this. Seastrunk also has to improve in protection; in college he would do it but not with the fire of, say,
Clinton Portis
(who was unusual in this regard). But Seastrunk will have to learn how not only to block, but who is coming and from where. It takes time. Seastrunk also has to learn how to run out of an I-formation, among other things. He's a good one-cut runner especially when he doesn't try to hit a homer each time. He'll need to learn when to bounce against NFL defenders, but he showed in college he could be an exciting runner.
March, 27, 2014
3/27/14
7:30
AM ET
Alfred Morris
' hands haven't matched his legs when it comes to production. His involvement in the Redskins' passing game has been minimal. And while Redskins coach Jay Gruden would like to see that change, don't expect Morris to turn into anything more than an occasional threat.
Morris
But that would be more than what Morris was during his first two seasons when he caught a combined 20 passes. He showed good hands at the Pro Bowl, catching four passes for 69 yards. However, his hands were inconsistent in the regular season.
"It's something that, obviously, you want to have him be an all-around back. His hands aren't the most natural but it's something you can work on," Gruden said. "You don't have to run go-[routes]. If you can catch a standard checkdown or screen pass, he could catch 20 to 25 balls a year. It just adds to his resume of being one of the top backs in the league. Yeah, we'll work on him quite a bit as far as catching the ball."
But that doesn't mean he'll suddenly turn into
Giovani Bernard
, Gruden's pass-catching back in Cincinnati. The question then becomes: will any of the Redskins' backs? Gruden mentioned
Roy Helu
and
Chris Thompson
as possibilities. Thompson's rookie season ended with a torn labrum in his shoulder, which followed knee and back injuries at Florida State.
"We have some guys in-house we feel like can do it, but obviously you like to have some versatility and the ability to have another guy who could be a specialty-type third-down guy," Gruden said. "But with Roy and Chris, we have those guys who could possibly take that role. But we'll keep looking."
Gruden called Thompson "one of the most exciting backs" while at Florida State. But he also wondered about his durability.
"He's a guy who has to stay healthy and do his best to get on the field so we can see what he can do," Gruden said. "Interesting guy. He's very, very exciting when he gets the ball in his hands, but it's hard to get the ball in his hands when he's not out there."
March, 10, 2014
3/10/14
7:30
AM ET
With running back
Darren Sproles
done in New Orleans (his release has not yet hit the transactions wire), it led to another round of "should the Redskins pursue" questions via Twitter. So, should they go after Sproles? Well, I have a few thoughts. As always.
[+] Enlarge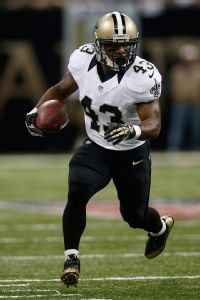 Chris Graythen/Getty ImagesRunning back Darren Sproles had 71 receptions for 604 yards last season, his eighth in the NFL.
1. Yes, I would be interested in signing Sproles if I were the
Washington Redskins
. But you need to know exactly what you're getting. Do not expect the Sproles from 2011, when he set an NFL record with 2,696 all-purpose yards for the Saints and was one of the most dynamic players in the NFL. That is not who he was last season. In 2013, Sproles had 1,273 all-purpose yards. He also will not necessarily solve the issues at returner. In five of the past six years he's averaged 8.0 yards or less on punt returns. Last season he averaged 21.3 yards on 12 kick returns (though he has a 25.3 career average and was at 26.8 in 2012). He's a limited role guy, so you can't pay a lot for him. My guess is the Redskins knew he would be getting released just by analyzing other teams' cap numbers; I haven't heard his name mentioned, so perhaps they made up their minds already. He's 30, and I wouldn't trust a move on anything other than a smaller deal. You just don't give a good chunk to players over 30. Not good business.
2. That said, it doesn't take long to figure out he can still play. Just for kicks (well, for research, too), I watched some of his games last season. Sproles remains an effective back, able to make defenders miss in the open field with a hard juke or quick shake. He sets up blockers well in the open field because he can show inside, then quickly cut outside.
3. Also, and this is big: In two of the three games I watched, I saw the opposing defense (Miami, Philadephia) send two defenders his way on a route several times. And that left gaps in the defense that benefited, for example, tight end
Jimmy Graham
. It gave quarterback
Drew Brees
enough of a window to exploit, and it occurred simply because Sproles was sent to the flat. Also, Brees scrambled up the middle on occasion because linebackers vacated areas to double Sproles. They couldn't do that with a quarterback such as
Robert Griffin III
, who obviously looks to run more. Again, I'm not saying Sproles is the best and they must sign him. But am I interested because he could help them? Absolutely -- and for the right price, he's a good weapon. Sproles is a matchup headache capable of running good routes from multiple spots.
4. Yes, Jay Gruden had
Giovani Bernard
in Cincinnati as a big weapon. Sproles could fill that role here. But keep in mind that Bengals quarterback
Andy Dalton
's lack of arm strength -- especially compared to Griffin's -- almost required that the Bengals have a guy like Bernard, someone Dalton could easily dump the ball to. Sproles would be a good check-down guy for Griffin, but if they sign another receiver, the plan is to get the ball downfield more. That is likely the plan, anyway; I know the coaches think
Jordan Reed
will be an excellent target on deeper throws. That would lessen the desire for a guy like Sproles, though Sproles would still be a weapon. It's not as if Brees was just a check-down guy.
5. If the Redskins somehow pursued Sproles -- and I don't know that they will -- it should not mean the end of
Roy Helu
. As a running back, Sproles works best in a spread formation when he can hit gaps up the middle against, say, a five-man box. If something happened to starting running back
Alfred Morris
, I would not want Sproles as the full-time guy. Nor would the Redskins. The Saints were able to incorporate three backs into their offense, and I think the Redskins could as well. Sproles would replace a guy like
Chris Thompson
.
February, 24, 2014
2/24/14
8:10
AM ET
Former NFL scout and current ESPN NFL scout Matt Williamson provided insight on a variety of Redskins-related topics last week (along with former player, scout and NFL executive Louis Riddick). But the questions didn't end with those five topics and, yes, there were leftovers. Later Monday we'll publish Riddick's leftover thoughts. First, though, we'll go with Williamson's. So here he is on:
The Redskins' offense:
"I think they'll keep the West Coast principles and that's good because they'll keep the same terminology and lingo, but if you look at what Jay Gruden had in Cincinnati, it was not like a Shanahan offense from a personnel standpoint. Cincinnati had one of the biggest, most-physical lines in the league as opposed to a movement zone scheme. But that defense needs everything and if they come in and say we're changing everything we do [offensively] and you need four new offensive linemen. ... They're not in a position to create more needs for themselves."
"I like [Chris] Thompson from a year ago, but you can't count on him to be [Giovani] Bernard.
Alfred Morris
does not resemble that at all.
Roy Helu
is that more than Alf, but he's not a
Brian Westbrook
."
The Redskins' defensive needs:
"There's not a strength on that defense outside of [Brian] Orakpo. Who's the next best defensive player on that team? I'm not positive. [Ryan] Kerrigan is probably next. Maybe [Jarvis] Jenkins becomes something. I would say the back six needs more work than the front five. Maybe
David Amerson
is a better player than we know. I liked him coming out of school; a lot of people thought he might be a rangy free safety because he's stiff in the hips. He doesn't flip real well, but he's what they're looking for in terms of height, weight, speed and he made a lot of plays in college. For where they got him, he was a fine pick."
"They have a ton of needs and won't be able to fill them all this year. Some players they have, Jim [Haslett] will really earn his money as far as putting players in a position to succeed. It's an overused term, but applicable. You can't just get the best player at each position. They need guys like Amerson to pick it up. He needs to play the game more cerebrally at a more consistent level. They need a safety. They need to replace London [Fletcher]. They have a lot on their plate, man. They have to really develop guys that aren't ready made right now and turn them into the Byron Maxwells or Richard Shermans."
Trying to copy Seattle:
"They're using fifth-, sixth-round picks on big corners and it's working. But it works because the pass rush is so good. Big corners are stiff if they have to cover a long time. There aren't many 6-2, 6-3 guys who can clip their hips to cover a
Santana Moss
in his prime. I don't know if you can put a 6-3 guy out there and say we'll be fine. Seattle didn't make them cover long and
Earl Thomas
makes a lot of problems go away over the top. That's huge. That defense can take any style of defensive player. They'll take a nose tackle or a 3-4 end or a 3-4 outside linebacker or a pure 4-3 end. They never look at a guy and say boy he's a really good player, but we don't have a spot for them. A lot of teams pass on players because they're not good for them."
February, 15, 2014
2/15/14
10:00
AM ET
We're now starting to get heavy into the speculation over what players the
Washington Redskins
might target in free agency or the NFL draft. There's one question about
Roy Helu
's potential productivity -- and even a trade request for a familiar name.
January, 27, 2014
1/27/14
8:30
AM ET
In case you were doing something productive last night and missed the Pro Bowl, here's how the Redskins' three players fared:
Trent Williams alternated between left and right tackle and did nothing of note. But that's probably a good thing considering how much pressure was applied on the quarterbacks all game. Players displayed much more intensity than a year ago when the game resembled flag football. And it was noticeable on pass rushes as the quarterbacks were under pressure much of the game (a combined nine sacks; makes sense as this sort of setup is not good for offensive linemen, who fare better when working as a group). But Williams did not give up any sacks. He did allow a little pressure in the fourth quarter off a stunt, but it did not result in a hit.
Linebacker Brian Orakpo never rushed the passer, but that's because the teams used a 4-3 front so he was dropping into coverage whenever he played. Orakpo played the strong side and often played man versus Atlanta tight end, and future Hall of Famer, Tony Gonzalez. There was one big gain on Orakpo's side when he dropped into zone and Gonzalez found a big opening on the right seam.
Running back Alfred Morris had the most noteworthy game with four receptions for 69 yards. He made someone miss every time he ran in the open field. Yes, it's an all-star game so there's a different sense of urgency perhaps by defenders and it might have impacted one 19-yard catch (at least initially). But, again, the hitting was pretty good much of the night so it's not like defenders were letting them do whatever they wanted.
Morris has caught 20 passes in his first two years combined, with a one-game high of three.
Morris ran the ball twice for 4 yards. I liked how he cleanly caught the ball, more so than he's shown the past two years. But Morris also fumbled at the end of one reception, when he ran into a group of defenders. He lost the ball after his first carry, too, but it came after he was down. I'd say this likely stems from not having any contact for nearly a month, but Morris also had some issues with this during the season.
Morris had a 27-yard catch and run, but that wasn't his best moment. Rather, that came when quarterback Cam Newton was in trouble and ran to his right, dumping the ball to his back. Morris should have lost a couple yards as Dallas' Jason Hatcher grabbed his jersey and spun him around. But he broke free and another defender grabbed his jersey, only to lose a grip. Morris then broke a tackle and managed a 19-yard gain. Morris broke a tackle on his next catch as well, pushing the ball inside the 5.
In Jay Gruden's three seasons with Cincinnati, there was only one season in which a running back caught more than 22 passes. But it happened to be this past season when rookie Giovani Bernard caught 56; he split time with BenJarvus Green-Ellis as the primary back (both players carried the ball at least 170 times). If Morris improved in this area it certainly would help and keep the defense guessing a little more. But if Morris is going to carry the ball around 300 times, then it's still wise to use Roy Helu in this area on third downs just to limit the punishment.
Alas, these three Redskins could not even get a win in the Pro Bowl as Team Rice beat Team Prime, 22-21, on a late touchdown and two-point conversion. That's nine straight games these three have lost. I'm guessing this one did not sting the same as the other eight.