Washington Redskins:

Hue Jackson
April, 22, 2014
4/22/14
11:30
AM ET
The atmosphere Jay Gruden would create seemed like something Washington needed. Not because the players disliked Mike Shanahan, but because it would be different. After the end of last season, different was welcomed.
And, for one player at least, different was needed.
[+] Enlarge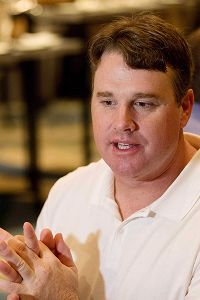 Rob Foldy/USA TODAY SportsA change of scenery for Jay Gruden could benefit his new team, the Redskins, as well as his old team, the Bengals.
Funny thing is, that's what they're saying in Cincinnati, too. At least to some degree.
Here's what ESPN Bengals reporter Coley Harvey wrote
in an item on quarterback
Andy Dalton
.
"Credit Cincinnati's new offensive coordinator for sending the right message through the media in February when he promised from the NFL combine to be just the disciplinarian the team needs. He felt there were players on the team who hadn't been coached hard lately who needed to be. Dalton was one of them, he said. He wanted Dalton and receiver A.J. Green to blossom into bigger leaders as they entered their fourth seasons.

"If a guy's not performing at a high level, there's a reason," [offensive coordinator Hue] Jackson said in February. "They have work to do, but it's my job as leader of the group, along with the head coach, to create that environment to be all they can be."

"Jackson has been known for much of his career as being a Mike Zimmer-type of coach, one who isn't afraid to check players. He will be the first to curse them out when they've done wrong and shower them with praise when they've done right. It's clear that Jackson's prodding has been received by Dalton.

"He's going to push guys," Dalton said of Jackson's coaching style Monday. "[Former offensive coordinator] Jay [Gruden] had a different style than what Hue is going to bring. Guys are just going to have to get used to how Hue does things. Obviously, we haven't been out to practice yet, so I don't know exactly what it's going to be like with Hue running everything now, but it is going to be a little different than Jay."
That's not to say Gruden's style didn't work. The Bengals went from 32nd to 20th in total yards in the three years before Gruden arrived as offensive coordinator. Under him, they went 20th, 22nd and 10th in total yards. They also went 18th, 12th and sixth in total points (in the three years prior: 32, 22 and 22).
And he helped Dalton play better than many thought he could. But three straight one-and-done playoff appearances, with a sputtering offense, led some to believe the Bengals' offense might be better off with a new voice. Enter Jackson.
That said, the Redskins hope Gruden's voice is exactly the one that takes them places. One thing to note: The Redskins coach who might be the biggest disciplinarian could be special-teams coach Ben Kotwica, who has a military background. A coach like this is needed; too many player-friendly coaches can lead to issues (just like if all were disciplinarians). But we still don't know how Gruden will be as a head coach.
Anyway, if the Redskins do improve this season, there will be many contributing factors: a physically better
Robert Griffin III
and signing receivers
DeSean Jackson
and
Andre Roberts
. But one thing Gruden had in Cincinnati was a strong relationship with Dalton. If he develops one with Griffin, that, too, would help.
If not, the Redskins will look for their own disciplinarian in a few years.
January, 6, 2014
1/06/14
7:45
AM ET
Of the jobs left, I'd put only Detroit ahead of Washington for the same reason as most others: The Lions have a more established talent base. They do have salary-cap issues (three players will count more than $13 million against the cap this year) so they'll have to restructure and/or release players. But you know a little bit more of what you're getting from this group – on both sides of the ball. Both the offense and defense ranked in the top 15 in scoring. I wonder if the Lions' experience with Jim Schwartz will make them go with a former head coach in this hire – like a Ken Whisenhunt or even Jim Caldwell – as opposed to someone such as Cincinnati offensive coordinator Jay Gruden.
Minnesota, Cleveland and Tennessee all have major flaws, too. The Browns would be more interesting if not for the fact that they just fired a coach after one season. They have a high draft pick and money to spend. But talk about a culture of dysfunction. The Vikings don't have a young quarterback worth building around; their owners are based in New Jersey (which can be a good and bad thing) and were just hit with an $84.5 million penalty when a judge ruled they cheated their partners in an apartment complex. It's hard to cast Tennessee as a great job. The Titans' quarterback, Jake Locker, remains questionable and their ownership is unproven.
The Redskins have major flaws as well – and a 15-year track record under owner Dan Snyder, which features chaos every few years and seven double-digit loss seasons since 2004. He has not proven he can build a winning organization. But his willingness to spend has attracted coaches in the past (it's why Mike Shanahan came here) and will do so again. Yes, some will no doubt stay away from this job as they'll consider it a bad spot. But money always matters – not just for their contract but for the desire to spend in free agency, etc.
Clearly, more than money is needed to build a good team. I think the smartest thing is to hire good people and let them do their jobs. I'd say that for the next coach, too.
Four of the eight teams that played in the first round of the playoffs hired coaches within the past two years. And three of them had first-year coaches: Kansas City, San Diego and Philadelphia. It's not as if there is a common formula for their hires. The Chiefs grabbed the proven head coach; the Chargers a coordinator and the Eagles a dynamic college coach. I've heard some teams were not interested in hiring a coordinator with no head coaching experience to be their guy.
Of the past 15 Super Bowl champions, six were led by coaches in their second stint as a head coach (Mike Shanahan, Tony Dungy, Bill Belichick, Tom Coughlin, Jon Gruden and Dick Vermeil). Six were won by assistants in their first job (Bill Cowher, Brian Billick, Mike Tomlin, John Harbaugh, Mike McCarthy and Sean Payton). And of the last 15 teams that have lost the Super Bowl, 12 have been led by coaches in their first job. The three in their second job? Dan Reeves, Bill Belichick and Mike Holmgren. All totaled, 18 coaches with their first team have led their teams to the Super Bowl.
The point: If you build the right organization you can win, regardless if they have prior head coaching experience or not. It's not enough to just get what you consider to be a good coach; the infrastructure is of utmost importance.
It's also noteworthy that of the four quarterbacks left in the NFC, three can hurt you with their arm or their legs: San Francisco's Colin Kaepernick, Carolina's Cam Newton and Seattle's Russell Wilson. Kaepernick extended plays in Sunday's win over Green Bay time and again. There were times he might have missed an open receiver to take off running, but the majority of his runs bailed the 49ers out of a bad spot. It's why you don't give up on Robert Griffin III when he's one year removed from doing the same. Quarterbacks like this take you places -- if they figure it out. But with each quarterback left, the common denominator is this: a great defense. The Redskins were too reliant on the need for Griffin to do a lot because they failed to build anything solid to offset his growing pains. Kaepernick struggled this year, too; he's now in the second round of the playoffs.
Here's an update on the coach search from Sunday night. As of that time I had not heard yet whether or not the Redskins had reached out to any of the Bengals' assistant coaches: Jay Gruden, Mike Zimmer or Hue Jackson. I would expect them to do so soon.
When Caldwell interviewed in Detroit, he also met with Lions quarterback Matthew Stafford. I would be surprised if something like that happened here, unless it was during a second round of interviews. Griffin's desire was to get away and stay out of the coach search, knowing the perception of his situation. But considering his position, he is and should be a primary topic in these interviews.
I still refuse to believe the Redskins never reached out to Bill Cowher about their coaching vacancy. I understand he doesn't want to coach, but there's no way someone such as Snyder takes that as gospel, especially if he hears that second or third hand. Just look at who he's lured here in the past. Doesn't mean Cowher formally interviewed for the job. As I said last week, it would also make sense for Snyder to talk to as many experts as possible to get a feel for any potential good young coaches.
January, 4, 2014
1/04/14
1:00
PM ET
The
Washington Redskins
' coaching search has made the turn toward college. They have requested an interview with Vanderbilt coach James Franklin, according to ESPN's Adam Schefter.

A Vanderbilt spokesman said the school is not commenting on the interest in Franklin.
(
Update
: The Redskins will interview Baltimore Ravens offensive coordinator Jim Caldwell on Sunday morning, according to John Wooten, the chairman of the Fritz Pollard Alliance Foundation. And they will interview New York Giants defensive coordinator Perry Fewell this week.)
Franklin has been a hot name this offseason after turning around the once-dormant SEC program. The Commodores were 2-10 the year before he arrived and are 23-15 in his first three seasons. They've played in three consecutive bowl games; they had never played in consecutive bowls before Franklin.
He interviewed for the
Houston Texans
job and his name has been mentioned for the Penn State opening as well. In 2009, Franklin was named Maryland's head coach in waiting. But when Ralph Friedgen was fired after the 2010 season, Franklin went to Vanderbilt.
Franklin has spent the bulk of his career in college, though he coached Green Bay's wide receivers in 2005 – and was on the same staff as Darrell Bevell, who interviewed with the Redskins earlier this week. Bevell is now Seattle's offensive coordinator.
The names connected to Washington's opening thus far, in addition to Franklin: Bevell, Rich Bisaccia, Jim Caldwell and Sean McDermott. After the San Diego-Cincinnati game, it's likely other names will surface, with multiple possibilities in Bengals offensive coordinator Jay Gruden, defensive coordinator Mike Zimmer and assistant head coach Hue Jackson as well as San Diego offensive coordinator Ken Whisenhunt.
January, 1, 2014
1/01/14
4:35
PM ET
The
Washington Redskins
will interview former
Indianapolis Colts
head coach Jim Caldwell next week, according to John Wooten, the chairman of the Fritz Pollard Alliance Foundation. It's uncertain what day he will interview.
At this point, he's the third name that has surfaced in the Redskins' quest to replace fired Mike Shanahan. They've spoken to Seattle offensive coordinator Darrell Bevell and will interview Carolina defensive coordinator
Sean McDermott
this weekend. Also, the Redskins have requested permission to speak with New York Giants defensive coordinator Perry Fewell, according to ESPN's Josina Anderson.
Also, Wooten said their foundation has recommended that Washington interview Cincinnati's assistant head coach/running backs Hue Jackson, also a former Redskins running backs coach and ex-
Oakland Raiders
head coach. But Wooten said he did not know if the Redskins have contacted the Bengals for permission to speak with him. They can't interview him now anyways because the Bengals play a first-round playoff game this weekend.
Caldwell has served as the Baltimore Ravens offensive coordinator since late last season and also is the quarterbacks coach. He posted a 26-22 record as the Colts' head coach from 2009-11; that mark included a 2-14 final season with quarterback
Peyton Manning
sidelined. He went 26-63 in eight seasons as the head coach at Wake Forest.
The Fritz Pollard Alliance Foundation compiles a list each season of coaches they feel are deserving of interviews. In addition to the above two, that list also includes former Redskins secondary coach Jerry Gray, Arizona defensive coordinator Todd Bowles, Indianapolis offensive coordinator Pep Hamilton, Cleveland defensive coordinator Ray Horton, former
Chicago Bears
coach Lovie Smith, Carolina assistant head coach/defensive backs Steve Wilks, Indianapolis offensive line coach Harold Goodwin, Green Bay assistant head coach/linebackers Winston Moss, Chicago defensive coordinator Mel Tucker. They also included college coaches James Franklin (Vanderbilt), Kevin Sumlin (Texas A&M), David Shaw (Stanford) and Charlie Strong (Louisville).