Washington Redskins:

J.D. Walton
February, 28, 2014
Feb 28
8:00
AM ET
The free-agent period won't begin until March 11, but the reality is that it's already underway. At least when it comes to signing your own free agents, or looking at players cut from other teams. The Redskins have expressed interest in free-agent linebacker
D'Qwell Jackson
, but had yet to line up a visit with him as of late Thursday night, a team source said. The Browns released Jackson Wednesday (but the move was not submitted to the league until Thursday) and he already has visits lined up with Tennessee and Denver.
Other players will be released before March 11. Until more are free, the focus is on your own. Here's a look at the Redskins' free agents, both those who are re-signed and still available.
They're done:
CB DeAngelo Hall
Signed a four-year deal worth $17 million, with $4.25 million guaranteed. His cap number is only $2.1 million this season, but jumps to $4.8 million in 2015 and $5.1 in 2016. Those are hefty sums for a 30-plus cornerback. If Hall regresses this season the Redskins could always cut him next year and save $2.4 million of cap space. They'd be wise to find another good young corner to groom just to be ready. Hall could always move to safety in a couple of years as well, but the safety position is a problem they must solve this year. If it's still an issue in, say, two years? That's a failure.
DL Chris Baker
Signed a three-year, $12-million deal with $4 million guaranteed. That sounds like starter-type money (albeit not a high level one), but it's certainly not guaranteed starter money. He has $1 million in incentives that are not likely to be earned -- based on play time, sack totals and Pro Bowl appearances -- each of the three years and his cap number is only $2 million this year and tops out at $4 million in the final year of the contract. The deal averages $3 million per season. It allows the Redskins to keep a young, improving lineman who can help them at multiple spots: end, nose tackle and nickel rusher. Even if he doesn't start he will play a lot.
Still waiting:
[+] Enlarge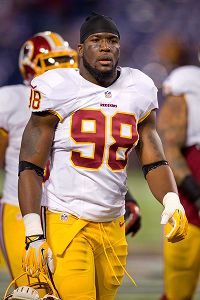 Bruce Kluckhohn/USA TODAY SportsThe Redskins are interested in bringing Brian Orakpo back, but he could test the market first.
LB Brian Orakpo
The Redskins want to re-sign him and Orakpo would like to come back. But he's more than comfortable testing the market in order to get the sort of contract he wants. The Redskins could place the franchise tag on him (the deadline is Monday). That would leave him with a salary of approximately $11 million this year, but no long-term security if he gets injured. The Redskins could sign him to a back-loaded five-year contract that has a much lower cap figure for the first two years of the deal. But at some point he'll count a great deal against the cap and not be cuttable, at least for a year. (For example, Pittsburgh's
LaMarr Woodley
, in Year 3 of his deal, counts more against the cap if he's released.)
LB Perry Riley
The Redskins don't want to create another hole at inside linebacker with
London Fletcher
already retiring. But if Riley wants a big contract he'll have to go elsewhere. They'd prefer to keep him; they know they can upgrade if necessary. A word of warning: It's not a deep group at inside linebacker so it could be tough to fill one spot let alone two.
S Brandon Meriweather
Haven't heard a whole lot in regards to Meriweather. It's hard to imagine they'd bring him back on anything other than a one-year deal, while hoping that
Phillip Thomas
eventually becomes the starter. The Redskins need to solve this position and Meriweather's play did not warrant him being a strong solution.
CB Josh Wilson
He did a good job against the run while in the slot, which isn't always easy. But his coverage skills aren't what the Redskins need. Plus
David Amerson
, entering his second season, should be elevated to a starter. The Redskins will need more corners, however. But they also need more size at this position.
S Reed Doughty
Doughty is a capable backup who too often was pressed into a starting role. He's a good special-teamer as well.
CB E.J. Biggers
He was their fourth corner and played some safety, though it's doubtful he'd have played that spot for any team other than the safety-starved Redskins. But he adds depth and there's a chance he'll return.
LB Rob Jackson
The Redskins have yet to talk contract with Jackson. Obviously they have Orakpo to worry about and if he signs it's tough to imagine Jackson returning as well. He'll want to go somewhere he has a chance to start.
LB Darryl Tapp
Very strong against the run. Not bad to keep around at all.
LB Nick Barnett
He's not a starting candidate and they need to find backups who are much better on special teams.
WR Josh Morgan
He failed to produce considering the contract he received. The Redskins need to upgrade.
WR Santana Moss
They can always use
Leonard Hankerson
in the slot, but he might not be healthy until the middle of August. They still think Moss can play. If they upgrade other receiver spots they don't need to spend a lot for a dynamic slot receiver.
QB Rex Grossman
New coach Jay Gruden has typically kept two quarterbacks, which would leave no room for Grossman. Perhaps Kyle Shanahan will want him in Cleveland to help the other quarterbacks learn his offense.
TE Fred Davis
Davis has bigger issues to worry about.
C J.D. Walton
Signed late in the season. The former third-round pick was a starter in Denver until a bad ankle injury in 2012. The Broncos cut him in December. Washington could upgrade at center.
LB Bryan Kehl
A good special-teams player, but coming off a torn ACL in October.
WR Dez Briscoe
Spent the year on injured reserve; worked with current receivers coach Ike Hilliard two years ago. Has size, but you need more than just size. The Redskins have little depth at this position.
February, 12, 2014
Feb 12
6:15
PM ET
Not enough worked well for the Washington Redskins' offense, and at times the line did not have the moments it did in 2012. When the Redskins would fall behind and have to ditch their play-action game, it worked against how this line was constructed. It's not a power group. Add to it a young quarterback still learning to work through progressions from the pocket, and there were some issues. But you also have to remember the Redskins ranked third in the NFL with 4.78 yards per carry.
The Redskins' staff did not -- and does not -- view the line as a pressing issue. This group always has played better collectively and its familiarity helps. If the Redskins can do a better job keeping games close, and not stray from who they are -- better on the move, etc... -- that would help. Do not assume that just because there is a new head coach there will be wholesale changes on the line. The Redskins will be keeping the same run game; they also have the same offensive line coach. One feeling inside the building is that they don't need to change a whole lot. And that just because coach Jay Gruden had bigger guards in Cincinnati does not mean it's a given that it is what he'll want here. Certainly there could be one or two changes, and there should be, but a lot could remain the same.
Williams
LT Trent Williams
He obviously can play at a high level, but still needs to be more consistent. There were a couple games this past season when Williams was just bad. He's too good for that to be the case. Williams can dominate when playing his best; his quickness and speed enable him to get places other left tackles can't. I remember one play in which he pulled against Atlanta and just buried the left end. Quick feet; excellent angle. He's grown into a team leader, something I never would have expected when they drafted him (based on the reports).
2014:
Starter
Contract status:
Signed through 2015
G Kory Lichtensteiger
He played better than in 2012 when he was returning from multiple ligament tears in his knee. Lichtensteiger will never line up and just stone rushers in one-on-one situations. He's a smaller guard best used on the move. From what I've been told, there is no mandate that he must put on weight, either. Lichtensteiger does a solid job of knowing how to position himself against defenders, helped by his quick feet. If the Redskins use the same run system, there's little reason to change here.
2014:
Starter
Contract status:
Signed through 2017
Montgomery
C Will Montgomery
I thought he had a better 2012 than '13. The Redskins faced too much interior pressure, whether from being fooled by blitzes or just being beaten. Not all of that is on the center, but this is what happened. And while it's not all on Montgomery, it is his area. Montgomery can play with decent power and can anchor. But he also was inconsistent with his blocking. I do think the Redskins could make a move here -- it would free up another $1.93 million in cap space -- because they have some options, but do not have a good feel for it yet.
2014:
Tentative starter
Contract status:
Signed through 2015
G Chris Chester
Another linemen who was more consistent in 2012 than this past season. Chester has pretty good feet -- it's why the Redskins liked him in the first place. But he was more inconsistent holding blocks. When he's on, he works well to the second level. And he's a smart player. But there were too many cases when Chester couldn't hold his block or finish as he did in 2012. The Redskins could save $2.7 million if they released Chester.
2014:
Tentative starter
Contract status:
Signed through 2015
RT Tyler Polumbus
Polumbus was better than in 2012, having had a full offseason to work at right tackle (something he did not have the previous year). He was more consistent with his hands and did not allow nearly as much pressure. Yes, the Redskins could upgrade here if they wanted. The Redskins did not feel there were better options last offseason, but with
Tom Compton
entering his third season, could this be the time they go that direction?
2014:
Tentative starter
Contract status:
Signed through 2014
G Josh LeRibeus
What a disappointing second season, which largely stemmed from a terrible offseason. It's too bad, because LeRibeus had shown decent progress as a rookie. But it took him most of his second year to work back to that point. He has now worked at both guard spots; center was originally going to be an option, but that did not work. When right, he shows quickness and power. But I'd have a hard time trusting him right now. He needs a strong offseason; if that happens then I'll be curious to see what he does this summer. It'll be a big one for him. It looks bad if in Year 3, a former third-round pick can't crack the lineup, just as it looked bad in Year 2 when he was always inactive.
2014:
Backup
Contract status:
Signed through 2015
G Adam Gettis
He progressed as a run blocker, doing a better job working to the second level in the preseason. Then we didn't see him again. Like Lichtensteiger, he's an undersized guard and has shown a tendency to get moved back -- yet still anchor. Could he start? No idea. He has at least now worked at both guards spots.
2014:
Backup
Contract status:
Signed through 2015
OT Tom Compton
Another offseason in the weight room will help the progress he showed last summer, when added strength resulted in better blocking in pass protection. He was able to be more consistent bumping rushers off stride so that when they would try to work back inside he was able to recover in time. That wasn't the case a year earlier.
2014:
Backup/compete for starting job
Contract status:
Signed through
G/T Maurice Hurt
He spent more time riding a bike on the sidelines while recovering from an injury than being on the field. He's much better at guard than at tackle. He's never looked to be in great shape. When we last saw him, Hurt was too inconsistent to be considered a legitimate starter. But he was also young. What has he learned? There's no way to tell because this was a lost season for him, but it will be a huge summer for him.
2014:
Backup/roster bubble
Contract status:
Signed through 2014
C J.D. Walton
He was signed late in the season and was inactive. He's a former starting center with Denver, but he'll also be a free agent. I have no idea what he can do at this point. Perhaps the Redskins feel he could still be a starting center; it would allow them to save money by releasing Montgomery and signing Walton to a lesser deal.
2014:
Elsewhere
Contract status:
Free agent as of March 11
January, 7, 2014
Jan 7
7:00
PM ET
The
Washington Redskins
added yet another college teammate of quarterback
Robert Griffin
III, signing receiver
David Gettis
to a reserve-futures contract Tuesday. He's an intriguing player because of one productive season -- but injuries have ruined his career ever since.
Gettis
Gettis' career started well when, as a sixth-round pick out of Baylor, he caught 37 passes for 508 yards and three touchdowns with Carolina. He has appeared in only two games since that season, both in 2012. He tore an ACL in August of 2011, causing him to miss the season. Gettis played in only two games the following year and was waived/injured with a hamstring injury this summer and did not sign with another team.
The 6-foot-3, 217-pound Gettis caught 11 passes for 164 yards in the preseason with Carolina, but injured his hamstring in pre-game warmups before the preseason finale. At the time, reports said he would be out for a while.
Griffin and Gettis played two seasons together at Baylor; Gettis only caught four touchdown passes in his college career. The Redskins claimed former Baylor center
J.D. Walton
off waivers late in the season. Also, Redskins guard
Adam Gettis
tweeted that "My cousin David Gettis is on the Skins too?!?! We in there!!!"
Gettis is the eighth player signed to a future's contract, joining punter
Robert Malone
, running back Davin Meggett, linebacker Gabe Miller, cornerback
Ryan Mouton
, tight end
Richard Quinn
, offensive lineman Tevita Stevens and defensive back Peyton Thompson.
December, 19, 2013
12/19/13
7:45
PM ET
ASHBURN, Va. -- The
Washington Redskins
liked what they say from center
J.D. Walton
when he played at Baylor. They liked what they saw when he started for the
Denver Broncos
.
So now, even with Walton having missed most of a season and then being cut by the team that drafted him, the Redskins still wanted to take a look.
They claimed him off waivers Wednesday. Shanahan called this a move for the future, but Walton is an unrestricted free agent after the season. Still, it gives the Redskins a chance to see him up close for a week or so.
Walton played with Redskins quarterback
Robert Griffin
III at Baylor.
"[Griffin] knows what type of character he has and what type of guy he is," Shanahan said. "You always look into somebody's background and Robert gave him the highest recommendation as a person. But we'll go back and look at the film and we liked what we saw, not only in college but at Denver as well."
Walton suffered a severe ankle injury last season that caused him to start training camp on the physically unable to perform list.
"You always got the question mark with the medical, but we'll see that in time," Shanahan said.
December, 18, 2013
12/18/13
7:30
PM ET
ASHBURN, Va. -- The
Washington Redskins
claimed a former college teammate of
Robert Griffin
III off waivers -- but they likely won't work together until next season.
The Redskins claimed center
J.D. Walton
off waivers Wednesday, according to the NFL transactions wire. They released receiver
Lance Lewis
to make room for Walton.
Walton was released Tuesday by Denver. A third-round pick out of Baylor in 2010, Walton started 36 regular-season games for the Broncos. He dislocated his ankle on Sept. 30, 2012, and was placed on injured reserve. He was on the physically unable to perform list for the first eight games before being activated.
Lewis was signed to the active roster Nov. 21, but made no impact.