Washington Redskins:

Jarvis Jenkins
November, 7, 2013
Nov 7
12:30
PM ET
1. It's the same as last week:
If the
Washington Redskins
want to consider a late-season playoff push, then they must beat Minnesota Thursday night. They absolutely need to prove that they can play well in consecutive games, something they have not done all season. It's a big difference from last season and it's why any talk of a turnaround can't begin until they do so. Minnesota is not a good team, but that doesn't matter. Playing well does. If they play well and get to 4-5, it makes the following week's game at Philadelphia a huge one.


2. A big factor in Thursday's game?
Health. And the Redskins easily have the advantage in this area. Minnesota might be without two starters on the offensive line and already lost solid tight end
Kyle Rudolph
. Their secondary is ailing. Still, no team that's 3-5 should feel overly confident. That's why I loved the
Santana Moss
quote that NBC-4's Diana Russini tweeted Thursday morning: "How is this an easy game for us when we aren't even that good?!"
3. The Redskins have done an excellent job against Adrian Peterson
in their previous four meetings, though one ended prematurely because of his torn ACL. Still, in four games, his longest carry has been for 32 yards. Last season on his 17 carries against them, the Redskins used an eight-man box on all but four carries. Three times the Vikings spread the field and forced six in the box, but Peterson only gained a combined seven yards.
4. The key?
The ability of nose tackle
Barry Cofield
and end
Stephen Bowen
in particular of holding double teams. Time and again the inside linebackers, at least one of them, was unblocked and able to fill a gap. When a lineman would peel off the double team to block, one of the defensive linemen would help plug the middle (
Jarvis Jenkins
and
Kedric Golston
helped here, too). This happened time and again; the double teams were slow to break. Also, Minnesota has struggled this season when it comes to its double teams. The Redskins say Peterson's showing last week was helped by how Dallas' front four play, more intent on getting upfield. The Redskins' front wants to play more lateral and it can disrupt the double teams better.
5. Another key last season
was that the Redskins did an excellent job swarming Peterson and forcing him to cut back inside. One run that exemplified what must happen occurred in the first half. On a run up the middle, both
London Fletcher
and
Perry Riley
were unblocked, forcing Peterson to try and bounce wide. As Peterson tries to get outside, corner
DeAngelo Hall
comes up aggressively and takes him down with a low hit. They need that sort of run support from the corners against a guy like this.
6. Whether you like Jim Haslett as a defensive coordinator
or not is up to you. But he understands this is a player's league. I was struck by his answer Wednesday regarding the goal-line stand when he referred to the defense as "them." Well, he's part of it, too. And trust me when I say: some coordinators here in the past would not have said it like that. But Haslett realizes they're the ones that had to make plays and did so. (What he didn't mention: Hall was covering
Antonio Gates
on the fade stemmed because of a change in their goal-line package from the previous week when they got caught with one defensive back as Denver passed the ball). Haslett has his flaws. But he has a good understanding of the players' mentality.
7. Left tackle Trent Williams knows the challenges
of playing in a dome against a pass-rusher such as
Jared Allen
. He only has three sacks, but Williams isn't about to relax. Playing in a dome removes the chance to disrupt timing through snap counts. "He always gets a great jump off the ball, so that becomes magnified," Williams said. "You always peek at the ball, but [now] you try to time it up better and you have to be on your technique. One false move and he's on the quarterback." On the other side, watch for end
Brian Robison
's spin move; used it to sack Dallas quarterback
Tony Romo
last week. Right tackle
Tyler Polumbus
can't let him get his hands into his chest.
8. Quarterback Robert Griffin III needs to build on last week's game
with another strong outing. It'll be tough to match his completion percentage (71.8), but he needs to be efficient and avoid bad decisions, or take too long, as he did the previous week against Denver. Like the entire team, you can't say Griffin suddenly found himself because of what he did last week -- just like you couldn't say he was never going to develop because he played poorly versus Denver. Again: He's a young quarterback still enduring growing pains as a passer. But the Vikings represent a good chance for him to gain more confidence. They haven't applied enough pressure (17 sacks in 332 pass attempts). They allow a lot of completions (67 percent) and they're missing two defensive backs Thursday. Griffin should play well, if he's patient.
9. One reason the Redskins can feel a little better
about the second half of the season is the quarterbacks they won't be facing: elite guys who are difference makers. In the first eight games they faced
Aaron Rodgers
,
Peyton Manning
,
Matthew Stafford
,
Philip Rivers
, Tony Romo and
Jay Cutler
. Only Stafford and Cutler aren't among the top-seven rated passers this season. In the second half, the Redskins play only one quarterback currently rated in the top 15 (Atlanta's
Matt Ryan
).
10. The Vikings' numbers against the run
look solid: 3.8 yards per carry allowed. However, they've faced only two teams that currently rank in the top 18 in terms of rushing in Chicago and Green Bay. They allowed 4.7 and 4.3 yards per carry, respectively, in those losses (and a combined 309 yards). The Redskins are running the ball well.
October, 27, 2013
Oct 27
8:45
AM ET
While the Indianapolis Colts did a good job applying pressure on Denver quarterback Peyton Manning, they were helped by playing at home. The Broncos had to go with a silent count, which enabled the Colts' line to get a better jump. It also meant that Manning could not keep them off balance, or draw them offside, with a hard count. Much harder to get a jump against a quarterback such as Manning when playing on the road. The Colts also made Denver one dimensional by taking a double-digit lead, which helps any pass rush. Before Sunday, Denver's protection had been strong.

Interior pressure is the key against Manning and that means pressure from nose tackle Barry Cofield. Indianapolis' Cory Redding did a good job applying pressure inside last week and Cofield's game is comparable, in terms of technique and how they use their hands. Reserve nose tackle Chris Baker will have a role here, too, at times. Know this about Baker: He graded out near perfect last week, with one blemish. That means two strong games for him in the past three weeks. But with end Stephen Bowen hurting, they'll need more from backup Jarvis Jenkins. He needs to start making an impact.

The outside linebackers, Brian Orakpo and Ryan Kerrigan, have to at least apply pressure. Again, the pressure Sunday won't be measured in sacks. They need to create a tight pocket for Manning and that can mean just pinching the ends. Orakpo will face left tackle Chris Clark, who had a tough go at times versus the Colts' Robert Mathis, who used quickness and an occasional bull rush to apply heat. Orakpo can definitely use a bull rush; Mathis also had some success with spin moves, something Orakpo has only occasionally done.

The problem I have with this game? It's a details game; the so-called little things. That means penalties. That means special teams. (I just heard you gulp). The special teams has to be good, mainly to change field position – the Colts did a great job of pinning Denver deep, with 11 of its 17 drives starting at its own 20 or worse. That's significant. They could use a jolt from the return game as well, something they have not received this season. Washington will not win this game with just a good showing from the offense.

The tricky part is that Denver will use a lot of three-receiver sets, leaving a defense with six defenders in the box. So you must play the run well in this situation; the Colts did a solid job of it by using stunts or slanting the line. Look for Washington to do the same when confronted with this look.

Good luck blitzing Manning. He's the NFL's top-rated passer when facing five-plus rushers as well as when getting six or more. Against a five-plus rush, Manning has completed 44-of-64 passes for 588 yards nine touchdowns and an interception. When facing six or more, Manning has completed 14-of-20 passes for 237 yards, six touchdowns and no interceptions, according to ESPN Stats & Information. His passer rating? 149.4. The Redskins will blitz some, but without Reed Doughty or Brandon Meriweather at safety they'd better get home.

Denver likes to play a lot of man coverage, which usually bodes well for Robert Griffin III's ability to run. Both Dallas and Chicago used a lot of man coverage; it can make stopping the outside zone a little tougher if the linebackers can be sealed. It also means the defense must have disciplined rush lanes. Or else.

Griffin and the offense have fared much better against five-plus and six-plus rush situations the past two games. Griffin was the NFL's top-rated passer in both situations last season. This season? He's 13th against six-plus rushers, having already faced it 34 times compared to 24 all of last season. Griffin has completed 17-of-33 passes for 206 yards, three touchdowns and no interceptions against that look. But in the past two games, with his legs returning, he's encountered that rush only seven times, completing 5-of-7 passes for 80 yards – and leaving him fifth in quarterback rating (98.5) and seventh in passer rating (109.2).

I agree with corner DeAngelo Hall when asked if Sunday would provide a measuring stick for the defense. "Not really. Anytime you go against a guy like Peyton, he's going to test every aspect of your team, whether it's safety play or linebackers. He'll get the offense in the best situation. We'll disguise things, we'll mix things up. But is it a measuring stick? I don't think so. He'll be Peyton regardless of what we do. We're not going to make our names or lose our names off this one game. Their receivers are damn good receivers, too." Translation: "We're without both starting safeties, with no experienced backups. Don't judge us."

It'll be interesting to see what Denver linebacker Von Miller does in his second game back. Miller apparently put on 10 to 15 pounds from workouts during his six-game suspension. But has that taken away from his explosiveness? The Redskins say it hasn't, that he looked good against the Colts. I agree; for a guy who hadn't played yet this season, Miller looked pretty good. Miller typically lines up on the left side, which means right tackle Tyler Polumbus has a pivotal matchup. Miller will line up on both sides, but mostly on Polumbus' side. You must stay low and balanced – and beware his spin move, which he used a few times on the left side. In the past, he's done a good job against the zone read option, too. One more thing on him: He will try to jump the snap count, which will be easier to do at home than last week in Indy's closed stadium. A quicker get-off and with one game played, Miller could be primed for a big day.
October, 18, 2013
Oct 18
7:30
PM ET
Linebacker Perry Riley was fined $15,750 for his late hit on Dallas quarterback Tony Romo in Sunday's 31-16 loss. Riley hit Romo late on the second drive of the game; the Redskins eventually intercepted him to end this series.
Niles Paul told the Washington Post that veteran Reed Doughty was more vocal on the special-teams units this week. "Reed really has stepped up and took control," Paul told the Post. "That's not what Reed wants to do and I've been helping him out because I know I have a slight influence over people in here on special teams. ... I feel this week we are fully prepared for what's about to happen."
One reason tight end Fred Davis has not played as much in recent weeks: There's a sense that his ankle was still bothering him in the past couple games. He's listed as probable on the injury report. Also, the fact that Logan Paulsen and Jordan Reed are playing well has cut into his time. It'll be interesting to watch Reed develop this season; he could have a big second half.
Don't know how much more defensive end Jarvis Jenkins or linebacker Rob Jackson will play Sunday compared to last week. Jenkins played six snaps on defense, lining up at both right and left end; Jackson played 12.
More special teams, this time from coach Mike Shanahan on whether or not it's improved during the week: "We'll find out on Sunday. We've had a great week of practice. We always address the issues, not just on special teams, but defense and offense, when you do something poorly. The red zone, for us, was something we worked on today, both offensively and defensively, which we normally do on Friday. But that's what you do. If you play poorly in one area, you address it and hopefully we improve and we better improve."
You can blame special-teams coach Keith Burns for part of the early-season woes, but certainly not all. The Redskins left themselves thin at returner and when Richard Crawford was lost for the season they lacked a legitimate backup plan at punt returner. Josh Morgan will remain the guy in that role Sunday. "Well, you could tell that he has no fear catching the ball," Shanahan said. "I'm not sure that was a good decision [to catch the ball around the Dallas 10-yard line], but he has no fear. He's got some natural running skills, so we're going to give him a shot."
October, 11, 2013
Oct 11
2:40
PM ET
ASHBURN, Va. --
Washington Redskins
defensive end
Jarvis Jenkins
won't start, but he said he will play at the
Dallas Cowboys
on Sunday.
Jenkins missed the first four games because of an NFL-mandated four-game suspension after testing positive for a banned substance.
Kedric Golston
is still expected to start. Linebacker
Rob Jackson
also missed those games with a suspension.
"I think I'll go play, I don't know how much," Jenkins said. "Coach [Jim Haslett] told me he wanted to ease me into it. He didn't want to just throw me in there. I had four weeks off so he'll ease into it and see how it goes the first couple quarters and that will determine my play the rest of the game."
The coaches said Thursday that they wanted to make sure Jenkins was in proper football shape. The coaches wanted to see how well he remembered his assignments when he started to get tired. Jenkins said he felt he improved in this area the past three days.
"My main focus is not making mistakes when I do get in there," Jenkins said. "Obviously I already set myself back. I should go out and give 100 percent and that should be noticeable when I get on the field. That's one thing I have to show, that even though I was suspended I'm the same Jarvis coming back."
October, 10, 2013
Oct 10
1:25
PM ET
ASHBURN, Va. -- The
Washington Redskins
' defense hopes it receives a boost from the return of defensive end
Jarvis Jenkins
and linebacker
Rob Jackson
. When that boost comes, however, remains to be seen.
Jackson
Jenkins
Defensive coordinator Jim Haslett said he's still not sure if those players, both of whom were suspended for the first four games for violating the NFL's substance abuse policy, will even be active Sunday night at Dallas.
Jenkins started 15 games last season and opened camp as the starter until news broke of his suspension. Jackson was slated to be a backup behind
Ryan Kerrigan
and
Brian Orakpo
.
"We're still in the evaluation process with those two," Haslett said. "They're in pretty good shape based on what we saw in the two practices."
Haslett said after seeing them in practice Thursday and Friday, he'll then talk to coach Mike Shanahan about whether to activate them Sunday. They want to see how much they retained of the defense in their absence and make sure they're in good enough shape to play in a game. It's hard to imagine both being inactive.
While Jenkins will eventually return to the starting lineup, the future is more uncertain for Jackson, coming off a season in which he recorded 4.5 sacks and four interceptions in replacing the injured Orakpo.
Haslett said when Jackson is active, there will be times he can get all three outside linebackers on the field at the same time. For now? Haslett waits.
"I don't even know if he'll dress yet," Haslett said.
October, 9, 2013
Oct 9
7:30
PM ET
ASHBURN, Va. -- The
Washington Redskins
are getting closer to being a healthy team, at least when it comes to their starters.
Reed
Morris
Running back
Alfred Morris
(bruised ribs) and tight end
Jordan Reed
(quad contusion) practiced in full Wednesday and, barring a setback, will play Sunday at Dallas. Tight end
Logan Paulsen
(sprained left knee) was limited but said earlier in the week that he's cautiously optimistic about returning.
Backup nose tackle
Chris Neild
(calf) did not practice and reserve linebacker
Brandon Jenkins
(ankle) was limited.
Defensive end
Jarvis Jenkins
and linebacker
Rob Jackson
, both of whom missed the first four games because of NFL-mandated drug suspensions, practiced. However, coach Mike Shanahan said he's not yet sure what role they'll have Sunday. Eventually, Jenkins is expected to return to the starting lineup at left end; Jackson will be a backup to outside linebackers
Ryan Kerrigan
and
Brian Orakpo
.
For Dallas, running back
Lance Dunbar
(hamstring), linebacker
Justin Durant
(groin) and defensive end
Edgar Jones
(groin) did not practice. Receiver
Dwayne Harris
(hip) and defensive tackle
Jason Hatcher
(neck) were limited.
October, 7, 2013
Oct 7
12:30
PM ET
A review of four hot issues from the
Washington Redskins
coming out of their bye week.
Defensive breakdowns:
It's great for the Redskins defense that it entered the bye week after a strong performance; the unit needed confidence and a seven-sack game provided some. But the fact that Oakland's
Matt Flynn
was demoted to third string after that game tells you a thing or two. The Redskins have not fared well against good quarterbacks and have three of them upcoming -- Dallas'
Tony Romo
, Chicago's
Jay Cutler
and then Denver's
Peyton Manning
. The Redskins can't expect a shutdown performance, but is it asking too much to tackle better? If they do that and provide a steady four-man rush, they can reduce their issues. Getting end
Jarvis Jenkins
and linebacker
Rob Jackson
back from suspensions will help, but neither has been an impact player.
[+] Enlarge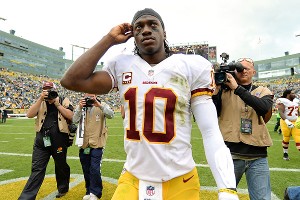 AP Photo/Greg TrottSo far this season, Robert Griffin III has looked nothing like the dynamic rookie QB he was in 2012.
Not so special:
Punter
Sav Rocca
has been too inconsistent. His hang time on some punts has been 3.0 seconds, a good second off the bottom of where it needs to be. Rocca's untimely shanks aren't what a struggling defense needs. But it's not just Rocca. Washington's longest kick return? Twenty-eight yards. The longest punt return? Eleven yards. There's also hidden yardage in what is lost because of poor decisions on both returns.
Chris Thompson
handles both duties, but never returned punts in college and clearly is still learning to make decisions when to field them. He's also adjusting to not having the same speed advantage he had in college. The blocking needs to be much better too.
Robert Griffin III's legs:
The second-year quarterback used his legs a lot more in Week 4 than in previous games. Griffin does not need to be a running machine to be effective, but his legs remain a valuable weapon for him. He needs to combine his legs with his growing penchant for keeping his eyes downfield. It led to big plays against Oakland. It's a way to make big plays with your legs and still reduce hits. This isn't about the zone-read, but it is about not just sitting in the pocket. The Redskins aren't built to have that sort of game.
Health issues:
The biggest one involves running back
Alfred Morris
, who bruised his ribs in the Sept. 29 win over the
Oakland Raiders
. The key will be what he's able to do later in the week and not Monday or even Wednesday. Morris is averaging 5.29 yards per carry and 2.30 yards after contact; both are stronger numbers than he posted a year ago. Tight end Jordan Reed's quad contusion was still an issue in the Redskins' last practice Oct. 1 before taking off for the rest of the week.
Fred Davis
should be healthy, so if Reed can't play they'll be fine. But Reed would help, too. Tight end
Logan Paulsen
's sprained left knee is an issue; losing him would hurt the blocking.
October, 3, 2013
Oct 3
12:00
PM ET
Because it's the bye week, there's a lot of time for questions. Here are five (by the way, no, defensive coordinator Jim Haslett isn't going anywhere so that's not a question for now):
Have they turned it around? One game against an offense starting a (since-demoted) backup quarterback and losing its top running back does not qualify as a turnaround. But give the Redskins credit for doing what they should: Shut down the Raiders' offense. The pass rush was good and, more importantly, they recorded six of their seven sacks without needing an extra rusher. That's huge. It was a good start, but you can't wipe out three bad games with one good one against the Raiders. Can the coverage hold up against better passing offenses? (Oakland, after watching other teams force this secondary to tackle, opted for slower routes with a less-mobile quarterback behind a weak offensive line. Apparently film isn't available in the Bay Area). This defense doesn't have to dominate a good team to show they've turned it around; that's unlikely. But they must stop the sloppy tackling and big plays allowed. Otherwise, there is no turnaround.

[+] Enlarge

Jeff Hanisch/USA TODAY SportsThe Redskins will be counting on LB Ryan Kerrigan to put heat on Denver's Peyton Manning during Sunday's game.

What are reasons for hope with the D? The continued rise of nose tackle Barry Cofield, the continued development of playmaker Ryan Kerrigan and the rust that Brian Orakpo has started to shed. The Redskins' defense has a shot at improved play in part because of this trio, who happen to play the most important spots in a 3-4. These three are capable of playing at a certain level others on the defense can't reach. That must continue.

How much will Jarvis Jenkins and Rob Jackson help? Plenty, especially Jenkins. Neither is a difference maker, however. For starters, it must be pointed out that Kedric Golston, who started at left end, has been solid and certainly not the reason the defense struggled. But the Redskins' No. 1 priority is stopping the run and Jenkins was good in that role last season. It's always good to add an athletic big man, even if he's shown little as a pass rusher. Jenkins said he worked on taking a longer first step when rushing the passer. Last year he'd stutter-step and it would take him three steps to get to a spot that, for example, took Stephen Bowen two steps. You could see in camp that Jenkins' first step was better, but that did not result in pressure against starting linemen. Jenkins hasn't shown any pass-rush moves, other than power, to this point. Jackson adds depth and the ability to be a little more creative with defensive packages.

What's up with London Fletcher? At 38, Fletcher has conceded to his age by removing himself for parts of the game for Nick Barnett (good insurance policy; not strong versus the pass). Fletcher struggled the first two games, played well in the third and was up-and-down this past week. Keep in mind that he played better in the second half of the season in each of the last two years. What's clear is that Fletcher is more effective when on the move at the snap, allowing him a better chance to avoid blockers. One NFL coach said last year that a sign of linebackers who have succumbed to age is that when they hit the hole, they're not able to finish with the same power; or when they're unable to shed blocks the same way. Against the Lions, his big plays came when on the move (blitzing) or when he was aligned only two or three yards off the ball, making it tougher for linemen to reach him. When he has to sit and read, it's much tougher. He was quiet early in the game Sunday, but had one bad stretch in the third (over two series) in which he missed three tackles and didn't get to the hole on another. But he also made stops, mostly when on the move at the snap -- and, yes, he avoided blocks on a couple occasions to get there. When you're not used to him missing tackles, however, those stand out and beg the obvious question. Fletcher isn't leaving the lineup, so he'll get a chance to answer that question. The Redskins need consistency at this spot.

Is there hope for the secondary? Rookie David Amerson's learns lessons every game; he needs to prove he can apply those lessons consistently. If he can, then the Redskins have a talented big corner. If Brandon Meriweather can stay healthy, then it provides a presence in the defensive backfield. If the Redskins can pressure with four, it will help (though Sunday's seven sacks were helped by the coverage). If, if, if. And the mix-and-match philosophy at safety is one I thought they'd start the season with instead of Bacarri Rambo (had Meriweather been healthy, then perhaps they would have). But hope? Well... Overall this group can play better by tackling better (the Redskins are tied with San Diego for having allowed 198 yards after contact in the passing game, according to ESPN Stats & Information). If any spot was affected by the salary-cap mess, it's this one. This isn't about playing one type of coverage (they need to keep mixing it up or they'll be picked apart). It's about limiting mistakes (missed tackles, blown assignments). Once they do that consistently, and mix in a turnover or two, then there's your hope. Both Dallas and Denver rank in the top five in passing, so this secondary will continue to be tested. Quite often.
September, 30, 2013
Sep 30
7:15
PM ET
ASHBURN, Va. -- One win hasn't changed the message Mike Shanahan has for the
Washington Redskins
as they enter the bye week. They have work to do.
"Our team is pretty realistic," Shanahan said. "They know what type of effort we have to have to get to the next level, what type of play we have to do consistently to win the division."
At 1-3, the Redskins aren't in a position to relax even in a division having a down year. The players were upbeat after beating the
Oakland Raiders
on Sunday, but they also don't want to assume it'll be the start of a turnaround.

Shanahan
That's why Shanahan said they'll talk with the players about ways they could have clinched Sunday's win earlier. Or how they can put together a complete game on both sides of the ball.
"Once you get too carried away, to me that's when a team goes one way or another," Shanahan said. "Sometimes if you don't do all the little things the right way you lose a game and all of a sudden the sky is falling. The sky's not falling. You have got to go back and do the little things the right way.
"If you've got that mindset and your players believe in the work, then you have a chance to overcome anything. Even though we won, we know we didn't play one of our better games, especially offensively. When that happens, then you have a football team that has a chance to get better."
In other Redskins news:
Shanahan isn't sure yet how tight end Logan Paulsen's knee is doing. Paulsen hurt his left knee Sunday and exited the stadium in a brace. Paulsen is expected to get an MRI, but he told Shanahan on Sunday that he felt good. Shanahan also said if there is a chance that Paulsen's injury is serious, then the trainers likely would have shared that information with him after the game.

Shanahan on the NFC East: "Remember, this is a long season. Don't get carried away with things that happen very early or very late. Just stay the course. ... A lot of those games can go either way and people get healthy or they get injured and there's a lot that goes into it."

Receiver

Leonard Hankerson

has caught 15 passes for 185 yards, adding four for 49 against the Raiders in his second start of the season. "Hank is really playing well," Shanahan said. "When he gets the opportunity to set guys up one-on-one, he usually wins. He's becoming comfortable not only with the system, but with himself."

Hankerson's routes have continued to improve; time and again he creates separation off his cut, though he's not as much a threat downfield or after the catch. Still, he's getting open underneath. Shanahan credits some of it to Hankerson being healthy. Last offseason Hankerson spent his time rehabbing surgically-repaired hip. "It's nice to have a guy that's healthy," Shanahan said. "You can see the progress."

The Redskins have an early bye this week; last year they had one after nine games. Not that any of this matters to Shanahan. "It doesn't matter if it's the middle of the season, toward the end of the season or in the beginning," he said. "You can use excuses that it's the perfect time for a bye week. We have a couple guys banged up which is a positive for us to get these guys healthy. ... We can come back healthy and we know where we're at in the NFC East and start the season all over again."

Suspended players, defensive end

Jarvis Jenkins

and linebacker

Rob Jackson

, will return to practice Tuesday. They haven't been able to practice for the past four weeks while serving their four-game suspensions. Jackson at least could be at the facility because the nature of his suspension and sit in on meetings. He just couldn't practice. The Redskins have a one-week exemption before they need to make a move to free up two roster spots.
September, 27, 2013
Sep 27
12:00
PM ET
In Part 1 of this week's Redskins mailbag, we take a look at, who else,
Robert Griffin III
,
Antoine Winfield
,
Niles Paul
and, of course, Jim Haslett. All questions were submitted via Twitter.
@Fertzy asks:
Are the Redskins effectively prepared to write off this season while RG3 gets fit, even if losses pile up?
John Keim:
The season isn't about Griffin. There's not a single player or coach who will say, "It's OK if we lose as long as Robert gets healthy for next season."
London Fletcher
probably doesn't have a next season.
DeAngelo Hall
is a free agent after the season.
Fred Davis
is playing for a contract. Etc. Do you really think they care more about Griffin getting fit for 2014 than winning -- or their own livelihood? Not a chance. Man that would be a dangerous precedent for a team to take that approach.
---
@ADEckman asks:
is def's yards allowed being exaggerated greatly by off's inability to sustain drives? Or is it that bad?
Keim:
You just can't blame it all on the offense. Yes, the offense has not helped at all but it's not like the defense was stopping Philadelphia early and just wore down. The Packers could have scored 50 points if they wanted to. And against Detroit the defense played better, but they still allowed 27 points, 441 yards and surrendered six plays of 20 or more yards. This despite the offense controlling the ball for 31 minutes, 12 seconds and gaining 420 yards of their own. It would definitely help if the offense did more, but when you see the inability to stop teams and the breakdowns, it's just not because of the offense's inability to do much. They're allowing 6.9 yards per play; that's terrible.
---
@enkay85 asks:
Never mind Rhodes, why can't this team entice A. Winfield to join? Seems like he'd be a tremendous help.
Keim:
I'm sure Winfield would love to join a team that's 0-3 for his last go-round. I really like how Winfield plays and thought he had as good a game against Washington last year as any corner. But I don't know how much money he would want; the Redskins still don't have a lot of cap room.
---
@mikeyvanilli asks:
I know onside kicks are rare, but isn't he on the roster to be a ST guru? Shouldn't he know that rule?
Keim:
Of course he knows the rule. The problem on the kick is that the ball was not going to go 10 yards; the players are supposed to try and get it in the air. I'm not making excuses for him, but if he lets the ball go then it hits on the ground after eight yards -- or a Lions player catches it (one was right there). Either way it wasn't going to work.
Calvin Johnson
also was approaching too, with
Reed Doughty
trying to box him out. Have a hunch Johnson wins that battle.
---
@JalfredoC10 asks:
Any chance we have a new DC after the bye week ?
Keim:
If they start 0-4 and the defense has another terrible game -- against a backup quarterback in
Matt Flynn
no less -- well, I think we've all been around long enough to know nobody should feel comfortable. But I haven't heard those sort of rumblings; I've heard more the opposite (to this point anyway). I know you can place blame all over the place; to suggest it is just Jim Haslett's fault is just wrong. The tackling was bad; rookie mistakes have really hurt a secondary that wasn't strong to begin with and there are some players just not having the start they needed. But coaching is always part of the equation; failures like this start are a cumulative effort (yes, throw in the cap mess and the inability to adequately upgrade in the secondary). Haslett was not considered an elite coordinator; his reputation based on many I've spoken with -- people with far more knowledge than I -- is that he's pretty good, but one criticism was the soundness of his defense's coverages, how they meshed with blitzes, etc. That said, who would you replace him with? Bob Slowik had a failed tenure as a defensive coordinator in Denver. That leaves Raheem Morris. He's energetic and perhaps this ultimately will be his job -- here or somewhere. But his group hasn't flourished either. Haslett and his coaches improved the defense last year and will have to resort to weekly maneuvering to do so this year, more so than most teams.
---
@RolandWNoBrakes asks:
With LF59 slowing down & Barnett working his way into the D, do you think he will be LF59's replacement in '14?
Keim:
No, I don't. Or, right now, I haven't seen enough evidence to suggest he should be that guy. It's tough to measure Barnett because when we saw him play this summer he was still recovering from offseason knee surgery. Barnett struggled last season in Buffalo, particularly in coverage, according to Bills' insiders I spoke with. Barnett is a good insurance policy for this season; he's smart and prepared and knows the defense. But I think they'd be wise to keep looking after the season. They think
Perry Riley
can handle play-calling duties, but he's well-suited for where he's at now. Even if they wanted to move him, they'd still need a replacement on that side.
---
@TMM75 asks:
Do you think Jenkins' return will make any real difference? I feel he hasn't shown much for us to miss him.
Keim:
Not sold that it will. Jenkins will add depth at a key position; that's always welcomed. He won't be the reason the defense turns it around; it's not as if starter
Kedric Golston
has been a problem. He just didn't show he could be a difference-maker in 2012. But he did improve against the run. Jenkins can play in the nickel, though he has not shown good pass-rush skills. He worked on that in the offseason, but against starters this summer I didn't see a difference.
September, 4, 2013
Sep 4
7:15
PM ET
The Redskins have returned to lockdown mode when it comes to injuries. Because they don't have to release an injury report until Thursday, thanks to playing on Monday, we don't know how much safety Brandon Meriweather practiced -- if at all.

Meriweather did not practice Monday because of a groin injury. But we'll find out more about his status Thursday.
Coach Mike Shanahan did let us know that "our quarterbacks are both doing well." Believe it or not, for once, we did not even ask him about the quarterback's health. That's probably the first time that's happened since Dec. 7 -- two days before the Baltimore game last season.
The Redskins restructured two more contracts, doing so with defensive ends Stephen Bowen and Adam Carriker. According to the Washington Post, the moves saved the Redskins another $1.3 million against the salary cap. They cleared out an additional $2.4 million earlier this week by restructuring nose tackle Barry Cofield's deal.
The Redskins had to be in compliance with the salary cap Wednesday (along with every other NFL team). The problem for Washington is that it has two suspended players who still count against the salary cap in end
Jarvis Jenkins
and linebacker
Rob Jackson
. And it has four players on injured reserve and the physically unable to perform list, who count against the cap as well.
Shanahan said they did not release any players in the final cuts for monetary reasons.
Redskins corner DeAngelo Hall said it was a no-brainer for the Eagles to name Michael Vick as the starting quarterback (which they did before the preseason ended).
"I didn't think it would be a competition," Hall said. "Mike fit perfectly into what they wanted him to do as far as running that offense. ... He'll be juiced up. He's playing for a contract. They're talking about running him out of town, so he has a lot of added pressure on himself to go out and make plays."
One of the players who routinely stays after practice for more work, whether it's running sprints or catching passes? Running back Alfred Morris. Add it to the list of reasons why Morris won't suffer a so-called sophomore slump.
September, 2, 2013
Sep 2
2:30
PM ET
ASHBURN, Va. -- The roster analysis was written over the weekend; now it's time to break it down by the numbers. What does it mean? Well, the Redskins have valued their draft picks more in recent years than in the past. Part of that could stem from the salary-cap violations of the past two offseasons, forcing them to improve from within. Regardless, it was a necessary shift in philosophy. They still have 22 players who played for another team, which is far different than, say, Green Bay, which has only two such players. But the Packers are unique. Still, the more you have of your own guys, the better off you are -- and the Redskins' number was actually 20 in 2009, pre-Shanahan. There are explanations for this -- in a rebuild you gut the roster and start over -- but that's the bottom line number.

Before the Shanahan era, and even early on in it, I remember asking players about their favorite football highlight. None, or at least very, very few of these highlights included anything with the Redskins. Their strong bonds, it felt, were built elsewhere. And it felt like too many of them were here because of the money; it's easier to foster a team concept through draft choices and homegrown talent. That's the direction Washington has headed under Shanahan.
And the list does not include suspended players
Rob Jackson
or
Jarvis Jenkins
, who would add to the draft choice total (with Jackson being picked in 2008; Jenkins in 2011)
Anyway, here's the 2013 roster by the numbers. Draw your own conclusions:
Draft choices by the Redskins:
24
Draft choices under Mike Shanahan:
20
Draft choices from past three years under Shanahan:
18
Draft choices by the Redskins on the opening day roster in Shanahan's first season, 2010:
16
Draft choices by the Redskins on opening day roster in 2009:
27
Draft choices by the Redskins who are currently starters:
9
Draft choices picked by Shanahan who are starting:
6
Former undrafted free agents:
9
Players who have played for another team:
22
Former first-round picks:
9
Players picked in the first three rounds:
20
Players picked in rounds 6 and 7, or who went undrafted:
22
Former undrafted free agents starting:
7 (including LS
Nick Sundberg
and K
Kai Forbath
; this also assumes a two TE, two RB set with TE
Logan Paulsen
and FB
Darrel Young
)
Former first-round picks starting:
6
Picks in rounds 1-3 starting:
9
Former 6th-7th round picks starting:
6
Players signed as unrestricted free agents: 12
Players remaining from pre-Shanahan era:
9 (including Young, though this group converted him to FB)
Players 30 or older:
9
Players 26 or younger:
29
Starters 30 years old or older:
5 (including punter
Sav Rocca
)
Starters 26 years old or younger:
6 (if they open with two TEs and Logan Paulsen)
Players who have played for a team that reached the Super Bowl:
5
Former draft choices on injured reserve:
3
Former draft choices on the physically unable to perform list:
1
Former draft choices currently suspended:
2
August, 26, 2013
Aug 26
8:31
AM ET
It's an exciting time for those who survive the week and a crushing one for those who don't. It's also one of the tougher ones for coaches, who must inform a number of players they weren't good enough to make the roster.
That makes this one of the more intriguing weeks in the NFL. And one of the busier ones, with game preparations ongoing and one more preseason game to play. Here's how the week shapes up for Washington:
Monday
11:15 a.m.-noon: Media availability in locker room.
1 p.m.-3 p.m.: Practice. The media can watch the first 40 minutes. Players available coming off the field.
3:30 p.m.: (approximately): Mike Shanahan news conference.
Today's topics:
Robert Griffin
III update; punt returners; injury updates to
Kirk Cousins
and
Barry Cofield
.
Tuesday
11:15 a.m.-Noon: Media availability in locker room.
Noon: Defensive coordinator Jim Haslett's news conference.
1 p.m.-3 p.m.: Practice. The media can watch the first 40 minutes. Players available coming off the field.
3 p.m.: Offensive coordinator Kyle Shanahan's news conference.
3:30 p.m.: Mike Shanahan's news conference.
4 p.m.: Deadline for trimming the roster to 75.
Today's topics:
Last chance for a Griffin update until after Thursday's game; progress report on the young players in the secondary; roster cutdowns, though there are typically few surprises in the first round. They could always try to trade someone to free a roster spot and get a draft pick (remember
Kevin Barnes
a year ago).
Wednesday
The Redskins will conduct a walkthrough and fly to Tampa Bay. No media access.
Thursday
7:30 p.m.: Preseason finale at Tampa Bay
Today's topic:
Griffin update. He's supposed to be examined by Dr. James Andrews at the game. I would imagine it would occur after Griffin works out before the game. Considering the positive reports we've received thus far, it looks good for Griffin. Then it's up to Mike Shanahan to determine if he's ready to play in an NFL game. I can't imagine Shanahan announces this after the game, but maybe he surprises me. As for the game itself? No thanks. The starters won't play, but there may be a player or two who does enough to earn a final spot.
Brandon Banks
' big game in the finale last year reminded all of his playmaking potential. His season then reminded them it was a mirage.
Friday
Players off. No media availability with players or coaches.
Saturday
No media availability
6 p.m.: Deadline for final cuts, trimming the roster to 53.
Note:
The Redskins typically don't announce their final cuts until three hours after the deadline, when all we need is the official confirmation because the names already are known. Reporters will have spent at least 13 hours already piecing the names together. The Redskins have a lot to decide: eight or nine offensive linemen? How many running backs? Safeties? Who would they be afraid to lose, even if they're not quite game ready? Somebody makes the roster each year, it seems, because the Redskins are afraid to expose them to waivers. They're helped, on this day at least, by having roster exemptions for the first four weeks with
Jarvis Jenkins
and
Rob Jackson
suspended. So there will be real intrigue about who gets cut when those two return. Often times, though, injuries and performance through the first four weeks make these decisions a little easier.