Washington Redskins:

John Elway
December, 11, 2013
12/11/13
7:15
PM ET
ASHBURN, Va. --
Steve Young
knows what Mike Shanahan wants from his quarterbacks, having played for him in San Francisco. That's why he doesn't buy Shanahan's explanation for benching
Robert Griffin
III.
Shanahan said he doesn't want Griffin to get hurt in the final three games and enter the offseason healthy, something he did not do last season and it cost him a chance to improve.
"That's fine. He will be safer. He will be healthy," Young said on ESPN's NFL Live. "But if you're playing well and doing your work, you're doing the job. You're playing."
Young acknowledged that Shanahan is tough on quarterbacks, no matter who it is.
"I know him well," Young said. "He gives very little tolerance for quarterbacks -- including me,
John Elway
, whoever else is playing -- if you're not playing well and you're not preparing to throw to five receivers every play. He puts quarterbacks in position to have to read sideline to sideline. That's a huge task for young players, and he wants guys that are willing to go work that out and play well. If you're not going to play well he's going to find someone else."
Young said Shanahan's system demands that you're able to look at all five receivers on a route (if that many go out). Not every offense operates this way; some focus more on half-field reads.
"They have five receivers go out, but they're only throwing to two, or one even, and that's a lot easier for young players," Young said. "Mike asks a lot and if he doesn't get it, he's the kind of guy who says, 'Well, let's bring the next guy. I want to take a look,' even with what that means on the team, the city, the organization, everything. It doesn't matter. 'I want quarterbacks who are performing and performing well.' "
October, 27, 2013
10/27/13
10:30
AM ET
The first thing you learn about Mike Shanahan is his competitive edge. That's not a chip on his shoulder; it's more of a boulder. When he was with Denver, he kept clippings from newspaper articles and pulled them out after winning the Super Bowl, just to remind reporters they were a bit, uh, wrong.
There's a reason why a guy his size played college football. He's tough, feisty and competitive and coaches that way.
[+] Enlarge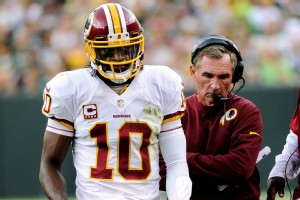 Benny Sieu/USA TODAY SportsWashington Redskins coach Mike Shanahan finds himself in a different place today -- four and a half years after his tenure in Denver ended.
So, yeah, Mike Shanahan hasn't coached in Denver since the 2008 season. He's in his fourth season with Washington, where he's re-built an organization and has a flashy young quarterback. He's friendly with Denver vice president of football operations, and his former quarterback,
John Elway
and, supposedly, with the guy who fired him, owner Pat Bowlen.
Yeah, Shanahan has landed just fine on his feet. But there's no chance his fire won't burn a little brighter Sunday. Maybe Shanahan turns the Redskins around; maybe he doesn't. But when he left Denver, Shanahan felt he had the makings of a strong team with young quarterback
Jay Cutler
and young receiver
Brandon Marshall
. It's difficult to find such a combination; Shanahan had it and liked where they were headed. Then came a three-game collapse at the end of his 14th season and a firing.
"It was very shocking," said Redskins guard
Kory Lichtensteiger
, drafted by Denver in 2008, of the firing. "Everybody was understandably disappointed, but to do a move like that ... the offense was on fire the whole year. A few things could have been tweaked, but a complete overhaul was extreme."
If the players felt that way, then little doubt the coach did too. Not that Shanahan would admit it now.
"You know it's been four and a half years, so it's not like it was yesterday or the year before. So, I think it's a little bit different than what normally happens when you're gone for six months or nine months. I've done it before when I was with the 49ers and with the Raiders you go back to the place you're at -- a lot of emotion. I think this is a little bit different than most."
His son, Kyle Shanahan, who grew up in Denver, said, "You always want to beat people you used to work for. Everybody is like that, but it's not as big a deal as I would have expected it to be four years ago."
Under Shanahan, the Broncos had the fourth best record in the NFL from 1995-2008. They went 138-86 with seven playoff appearances and two Super Bowls. But his reputation took a hit post-Elway. They did win after him -- he coaxed 13 wins by a
Jake Plummer
-led team in 2005.
But Shanahan's playoff record is 1-5 since winning his second Super Bowl. Make no mistake; the Broncos had talent on those teams, but you don't win back-to-back titles with a slouch of a coach. And Shanahan is a good coach; Denver won double-digit games four times after Elway retired. However, he still has to prove he can build a championship team as the main architect. Heck, in Washington he needs to prove he can build a perennial winner. There's still time this season and if they finish well, then there can be some optimism heading into the offseason (with more money). But they have to finish strong.
I know there have been some side issues that have hurt them, from the lockout to the salary cap. But this group traded for
Donovan McNabb
(though perhaps with a nudge from the owner); and allowed
Albert Haynesworth
to stick around another year; and put their faith, way too much of it, in
John Beck
and
Rex Grossman
as starters, though at least the latter belongs in the league and can help. If not for the good fortune of being bad in a year where there were two elite quarterbacks, then where would the franchise be? Of course, when they did get
Robert Griffin III
, they created one of the most enjoyable offenses to watch.
But they still haven't built a top-level defense in the same fashion as what they're doing on offense. They have changed the culture in the building and there's a strong mindset among the players in the locker room. But this business is about winning and doing it consistently. Until they do that ...
He did it in Denver and that's why they'll honor him with a video tribute before the game.
"I think it'll be fun going back there, getting a chance to spend all those years in one place," Shanahan said. "I'm sure hoping I don't get booed."
Hard to imagine Broncos fans booing a man who delivered two Super Bowls. But in Washington? If he wants a video tribute here someday, a lot of work remains.
Sunday is a statement on what Shanahan has done as a coach, a reminder of great times. It's also a statement on what he has left to do.
September, 5, 2013
9/05/13
12:15
PM ET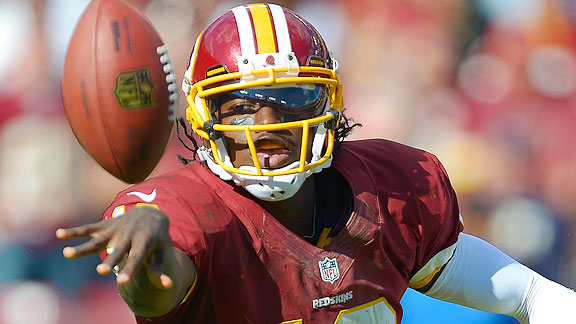 John McDonnell/The Washington Post/Getty ImagesWill Redskins quarterback Robert Griffin III pitch out more on read-option plays this season?
Robert Griffin III
, and everyone else it seems, knows what he must do Monday night. Before trouble arrives, hit the ground. Or get out of bounds. Or throw the ball away. It's the same conversation that was had before his knee injury late last season; the volume, though, has increased. A lot.
Griffin will not abandon the run, whether a designed call or a scramble. It's too much a part of his game and to ask him to just become a pocket passer is ignoring reality: Griffin makes huge plays with his legs, whether by running for a 76-yard touchdown (as he did against Minnesota last season) or by extending a fourth-down play by nearly 10 seconds and eventually picking up a first down (as he did against the Giants).
Still, the great debate has been how to keep Griffin safe. He can help himself by trusting more of what he sees downfield. He can also keep the ball alive when he does scramble, pump-faking as he approaches the line or even crosses it, something other mobile quarterbacks such as
Ben Roethlisberger
do well. It can cause enough hesitation to either create an opening or allow him to slide without still getting hit.
"He can't run as much," running back
Alfred Morris
said. "He has to be a smarter runner. A lot of times on options I'm like, 'Give me the ball.' Not because I want the stats, but give me the ball to let me take the hit. I can take this hit. I'm built for this. So just not as many hits and being smarter sliding instead of making something big happen."
Morris brought up a good point, too: Griffin can trust his weapons. With a highly productive back in Morris and healthy receiving targets in
Fred Davis
,
Pierre Garcon
and even third-down back
Roy Helu
, Griffin does not need to go it alone.
"No one person will win this game," Morris said. "It's a team sport. You don't have to make the big play every play. You won't hit a home run every play. I know he'll use that sideline a lot more and I know he'll slide a lot more.
"If he tries to hit a home run every time out there, you're living in la-la land. That's unrealistic so you have to nickel and dime, nickel and dime and know that you have to be patient and that big plays are going to come."
Michael Vick
understands the dilemma Griffin faces, trying to remain dangerous while running less. Vick has run the ball 791 times in his career, with two seasons of at least 120 carries, the same number Griffin had a year ago.
"Well, it's one of Robert's strengths," Vick said. "It's something that he does well and it's made him the type of quarterback that he is today -- and a successful one and a good one. But what I've learned is that you have to be cautious because these guys in this league they hit so hard and we only weigh about 210 pounds, 215 pounds and these guys taking all types of angles on us and we don't even see them sometimes. So it's important for us to protect ourselves and be conscious of where we are on the field and most importantly understand how much we mean to our football team."
Vick's career has been marked by big plays and big hits, leading to concussions or other injuries. He has played in all 16 games in a season once in his career and hasn't topped 13 in the past three. Vick said he's only now running smarter.
"It happens in time. It happens over time, and I can honestly tell you right now I didn't learn it until this year," Vick said. "This preseason was the most I've gotten down and slid and ran with a sense of getting down and not trying to score all the time. I think once you tell yourself that's what you're going to do, then you kind of ingrain it in your mind."
It's not as if Griffin ran with abandon last season. He got hurt trying to extend plays against Atlanta (a concussion on a third-down play in the red zone); and Baltimore (a second-and-19 scramble late in the game trailing by eight); and Seattle (rolling to his right in the red zone; he wasn't hit). And he was better at running out of bounds after his Week 5 concussion.
Still, he said he'll have it down Monday night.
"I mean, you guys have been talking to me about it for eight months. I think it's ingrained in my head now. I'll be getting down on Monday night," Griffin said.
Two other mobile quarterbacks in recent decades,
Steve Young
and
John Elway
, ran much less than Griffin. The most Elway ever ran was 66 times in 1987, his fourth full season as the starter. In 1997, he ran the ball 50 times. Young ran it more often (4.2 times per game) and in his last full season as the starter he ran the ball 70 times, the second-highest total of his career.
"If they can stay healthy, they can have dominant careers," ESPN "Monday Night Football" analyst Jon Gruden said of the read-option quarterbacks. "Now, the style in which they play concerns me because I'm not accustomed to seeing quarterbacks take the kind of hits and as many hits as these men take.
"I'm concerned with any quarterback that runs the ball and plays the position recklessly because as far as I know, the quarterback is the only guy that can't play on Sunday if he has a sore passing shoulder. That's my only concern. I love watching them play. I love the style of offense that they play. The combination of dropback passing and option football is just downright nasty to a defense to defend, but can they sustain that style of play deep into their careers and eventually become $100 million quarterbacks as well?"
The Redskins say they don't have a number on how many times Griffin should run. It's hard to do something like that anyway. But Griffin's size -- he's listed as 6-foot-2, 217 pounds -- means that questions about durability will be in play, whether he's a pocket passer or scrambler. The fewer hits he takes, the better. They won't abandon the zone-read -- it provides big plays, both in the run and pass game, and they have a strong belief it protects him better.
"It is what it is, whatever that number ends up being," Griffin said. "I just want to make sure I go out there and play tough, play hard, play fearless, and at the same time, play smart."