Washington Redskins:

Jordan Pugh
October, 21, 2013
10/21/13
1:20
PM ET
It's one thing for
Brandon Meriweather
's hits to cost him money and even for them to cost the
Washington Redskins
' defense some yards. The latter hurts, and this team isn't good enough to always overcome those mistakes.
It's quite another when they cost Meriweather games, particularly at a time when the Redskins are trying to build any sort of momentum and face arguably the NFL's best quarterback Sunday and another top QB the following Sunday.
The NFL is considering a one- or two-game suspension for Meriweather, according to ESPN's Adam Schefter.
It leaves the Redskins in a major bind because Meriweather plays a position where they have no depth -- and they don't know yet whether
Reed Doughty
will be able to start Sunday because of a concussion. There's a reason the Redskins have used
E.J. Biggers
and
Josh Wilson
more at safety in recent weeks than any of the other backups.
Bacarri Rambo
? He hasn't shown any reason to believe he'll do a better job at safety than Biggers. He responded to being benched by not improving on special teams and eventually being inactive.
[+] Enlarge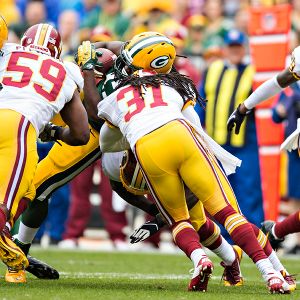 Wesley Hitt/Getty ImagesBrandon Meriweather already has been fined this season for a helmet-first hit on Green Bay Packers running back Eddie Lacy in Week 2.
There's no unsigned safety who could come in and help, though they could always turn again to
Jordan Pugh
. But what, exactly, would that get them? And before anyone asks (and they still will),
Tanard Jackson
is still suspended, and if you haven't heard an update, it's because nothing has changed.
Jose Gumbs
was a surprise roster addition out of training camp, but he's played only nine snaps in his career. You want him lining up deep against
Peyton Manning
?
With Meriweather in the lineup, the Redskins have an exuberant player capable of making solid tackles, when he's not leading with his helmet. They can run blitzes like they did Sunday where
David Amerson
is sent from the numbers, knowing Meriweather can rotate over in time to defend even a speedy receiver. It's a little wrinkle that helps the defense.
So he obviously has merit. But that obscures the larger point about Meriweather. Is he capable of change? Yes, it's tough for a defensive back in the modern NFL to sometimes know how to hit a receiver. He's not a big guy at 5-foot-11, 197 pounds, so it's not as if he can just form tackle everyone to the ground. It's a romantic notion, but not always realistic.
Meriweather grew up watching a different game that safeties could play. You want to call him a headhunter? Go ahead. The NFL agrees with you, if the numerous fines and likely suspension mean anything.
"I think they're trying to be safe, and I think the only way to be safe is to do what they're doing," Meriweather said. "But at the same time, this is tackle football. A job of a safety is to instill fear, and you can't do that with pulling up."
No, you can't. But you also can't take two or three steps and hit a receiver who already has dropped the ball, as he did on
Brandon Marshall
in the end zone. That's not the effects of a new rule; that's just undisciplined football. When a player has a history of that, it will continue to haunt him (just like it did with Mark Carrier back in the day).
Meriweather's lack of discipline hurt him in New England and Chicago. It's hurting him here -- as well as the Redskins. Others may view Meriweather as a bad guy; we've seen him as a fun player to interview. Is he a bad guy? I don't have that evidence from my dealings with him.
But this isn't about whether he is a good or bad guy. It's about how he plays. And he plays a reckless style that puts his team in a bind at times. Only now there's a difference between it costing his team 15 yards and costing him games.
And this isn't just about his hits on Sunday. It's about a player with a repeated pattern of making the same mistake. You can dislike the new rules all you want -- and I'm not always a fan of them either -- but if they lower the speed limit on the roads I drive, I still have to obey the law.
The first penalty was evidence of the new NFL. But I also saw Bears corner
Charles Tillman
deliver a strong shoulder blow when
Robert Griffin III
ran out of bounds on one play. No, it wasn't a bang-bang play as they are with receivers, but it was still a good, solid hit. So it can be done.
The Redskins can't cut Meriweather because they have zero legitimate alternatives. The NFL will teach him a lesson, and the Redskins will cross their fingers and hope that he learns it. History suggests that's a long shot.
October, 15, 2013
10/15/13
4:30
PM ET
The
Washington Redskins
had a busy Tuesday, signing three players, cutting one and placing two more on injured reserve. It'll be tough for the new players to provide the sort of help the Redskins need.
Here's a recap of the Redskins' moves:
Coming:
*Linebacker
Josh Hull
, long-snapper
Kyle Nelson
and safety
Trenton Robinson
. Hull has played in 28 career games with one start after being drafted by St. Louis in the seventh round of the 2010 draft. But he was cut at the end of August. Washington needs him to help on special teams, replacing the injured
Bryan Kehl
.
Nelson, who went undrafted in 2011, snapped for San Diego in the final six games of the 2012 season. He was cut by Seattle this past summer. His grandfather, Roger Nelson, was a 13
th
-round pick by Washington in 1954 but ended up playing in the Canadian Football League instead. Kyle Nelson replaces injured
Nick Sundberg
.
Robinson was a sixth-round pick by San Francisco in 2012 and appeared in the first three games of last season for the 49ers. He was on Philadelphia's practice squad this season until being released a week ago. Robinson was a captain at Michigan State along with current Redskins quarterback
Kirk Cousins
. The Redskins clearly need help at safety, though it's hard to find such help during the season. If he can help on special teams, that would be a boost. He's listed at 5-foot-9, 193 pounds and won a roster spot in 2012 because of his aggressive style. Robinson was timed in the 40-yard dash in 4.48 seconds at the 2012 combine.
Going:
*The Redskins released safety
Jordan Pugh
, who made the roster coming out of training camp but didn't add a whole lot. The Redskins activated safety
Jose Gumbs
against Dallas, and when they needed an extra safety, they often used a corner in that role. That's not what you'd call a good sign.
Gone for now:
*Kehl and Sundberg, both of whom suffered season-ending knee injuries against Dallas on Sunday night, were placed on injured reserve. Kehl tore his left ACL; Sundberg tore his right meniscus. Kehl was their leading tackler on special teams while Sundberg was a consistent long-snapper.
September, 29, 2013
9/29/13
10:30
PM ET
OAKLAND -- As
Ryan Kerrigan
turned the corner, he just needed a little more help. That's when everything worked in concert. The defensive tackles collapsed the pocket so
Oakland Raiders
quarterback
Matt Flynn
had nowhere to run. And the defensive backs did what they had done for most of three quarters and left no one open.
So Kerrigan turned the corner, stripped the ball from Flynn and nose tackle
Barry Cofield
pounced on the loose ball. Two plays later the
Washington Redskins
' offense scored the clinching touchdown.
A much-maligned defense did more than just participate in this win. They swung the momentum with a 45-yard interception return for a touchdown by rookie
David Amerson
, cutting the score to 14-10. They kept it going with seven sacks of Flynn, a pocket passer behind a line that could not protect him. Washington more often than not only needed four rushers, allowing it to play coverage with seven.
The Redskins' defense was helped by facing Flynn, starting for the injured
Terrelle Pryor
. The Redskins found out for sure that Flynn would be starting Sunday morning. They had prepared all week for Pryor. Flynn held the ball at times too long.
"When we knew Flynn would play, we [knew] we had a little more opportunity to get there," said Redskins linebacker
Brian Orakpo
, who had two of the sacks. "He stays in the pocket longer than Pryor would."
The Redskins' secondary had been roundly criticized for their play in the first three games but they largely did their job Sunday. The Raiders had only two plays of 20 yards or more -- the Redskins had surrendered eight such plays in the past two games combined.
They mixed their coverages, rotated safeties
Reed Doughty
and
Jordan Pugh
-- even lining corner
Josh Wilson
up deep middle on at least one occasion. They played a lot of man, some three-deep zones and cover-2. Meanwhile, the front four was able to win one-on-one battles -- and then used games up front to create more. One of Kerrigan's two sacks came off of one. Cofield also had two sacks.
"We did a good job mixing it up," Redskins corner
DeAngelo Hall
said. "Any time the back end is working the front end is working. We didn't get a lot of chances to make plays on the ball because they beat us to the punch."
It helped that the Redskins could rush with a lead in the second half for the first time this season. Three of their sacks came after they took a 17-14 lead – and Flynn was forced to run on two other occasions, getting tackled for short gains.
"It felt great," Orakpo said. "We haven't did it all year. It's exactly what we talked about throughout the week, if we get a team that plays a conventional offense that tries to make plays downfield, holding the ball gives us an extra second we're gonna get there. When stuff isn't going your way, quarterbacks always try to make plays happen downfield and that gave us an opportunity to get there."
September, 15, 2013
9/15/13
12:00
PM ET
GREEN BAY, Wis. -- The Redskins will use place-kicker
John Potter
instead of injured
Kai Forbath
in rainy Green Bay on Sunday. Potter has never attempted a field goal in the NFL, but he was in the Redskins' camp this summer and has a strong leg for kickoffs. There were days in training camp where Potter looked pretty good on field goals, then other days where he was inconsistent with 40-yard line drives.
But there were no other surprises among the inactives. The other six are quarterback
Rex Grossman
, running back
Evan Royster
, safety
Jordan Pugh
, safety
Jose Gumbs
, nose tackle
Chris Neild
and guard
Josh LeRibeus
. The fact that two safeties are inactive suggests they have confidence that strong safety
Brandon Meriweather
will hold up in his first action of the season -- and his first regular-season game since Nov. 18 against Philadelphia. Pugh and Gumbs both play free safety, though they worked with Pugh this summer on playing more in the box.
The fact that Neild again is inactive suggests the Redskins will use a lot of their nickel package again. Neild plays almost exclusively in their base package as
Barry Cofield
's backup.
The good news for Washington is that Green Bay safety
Morgan Burnett
is inactive. He's their most experienced safety and his absence last week did not help in the Packers' loss at San Francisco.
August, 29, 2013
8/29/13
11:00
AM ET
Taking a look at some of the Redskins roster battles as they reach the final cuts. Here's a look at their secondary:

How many:
The Redskins could keep 11 if they want, though that number could be reduced when end
Jarvis Jenkins
and linebacker
Rob Jackson
return from their four-game suspensions. They could also give that extra spot to the offense. For now, let's go with 11 -- six corners, five safeties. Does the area with the least depth deserve the most players? Especially for a head coach who stresses keeping the best 53? If that's the case then, no, they won't get 11. Still, keeping that many would allow them to cover up issues with versatility, rotating safeties as they did in the second half of last season depending on the situation. And probably one of them likely would get cut when Jackson and Jenkins return.
Locks:
DeAngelo Hall
,
David Amerson
,
Bacarri Rambo
,
Reed Doughty
,
Brandon Meriweather
(if healthy),
Josh Wilson
,
E.J. Biggers
. I'm a little shaky on this only because there are injury issues that coaches clearly need to see have been resolved, with Meriweather and Wilson. If healthy, they're key parts to the secondary. Though Biggers hasn't always jumped out in the preseason, and I'm not sold on him covering in the slot (does blitz well from here), he does have a history with secondary coach Raheem Morris and they like the fact that he's a little taller and long-armed and versatile. So do I.
Looking good:
Chase Minnifield
. I have a real hard time seeing him get cut. He's proven to be a smart, feisty corner and aggressive. He plays with an attitude. Minnifield has some things to learn and needs to show he can cover consistently when not jamming the receiver. But he plays the run well and after missing last season thanks to two knee surgeries, Minnifield has proven he can still play.
On the bubble:
DeJon Gomes
,
Jose Gumbs
,
Jerome Murphy
,
Jordan Pugh
. Before Richard Crawford's injury, I had Gomes out. It would not surprise me if that still happens, especially if Meriweather looks fine tonight, lessening the need for another in-the-box safety (with Doughty on that list as well). Gomes is unreliable when playing deep and I'm not sure that he's progressed enough to keep a roster spot, despite his special-teams play. Murphy and Gumbs both have jumped up with their training camp and preseason performances. The coaches like how physical Murphy plays at corner, almost with a linebacker's mentality. More important, he's a terrific special-teams player and that's where he'd mostly play. Gumbs is a big-time hitter learning how to play free safety -- he's more comfortable in the box. Pugh rarely jumps out, but the Redskins worked him hard this summer at becoming better when needing to play up. I somehow think Murphy earns a roster spot with Gumbs as a dark horse, perhaps as a fifth safety. What helps Washington a little bit is the versatility it has at corner, allowing the Redskins to mix up coverages even more and perhaps take one fewer safety if necessary. Their talent clearly is at corner.