Washington Redskins:

Josh McCown
March, 31, 2014
Mar 31
9:15
AM ET
Nearly a third of the league inquired about receiver
DeSean Jackson
, but not all the teams are known. Two of those teams reportedly have fallen out of the race for Jackson -- and both have coaches who previously worked with him (Andy Reid in Kansas City and Marty Mornhinweg with the
New York Jets
). The assumption is that this sends up red flags about Jackson; that's not necessarily the case.
And it's hard to get a good feel on who is really interested. Oakland and Washington definitely are, though to what extent remains to be seen. Jackson arrives in Washington Monday and will visit Tuesday. Thus far, it's his only reported visit.
San Francisco's name came up when Jackson was on the trade block and the 49ers had expressed interest in free-agent wide receiver
Golden Tate
, among others, before he signed with Detroit. So it would make sense that they'd at least inquire about Jackson. Tampa Bay has said they'd take a look, though it was a
rather tepid endorsement
.
Here's a little handicap of some teams that have expressed interest or reportedly want to get in the race:

Washington Redskins
Cap space:
Approximately $7 million
Why he'd consider:
It's a premier market in a premier conference. Oh, and they get to play the Eagles twice a year. The Redskins would have a lot of speed offensively with Jackson,
Pierre Garcon
,
Andre Roberts
and
Jordan Reed
and would be a major threat down the field. Add to it an athletic quarterback who can extend plays and the off-schedule explosions would increase.
Robert Griffin III
's deep-ball ability will be important -- and his ability to extend plays. Jackson's agent, Joel Segal, has definitely taken quarterback play into consideration in the past with his receivers. If Jackson is forced to take a one-year, prove-it deal, this especially would be a factor.
Why he wouldn't:
Because other teams can offer more. Washington can't compete if Jackson's strong desire is to return to the West Coast and play for the team he grew up rooting for (Oakland). If they want a more proven coach, San Francisco and Tampa Bay have to be a consideration (if the Bucs are strongly interested, which is debatable). And if San Francisco truly is interested, then the 49ers clearly would offer him a better chance for team success. The Redskins still have other needs to address so they can only spend so much, and it's hard to gauge how aggressive they'll be. But the fact that they have the first visit says something.

Buffalo Bills
Cap space:
Approximately $13 million
Why he'd consider:
They have more cap room than most teams, so they could offer the sort of contract that could get it done now -- if they wanted to go that high. They need what Jackson provides (though many teams do).
Why he wouldn't:
The Bills aren't a marquee team and their quarterback situation is questionable.
EJ Manuel
started 10 games as a rookie and showed flashes, but remains unproven. That has to be a strong consideration. None of their receivers had more than 597 yards last season, so how secure could you be? They have a good young talent in
Robert Woods
, a solid receiver in
Stevie Johnson
(nagging injuries, however) and a fast young guy in
Marquise Goodwin
. But that's not exactly a Hall of Fame trio. The draft has to be an attractive option, so that could limit what the Bills would be willing to offer.

Oakland Raiders
Cap space:
Approximately $15 million
Why he'd consider:
Because the Raiders were his favorite team growing up and he played college ball at nearby Cal. Jackson is a West Coast kid, and if his desire to return there is strong, then it will be hard to top. The Raiders need help at receiver so Jackson would fill a big hole. Also, the Raiders have more money than the other teams reportedly interested thus far.
Why he wouldn't:
The Raiders have a wait-and-see approach going on and, while they'd like him, they won't overspend. So if another team is more aggressive, then Jackson could end up elsewhere. Also, other than going back to California, the Raiders aren't exactly an attractive franchise. Their coach, Dennis Allen, will enter the season on the hot seat and their quarterback,
Matt Schaub
, is not known for throwing deep all that often. At this point, it's uncertain if he remains a quality starting quarterback.

Tampa Bay Buccaneers
Cap space:
Approximately $12 million
Why he'd consider:
They have a potentially strong structure with new coach Lovie Smith. He's a proven coach in the first year of his regime so he'll be around several years at least. The Bucs have another explosive receiver to pair with Jackson in
Vincent Jackson
. Both are dangerous down the field. Oh, yeah, and they have the cap room to absorb a bigger contract.
Why he wouldn't:
Smith's history suggests building around the run game and the defense. Also, they have a journeyman starting quarterback in
Josh McCown
and a second-year guy in
Mike Glennon
, whom the new coach did not draft (and replaced right away). So there are questions at this spot. Their interest is said to be lukewarm, so it's hard to imagine them overspending for Jackson.

San Francisco 49ers
Cap space:
Approximately $4 million
Why he'd consider:
It's the best team, it's near where he played college ball and it puts him back on the West Coast. They need a receiver who can stretch the field to pair with
Anquan Boldin
,
Michael Crabtree
and tight end
Vernon Davis
. Jackson would provide that and then some. They also have a big-armed quarterback in
Colin Kaepernick
who can let Jackson run under the ball and remind everyone of his explosiveness. Unlike Washington, the 49ers also have a defense that plays at a championship level, so if Jackson wants to produce and win, this could be the stop.
Why he wouldn't:
The 49ers were reportedly interested in pursuing a trade, according to Pro Football Talk. But their cap number isn't high and they already have talent at receiver. They could opt for the draft, which is deep at this position and has a few players with Jackson-like qualities (though no one can match his acceleration on deep balls). Hard to know what the reported friction with the 49ers between general manager Trent Baalke and coach Jim Harbaugh means for the future of either person and, subsequently, a guy like Jackson.
December, 18, 2013
12/18/13
9:00
AM ET
We're sticking to on-field topics. You can thank me later.
Can Kirk Cousins have a repeat performance? Well, the turnovers were bad and can't be glossed over because they were an issue in college, too (30 in four years). But overall he threw the ball well. And he'll now face a second consecutive dreadful defense Sunday against Dallas. This will be the fourth straight game the Cowboys will have faced a backup quarterback. They're 1-2 and they've allowed the backups – Green Bay's Matt Flynn, Chicago's Josh McCown and Oakland's Matt McGloin – to complete a combined 71 of 105 passes for 902 yards, eight touchdowns and only two interceptions. Clearly, the Cowboys have problems with quarterbacks who have only four letters in their first name.
Can the Redskins eliminate Dallas from playoff contention? Perhaps. It depends on what Philadelphia does against the Chicago Bears. If the Eagles win and the Cowboys lose, then Dallas is eliminated from the playoff race. But if Dallas wins it'll come down to the last game of the season – and that hasn't worked out so well for the Cowboys the past couple of years.
Has receiver Aldrick Robinson finally broken through? If nothing else he's more productive these days. Robinson has caught a combined eight passes for 163 yards the past two games – and was targeted 13 times. He hurt Atlanta on underneath routes -- he's run them throughout the season, and was targeted on them, but it never clicked -- and then one deep ball when the safety was anticipating a shorter route off play-action. Not sure why. Robinson has only 14 catches for the season, but if he can finish strong, he can show that perhaps he can do more going forward. He's not a No. 2 receiver, but the Redskins need a threat like him in their receiving corps. Josh Morgan is not a threat. His highest receiving total in Washington? Sixty-two yards. And he did not do a good job blocking Sunday in the run game. At all. His was not a productive free-agent signing.
How many players will play their final home game in Washington? I'll write more on this later in the week, but the Redskins have 15 potential unrestricted free agents on their current active roster, including three starting linebackers in London Fletcher, Perry Riley and Brian Orakpo. Their two starting corners, DeAngelo Hall and Josh Wilson, both are free agents, as is safety Reed Doughty. So the defense is in line for changes regardless of who's coaching next season. Offensively, tight end Fred Davis and receivers Morgan and Santana Moss are pending free agents.
How can you tell when teams have quit? It's not because they don't go out and play hard. You can't play that way in a regular-season game or you'll get hurt. Rather, it's the preparation during the week that makes the difference. If you're fighting for the playoffs it's easy to watch another 30 or 60 minutes of film. What about when you're 3-11? That preparation often makes the difference. The Redskins certainly did not have the look of a team that quit last week. Yes, Atlanta was bad, but the loss stemmed from turnovers, not the execution of the game plan.
October, 24, 2013
10/24/13
1:22
PM ET
ASHBURN, Va. --
Washington Redskins
defensive coordinator Jim Haslett said he wasn't concerned with Brandon Meriweather's fines or suspension. It's the penalties that bother Haslett.
Meriweather
Against the
Chicago Bears
, Meriweather drew 22 yards from his two personal fouls (linebacker
Brian Orakpo
added a third personal foul with a late hit on quarterback
Josh McCown
).
"I was more concerned with the style [Meriweather] was tackling more than the fine or whatever," Haslett said. "I'm concerned with him doing a better job wrapping his arms and bringing a guy down and not launching."
Orakpo's penalty probably hurt the Redskins more because it occurred on a third-down incomplete pass. Meriweather's first penalty, a 15-yarder, came at the end of a 28-yard catch to the Redskins' 43-yard line. The second one occurred on a first-and-goal from the 14-yard line, leading to a first-and-goal from the 7.
The Bears scored touchdowns on the latter two drives; they missed a field goal after the Orakpo penalty.
When Meriweather returns from his one-game suspension, it'll still be a concern.
"They tell the referees to err on the side of caution and if it goes helmet-to-helmet, however you get it," Haslett said, "if you hit the chest and you slide up and you get a piece of the helmet -- obviously that's what the league calls a penalty....I think the league does a great job with player safey."
Meriweather said after Sunday's game that he has worked to change his tackling habits, thanks to numerous fines since 2010. Teams only dress in full pads once a week, so it can be difficult. But the Redskins do have individual tackling sessions, focusing on wrapping up.
"That's part of our routine every week and in training camp," Haslett said, "so he has that understanding."
October, 23, 2013
10/23/13
10:15
AM ET
Thoughts and observations after re-watching the
Washington Redskins
' defense versus the
Chicago Bears
:
1. Yes, the defense gave up too many yards and points in the second half (24 points, 313 yards) to a backup quarterback. Receivers were open; running lanes created and if not for a fantastic effort from the offense, this would have been more of the headline. But give the defense credit for doing a fantastic job in the first half. The Bears started two possessions in Redskins' territory (at the Washington 47 and then the 10) and a third at their own 45-yard line, but the Redskins held them to 10 points. Certainly it could have been better – they could have forced a three-and-out on the first series and held them to a field goal on the second. But this is not a shutdown defense and it was facing an excellent offense.
2. The Redskins held Chicago to zero first downs on four third-down attempts in the first half. But the Bears converted two of four in the second. In general, the Redskins did a solid job moving
Jay Cutler
off his spot, much as they did to Dallas'
Tony Romo
the previous week. That's a combination of good coverage and enough pressure.
3. One reason
Josh McCown
scrambled for so many yards (four carries, 33 yards) is because the Redskins played man coverage and occasionally lost their rush lanes, creating nice pockets for a run. For example, on a 10-yard run in the fourth quarter -- on a second-and-9 from the Redskins' 16-yard line -- end
Stephen Bowen
got caught rushing too far inside and linebacker
Brian Orakpo
went wide. That left a lane for McCown. One play later, running back
Matt Forte
scored on a run up the middle.
4. A pivotal sequence occurred in the third quarter, enabling the Redskins to hold Chicago to zero points in the red zone (thanks to a
Robbie Gould
missed 34-yard field goal). It started on second-and-1 when Orakpo shot inside the tight end and right at Forte after he took a handoff. Orakpo tackled him for a two-yard loss setting up a pass. McCown then did not throw to an open
Alshon Jeffery
, cutting inside at the 10-yard line. Jeffery had separated from corner
David Amerson
. It's an easy throw-and-catch. But McCown hesitated, then was forced to scramble to his right and the coverage did a good job clamping on the receivers, forcing a throwaway and then a missed field goal.
5. Corner
DeAngelo Hall
nearly intercepted Cutler twice. Hall said he broke off his man both times because of how he (correctly) read the play. Sometimes it's a designed trap (as it was versus Green Bay when the Packers weren't trapped and threw a touchdown pass). But these were about reading it right.
6. One of those near-picks came when the Redskins used their three-inside linebacker set. Didn't seem to cause any confusion in Cutler (they called a time out the next time they used it, but McCown was at quarterback). But one of those three,
Nick Barnett
, dropped to his left in coverage and after Hall missed the ball he tagged Marshall, who was on the ground after a seven-yard catch.
7. I don't know if there was a missed assignment or what on Forte's 50-yard touchdown run, but the hole was absolutely huge. The Redskins were in man coverage so linebacker
London Fletcher
covered tight end
Martellus Bennett
as he broke to the right flat. Outside linebacker
Ryan Kerrigan
rushed at McCown and the rest of the line slanted to the right. That left a big cutback lane for Forte. Safety
Brandon Meriweather
ran up under control, but then corner DeAngelo Hall, sprinting to the middle falls in front of him with receiver
Brandon Marshall
right behind him. That created enough of a pileup for Forte to cut back outside and score untouched.
8. Nose tackle
Chris Baker
showed up again, in more ways than just his sack (where he stunted from the left guard all the way through to the right guard in a well-designed and executed play). The Redskins have two athletic nose tackles and when Baker is on, he's a big help. One play still resulted in a first down, but that wasn't Baker's fault. On a second-and-1, he stood up the center, shed the block and tackled Forte for a three-yard gain. Bowen was moved too far to the inside, which left a hole. Later in the third quarter, Baker penetrated to the right shoulder of the center on a play going the other direction. Baker ran down the line and was able to grab Forte's legs. Linebacker London Fletcher filled the hole for a stop.
9. Speaking of nose tackles, there are times when it looks like starter
Barry Cofield
is in a pinball game. On his sack late in the game three different Bears tried to hit him. First he broke through a double team, then had a back run at him. He pushed through all of that and, thanks to Kerrigan's pressure, joined in the sack. Also liked how well Cofield read an outside run by Forte. At the snap, Cofield engages and then as Forte heads left, Cofield starts to run parallel with him -- not looking a the ballcarrier. He runs into a blocker, then turns and fills the hole. Guess that's what they mean by instincts.
10. Orakpo made a number of good plays -- obviously the interception, which was a result of running to the ball after a pass and grabbing a tip, courtesy of
Reed Doughty
; and he played the run pretty well. But he did draw a 15-yard penalty on a third-and-8 incompletion on McCown. But it was a well-designed play that did lead to pressure. He and Kerrigan, starting from their respective sides, both blitzed to the opposite A gap. So Orakpo ran from left outside linebacker through the right guard.
Rob Jackson
was alongside Kerrigan and ran upfield, occupying the right tackle and right guard and corner
Josh Wilson
blitzed from the left slot.
October, 21, 2013
10/21/13
12:30
PM ET
A review of four hot issues following the
Washington Redskins
'
45-41 win
over the
Chicago Bears
:
[+] Enlarge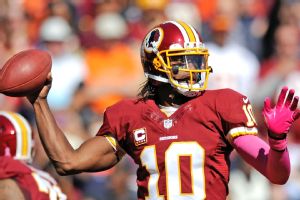 AP Photo/Nick WassRobert Griffin III showed off the Griffin of old against Chicago, rushing for 84 yards and throwing for 298.
Robert's return:
Quarterback
Robert Griffin III
has been playing all season, obviously, but Sunday marked the first official return of Griffin pre-knee injury. He hurt Chicago running (84 yards) and throwing (298 yards). What really helped the Redskins was the ability to be balanced in their play calls and to use a large dose of play-action passes. Defenders were out of position and alleys created because of Griffin's success. If the Redskins need him to play this well every week to win, then they'll continue to struggle because Sunday's game will be hard to duplicate. But when Griffin gets on a roll, it raises the confidence of everyone around him. Defenders talked often last year about how they knew that they had a quarterback who could bail them out.
Meriweather's status:
The NFL will suspend safety
Brandon Meriweather
. It's just a matter of how many games, according to ESPN's Adam Schefter. Meriweather plays with a lot of passion and an exuberance that rubs off on his teammates. He's also been effective -- not great but OK -- in the secondary. He's mostly a sure tackler, but his hits are killing the Redskins and cost them 22 yards Sunday. They'll cost him a lot more in his pocketbook -- and it will cost the Redskins a player for one or two games. The Redskins don't have the depth to withstand the loss. Meriweather says he's changed the way he hits and he probably has. And it's difficult for defensive backs to play with his old sort of abandon anymore. But Meriweather must change; if he can't, then it'll be difficult for a team to trust him in the future. It'll also make it a lot tougher on his current team.
Defensive inconsistency:
The Redskins played terrific in the first half against Chicago and quarterback
Jay Cutler
. They tackled well and prevented big plays and disrupted timing. And then they went in the tank against backup quarterback
Josh McCown
. The game tested the Redskins' resolve and they could learn a lot about themselves. But you could feel a lot better about the overall defense had Washington not been picked apart in the second half. With Denver's
Peyton Manning
and San Diego's
Philip Rivers
in the next two weeks, they need to do better or continue what they showed in Dallas and the first half versus Chicago.
Two-headed monster:
The Redskins surpassed 200 yards rushing for a second straight game and, while Griffin's legs certainly helped here, so, too, does having
Alfred Morris
and
Roy Helu
. Morris lacks Helu's burst, but his vision and patience makes him an excellent back. And Helu does more than just provide a change-of-pace. He's a big back (5-foot-11, 215 pounds) who has been effective in the red zone, in part because with him in the game the Redskins can run or pass. Most of the time when Helu is in the Redskins do pass, so defenses must honor that threat (as opposed to Morris, who is not a good pass-catcher). Having that balance in the red zone is imperative. It's why Helu rushed for three touchdowns. Meanwhile, Morris averaged 5.0 yards per carry and gained 95 yards. If Washington keeps games close, these two can both be productive and helpful.
October, 20, 2013
10/20/13
10:35
PM ET
Thoughts and observations after the
Washington Redskins
'
45-41 victory
against the
Chicago Bears
:
One win should not be cause for anyone to say the Redskins have turned their season around. That's not how it works. It only means they're capable of winning at home. Last year's turnaround really began on Thanksgiving Day in Dallas after a lay-up win over the struggling Philadelphia Eagles at home. Beat the Denver Broncos? They become legitimate factors. Short of that, just play well in Denver and, if they lose, win a couple games in a row. They need to play well for an extended stretch before we can talk turnarounds.
What I liked, however, is that the Redskins had to gut this one out. Of course, that shouldn't have been the case with Jay Cutler out and Josh McCown in at quarterback for Chicago. McCown picked them apart and hurt them with his legs. However, it did force the Redskins to reveal more of their character because they were tested. They gave up a punt return for a touchdown and responded with an 11-play touchdown drive to regain the lead. They allowed a 50-yard game-tying run to Matt Forte for a touchdown and followed that with an 83-yard scoring drive to regain the lead. Chicago scored three times in the fourth quarter; Washington scored twice. Punch; counter punch. Sometimes the most rewarding games are one's like this, when you are tested. Of course, a 45-20 win would have said a little bit more. But you get the point.
Brian Orakpo, it turns out, does have hands. It's quite shocking that Orakpo had never before scored in a game. For a guy who started playing in middle school, that's astounding. "I was so excited I didn't know what to do. It was a phenomenal feeling. I've been preaching that I'm trying to get my 'Ryan Kerrigan' on," Orakpo said. That play was huge (and give a big assist to safety Reed Doughty for being so quick to the ball and preventing Alshon Jeffery from catching a bobbled pass).
Yes, the zone read still works. Like any other play it must be run correctly and when it does? It works. The Bears focused so hard on stopping running back Alfred Morris that it enabled Griffin to get outside time and again. "I thought they would have had a better plan because we showed so much of it last week," Redskins tight end Logan Paulsen said. "But there's only so much you can do. We've seen those looks."
The Bears also helped by playing a lot of man coverage (as Dallas did) so when Griffin ran wide all he needed to do was beat a linebacker. And if that linebacker was focused inside, as they often were, it was a foot race he was going to win. Chicago would send two linebackers to the zone read side, with one who was supposed to eye Griffin. However, that wasn't always happening and Griffin could slip outside. But the Redskins also took advantage of this strategy. The 26-yard pass to tight end Jordan Reed on the final drive did just that. Both the inside linebacker and left outside linebacker flowed to the right to defend a zone read look that way (and a fake end around by Josh Morgan). Griffin could throw back to the left, with no linebacker in front of Reed.
The no-huddle look worked once again. I loved how they ran it with running back Roy Helu in the third quarter. He made it harder on a tiring defense because of his speed. The Redskins helped by doing what they did in Oakland: making the Bears defend wide to the right side one play, then force back to defend wide to the left on the next. Eventually, you could see the defense not getting down in their stance enough to shoot hard off the ball. "The defense can't get the call in quickly so you get those looks where half are up and half are down looking at each other waiting for the call," Paulsen said. Mix that with a little fatigue and it was a good recipe.
Thus far it's worked a change-of-pace. That doesn't mean it would work the entire game (I'm a huge Seinfeld fan, but would an entire show about Kramer have worked? No. Sometimes less is more). The Redskins can run a good chunk of their offense from this look, but the real fear is that if you run a no-huddle a quick three-and-out could eat up about 15 seconds. It has to happen at the right time, with the right field position and at a point where you have the right defensive personnel on the field.
Can you really say the special teams were that much better when they still allowed an 81-yard punt return for a touchdown. I can't. Yes, take that play away and the Bears had 109 return yards (four on punts; 105 on seven kickoffs). They avoided Devin Hester on kickoffs -- he managed 40 yards on two kick returns and, of course, the 81-yard punt return. The Redskins still get nothing out of their return game. Absolutely nothing. Do you hear me?
Nobody should be surprised by Reed's emergence. This is what he showed in training camp. I talked to tight ends coach Sean McVay on Friday about Reed and the next step he would take: the deep ball. Reed showed his downfield speed Sunday and, just as important, he played after getting banged up. That's huge for a young kid who came out of college with durability issues. And the fade throw to him in the end zone, matched against safety Chris Conte, was a no-brainer. Conte never had a chance as Reed took him inside and cut back outside. It was like lobbing the ball into the post to a big man against a guard.
When you run for more than 200 yards, you should have a strong game. This is who the Redskins are and the reason their offense has looked better the past two weeks. If they can't run play-action they're in trouble, but they could. They also could be more balanced in the red zone, something they haven't been able to be much of this season because of various factors: score, time of game, etc. It made a difference; they had four legitimate drives inside the 20 and scored touchdowns on each. Their play calling kept Chicago off-balance.