Washington Redskins:

Kirk Olivadotti
July, 4, 2014
Jul 4
9:00
AM ET
We will be featuring a different
Washington Redskins
player each day on this list, staying away from rookies or some second-year players still finding their way. This will focus primarily on veterans at or near a career crossroads. Today: linebacker
Perry Riley
.
Riley
Why he has something to prove:
The Redskins re-signed Riley after a sluggish season in which they weren't pleased with the production from their inside linebackers. They weren't big enough factors in either the run or pass game, and the Redskins were content with letting Riley walk if the price was too high. But at this point last season Riley was coming off a solid year and some wondered if he could become a Pro Bowler. That felt like a stretch then -- he's not a playmaker -- though it wasn't wrong to view him as a solid player. Riley still has lapses in coverage, particularly in zone. He admitted last year that, because he played so much man coverage at LSU, he took a while to feel comfortable playing zones. But he still has flaws in that area, from a recognition standpoint, that must be corrected. It leads to big enough gaps and that leads to plays. The Redskins have insurance at inside linebacker, having signed two veteran starters in
Darryl Sharpton
and
Akeem Jordan
. But they gave Riley a bigger contract for a reason: He is the likely starter. However, it would not stun me to see someone bump Riley from the spot if he repeats his 2013 performance. He hasn't been a playmaker at all, with only one forced fumble and one interception in his career.
What he must do:
Make some plays and be solid in the run game, which is the point of emphasis at this position. Riley does not miss a lot of tackles, so that is a good start. It's nice that he has recorded 6.5 sacks the past two seasons combined, but if the Redskins do a better job in their four-man rushes, then Riley's blitzing won't be needed as much (though it's a nice curve to throw). The Redskins did a good job in 2012 of moving him around, letting him rush off the edge on occasion, in their nickel packages. Riley is fast enough to then cause some problems, especially when the offense is fooled. But he has to be more sound in the pass game and be strong against the run. With a possible first-year starter next to him in
Keenan Robinson
, Riley's knowledge of the defense will be counted upon. He knows the calls, but Robinson's position is the one that makes them in games. Riley can help with them however. When you see the elite linebackers play, they move fast enough to the ball that offensive linemen can't hold double-teams. So either the defensive lineman gets a one-on-one or the linebacker gets to the ball. London Fletcher's ability to diagnose plays was vital and it's why he lasted so long (too many missed tackles last year however). Riley is not elite, but he's now entering his third full season as a starter (he started half a year in 2011). He can give the Redskins more consistency, stemming from stronger recognition. It helps that he will now have Kirk Olivadotti coaching him; he focuses more on techniques and helping players improve than previous coaches (who focused more on assignments). That will help.
Projection:
Starter. I wouldn't be surprised if they made a change at some point -- the defense ranked 31st in points allowed last season and hasn't been a strong one for a while, so should anyone feel that safe? -- though it's not as if a Pro Bowler is sitting behind Riley. Or a young hotshot rookie for that matter. If Riley doesn't get it done this season they can always move on in 2015 and save $2 million on the salary cap. Riley can help them as he did in 2012.
June, 26, 2014
Jun 26
8:00
AM ET
The
Washington Redskins
didn't ditch their defensive boss, even after a rough year and a coaching change. But they did tweak the lineup and it's possible that nearly half of the players who start this season will be new to the lineup, though only two would have been added in the offseason (
Jason Hatcher
,
Ryan Clark
). Washington's biggest change is that it plans to alter the pass rush, which is one reason the Redskins hired outside linebackers coach Brian Baker, a pass-rush specialist. The Redskins also added linebackers coach Kirk Olivadotti, who will also be a big help.
Here's a look at the Redskins' starting defense and special teams at the end of the offseason:
Defense
Left end:
Chris Baker
Nose tackle:
Barry Cofield
Right end:
Jason Hatcher
Outside linebacker:
Ryan Kerrigan
Inside linebacker:
Perry Riley
Inside linebacker:
Keenan Robinson
Outside linebacker:
Brian Orakpo
Cornerback:
DeAngelo Hall
Cornerback:
David Amerson
Safety:
Brandon Meriweather
Safety:
Ryan Clark
Change from 2013:
Clark, Robinson and Hatcher are newcomers. Amerson was the third corner last year and takes over for
Josh Wilson
. Baker started three games last year because of injuries to others, but enters with the job now because of his performance.
Note:
There is more uncertainty with this group than on offense. Because of Hatcher's knee, the Redskins could limit his participation early in camp; they used
Jarvis Jenkins
at this spot during the spring. And what about
Stephen Bowen
? He, too, has a knee issue and after not taking part in practices during the spring it's hard to imagine him being ready for a big role early in camp. Also, while Robinson looked good this spring, he's never started an NFL game and has to show he can handle the run game as well as the responsibilities of the position. He'll need to hold off veterans
Darryl Sharpton
and
Akeem Jordan
for the job. The secondary is pretty well set. They love Clark's leadership and communication and, yes, he has to show he can still play. He's firmly ahead entering camp. Meriweather is ahead as well, as backup
Phillip Thomas
must still show a lot. The coaches liked his progress last summer before he got hurt, but the bottom line is he's inexperienced and coming off a tough Lisfranc injury.
Spring standout:
Probably Robinson. His ability to play on the move was evident, but considering that was his strength before the two torn pectoral muscles, that's not a surprise. Training camp, and preseason games, will reveal a lot more, but he had a good offseason.
Average age at start of camp:
28.18
Combined Pro Bowls:
11 (Orakpo, 3; Hall, 3; Meriweather, 2; Hatcher, Kerrigan and Clark, 1)
Starters 30 or older:
5 (Clark, Meriweather, Hall, Hatcher, Cofield).
---
Special teams
Kicker:
Kai Forbath
Punter:
Robert Malone
Long snapper:
Nick Sundberg
Returner:
Andre Roberts
Change from 2013:
Malone and Roberts are new.
Note:
Malone had some booming punts during the spring, but he was known for his inconsistency in previous stops. Too many punts with bad hangtime leading to long returns. He must fix that. But his competition,
Blake Clingan
, has no career punts. Forbath has a slight edge because of experience, but
Zach Hocker
has a legitimate chance to win the job. You do not base the competition on how they looked in the spring – no coach ever would -- but Hocker is off to a good start. So that battle will be interesting. You don't draft a kicker unless you like his chances of winning the job. Unless a kicker looks terrible in practice, then the games matter most. The Redskins do have another long snapper on the roster in
Kyle Nelson
, who took over for an injured Sundberg last year. But the latter has been consistent since joining the Redskins. And Roberts is the best one to handle both return duties.
DeSean Jackson
should not be used as anything other than a pinch-hitter on punt returns; he's far more valuable from scrimmage, so don't wear him down. I'll be curious to see how
Richard Crawford
looks returning punts this summer, but he'll be in a real fight for a roster spot. If they can't keep six corners then he'll be in big trouble. The Redskins want Roberts to get as many touches as possible and, with Jackson and
Pierre Garcon
ahead of him at receiver, having him return punts and kicks is a good way for this to happen.
May, 24, 2014
May 24
10:00
AM ET
For the second round of the mailbag, there is a little on
Bashaud Breeland
, more on
Trent Murphy
, Jay Gruden's style compared to Mike Shanahan and more. Enjoy.
.
May, 7, 2014
May 7
1:59
PM ET
The company they keep suggests they have done it right. Washington is right there with the best teams in the NFL when it comes to
holding on to its draft picks
. Look at the top six teams when it comes to keeping their own draft picks. You have perennial playoff contenders, Super Bowl participants and league heavyweights.
And then the Redskins.
[+] Enlarge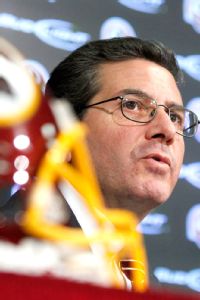 AP Photo/Manuel Balce CenetaDan Snyder and the Redskins' coaching staff need to focus more on developing the team's draft picks in the future.
It's strange company, indeed. But there they are, right behind Green Bay, Atlanta, San Francisco, Baltimore, Cincinnati and New England. For the most part, it's a who's who of organizations that have done it right.
And then there are the Redskins.
"I don't think we can say we've done well because of our record," Redskins general manager Bruce Allen said.
The numbers spell it out. Washington ranks seventh in the NFL with 28 former draft picks on its roster. In the free-agency era, that has to register as a surprise given the Redskins' reputation. Of course, the salary-cap penalties of the past two offseasons forced them to do business another way.
It's sort of like the "Seinfeld" episode in which Jerry tells a rental car clerk, "See, you know how to take the reservation. You just don't know how to
hold
the reservation, and that's really the most important part of the reservation."
If the Redskins want to sustain success, they will do more than just draft and retain players; they will improve at developing them.
It's not as if they haven't had success stories. In 2012, they rode two rookies to the playoffs: quarterback
Robert Griffin III
and running back
Alfred Morris
, a sixth-round pick. Griffin extended plays and ran well, so the Redskins incorporated that into their offense. Morris could plant and cut, so that's what they asked him to do. They've had other success stories, just not enough of them.
Too often the Redskins have relied on outside help to fill holes. This past offseason they needed offensive line help, so they signed a starting guard and added a veteran backup. Two years ago they drafted three linemen, yet none of them project to be in the starting lineup. One of those three, guard
Josh LeRibeus
, was a third-round pick who was inactive in every game last season.
Washington's director of player personnel Scott Campbell said Tuesday that to find players worth developing, you see how much they love football. If a guy struggles with weight issues, that's a concern. LeRibeus had those issues in college and again after his rookie season. He is young, so perhaps he still develops, but he'll do so with constant pressure behind him.
"If you can't develop and want to build through the draft, then you're just sitting there with guys that can't play and they're young," one former Redskins coach said. "It becomes a double-edged sword and you're headed nowhere fast. Then you have to roll the dice in free agency and find a veteran player you hope can bail you out of that situation."
As Allen pointed out Tuesday, the Redskins have won titles multiple ways: from his father's ability to trade draft picks in the 1970s to finding bargain Plan B free agents in the 1980s. But owner Dan Snyder's era has produced seven double-digit loss seasons in the last 11.
The Redskins have drafted 34 players in the past four years: 14 on defense, 20 on offense. Of that group, eight project to be starters in 2014. Another player, tight end
Logan Paulsen
, went from undrafted in 2011 to starting tight end last year. Fullback
Darrel Young
switched positions and now is a starter.
The defense really needs to develop its own (the offense is much younger). Washington's D is in transition, with three starters in the secondary 30 or older and four top linemen in that same category. That means, if they want to build success, and then sustain it, they must hope that some of these players develop:
Bacarri Rambo
and
Phillip Thomas
at safety and linebacker
Keenan Robinson
, as a long-term replacement for the retired
London Fletcher
. They need more youth along the front or for
Jarvis Jenkins
to blossom in his third playing season.
Two offseason moves could help: the hiring of inside linebackers coach Kirk Olivadotti and signing safety
Ryan Clark
. Olivadotti had a terrific reputation for working with young players in his first go-round with Washington, helping
Brian Orakpo
as a rookie. If Robinson is healthy -- after tearing a different pectoral muscle in each of his first two seasons -- then he has a shot because of Olivadotti.
As for Clark, maybe at 34 he has nothing left. Pittsburgh didn't think so. But he can still add value in Washington, desperate to solve a longtime hole at safety. Clark, who almost always has been a part of a good secondary, starting in college, can provide more help in getting players from one point in their career to another. He's not afraid to call out players -- star players too -- and let them know what's not acceptable. He'll also guide them just as much. Clark will be as much a coach on the field as anyone.
The Redskins don't have a first-round pick in the 2014 NFL draft, so a lot of their selections this weekend won't provide immediate help. But if the Redskins develop their own, they will build a foundation that they've too often lacked.
April, 11, 2014
Apr 11
12:45
PM ET
This is a good time of the year for questions: some about the draft; some about new additions and a lot about a variety of topics. Makes for a well-rounded mailbag. Look for Part 2 Saturday morning. Enjoy:
March, 4, 2014
Mar 4
2:00
PM ET
Next up in the offseason needs category: inside linebacker. This could be a tricky one to fill because, while there are some good options, there's not a lot of depth of choices for teams that need an immediate starter.
Why it's a need:
The Redskins have to replace starter, and captain,
London Fletcher
.
Perry Riley
is a free agent, too. If he somehow leaves, then they'd obviously have to find two starters. They also need to find more depth, especially players who can help on special teams. The Redskins would like to re-sign Riley, but if he gets in that $5 million a year range, then it's tough to justify. I don't know that he's going to get a whole lot better than he is now.
In-house options:
The Redskins don't have many.
Keenan Robinson
is coming off his second torn pectoral muscle in as many seasons and there's no way you can project him as a starter. He lacks experience and must prove he's durable. He has good speed and can help in coverage, but my guess is they'd be happy if he became a part-time player who helps more on special teams. He needs a year to show what he can do.
Nick Barnett
is a free agent and not an option. He was a two-down guy and not well-suited for special teams.
Bryan Kehl
also is a free agent and coming off a torn ACL. He's a backup/special teamer. They need a starter.
Free agent options:
The player that jumped out for me was Arizona's
Karlos Dansby
. He was the best all-around inside linebacker of the available options, but it's hard to see the Cardinals letting him walk. He moved well laterally, arrived with some pop and did a good job taking on blockers. As coaches like to say, he played with his eyes. D'Qwell Jackson is free, but seems more interested on returning to a 4-3 where his play was better than in a 3-4. He was OK; didn't think he was special but also didn't see a lot of missed tackles in the games I watched. I saw him too often trying to avoid blocks, which is OK if it works but it can also take you out of the play. New England's
Brandon Spikes
is a two-down player tops, coming out in obvious passing situations. But he's excellent against the run. Keep in mind, though, one of his best games last year occurred against Cincinnati and Jay Gruden's offense. In that game, I saw him getting off blocks well to make a couple plays and he also intercepted an
Andy Dalton
pass. If you sign him, you'd have to hope Robinson is ready for a big role in the pass game, as he was doing as a rookie. But how much do you spend for a two-down guy (though this staff emphasizes stopping the run first and foremost)? Baltimore's
Daryl Smith
is good and is a three-down linebacker, but will the Ravens let him get away? He'd be a strong pickup. Smith and Dansby turn 32 and 33 before the season, respectively. Spikes is only 26. Houston's
Joe Mays
is a candidate for one of the backup/special teams roles -- they almost signed him last summer and I wouldn't be surprised at all if they pursue him again. The New York Giants'
Jon Beason
is probably best suited for a 4-3. When you look at the list, it's limited and that's why they'll need to try and keep Riley, albeit at a smaller deal than he probably desires.
Draft options:
Everyone says this is a deep draft, one of the deepest in years. But I'm not sure that's the case at inside linebacker, where only one inside linebacker is projected as a first rounder (
C.J. Mosley
) and perhaps only one as a second-rounder (
Chris Borland
). But there are a couple intriguing options, including Florida State's
Christian Jones
. He played inside and outside for the Seminoles, but likely will slide inside in the NFL. His athleticism is apparent. I saw one stat that jumped out: he missed only two tackles last season. But after playing multiple spots it likely would take him time to be ready to start. Wisconsin's Borland lacks Jones' athleticism, but he'll be tempting just because he's a solid player with good instincts and toughness. Those latter traits compensate for many shortcomings and his play against the run will tempt any staff. But will he be able to cover? Connecticut's
Yawin Smallwood
, who left after his junior year, covered receivers on occasion. There's a good chance he'll be better in the pass game, both in coverage and as a blitzer, than against the run. He'll need to develop in that area. Stanford's
Shayne Skov
might be more of a two-down backer. Jones, Smallwood and Skov are projected as third-to-fifth round picks. It's tough to find day one starters at those spots. It's a good thing the Redskins have Kirk Olivadotti coaching the inside linebackers; he's a good teacher who will help their development.
In case you missed it
Monday:
Receivers
January, 26, 2014
Jan 26
10:00
AM ET
Now that the Redskins have hired a running backs coach, the primary spots on
Washington Redskins
coach Jay Gruden's staff have been filled. Gruden's staff will include several holdovers, including Sean McVay (promoted from tight ends coach to offensive coordinator), Chris Foerster (offensive line), Jacob Burney (defensive line), Raheem Morris (secondary) and Jim Haslett (defensive coordinator). Here's an updated list:
Head coach:
Jay Gruden
Offensive coordinator:
Sean McVay
McVay is highly respected by his players and comes across as older than his 27 years. He won't call plays, so he'll be able to ease into this position. Still, it's a lot of responsibility and there will be a transition and learning period. There always is.
Quarterbacks:
McVay
McVay
told ESPN that he would be coaching the quarterbacks
. Gruden, who played quarterback in college and professionally, will be involved here as well. The Redskins could always opt for an assistant quarterbacks coach to provide a little more help if desired. McVay's coordinating duties aren't as demanding as they would be in some other situations because of Gruden's involvement and the fact that the head coach will call the plays. It gives McVay more time to coach a position.
Running backs:
Randy Jordan
Don't know a lot about him other than he played in the NFL for nine seasons and spent five years in the Raiders organization when Bruce Allen worked in Oakland. But Jordan has been a college coach since 2004.
Wide receivers:
Ike Hilliard
He coached the receivers for one season and the players seemed to like him, but the Redskins let him go after the 2012 season. The Bills let him go in December after his only season in Buffalo.
Tight ends:
Wes Phillips
He was considered a solid, hard-working coach in Dallas. It was telling that Jason Garrett kept Phillips around even after his dad, Wade, was fired as head coach. McVay coached this position the past three years.
Offensive line:
Chris Foerster
He has experience in different blocking schemes, though he works best in the zone blocking system. Players have spoken highly of him over the years. His lines the past couple of years have not been the most talented individually, but still had more success than anticipated. We don't know how much the young linemen have developed or if any will be future starters (but keep in mind that Joe Bugel did not develop any young players in his second stint in Washington either. Just some perspective.).
Defensive coordinator:
Jim Haslett
When Mike Shanahan was fired, even Haslett anticipated his fate would be similar. But the front office viewed him far differently than fans did. The defense, in terms of yards allowed per game, improved (they ranked ninth in yards per game from Weeks 4-17. However, the points per game did not get a lot better.
It wasn't great even when accounting for points off turnovers
and returns for touchdowns). Shanahan had a big hand in the defense, from hiring the staff to the players to game plans and play calls. It was his right, of course, but this is why the front office absolved Haslett of more blame. And the front office felt keeping Haslett, a former head coach, would be beneficial to a first-time head coach, one with whom he has a relationship.
Gruden agrees with this as well
. But it's now time for this defense to finally produce at a greater and more consistent level.
Defensive line:
Jacob Burney
He's helped
Barry Cofield
become a solid nose tackle and the front has been solid against the run; I like how
Chris Baker
has developed, but
Jarvis Jenkins
has not done enough in the pass game. Overall, the pass rush needs to improve.
Inside linebackers:
Kirk Olivadotti
Had a great reputation when he was here the first time around. This is an excellent hire, but he will be limited to just working with the inside linebackers. He worked with
Perry Riley
as a rookie and will have another starter to train inside with the loss of
London Fletcher
.
Outside linebackers:
Brian Baker
Don't know a whole lot about him other than he's a veteran coach who has worked with Haslett in the past. He's coached linebackers in three of his 17 NFL seasons, serving as Cleveland's outside linebackers coach last season, but he played linebacker at the University of Maryland. Cleveland's linebackers did not produce as hoped. Dallas did not retain him after the 2012 season when it changed coordinators. His last three seasons have been spent in a 3-4 scheme.
Secondary:
Raheem Morris
Energetic and enthusiastic. I'm sure he felt he'd be someone's coordinator by now, but he'll instead enter his third season as Washington's secondary coach. It's not as if the secondary play the past two years would have helped him land a coordinator's job. That's not all on him, however, as there's little doubt they have to upgrade the talent base. And what matters is this: general manager Bruce Allen wanted to keep him around. Fletcher gave him a strong endorsement on Twitter after Gruden was hired.
Special teams:
Ben Kotwica
Have heard good things from people who used to work with him. In New York he had to replace a legendary coach in Mike Westhoff. That won't be the case in Washington so those players who remain from last year will be more eager to buy what he's selling.
January, 16, 2014
Jan 16
4:55
PM ET
The Redskins made it official with three more members of Jay Gruden's staff, none of which were surprises.

They re-hired Kirk Olivadotti to be their inside linebackers coach, as was reported Wednesday night. They also announced that Raheem Morris (secondary) and Jacob Burney (defensive line) will return in their same roles, as expected.

This will be Olivadotti's second stint with Washington. He started as a quality control coach in 2000 and worked his way up, also coaching the defensive line and linebackers, over 11 seasons. He spent the past three years coaching the linebackers at the University of Georgia.

Morris will enter his third season coaching the Redskins' secondary while Burney returns for his fifth season coaching the defensive front.

The Redskins also had Wes Phillips in for an interview to be their tight ends coach Thursday, but no official announcement had been made as of late afternoon.
January, 16, 2014
Jan 16
8:30
AM ET
1. This is the first time since Jim Haslett has been in Washington that he's been able to hire the defensive staff. Or at the least to clearly have a say in who's on board. Brian Baker coached three seasons with him in St. Louis. Kirk Olivadotti worked with him for one season before bolting for Georgia. And Haslett tried to hire him back a couple years later when Lou Spanos left for UCLA, only to be rebuffed.
2. Whatever you think of Haslett, it's important for a defensive coordinator to have a say in who he hires. He's the one working with this staff. He needs to have people he can trust around him. It's different when you're surrounded by the head coach's guys. After Spanos left there was no one with ties to Haslett.
[+] Enlarge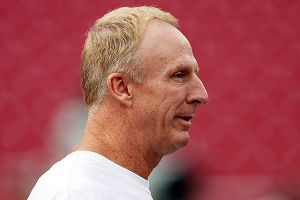 AP Photo/Paul SpinelliExpect the Redskins to upgrade their defensive talent this offseason for coordinator Jim Haslett.
3. Will that make a difference on the field? That remains to be seen; they need more talent and they need to stop having breakdowns that lead to big plays. But for those wondering why Haslett stuck around, it's partly for reasons such as this. He was in charge of the defense, but not nearly to the extent that other coordinators here have been in the past. Now it's all on him, for better or worse. There is no doubt the Redskins will spend to improve the defense. The play had better improve, too.
4. I remember talking to a former Redskins coach who interviewed for a position at a place where he had a good relationship with the general manager. The two had a good talk and were laughing as they exited the office. It happened to be right near the coach's office and the head coach saw the two laughing. At that point the position coach knew he would not be hired. He knew the head coach would not fully trust him, knowing his chummy relationship with the general manager.
5. The point: It's tough to fully trust guys when they're brought in without your input. That was Haslett's world the past couple years. Still, as I've written before, players would say the most trusted voice in the defensive room was that of linebacker
London Fletcher
.
6.
Josh Morgan
told WJFK 106.7 The Fan that he
didn't have a clue as to what happened
to his game in 2013. Here's what happened: He wasn't productive. It's not as if Morgan never played; he did. He was inconsistent as a blocker and did not make many plays. Late in the season he played worse -- his blocking was poor -- and that led to him being inactive. The film supports that belief.
7. That said, nobody has been more involved in the community than Morgan. And he speaks passionately about playing for his hometown team. He deserves a lot of praise for all of that, but there is no mystery as to why he played less.
8. Morgan also said coach Mike Shanahan would not meet with him to explain what was happening. Shanahan said many times that he would meet with players, especially former starters, to explain certain actions. But even tight end
Fred Davis
said early last year that he wasn't sure why he wasn't playing more. Shanahan said, though, that he met with him. All I know is that Morgan needed to play better.
9. The coaching staff has some strong bloodlines. Sean McVay's grandfather once coached the
New York Giants
and served as San Francisco's general manager during the 49ers' five Super Bowls. Gruden's ties are well-known, with his brother, Jon, and also his father Jim, who was a longtime NFL coach and scout. And Olivadotti's father, Tom, spent 21 years coaching in the NFL.
10. I wrote a little of this in the original story on Olivadotti's return, but I always liked talking to him during
Brian Orakpo
's rookie season. Olivadotti did not like talking a whole lot for much of his time in Washington, but he got better in that area. And when Orakpo was a rookie, Olivadotti was excellent discussing his improvements and what he needed to work on. When coaches are that clear with us, they're usually that way with the players. Makes it easier for them to improve.
11. Olivadotti is an understated guy who just likes to coach. I used to wonder why he never became more than just a position coach; he worked for six different full-time head coaches in Washington, so he was clearly respected. But I think Olivadotti is just happy coaching and isn't as focused on climbing the career ladder. Just a thought.
12. Don't know if new special teams coach Ben Kotwica will succeed or not. I received one unprompted text praising him from someone who worked with him in New York. The Jets made him an offer, but my guess is if it was that strong he would have stayed. But in New York he had to replace a legendary coach in Mike Westhoff. That won't be the case in Washington.
13. Westhoff told the
New York Daily News that Kotwica
established a bond with the players. Westhoff told the paper that he'd often see players stop by Kotwica's office to watch a little more tape before leaving.
January, 15, 2014
Jan 15
10:05
PM ET
Kirk Olivadotti nearly returned a few years ago, but the
Washington Redskins
opted for someone else, shifting Bob Slowik from secondary coach to linebacker. But Olivadotti is now on his way back, a team source confirmed Wednesday night.
The
Macon Telegraph first reported
that Olivadotti will rejoin the Redskins' defensive staff, likely having a role coaching the linebackers. Olivadotti spent 11 seasons in Washington, including 2010 with defensive coordinator Jim Haslett. He did a good job grooming outside linebacker
Brian Orakpo
, for example, in his first two seasons. Olivadotti joined the Redskins in 2000 and survived multiple coaching changes, drawing praise from each new coach. Former defensive coordinator Gregg Williams used to rave about Olivadotti, eventually promoting him from a quality control coach to defensive line and finally linebackers.
Olivadotti spent the past three years coaching the inside linebackers at Georgia.