Washington Redskins:

Larry Fitzgerald
June, 16, 2014
6/16/14
8:35
AM ET
Andre Roberts
admitted it was frustrating, his reduced role leading to fewer opportunities. So he left Arizona seeking more chances, which the Redskins would give him. And then the Redskins signed
DeSean Jackson
, which would cut into Roberts' opportunities.
But Roberts said the situations aren't comparable, partly because of one distinct difference.
"In Arizona it was a new staff and they didn't know me," Roberts said. "The Redskins brought me here because they want me to make plays on special teams and offense. So it's a different dynamic."
Roberts
Besides, he knows that having three receivers such as Roberts,
Pierre Garcon
and Jackson means the Redskins will result in a more pass-centered offense. Redskins first-year coach Jay Gruden was knocked in Cincinnati for abandoning the run at times. He has greater receiver depth in Washington than he did in Cincinnati, including tight end
Jordan Reed
.
"We'll do a lot of three-receiver stuff," Roberts said. "We can run well out of the three-receiver sets. Obviously you have to do the two tight end and fullback out there. You have to have a running game and we have a great back in Alfred [Morris]. We'll definitely do both, but I think our best personnel will be three receivers and one tight end."
Roberts' offensive snaps went from 837 in 2012 to 605 last year under first-year coach Bruce Arians (the Cards drafted
Michael Floyd
in 2012 and he became the starter opposite
Larry Fitzgerald
). While perhaps he'll play more, the Redskins do have more options than what he played with in Arizona, with Reed another strong target for quarterback
Robert Griffin III
.
Earlier this offseason, Gruden said they plan to use Roberts in multiple roles because he can play both the slot and outside.
"Very versatile. You can tell he's a smart player because he lines up everywhere. He runs every type of route," Gruden said of Roberts.
In 2012, Roberts was targeted 114 times (with 64 receptions) compared to 76 and 43, respectively, a year ago. But, still, Roberts anticipates a bigger role. Part of that includes special teams where he's working as a returner for both punts and kickoffs. He hasn't handled those jobs full time since 2010, but says it's something that he wants in Washington. In 2010, Roberts averaged 7.5 yards on 35 punt returns and 23.3 yards on 14 kick returns. He returned five punts and two kickoffs combined in the next three seasons.
"After my first year I started to get used to it and I started my second year so they don't want the starters doing it too much," he said. "I never had the opportunity to get in there and do it like I wanted to. Being here and having the opportunity is big and I would love to do it."
Roberts still has belief in what he can do. Last season he had only three pass plays for 20 yards or more, according to ESPN Stats & Information; he had 10 such plays in 2012. That's what he wants to do here – not just from scrimmage. He'll have to improve on his yards after the catch average of the past two years (3.52 in 2012; 2.53 last year).
"I'm one of those players when he gets the ball in his hands he can make a big play," Roberts said. "That's what I want to bring to this team as well, not just as a receiver but on special teams."
April, 11, 2014
4/11/14
8:30
AM ET
Shortly after he signed with Washington, receiver
Andre Roberts
recalled his frustration from the past season. He was Arizona's second receiver in 2012; he was their third in 2013. His numbers suffered.
Roberts didn't complain, but it did bother him.
"It was definitely frustrating," he said by phone last month. "I felt great coming into [2013] and I was hoping I could better my stats and help the offense more. But I wasn't able to do that. Being a competitor and a receiver who wants the ball every play -- you obviously can't get the ball every play -- but I have that mentality. Whenever there's a pass play I want the ball in my hands and I think I can do something special with it. When you don't get the opportunity, it was definitely really frustrating for me."
[+] Enlarge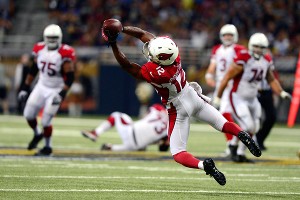 Jeff Curry/USA TODAY SportsEx-Cardinal Andre Roberts could be a valuable weapon for the Redskins as the team's No. 3 wide receiver.
Which leads us to now. When he signed with Washington, Roberts envisioned a role in which he'd play inside and outside, being a second option after
Pierre Garcon
. Of course, that was before the Redskins signed receiver
DeSean Jackson
.
"Well, I envisioned one thing and then we signed DeSean Jackson," Roberts said on ESPN 980's "Inside the Locker Room" Thursday. "So I haven't really thought too much."
Roberts got paid -- he received a four-year, $16 million contract with $8 million guaranteed. But now that he has the money, he'd also like to have a lot of chances. Jackson's arrival can help make everyone better, just because defenses will have to focus on taking him away. They can only double so many receivers and, if the Redskins use a lot of three-receiver sets, that means Roberts could be put in numerous one-on-one situations. Roberts likely will play in the slot, but he can play outside as well. Last season, Arizona used him outside in many of its three-receiver sets with
Larry Fitzgerald
inside.
But the Redskins didn't bring Jackson here just to be a decoy. And there's also tight end
Jordan Reed
to consider when it comes to targets. It's a good problem for any team to have; that's a potentially explosive offense. Which is why the Redskins coaches and players, quarterback
Robert Griffin
III in particular, are thrilled.
It also means players will have to realize they may not get as many targets as they desire. That's what Roberts dealt with in 2013. His snaps went from 837 in 2012 to 605. His targets dropped from 114 to 73.
"That's how the league is, that's how the league works," Roberts said. "Going into my situation, I wanted to be the No. 2 receiver. But I still don't how it's going to work out. Obviously, when you look at how much money is being made each guy, you'd think that's going to be [the] No. 1, No. 2 and No. 3."
Not only by the money, but by the reputation. Garcon and Jackson will be the primary targets at receiver. The former is coming off a 113-catch season; the latter had 1,333 yards receiving.
Regardless, if Roberts just plays the slot he'll get opportunities with perhaps more of them coming down field. There's a reason Washington targeted him so fast in free agency. He also told ESPN 980 that he thinks he'll be doing a lot of returning. Jackson did that in Philadelphia, but not as much in recent years -- and in his last 32 punt returns combined the past three years he averaged only 5.7 yards. Besides, the Redskins would be wise not to have Jackson return a lot to limit the wear and tear on his body.
"I think I'll be returning," Roberts said. "What I want to do is punt return and kick return, if I have that choice. Anytime I feel like I can get my hands on the ball, I want to do it. … If I can get back there and returns some kicks and return some punts for this team, I'm going to be pretty happy."
March, 25, 2014
3/25/14
3:00
PM ET
ORLANDO, Fla. -- Ken Whisenhunt didn't hesitate to give his scouting report on
Andre Roberts
, his former receiver in Arizona. It wasn't a good one.
"A slow guy that can't catch," said Whisenhunt.
Roberts
Yes, Whisenhunt, now Tennessee's head coach, then broke into a smile after his joke and lavished praise on the
Washington Redskins
' newest receiver.
Washington signed Roberts on the opening day of free agency and plans to use him in a variety of ways. The Redskins want him to play in the slot; they will use him on the outside. Whisenhunt said Roberts is capable of such a role.
He would know; Roberts' best season with Arizona came in Whisenhunt's final year with the Cardinals. In 2012, Roberts caught 64 passes for 759 yards and five touchdowns.
"He's a very tough competitor," Whisenhunt said. "I thought he was a good leader and good player for us. I have a lot of respect for what he's done. One of the things I liked best about Andre was his flexibility. He could play the slot and play outside. He could win outside. He made himself into a tough football player."
Whisenhunt said early in Roberts' career, he was affected too much by injuries even though Roberts has played at least 15 games in each of his four seasons.
"There were things he had to fight through and he did that and that's made him a better player," Whisenhunt said. "Now he's become a great pro. He works hard, he understands what he has to do to be out there every day.
"The thing that really impresses me, I always have respect for guys who block and I've seen him block linebackers, block those big safeties. He does a great job in the slot. He understands those routes. He can think quickly on his feet."
The blocking will be key. With Washington still running an outside zone, the receivers will need to be good run blockers.
Pierre Garcon
is considered a good run blocker.
Whisenhunt said the Cardinals drafted Roberts with the intention of playing him in the slot. They also used him at returner on both kickoffs and punts his rookie season, but sparingly thereafter.
"He can do anything you want him to do," Whisenhunt said. "Based on my time around him, I have confidence he could do it. He's had some good mentors in [Larry] Fitzgerald and some guys who work hard. You have to give him credit. He's worked hard to be successful in this league."
March, 19, 2014
3/19/14
7:50
AM ET
The contract was nice and made a difference, though it wasn't the only reason
Andre Roberts
wanted to play in Washington. He liked that they'd let him play inside and outside. He liked that coach Jay Gruden wants to throw the ball.
But he also liked what he heard from Redskins quarterback
Robert Griffin
III. Money matters, but so did the tone in Griffin's voice as well as the message.
Roberts
Griffin
"With him having a chip on his shoulder and being a young guy, someone I can grow with," Roberts said by phone earlier this week, "it was very high on my list and someone I wanted to play with."
Griffin has talked with several players the Redskins were trying to sign (or did), including defensive lineman
Jason Hatcher
. Griffin spoke with Roberts before he signed with Washington after four seasons in Arizona. Roberts' role changed with the Cardinals last season. He's good in the slot, though he wasn't always used that way. When he and
Larry Fitzgerald
were on the same side, Roberts often played to the outside. Nor was he targeted as much, as
Michael Floyd
became the No. 2 receiver. And the Cardinals used a lot of two-tight end sets designed to help the blocking.
Add it up and it left Roberts anxious to do more. He sensed the same in Griffin after a sub-par second season, one in which Griffin was questioned about his knee and his relationship with the coaches.
"You could tell he has that fire and that passion and that motivation to get better every day," said Roberts, who will work out with Griffin in Arizona at the end of the month. "When you have a guy that talented, that's that motivated and willing to work, the sky's the limit. Being a receiver, having a quarterback like that, that's what you want, especially in a passing offense which we will be in now for the most part. When you have a quarterback that's motivated and coming off the year he had with a chip on his shoulder, that's what you want as a receiver."
A passing offense? The Redskins were more run-oriented the past two years (or wanted to be; trailing so often last season altered those plans). Roberts said he based that comment on knowing Gruden's style with Cincinnati and also after talking with former Arizona quarterback
John Skelton
, who spent last offseason and preseason with the Bengals.
"He was telling me about his style of coaching and what he likes to do and how he likes to use players," Roberts said. "I think we'll be passing more than running. We'll have plenty of talent at the running back and receiver position for Robert to throw the ball around a little bit."
I'll have more with Roberts later in the week talking about his style and mentality at receiver.
March, 11, 2014
3/11/14
7:00
PM ET
A quick thumb-nail report on the
Washington Redskins
' newly-signed receiver
Andre Roberts
:
What he got:
Roberts signed a four-year, $16-million deal. He received $8 million guaranteed and his first year salary of $1.25 million is guaranteed.
Roberts
Quick analysis:
Roberts is considered a solid receiver and someone who had a better year in 2012 than in '13, when he was Arizona's third receiver. He could line up in the slot or outside. He did both with the Cardinals this past season and he worked well with
Larry Fitzgerald
. Roberts caught 182 passes -- 11 for touchdowns -- in four seasons with Arizona. Roberts caught 64 passes for 759 yards and five touchdowns in 2012, but those numbers dropped to 43 receptions for 471 yards and two scores this past season. Roberts showed consistent hands, making tough catches, so he has -- as the coaches say -- a wide catch radius. He worked well getting separation at the top of his breaks with a little gentle push. But I saw him make several catches that required good focus knowing he'd get hit -- whether over the middle or along the sidelines. He wasn't flashy. But he is fast, though the bulk of his work came underneath or on intermediate routes. His career average per catch (11.7) reflects his slot duty status.
Impact:
Well, I would have said it meant the end for veteran receiver
Santana Moss
, but he'll be back (though I still don't think it's a guarantee that he'll be on the roster this season). Roberts gives them someone who can play inside or outside and has a little more size at 5-foot-11. If Moss can't play, then Roberts can easily play the slot in a three-receiver set. This gives them some insurance if
Leonard Hankerson
takes a while to recover from his torn ACL. Roberts has returned punts and kickoffs, but that was not a strength as he averaged just 5.9 yards on 46 punt returns and 22.4 yards on 16 kick returns. So I don't think anything is necessarily solved here.