Washington Redskins:

Michael Bennett
June, 5, 2014
Jun 5
11:45
AM ET
ASHBURN, Va. -- One addition could lead to better individual play. The other could be seen as insurance for his potential departure. Both could help
Brian Orakpo
in the short term, and that's all he's worried about.
In fact, Orakpo said he never viewed rookie
Trent Murphy
as anything other than a guy who could help now. He said he did not wonder if Murphy was drafted to be his eventual replacement.
[+] Enlarge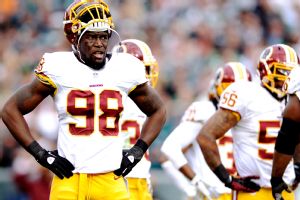 AP Photo/Michael PerezBrian Orakpo views the additions of rookie Trent Murphy and outside linebackers coach Brian Baker as a sign that better days are in the immediate future for the Redskins' pass rush.
"That's the last thing I'm thinking of," Orakpo said. "That's the first time I even thought about that to be honest with you."
Orakpo said Murphy's addition was necessary. So, too, was outside linebackers coach Brian Baker's. And Orakpo said both can help him -- and
Ryan Kerrigan
-- have more of an impact this season.
First, Baker. Here's the list of pass rushers he's worked with in the past:
Charles Johnson
,
Julius Peppers
,
DeMarcus Ware
and
La'Roi Glover
. How much did he mold their games? Tough to say, but clearly Baker can pass along tips he picked up working with those players onto the Redskins' linebackers.
"Just pass-rush concepts, man," Orakpo said. "Not just being an athlete. All kinds of different stuff he learned coaching guys throughout his years. Hand usage. Hand placement. I'm a momentum type of pass rusher. Now he's trying to teach a guy like myself proper hand placement and not being so wild at times when I'm rushing.
"We've been doing a lot of techniques. Any time we got a break, me and Baker are going at it doing different techniques, working different hand placements, working half of the offensive tackle or the tight end. Just trying to get better."
It's different.
"I haven't done this before," Orakpo said. "This is brand new for me. I'm excited. It will get all of us better and get all of us to another level. It comes with years of experience, always trying to incorporate something new in your game. I'm excited Baker is here and also that [Kirk Olivadotti] is here because he's teaching the inside linebackers a lot of new things as well that we were accustomed to my first year. Those guys are huge assets."
That's how Orakpo views Murphy, chosen in the second round last month. Orakpo said one word came to mind when they picked him: Depth.
While many will debate whether Murphy was the right choice, the bottom line is the Redskins needed another pass rusher. Just adding
Jason Hatcher
in the offseason would not provide enough of a boost, or depth, in this area.
"It's all about getting another guy to come in and create havoc," Orakpo said. "Depth is huge. You need three or four pass rushers that can go. This team has relied on me and Ryan doing the dirty work. But every other team has three to four guys ready to rock and roll. You saw what Seattle did bringing three or four guys, moving my boy
Michael Bennett
around.
Cliff Avril
on one side,
Chris Clemons
one side. Just moving guys all over the place. ... We finally got the big picture and got someone in here."
It's no secret what the Redskins want to do: tap into the three linebackers' versatility. That's evident in practice as each of them has lined up all over the place. The goal: pressure with four or, at most, five. You can be aggressive without always having to blitz. Washington blitzed more in 2012 in part because it lost Orakpo and
Adam Carriker
to injuries. But it left a weak secondary susceptible.
"If you pressure with four guys, you have a much better chance," Redskins coach Jay Gruden said. "You saw the success Seattle had -- they very seldom blitz. We have the ability with four, five guys that we have being able to rush the passer, keeping them fresh -- that we can get pressure."
If that's the case, then Orakpo likely would receive the sort of long-term contract he desires from Washington. He made it clear a long time ago he'd still like a long-term deal and that not having one wouldn't impact his approach, or desire to attend workouts. He'd still like one before the season, but Gruden said long ago he's fine with letting him play the season out on the franchise tag. Other members of the organization said it's conceivable the Redskins will keep all three pass rushers beyond this season.
For now, Orakpo's concern is 2014.
"Don't look into the one-year-left-rookie-drafted [storyline]," Orakpo said. "We have to look at this year and trying to get to that Super Bowl. Forget about the future. That's just business. Business will take care of itself. We're trying to make noise this year."
March, 8, 2014
Mar 8
2:00
PM ET
Bill Polian did not follow what others have done when it came to
Washington Redskins
linebacker
Brian Orakpo
. Most placed him among their top 10 free agents; Polian and his other analysts did not.
Yes, the Redskins named Orakpo their franchise player, but if another team wanted him it could sign him and trade two draft picks. That's a rather big longshot; it's one thing to shell out big money and it's another to do that and surrender picks. Still, technically, he's free. And he's not among Polian's best available free agents.
In fact, the former Indianapolis general manager, and current ESPN NFL Insider, gave 14 players a grade of at least a B-plus. No Redskins received higher than a B (Orakpo).
Perry Riley
received a B-minus while
Reed Doughty
was given a C-plus.
Those were the highest three grades Polian and a group of ESPN analysts, including Gary Horton, Matt Williamson and Field Yates, gave the Redskins players.
Pittsburgh's
Jason Worilds
was the highest-rated outside linebacker with a B-plus. Seattle defensive end
Michael Bennett
was the top player overall. Bennett and three others received an A: Indianapolis safety
Antoine Bethea
, Cleveland center
Alex Mack
and Houston nose tackle
Earl Mitchell
.
Here's what Polian had to say on some key Redskins:
"Orakpo has excellent size with good first-step quickness and good rush instincts. He is a power rusher more than a speed rusher. He is decent at the point of attack. All in all, a solid starting 3-4 OLB."

"Riley is instinctive, tough and skilled as an inside linebacker. He could have more punch at the point of attack."

"Doughty is a strong safety who is very smart and instinctive, which earns him the plus. He has excellent recognition and reaction against the run and pass. He is a productive tackler but lacks punch and does not have ideal range over the top."