Washington Redskins:

Ra'Shede Hageman
May, 9, 2014
May 9
5:15
PM ET
Taking a look at the different areas the Redskins might address defensively:
Pass-rusher
The case for:
The Redskins' pass rush the past two years has been spotty at best. Does anyone really think it's solved just by the addition of
Jason Hatcher
? If something happens to him, will the Redskins have the interior push they hope, and need, to have? Also, if they're not sold on
Brian Orakpo
long term then they could draft an outside linebacker, use him as a situational rusher and then groom him to take over. And finding a pass-rusher could mean a guy who plays inside, not necessarily as a linebacker.
The case against:
At 34, there might be better value at right tackle than at pass-rusher. They could always trade down to accumulate more picks and take one at each spot. They do have a desire, if possible, to add one. They do have two starting outside linebackers already and two backups in
Rob Jackson
and
Brandon Jenkins
.
Names to watch:
Jeremiah Attaochu
; I do know they like him and feel he's a good all-around outside linebacker.
Kyle Van Noy
, though I get the feeling that he might end up playing more inside in the 3-4, but he's versatile and instinctive.
Trent Murphy
is another, but I can't imagine they'd pick him this high – and he can probably be had in the third round. I don't have a good sense on
Ra'Shede Hageman
or
Stephon Tuitt
. Hageman looks the part and occasionally dominated only to end up with only two sacks. Tuitt recorded sacks, but is projected as more of an inside rush guy – nothing wrong with that. But inconsistent effort left some scratching their heads.
Kony Ealy
is still available, too, and highly thought of by analysts.
Inside linebacker
The case for:
While they have options to replace
London Fletcher
, it's still uncertain not only who will win the job but who will hold it beyond this season.
The case against:
This isn't a good spot to find what they need. While
Chris Borland
was a tackling machine at Wisconsin, certain styles (wide open) gave him problems. In the right system he'll be a strong player, a tone setter who is physical. The Redskins could use a guy like him, but I'm not sold that he's a fit.
Names to watch:
Borland in Round 2. But at No. 34 would be a stretch. This could be a position the Redskins address Saturday.
Defensive backs
The case for:
While the Redskins have their top three corners, it's not like this is one of the best groups in the NFL. So there's room for improvement if possible. And they only have two safeties under contract for next season (
Phillip Thomas
and
Bacarri Rambo
).
The case against:
This is a good draft for corners, so there's no need to get one at 34 unless a player such as
Bradley Roby
had fallen to them. I wouldn't be surprised if they drafted one later. The two best safeties projected as second rounders both went in the first.
Names to watch:
It's hard to imagine the Redskins using a second on a safety – and maybe not even a third.
Terrence Brooks
and
Lamarcus Joyner
, both from Florida State, might go in the second but the Redskins need to look elsewhere in this round.
May, 9, 2014
May 9
7:30
AM ET
The Redskins didn't make a pick, nor did they make any trades. But they were able to see some players who could help them fall to the second round. Which will give them plenty of choices when they make their first pick of the draft.
Washington will make the second pick of the second round when the draft resumes Friday night. One thing the Redskins did not do Friday was trade backup quarterback
Kirk Cousins
. Cleveland had offered the Redskins a fourth-round pick, an NFL source said, but the Redskins stuck to wanting a high pick (likely a second-rounder). It's debatable if there is any market for him because of the high price tag -- though the Redskins made it clear earlier in the offseason that they did not want to trade him.
Here are some options at 34:
RT Morgan Moses
: Moses is an athletic tackle, but also inconsistent. He was better as a senior -- and was excellent against
Kyle Van Noy
in their limited matchup. But Moses has a tendency to play too upright and would need to fix that or else have problems. I like his long arms, which bailed him out of trouble in college. But I did not like how he handled run-blocking assignments at the second level -- something he'd need to do in the outside zone scheme.
Here's my write-up on him
.
RT Cyrus Kouandjio
: I really like his ability, but his knees are a concern and I've heard that definitely might scare the Redskins off. He showed good footwork and strength as a run blocker and had a little attitude as well. But he was not as consistent in pass protection, thanks to his balance and footwork.
Here's my write-up on him
.
RT Joel Bitonio
: He's considered a good fit in a zone blocking system because of his ability to get to the linebackers. He does not have prototypical measurements for a tackle (6-foot-4, 302 pounds; arm length just under the desired length of 34 inches) but he makes up for it with terrific makeup: a leader, hard worker, etc. He also blocks with a little attitude. He ran a 4.97 40-yard dash at the combine.
LB Kyle Van Noy
: The Redskins like his versatility, as he can play outside or inside in a 3-4. They definitely feel he can play inside in their scheme. Though Van Noy did not handle this role in college. When he lined up inside, it was in coverage or to rush. But he did a good job of shedding blockers on the edge, which gives the Redskins confidence he could do the same inside. However, 34 is a bit high for him.
Here's my write-up on him
.
OLB Jeremiah Attaochu
: Has very good quickness and is considered a good athlete. He has good size to handle the outside at 6-foot-3 and 252 pounds, but he would probably have to add about 10 pounds. He did a solid job against the run in college.
DE Ra'Shede Hageman
: He had top-10 ability, but did not always play at that level. Otherwise, of course, he'd have been selected in the top 10. He dominated at times and made plays that made you say, 'Wow.' And then he'd do nothing for a while. The fact that he only had two sacks was telling. But he's athletic enough and big enough that he could provide a good push inside. Not sure the Redskins are big fans.
Here's my writeup on him.
ILB Chris Borland
: I don't see him as the choice. There are too many other players Washington likes that are available and I did not get the sense that the Redskins felt he was a good fit. I think he's better in a 4-3; he will have issues in space, but would be a good physical player when facing straight-ahead running teams.
Here's my write-up on him
.
WR Marqise Lee
: The Redskins do not need to pick a receiver high in the draft. Their top three receivers all are under contract through 2016. However, injuries are always an issue and Washington lacks depth at this position. Lee dropped too many passes last season, but he was much more consistent the previous two years. He's had a tough background, but his intangibles are considered strong. He ran the 40-yard dash in 4.52 seconds at the combine.
DE Stephon Tuitt:
Projected by some analysts to go in the first round. Isn't considered to have a quick burst, but plays with strength. If the Redskins want another player to provide push inside, then he could be worth a look. However, there are questions about his durability and his motor.
Another option:
Trading down. This is clearly a strong option for Washington considering there are a handful of players the Redskins' like who are still around. They only have six draft picks, so this would be a chance to add another selection or two.
May, 8, 2014
May 8
4:00
PM ET
I'm taking a look at selected players leading up to the NFL draft, which begins Thursday night. The reports are based on watching multiple games on
draftbreakdown.com
; I'll let you know when there is an opinion other than my own. I'm not a fan of having to only watch them off a TV feed -- you don't always get the best angle, or see all the players -- but it's the best I can do now and it helps provide a snapshot. The draft analysts -- especially those from ESPN.com, NFL.com and CBSSports.com -- help fill in the gap, especially in terms of where they are projected.
Player:
Dee Ford

Ford
College:
Auburn
Position:
Outside linebacker
College production:
He had 29 tackles, including 14.5 for loss and 10.5 sacks, according to Auburn's website. He finished his career with 27.5 tackles for loss and 20.5 sacks.
How he'd fit:
As another pass-rusher, capable of playing in nickel situations. (Remember: The Redskins were in nickel nearly 70 percent of the time last season.) He could eventually take over for Brian Orakpo, if they let him walk after this season (and don't feel like paying two outside linebackers big money).
What I liked:
His speed. It's really hard not to like it considering how fast he ran at his pro day (4.59 in the 40). But it's not just his speed, it's his first step and ability to anticipate the snap. It'll be harder to do that against NFL quarterbacks, but it was easy in college. There were times when I'd hit pause and Ford would be a yard in the backfield while everyone else along the front was still at the line. Ford dominated in the Senior Bowl, giving right tackle
Jack Mewhort
fits among others. At times the right tackles would have to almost run to a spot rather than slide because Ford would win otherwise. Love his motor; did not see him quit on plays and would see him pursue ball carriers even when he appeared to have no chance. Set up interior rushers with his pressure. He has strong hands; at times he was able to grab onto the quarterback with one hand and drag him down while still being blocked. They make up for average arm length. Fared well against Texas A&M's Cedric Ogbuehi. Ford rushed from both the right and left sides and also from a three-point stance, a four-point stance and standing up. He's very athletic and has good change-of-direction ability, though he's more comfortable going forward than in space.
What I didn't:
I did not see him being all that strong against the run. He was much easier to block in that area than in the pass game. I did not see him getting off run blocks enough to make plays or to set a hard edge against tackles. He would need to probably add 10 more pounds to help become more effective in this area -- and learn to take on double-teams -- otherwise he'll just be an extra rusher. But I could see him being a threat to make plays from the backside because of his speed and quickness. I saw him drop into coverage only a couple of times and usually to take the running back one-on-one. He'll have to improve there. He missed games each season due to injuries so durability will be a concern. He did not make game-changing plays: one forced fumble and one interception in his career.
Projection:
Possible late first, second. Ford is considered a bit of a tweener -- is he a 4-3 end or a 3-4 outside linebacker? I did not see a reason he couldn't find his way in either one, but in both cases he'll be limited early. It'll be best to use him as a rusher in his first season and then develop the rest of his game. On the positive side, he received high marks for intangibles.
Other players examined:
Deone Bucannon
Kyle Van Noy
Jimmie Ward
Morgan Moses
Demarcus Lawrence
Chris Borland
Charles Sims
Cyrus Kouandjio
Jack Mewhort
Ra'Shede Hageman
Antonio Richardson
May, 6, 2014
May 6
11:00
AM ET
I'm taking a look at selected players leading up to the NFL draft, which begins May 8. The reports are based on watching multiple games on
draftbreakdown.com
; I'll let you know when there is an opinion other than my own. I'm not a fan of having to only watch them off a TV feed -- you don't always get the best angle, or see all the players -- but it's the best I can do now and it helps provide a snapshot. The draft analysts -- especially those from ESPN.com, NFL.com and CBSSports.com -- help fill in the gap, especially in terms of where they are projected.
Player:
Ra'Shede Hageman
[+] Enlarge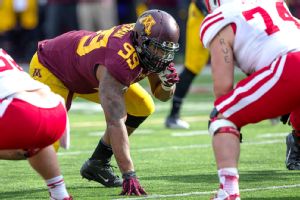 Jesse Johnson/USA TODAY SportsRa'Shede Hageman is projected to be a late first-round pick, and could slip to the Redskins at No. 34.
College:
Minnesota
Position:
Defensive line
College production:
Third-team All-American this past season. He had 13 tackles for loss and eight batted passes in earning team MVP honors in 2013.
How he'd fit:
As a versatile lineman, capable of playing end in a 3-4 and rushing inside in a nickel package. The Redskins could have four defensive linemen 30 or older when the season begins. It would be good to get a little more youth. Even though they signed
Jason Hatcher
to help the interior rush, they still need more help/depth in this area. Hageman likely will work best in a one-gap scheme, which the Redskins might use more of this season.
What I liked:
He makes some plays that definitely whet the appetite, so there is definite potential with him. The skills are evident and, if developed, he could be a definite presence as an interior rusher. He definitely looks the part -- and then some. I saw him drive a Wisconsin guard back in a short-yardage situation, reach over and help make the stop with one arm, displaying his power. On another play, he drilled the left guard back, knock him to the ground and then, as Hageman fell on top of the guard, he reached over and made a tackle at the running back's feet for a loss. At times, he displays an excellent initial burst -- with both hands and feet -- and played with good power. He had a couple of batted passes that were impressive. On one, as he ran a stunt to his right, he continued to drive the guard back while jumping and deflecting the pass. He had consecutive nice plays against Iowa: first, while aligned over center, he used a swim move to get past and record a tackle for a loss. On the next play, he powered his way to the left and made a stop for a 3-yard gain on second-and-long. He has long arms, which are always a good plus for a lineman. He was Athletic enough to have considered playing hoops at Minnesota.
What I didn't:
He'll flash, but leaves you wanting more. You'd see a big-time play on one snap and then scratch your head for the next several. I would not use the words "high motor" to describe him. He wasn't horrible, but could have been a lot better. He did not get back into plays once taken out, even when there was an opportunity where he could help. He struggled against double-teams; obviously those can be difficult but he was unable to anchor and would end up sliding back a few yards. He would get too upright and allow himself to be taken out of plays. I did not see any real moves as a pass-rusher, so he would need good coaching in this area. Sometimes drifted as a rusher, perhaps because he didn't seem to have much of a plan while trying to get to the quarterback. I wonder about his instincts locating he ball. If Hageman had been more productive or consistent, he's a top-16 pick based on his ability but he takes a fall because of his inconsistencies.
Projection:
Late first. There's a good chance Hageman will be gone when the Redskins select at 34, but most mock drafts I've seen peg him as a very late first-round pick -- 29 to New England seems to be a popular choice. But that also means there's a chance he'll be available considering the Redskins own the second pick in the second round. It's unlikely, but it's not a stretch.
Read this to learn more about Hageman's upbringing
. He had some issues at Minnesota, but he was also a team captain last season.