Washington Redskins:

Reggie Bush
September, 22, 2013
9/22/13
12:00
PM ET
LANDOVER, Md. --
Washington Redskins
tight end
Fred Davis
is among their seven inactives for Sunday's game against the
Detroit Lions
, along with place-kicker
Kai Forbath
.
Davis injured his ankle late in the week and was added to the injury list Saturday morning. Davis tested his ankle Sunday morning and could be seen walking with a slight limp at times. He will be replaced in the starting lineup by
Logan Paulsen
, but rookie
Jordan Reed
will see considerable action. Reed replaced Davis in many sets in last week's loss at Green Bay, playing 21 second-half snaps to Davis' five. Davis said he only made one or two missed assignments, but that number likely does not mesh with what the coaches would say. He also dropped a pass. Meanwhile, Reed is still learning, but makes tough catches -- he made
Robert Griffin III
look good last week by grabbing a pass that was far behind him in the end zone, a catch few tight ends could make.
Forbath was unable to kick Saturday, a good sign that he would be inactive Sunday.
John Potter
will handle the kicking chores. Nothing has changed since last week: Potter has a strong leg but is inconsistent on field goals even in practice.
The Redskins other inactives: quarterback
Rex Grossman
, defensive lineman
Chris Baker
, guard
Josh LeRibeus
, running back
Evan Royster
and safety
Jose Gumbs
. Baker is a surprise, but it's not as if he's played well in the first two games as a backup in the nickel package.
Detroit will be without running back
Reggie Bush
, which is good news for a defense that needs a break. He provides the Lions' offense with another threat to go with receiver
Calvin Johnson
. The Lions did a good job getting Bush the ball in the open field.
Joique Bell
will replace Bush in the lineup.
September, 22, 2013
9/22/13
8:00
AM ET
1. It does sound as if the Redskins will have
Robert Griffin
III run this week. The coaches keep saying they had some runs called in the first two games, but did not get to them. I've heard differently from others in the building. Regardless, there's a better chance of it happening Sunday. From what I've heard, there's a sense in Detroit that the Redskins are dangerous offensively because, at some point, they will get it going. Oh, the Lions absolutely expect Griffin to run more.
[+] Enlarge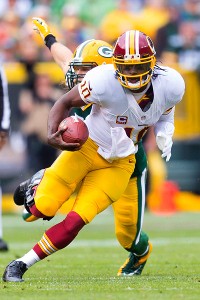 Jeff Hanisch/USA TODAY SportsWill Redskins QB Robert Griffin III be a factor running the football against the Lions?
2. The Redskins anticipate a lot of screens Sunday, regardless if
Reggie Bush
plays or not. The Lions love running screens and run a greater variety than most teams do. They'll also throw some designed routes for Bush, who was used as a decoy on one screen to fellow back
Joique Bell
last week. In fact, no quarterback has more yards passing to a running back than Detroit's
Matthew Stafford
with 253.
3. Also, according to ESPN Stats & Information, Stafford's average pass has traveled only 5.1 yards downfield, the shortest of any quarterback. A year ago, his average pass traveled 8.5 yards downfield -- the league average was 8.4 yards. This doesn't mean the Lions won't throw downfield, not with
Calvin Johnson
on their team. But they do throw a lot of short passes, particularly slants. The Redskins had better tackle well. This is not an impossible offense to shut down, but it can be dangerous. Hustling to the ball is a must.
4. One byproduct of the Redskins' early lopsided scores is the inability to use a lot of play-action passes, an area where they excelled last season. Through two games, Griffin has completed just 6-of-16 passes that travel at least 15 yards downfield -- that's 37.5 percent, which pales to last year's league-best 55.7 percent. But 73 percent of those passes last year were off play-action compared to just 25 percent in two games.
5. The Redskins have an ordinary passing game without play-action, but it's lethal when they can use it because of the chaos they create. The zone-read play-action pass gets linebackers completely out of their lanes and creates excellent opportunities for yards after the catch. The Redskins also can generate those types of situations off stretch zone play-action. The difference in play fakes out of the stretch zone or zone read can be worth as much as half a second over basic play-action. More play-action would enable a quarterback still working on his timing and rhythm to have more early success.
6. The importance of Sunday's game, based on history: Only three of the 115 teams that started 0-3 since 1990 have reached the postseason, according to ESPN Stats & Information. A win? Suddenly it's not so bad as 24 percent of 1-2 teams have gone on to reach the playoffs.
7. ESPN NFL Insider
Louis Riddick
is not high, at all, on rookie defensive backs
David Amerson
and
Bacarri Rambo
. One of his complaints about Amerson (both players actually) was that he didn't compete enough (a complaint other NFL coaches had about him before the draft). And one of Riddick's examples was the block Amerson could not shed on a
James Starks
run outside. It wasn't Riddick's only issue. But Redskins defensive backs coach Raheem Morris said competing was not the problem.
"No, he actually chose the wrong way to go," Morris said. "You have to be smart enough to use your help and go outside. He started to shed to the inside of that block. You can't shed inside unless you can make [the play]. He made a bad decision and it had nothing to do with his competitive edge. He's great at that."
8. Teams have hurt the Redskins by blitzing Griffin at a 42 percent rate this season (compared to 21 percent last season). The Lions will blitz, but it's not a huge part of their defense. Against Arizona, when they did send an extra rusher more often than not it came off the edge. They play a lot of wide-9 technique -- and will use stunt and games up front. The Redskins' interior linemen have struggled against big, physical defensive tackles. They have to stop quick penetration -- another reason play-action becomes a must.
9. Morris on playing two rookies in the secondary: "There's always growing pains with those guys, you know that." The coaches have them, too, when it comes to asking the rookies to perform certain coverages. Like on the 15-yard touchdown to
Jordy Nelson
last week in which Rambo had to rotate over from a single-high look. He hesitated for a split second and could not get there in time. But as Morris said they put him in a tough position (they were trying to trap quarterback
Aaron Rodgers
into a different throw; they failed). Eventually, Rambo will learn to cheat more on the coverage. "If he makes that one, he would have
Ed Reed
tendencies," Morris said. Rambo still has a long way to go.
10. Corner
E.J. Biggers
said he's continued to learn every position in the secondary. Will he go back to playing some safety? He wouldn't say. But given the struggles in the secondary, would it be surprising to see the Redskins do what they did at the end of last season and rotate based on situations?
September, 19, 2013
9/19/13
4:55
PM ET
ASHBURN, Va. --
Washington Redskins
nose tackle
Barry Cofield
won't need to wear a padded club to cover his fractured right hand during games.
He practiced without a club protecting his hand Thursday and coach Mike Shanahan said "he believes" Cofield won't need it Sunday versus the
Detroit Lions
.
Cofield hasn't had the hoped-for impact in the first two games, though not all of it can be attributed to the club on his hand. He has quick hands and got past the center Sunday against the
Green Bay Packers
with a swim move. But it was hard for him to grab onto ballcarriers.
Safety
Brandon Meriweather
(concussion) was limited. Defensive end
Stephen Bowen
(knee) was a new addition to the injury report after being limited in practice Thursday.
Place kicker
Kai Forbath
(groin) won't kick until Friday or Saturday.
Defensive end
Kedric Golston
(abdomen) was limited.
For Detroit, running back
Reggie Bush
(knee) did not practice for a second consecutive day. If he can't play it changes up how much the Redskins need to defend. He's more dangerous in the open field than backup
Joique Bell
.
Safety
Don Carey
(hamstring), receiver Patrick Edwards (ankle), tackle
Jason Fox
(groin) and linebacker
Ashlee Palmer
(ankle) did not practice. Three players were limited: safety
Louis Delmas
(knee), defensive tackle
Nick Fairley
(shoulder) and guard
Rob Sims
(knee).
September, 19, 2013
9/19/13
2:00
PM ET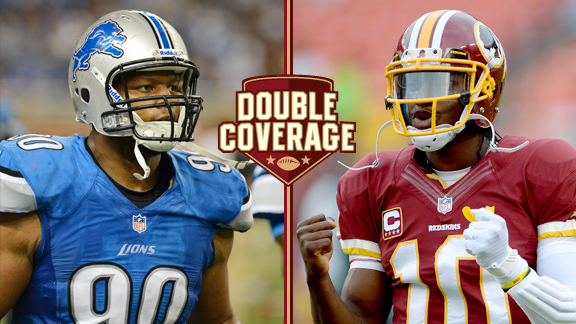 Getty ImagesWill Ndamukong Suh and the Lions defensive line cause Redskins Robert Griffin III issues on Sunday?
The
Washington Redskins
are dangerously close to letting yet another season of big expectations stumble into one of grand disappointment. And the season is only two games old.
If this isn't a must-win for them, it's awfully close. The
Detroit Lions
need a win after a close loss to Arizona -- and to rebound from their disappointing season a year ago. A 1-2 start will not help restore confidence in the Motor City.
Should we mention that Detroit has never won in Washington? The Lions are 0-21 in the nation's capital (and its suburbs).
ESPN Redskins reporter John Keim and ESPN Lions reporter Michael Rothstein break down the key elements to this matchup.
Keim:
Why don't we start up front defensively because that seems to be the Lions strength. The focus on Suh often centers on his extracurricular activities, but how well has he played and why is this unit strong up front?
Rothstein:
John, he's been nothing short of dominant thus far. While he may not have the statistics to back that up, his disruption has been the reason for both of linebacker
DeAndre Levy
's interceptions and he commands a presence in the middle of the defensive line that must be accounted for. Unfortunately for Suh, even in talking about his dominance, his other transgressions pop up because he negated one of Levy's interceptions going for a touchdown with his block on
John Sullivan
that resulted in a six-figure fine. But the Redskins will have to double-team Suh or he'll cause major havoc for Washington's offense.
Sticking with that, the biggest question around Washington is with Robert Griffin III. Considering Suh's dominance, how mobile is RG III these days and will a dominant defensive line cause him major issues?
Keim:
Everyone says he's mobile (and healthy), but we haven't seen it -- the mobility that is. Maybe it's the brace. Green Bay did a terrific job pressuring him up the middle with blitzes and keeping him contained on the outside. He's seeing five-man or more rushes on 42 percent of his drop-backs compared to 21 percent a year ago. The interior of the line is not built to handle big, strong defensive tackles, and that's where Washington could have a problem. This group is better on the move. If the Lions can pressure him with just the front four, the Redskins are in trouble. The question will be whether the Redskins can get their run game going against this group. They're so much better when they can then use play-action passes.
Speaking of which, it sounds like the Redskins aren't the only team with defensive backfield issues. Why have the Lions struggled in the back end?
Rothstein:
They've struggled back there -- kind of. A lot of the focus has been on rookie
Darius Slay
, who has been replaced in his first two NFL games by veteran
Rashean Mathis
. So there are some problems when Slay is in, but with a rookie, that should be expected. The rest of the defensive backfield has been decent.
Chris Houston
is playing well thus far opposite Slay/Mathis, defending three passes, making 11 tackles and not being beaten much by opposing receivers.
Bill Bentley
has had some issues at nickel, though, and it wouldn't be shocking to see teams go at him if Mathis plays more to see if they can lull him into a pass interference call or two.
Speaking of defense, what is going on with Washington? More than 1,000 total yards allowed in the first two games? That almost has to be more concerning than anything related to Griffin, right?
Keim:
Very much so. The offense will come around and showed legitimate signs of life last week, despite the lopsided score. The same can't be said of the defense. It misses too many tackles, and it's not sound against the run. Linebacker
London Fletcher
is not getting off blocks to make tackles, and the defense surrenders too many big plays. Other than that? Things are terrific. The Eagles and Packers forced the Redskins into a lot of nickel looks, and they're struggling to stop the run. Teams are also forcing the Redskins to prove they can tackle in space, and thus far they've failed. They start two rookies in the secondary (assuming they open in nickel), and that's led to breakdowns in communication or technique. Corner
David Amerson
takes his eyes off his work at times. I like his talent, but he's still growing as a player. Safety
Bacarri Rambo
would not have started if they had a legitimate option at free safety. He's made mistakes too. But at least they can improve. I'm surprised how bad this group has played. I thought with
Brian Orakpo
returning they would do better (playing fine down the stretch last season). They need to get a lot of pressure from their four-man rushes or else risk exposing a weak secondary.
I'm guessing the Lions offense is excited to face this group. How dangerous can this group become, and what has
Reggie Bush
added?
Rothstein:
If the Lions can hold on to the ball -- currently the league leaders in drops with eight -- they are extremely effective. Adding Bush to the team gives Detroit two players who can score any time they touch the ball along with
Calvin Johnson
. The question for this week is whether Bush will play. If he is able to come back from a helmet to the knee against Arizona on Sunday, Washington will have some major problems. If not, the Skins will likely do well to focus on Johnson and make
Joique Bell
and the other Lions options beat them. It will be interesting to see how Washington handles Detroit if Bush is healthy. Thus far, opponents have dropped deep against Johnson and given Bush space, but I'd imagine as he continues to be effective, that'll change.
I'll close with this question: What's the vibe around the Washington locker room? I'd imagine there is a bit of surprise of the predicament the team is in. To put it succinctly, is this team just struggling or does it have a dominant performance in it?
Keim:
Michael, the vibe is that they've been here before, having gone 3-6 a year ago only to win seven straight. But if they're honest with themselves, they would admit this is a lot uglier because they haven't been in either game and the defense could have given up 50 last week. Last year, there was only one game in their first nine that they didn't have a chance to win (Pittsburgh). They are surprised, but I think they understand how to handle this situation. It was a resilient group a year ago, and it needs to prove it again now. I think the offense has a dominant performance in it. I'm not sure what the defense has, other than a desire to not face a high-powered offense. As long as Griffin keeps getting his game back, the offense will be fine. There's no simple solution for the defense. It needs to create turnovers and get lots of help from the offense. So one side of the ball is struggling mightily, the other side is working through some rust.
September, 18, 2013
9/18/13
6:15
PM ET
ASHBURN, Va. --
Washington Redskins
strong safety
Brandon Meriweather
passed his concussion tests and took part in some drills during practice Wednesday. He will continue to be monitored daily to make sure no symptoms arise.
Meriweather
Meriweather was knocked from Sunday's loss at Green Bay with a concussion after his hit on running back
James Starks
. He was fined $42,000 for his hit on Green Bay running back
Eddie Lacy
earlier in that game, which gave the rookie runner a concussion.
Kicker
Kai Forbath
did not practice because of his sore groin and won't kick until Friday. The Redskins have kept
John Potter
around this week in case Forbath can't go. Coach Mike Shanahan said Wednesday that he would consider using both during the game. He did not want to do that last week, saying Forbath's groin was bad enough that the motion of just kicking a field goal was tough.
Potter missed his only attempt versus the Packers, a 50-yarder that he badly missed wide right.
Defensive end
Kedric Golston
was limited because of an abdominal issue.
Meanwhile, the Redskins' opponent Sunday, the
Detroit Lions
, has a long list of players who are hurting. Running back
Reggie Bush
(knee), safety
Don Carey
(hamstring), safety
Louis Delmas
(knee), receiver
Patrick Edwards
(ankle) and tackle
Jason Fox
(groin) did not practice Wednesday, and defensive tackle
Nick Fairley
(shoulder) and guard
Rob Sims
(knee) practiced but were limited.
September, 18, 2013
9/18/13
9:00
AM ET
The Detroit Lions have enough problems without creating more of their own. Sounds a little like the Washington Redskins; OK, sounds a lot like the Redskins.
Anyway, Detroit has dropped 10.4 percent of quarterback Matthew Stafford's passes through two games. Stafford hasn't shied away from going back to any of the receivers who have dropped the ball. And there aren't complaints about where he's putting the ball.
They're just not catching his throws
.