Washington Redskins:

Robert Mathis
April, 23, 2014
4/23/14
8:35
AM ET
With the NFL schedule (times and dates) being released Wednesday night, here's a refresher course on what we already know about their 2014 games:
Home opponents: Dallas, the New York Giants, Philadelphia, Seattle, St. Louis, Tampa Bay, Jacksonville and Tennessee.
Road opponents: Dallas, the New York Giants, Philadelphia, San Francisco, Arizona, Houston, Indianapolis and Minnesota.
The Redskins play two games against a team that finished with a top-10 offense in terms of total yards (Philadelphia) and five games against teams that finished in the bottom five (Giants, Tampa Bay, Jacksonville and Houston). All of those teams finished in the bottom five in points per game as well. They play three games against teams that finished in the top 10 in points per game (Philadelphia, Dallas and Seattle).
They'll get to play in the 49ers' new stadium (Yea! The old one was horrible) in Santa Clara (Boo! It's 38 miles from my favorite city in the country. But I'll still be staying in San Francisco, so don't worry your pretty little heads.) and also play in a college stadium at Minnesota. The Metrodome is done -- thank goodness -- so the Vikings will play at the University of Minnesota's stadium this season. It's outdoors; I hope this game is early in the year. The NFL had to work around restrictions placed on the Vikings' schedule by the university.
DeSean Jackson can't wait to face the Eagles twice and obviously will get that opportunity for the next few years. Will one be in prime time? Tough to see how it won't.
Robert Griffin III and Andrew Luck will meet in a real game for the first time. Griffin had the more dynamic rookie season; Luck was better in the second year. Given Griffin's knee injury, there's more uncertainty surrounding his future than Luck's. But we'll have a much stronger feel for Griffin's future, perhaps, by the time they meet in the regular season (unless it's the first game). A year ago this would have been a lock for prime time. Now? Still might be.
Trent Williams versus Colts linebacker Robert Mathis? Fun matchup.
Four other free-agent pickups will face their former teams: Jason Hatcher (Dallas), Andre Roberts (Arizona), Darryl Sharpton (Houston) and Mike McGlynn (Indianapolis). A backup lineman (most likely) facing his former team? Shivers. But the other three are expected to play key roles, so facing their former team will be interesting. And, yes, the Arizona matchup will be Lorenzo Alexander's first game against his former team.
The Redskins will play two home games against teams that made the postseason in 2013: Philadelphia and Seattle. They'll play three games on the road against playoff teams: Philadelphia, San Francisco and Indianapolis.
The Redskins have the 17th-toughest strength of schedule as their opponents had a .490 winning percentage in 2013. Of course, we saw last season how much things can change for a team in one year. Keep in mind: Detroit entered last season with the NFL's second-hardest schedule, based on 2012 records. It ended up that the Lions played the fourth easiest schedule, based on 2013 finishes.
For those wondering why the Redskins' schedule isn't easier after a 3-13 year, remember, 14 of their opponents were pre-determined (it's been this way for a while). The only two games based on their finish? Minnesota and Tampa Bay.
The Colts have the easiest schedule (.430). Why? Look at the other teams in their division: Tennessee (7-9), Jacksonville (4-12) and Houston (2-14). And they have two pre-determined games against Washington (3-13) and Cleveland (4-12). So half of their games are against teams that finished a combined 40 games under .500.
Oakland has the toughest schedule (.578), which, of course is due to the fact it plays in the AFC West where the other three teams made the playoffs.
February, 25, 2014
2/25/14
9:15
AM ET
They say they want him back, but at what price? The Redskins have so many needs that giving free-agent linebacker
Brian Orakpo
a whopper deal could complicate their ability to adequately fill other holes – even with a lot of cap room. That's why it's not a lock that he'll return, especially if his price tag climbs into the $10 million-a-year range. His lack of game-changing plays complicates this decision.
Orakpo
There are only a handful of linebackers in that range. Does Orakpo deserve to be among them? I took a look at five linebackers who earned big deals.
Robert Mathis
is on this list, though he spent the bulk of his career at defensive end in a 4-3 until moving to outside linebacker in a 3-4 in 2012. He signed his new contract with the Colts knowing he'd be shifting to a 3-4. I also included
DeMarcus Ware
, now a defensive end, because his money was earned as a 3-4 linebacker. Only 3-4 outside linebackers were included on this list.
After seeing these breakdowns, what would you pay Orakpo?
Matthews
Green Bay's Clay Matthews
Age:
27
Contract:
5 years, $66 million (2013)
Signing bonus:
$20.5 million
Guaranteed money:
$20.5 million
Average per year:
$13.2 million
Analysis:
Matthews earned NFC Defensive Player of the Year honors in 2010 with 13.5 sacks, two forced fumbles and an interception. He's made four Pro Bowls and was twice named All-Pro. Matthews had recorded double-digit sack totals in three of the previous four seasons before his new contract. Matthews has missed a combined nine games the past two seasons. He was considered very good against the run this past season.
Game-changing plays:
He has 50 career sacks to go with 10 forced fumbles and four interceptions in five seasons.
Worth it:
Yes. There's only one year to go on in the new deal, so it's tough to say he isn't. But injuries the past two years make this a shakier yes than anticipated.
Orakpo comparison:
Matthews clearly is the better player, a more dynamic force who causes more worries for an offense.
Ware
Dallas' DeMarcus Ware
Age:
31
Contract:
7 years, $78 million (2009)
Signing bonus:
$20 million
Average per year:
$13 million
Guaranteed money:
$25,591,176
Analysis:
He earned this deal in a big way with 53.5 sacks in his first four years, including 20 in 2008. He's made seven Pro Bowls and was named first-team All-Pro four times and was the 2008 NFL Defensive Player of the Year. He never missed a game until this past season, his first as a 4-3 defensive end.
Game-changing plays:
He's intercepted only two passes in his career (one this past season), but has forced 32 fumbles. He's recorded 117 career sacks he had a combined 35 sacks in 2009-10.
Worth it:
Yes, though the Cowboys might now have to cut him to clear salary-cap space.
Orakpo comparison:
There's no comparison. Ware was a more dynamic player during his prime. If healthy, he can still play.
Hali
Kansas City's Tamba Hali
Age:
30
Contract:
5 years, $57.5 million (2011)
Signing bonus:
$15 million
Guaranteed money:
$35 million
Average per year:
$11.5 million
Analysis:
Hali earned his deal with a big 2010 season with an AFC-best 14.5 sacks – his first year with double-digit sacks. He's a four-time Pro Bowler and has made All-Pro twice, including this past season. He's played in at least 15 games every season since entering the NFL in 2006.
Game-changing plays:
Hali has forced 27 fumbles in eight seasons, but intercepted only two passes. He has 46.5 sacks since signing his new deal and 73.5 for his career.
Worth it:
Yes. His production has improved and, with two more years left on his contract, he shows no signs of decline.
Orakpo comparison:
Hali makes more game-changing plays, though his contract is a direct result of 2010 (he was a 4-3 end until 2009). He also has more talent around him. Orakpo has not had a breakout year, rather he's consistently been between 8.5-11 sacks in his four full seasons.

Woodley
Pittsburgh's LaMarr Woodley
Age:
29
Contract:
6 years, $61.5 million (2011)
Signing bonus:
$13.5 million
Guaranteed money:
$17 million
Average per year:
$10.25 million
Analysis:
Woodley earned his contract after recording a combined 35 sacks over three straight seasons. But since then, he's recorded a combined 18 sacks and missed a total of 14 games because of various injuries. Sacks don't measure everything, but there's been a drop-off in pressure and he got the big deal because of his sack total.
Game-changing plays:
Since signing his deal, Woodley has intercepted two passes, forced two fumbles and recovered two others.
Worth it:
No. Whether because of injuries or other reasons, his play has slipped.
Orakpo comparison:
At this point, Orakpo is better. But Woodley posted better numbers – and more game-changing plays -- in getting this contract (albeit while surrounded by much better defensive talent). Orakpo has forced six fumbles and intercepted one pass.
Mathis
Indianapolis' Robert Mathis
Age:
32
Contract:
4 years, $36 million (2012)
Signing bonus:
$15 million
Average per year:
$9 million
Guaranteed money:
$17 million
Analysis:
Mathis flourished this past season with a career-best 19.5 sacks – eight more than his previous best. Mathis has 111 career sacks, playing opposite
Dwight Freeney
as a 4-3 defensive end for most of that time. Mathis drops into coverage probably less than 10 percent of the time and rushes with his hand on the ground quite a bit. Two years ago, Mathis recorded eight sacks in 12 games.
Game-changing plays:
He forced eight fumbles this past season and 48 for his career to go with one interception.
Worth it:
Yes.
Orakpo comparison:
Mathis signed his deal before playing in a 3-4, though the Colts already knew they were going to switch to that front. If Mathis, who turns 33 Wednesday, were up for a new contract this season? He'd top $10 million per year. He's a more dangerous pass-rusher than Orakpo, who has six forced fumbles in his career. But Orakpo is asked to do more.
February, 17, 2014
2/17/14
12:50
PM ET
The Redskins face numerous questions this offseason. Too many to mention, perhaps. But there are a number that can be addressed and answered -- with the help of people who know the game much better than me. So all week I'll pose a different question to two experts -- former NFL executive, player and scout Louis Riddick (now an ESPN NFL Insider) and former NFL and college scout Matt Williamson (now ESPN's NFL scout). These also are the sort of discussions that are taking place at Redskins Park. And you'll see that even smart football men won't have the same opinion on a player or situation. The most
talked-about Redskin this offseason
has been linebacker
Brian Orakpo
. Naturally, that's where we'll start this series.
What would you do with Brian Orakpo?
Louis Riddick:
It's interesting. He'll be a tough comparable for me right now, only because of not knowing exactly what they were asking him to do from an assignment perspective, and not being on the inside, I don't know if I'm seeing the whole story with him. I read and heard
that he thinks he can have a lot more production in the pass rush
, whether it's QB hits or hurries or sacks if he had more freedom, but that he was trying to play within the confines of the defense. But at the same time, just watching him as a one-on-one pass-rusher, would I value him as a top five or top 10 pass-rusher in the league? No, I don't think I would do that. Let's put it this way:
Greg Hardy
,
Robert Mathis
,
Robert Quinn
,
DeMarcus Ware
, when healthy. I don't put [Orakpo] in that category. He's somewhere in that second tier and I'm saying because of supply and demand being where it's at, he could wind up – if he hits the market – getting something that far exceeds what I'm comfortable paying him.
There's not a number for how I would value him. It's going to be tricky. Would I want to keep him? Yes. Would I want to extend above and beyond and get him into the nose-bleed area for guaranteed money in the first three years? No, I would not. ... I'd be very prepared to let him walk. That being said, there aren't a lot of good pass-rushers available in free agency and there aren't a lot of guys who will win one-on-ones early in their career in the draft so that will work in his favor.
Matt Williamson:
That defense needs everything, it really does. He's their best player on defense, they have a lot of cap room, they can't let him go. He's one of the few free agents that you have to give the big money to. If that means franchising him, I think he's worth it. He's an all-around player. He's their best pass-rusher, probably one of the best 10 pass-rushers in the league in his prime and he recovered from his injury. I thought he had a good year. He was a constant pressure guy. He's a quick-twitch athlete who can get low and still be powerful. He explodes off the ball and he's a high-motor guy. I don't think he'll be elite. He won't be
Dwight Freeney
in his prime, and if you looked at his strengths and weaknesses as a pass-rusher, he's not extreme in any of them but he's above average in many. Freeney was so low and explosive off the snap, you always remember those things with him. Orakpo doesn't have one trait that you say, 'Wow, I've got to stop that.'
December, 20, 2013
12/20/13
2:00
PM ET
ASHBURN, Va. -- This shouldn't be
Brian Orakpo
's last home game as a
Washington Redskins
player. If the organization is smart they'll find a way to keep him around.
The problem is, they run a 3-4 scheme which needs pass rushers. It's difficult to find pass rushers. They don't have a first-round pick. And Orakpo is a good player.
[+] Enlarge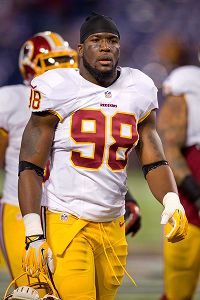 Bruce Kluckhohn/USA TODAY SportsThe Redskins would have a difficult time replacing Brian Orakpo.
Oh, and the Redskins' defense can't afford to lose good players. In case you haven't noticed, there aren't a lot of them on the field. It would just be creating yet another need.
Debating whether Orakpo is an elite rusher or player is one thing. He thinks he is and defensive coordinator Jim Haslett said Thursday that Orakpo is equivalent to guys like
Robert Mathis
or
Robert Quinn
, both of whom have more sacks but are not asked to do as much in other parts of the game.
Green Bay's
Clay Matthews
signed a contract extension last spring, with $20.5 million guaranteed. Orakpo has 39.5 career sacks in 63 games; Matthews has 49 sacks in 68 games. Orakpo has had two double-digit sack seasons, one less than Matthews.
"He rushes every time on third down or nickel, but he does drop into coverage," Haslett said of Orakpo. "He's really good in the run -- I think him and [linebacker] Ryan [Kerrigan] are two of the best I've been around at covering people, so I don't think it's fair. He's not a true four-down lineman. Now, that being said, there's other guys that have made that transition to a down lineman and they're not that successful because it's hard to do it every single snap. It's a little bit of a different breed down there."
Haslett was then asked if he considered Orakpo comparable to others who are considered elite.
"Yeah, I would," Haslett said. "The guy is a heck of a player and I think he showed what he's worth to this organization over the four years. He's been very successful, obviously he's a heck of a rush guy, but the other things he does besides that, he's outstanding, you know, covering tight ends and backs to the flat and in the run game. Him and Ryan are the reason we're so successful in the run. It's hard to get outside because of those two."
Now, a defensive boss typically will say great things about a player like Orakpo. He knows it can help him get paid. I've talked to personnel guys in the past who thought Orakpo was a good, but not great, pass rusher. But I do know he's better than
Paul Kruger
, who was the top free-agent outside linebacker in 2013 and received nearly $13 million in bonus money and $20 million guaranteed. His average per year is a little more than $8 million.
But again, you have to weigh the cost of his departure. Do you have a replacement signed for 2014? No, you don't.
Rob Jackson
is a free agent as well but is not as good as Orakpo. Yes, he'd be cheaper, but in a passing league you need to invest in pass rushers. Jackson is fine if Orakpo's price tag becomes exorbitant (and if it impairs the Redskins' ability to retain other free agents and add others) or if he just wants to go (that's not the case).
It also will depend on whether a new coach -- if Mike Shanahan is fired -- runs a 3-4 or 4-3 and how a new staff views him, of course. How would Orakpo do as a 4-3 end? He'd probably have to gain a little weight, but when he came out of Texas, opinions were split as to whether he should be a 4-3 end or 3-4 linebacker.
Orakpo is not a superstar, but he would be tough to replace. It'll cost the Redskins a lot of money, but it could just be the cost of doing business.
It could just be that they can't afford to lose him.
October, 25, 2013
10/25/13
8:10
AM ET
ESPN NFL analyst Ron Jaworski loves football and watching tape of football. He's watched plenty of Washington Redskins' games and has plenty of thoughts on Robert Griffin III, Jordan Reed and the defense. So here you go:
What have you thought of Robert Griffin III lately, especially last Sunday?
Ron Jaworski:
He's gradually gotten better. He clearly had flawed mechanics early in the season due to not being 100 percent healthy, but he's gotten stronger every week. He's been more mechanically sound. I still believe he missed some throws in this game. But clearly he's getting healthier, the offense is getting better, there's no question. You saw the designed runs which were very effective and that will present problems for the Broncos. The offense is now getting back to where it was last season when he was healthy.
You talked about his mechanics earlier this season, where is he better?
Jaworski:
I really thought early in the year he wasn't confident in that right leg. He wasn't getting his leg back and driving and snapping those hips. I thought the ball lost energy at the end of throws because of that. I didn't think he was right in the beginning of the season. He clearly now is getting weight on that back foot. I've seen him drive throws down the field, so clearly he's getting much healthier.
When you talk about being close to last year, is it because of the dynamic element he can add?
Jaworski:
Yeah first and foremost I see the legs now playing a bigger part in his throws, so that part he's getting healthier with. He's still not the dynamic runner he was a year ago. I don't know if he'll ever be the same dynamic runner that he was. He can certainly make a lot of plays. Last year when healthy he was extraordinary, the burst and getting around the edge. I see him making plays but I don't see that burst when he was flying around last year. He may get better. It's still too early to tell but clearly he's not where he was running the ball last year. It speaks volumes for how he was last year.
What else jumped out at you from their offense?
Jaworski:
I thought they went back to some of their more primary plays that they ran last year. When you look at the success last year it clearly was running the ball, certainly the ability of RG3 to take off balanced the defense and made them stay at home and that opened the play-action pass game. I saw more of that against Chicago than I've seen all season long, more of the offense in rhythm like it was for most of last season.
What did you think of Jordan Reed?
Jaworski:
The guy will be sensational. He's one of the guys that jumps off the tape at you. I like to use the word flash. We saw a little bit of it earlier this season but clearly against Chicago I saw a lot more of it. We were talking here, he reminded us on the field of an
Aaron Hernandez
. He has that kind of wide receiver movement for a big guy. This guy is going to scare the hell out of defenses. They can't load up the box when you have the ability to get him down the field matched against linebackers and safeties. That's a mismatch. He has a chance to be really good. We talk about splash plays; the splash plays against Chicago came from him.
Defensively, have you seen improvement?
Jaworski:
Quite honestly, not a whole lot. I still think Jim Haslett does a great job in scheme, it's well-designed. I saw a number of mental breakdowns against Chicago. They'll have real challenges against
Peyton Manning
when he goes one back, one tight end and three wides. Who's playing in the secondary? They could be very thin. Peyton can expose a weakness in a heartbeat so it's a very difficult matchup because of their structure in the secondary right now.
Is there a kryptonite for Peyton right now?
Jaworski:
There's a kryptonite for all quarterbacks. I don't want to simplify it but
Robert Mathis
had an outstanding game. He had quick pressure on Peyton. He was taking [James] Harrison's bull rush and Peyton couldn't finish a number of throws. When you watched it on TV you see the ball drop short and then you look at the All-22 and you see guys in his face and off the line being pushed back into him where he can't plant, step and throw. All those little things that impact the quarterback. When you have elite quarterbacks the only way to slow them down is pressure them.
Can the Redskins' defensive line, and Brian Orakpo, do what the Colts did?
Jaworski:
Yeah I think they can create some pressure. They don't have the speed and quickness Mathis has, which presents the first problem. It'll be a combination of outside pressure, force Peyton to step up and have that push inside so he can't drive the ball. The Redskins do a nice job when they have [Ryan] Kerrigan and Orakpo on the same side in the nickel package. It's an effective package where you get a couple of really skilled athletes coming off one side. I expect to see some of that in this game. Both are very good pass-rushers. But you have to be creative and you have to create one-on-one matchups. I don't think you blitz Peyton Manning. You have to throw a couple in there but he's so good at decoding a blitz and getting the ball out of his hands so it's risky. But you can't let him sit back there as well, so you have to mix in the blitz and keep him off-balance.