Washington Redskins:

Sav Rocca
April, 8, 2014
Apr 8
5:15
PM ET
The
Washington Redskins
might not have their next punter yet on the roster. But they do have two punters competing for the position. However, both have a lot to prove if they want to win the job.
The Redskins added a second punter Tuesday when they signed Blake Clingan, the team confirmed Tuesday. Clingan joins
Robert Malone
as the only punters on the roster. Washington released
Sav Rocca
earlier this offseason.
Clingan has never punted in the NFL, though he was in Detroit's camp last summer only to be released in the final cuts. He had earned a contract after a spring tryout. Clingan also had a tryout with Miami in the fall of 2011 as well. Clingan averaged 39.9 yards per punt from 2007-10 at Central Florida.
Malone has NFL experience with 157 punts and 44.5-yard average. But his net of 37.8 reflects his inconsistency with hang time. Redskins special teams coach Ben Kotwica worked with Malone when both were with the
New York Jets
in 2012 and for two games in 2013.
March, 5, 2014
Mar 5
8:00
AM ET
The Redskins did not release Adam Carriker with the intent of re-signing him to a lesser deal, a team source said. But as ESPN980's Chris Russell first reported, there's also the chance of Carriker getting another look in June. Yes, I've heard that, too, from Carriker himself.

Carriker

Carriker said he was told that to get fit and get healthy and he would get another chance to see if he was worth another shot in June. That does not mean he'll be re-signed at that time, but he'd at least get a workout. "I'm optimistic," Carriker said.
Carriker still has his fans at Redskins Park; they know his work ethic and they don't want to count him 100 percent out. I think the feeling is that this remains more of a longshot than anything, but just in case.
And I wouldn't be surprised if there are some at Redskins Park who aren't as optimistic, which is why they don't think ultimately he'll be back. I think if the organization was overly optimistic about his chances, he'd be signed back much sooner. But this is a way to show respect to someone whose work ethic you value. Carriker will continue to pour himself into getting better and if things look good in June, then his situation will be reconsidered. If not? Then he came much closer than someone in his situation ever would have. The way he works makes it easy to root for a comeback and that's why Carriker still has fans at Redskins Park.
Sav Rocca's release wasn't surprising either. At 40 years old, he's not going to become a more consistent punter. The Redskins have some options, in case they don't like Robert Malone. New special teams coach Ben Kotwica was Malone's coach for two games with the New York Jets last season (Kotwica was the assistant special teams coach in 2012 when Malone lasted all season). But the Redskins signed Malone before Kotwica, so I'm not sure what he thinks of him. But considering the Jets released Malone...
And, for the first time this offseason, I actually watched a punter. Malone had a 46.3-yard average in his two games last season, which is pretty good. However, in the game I saw him punt (Week 2 against New England), he was too inconsistent. Four of his nine punts had a hang time of less than 4.0 seconds. I only timed seven punts because two were inside-the-20 attempts, which is not as much about hang time. On those two kicks, one was for only 21 yards to the 20. So of his seven punts that required good hang time, only three were good (and they were all around 4.5 seconds, which is excellent). That explains a net average of 37.1 for the season and 37.8 for his career.
For what it's worth, Malone punted in Tampa Bay in 2010 under Raheem Morris. He, too, got rid of Malone, though it's common for punters to take time to mature in the NFL.
Malone is only 26 so one day perhaps he will find that consistency. Leg strength is not a problem here. But I'd keep looking for another punter. Pat McAfee and Donnie Jones will be free agents next week. McAfee had a net of 38.5 last season (46.0 gross); Jones had a 40.5 net (44.9 gross). Redskins defensive coordinator Jim Haslett was with Jones in St. Louis.
Jawan Jamison's release was not surprising. I just never saw anything from him to suggest holding onto him another year. At least Chris Thompson offers something because of his speed. That always gets you a longer look. And I liked Jamison's film at Rutgers; he was a good fit in this system and he did a good job in protection. But he did not show up to camp with an NFL body and he just never offered reason to believe he could help.
February, 14, 2014
Feb 14
2:25
PM ET
The Redskins' special teams need massive improvements, of which anyone who watched them in 2013 would agree. Their return game stank; their punt coverage horrendous. But on the good side: There was no failed swinging gate fake. Oh wait, there was a botched fake attempt in Minnesota. One hope among players is that new special-teams coach Ben Kotwica's military background will instill a discipline they felt was lacking a year ago. While Keith Burns took the blame as the coach last season, the organization did a poor job of supplying him with players. Too many were either young and felt perhaps too entitled to be part of this unit or aging and had no passion for it. Whatever it was, it added up to a disaster and that must change in 2014. With so many close games, you can't be awful in one area.
Long-snapper Nick Sundberg
He missed most of last season with a torn meniscus in his right knee, but when healthy he's an excellent snapper (which means a consistent one). He gets the ball back quickly and on target and has done a nice job since entering the NFL.
2014:
Long-snapper
Contract status:
Signed through 2015
Long-snapper Kyle Nelson
Filled in just fine for Sundberg. With a new special-teams coach, and head coach, nothing is guaranteed for Sundberg. Nelson made one big mistake with a botched snap to punter
Sav Rocca
that led to a deflected punt in a loss to the
New York Giants
.
2014:
Elsewhere
Contract status:
Signed through 2014
Punter Sav Rocca
The knock on Rocca throughout his career is that he's too inconsistent and that was as true in 2013 as ever. Rocca had some games where he'd have four good punts followed by an untimely shank late in the game -- too often from his own territory. He averaged 41.8 yards per kick on punts from inside his own 20-yard line. He also averaged 40.1 yards per punt in the fourth quarter, his worst mark for any quarter. And his 42.0 yards per punt average was tied for the worst mark of his career while his 33.8 yard net average was his worst. (Obviously the coverage has a lot to do with that as well.) Rocca turns 41 in November; it's time for a more consistent and younger leg. (Should mention that they signed another punter, Robert Malone, to a future's contract after the season).
2014:
Elsewhere
Contract status:
Signed through 2014
Kicker Kai Forbath
He's made 35 of 40 field goals in his two seasons with Washington and therefore warrants holding onto the job entering next season. Forbath made his last 14 kicks of 2013, which I did not realize until checking the stats because, well, they didn't make a difference as the Redskins were 3-13 and only one of those kicks helped win a game (against San Diego). He needs to improve his kickoffs; Forbath had 14 touchbacks while the league average per team was 41. But the Redskins were 10th at defending kickoffs so his inability to consistently get touchbacks didn't hurt that much.
2014:
Kicker
Contract status:
Signed through 2014
KR Niles Paul
He was better than
Josh Morgan
, but Paul is not an explosive returner. Paul runs straight ahead, but in 34 career returns he's averaging just 20.9 yards per return. Paul is fine as an upback/blocker and does well in coverage. He's not a budding Pro Bowler -- not yet. But he does care about playing special teams and realizes this is where he makes his money.
2014: Gunner/blocker
Contract status:
Signed through 2014
PR Richard Crawford
Never played after tearing multiple ligaments in the preseason. Crawford did an excellent job in 2012 returning punts (I liked him that preseason as well) and typically made the first defender miss. He's patient and has quick feet. But after his injury, who knows where he'll be. It's hard to say and if I'm the Redskins I'd want to know I'm protected at this spot.
2014:
Bubble (depends on knee)
Contract status:
Signed through 2015
KR Chris Thompson
He didn't show anything as a kick returner during the regular season and had to get used to defenders who he couldn't dust with his speed. Thompson learned how to field punts last summer and perhaps after an offseason devoted to this he could improve. But he has a lot to prove.
2014:
Bubble
Contract status:
Signed through 2016
February, 12, 2014
Feb 12
8:25
AM ET
With free agency starting next month, and with the Redskins able to finally spend, it's good to take a look at what they're working with at each position. Where do they have the money already allocated in 2014 – and where will they have to spend this offseason?
The answer to the latter question is obvious, especially when you look at the numbers: receivers, linebacker, corner and safety are not only spots that need upgrading because of talent, they need it because of numbers. Just look at the top wage earners in the secondary.
As of now, the Redskins have 17 defensive players under contract (for a total of $33,395,891). They have 24 players under contract offensively (for a total of $53,971,390). They will cut some players to free up more space, of course.
Here are some possibilities
.
And for those wondering about where the money was allocated last year, the big money was on offense ($53,362,266). Defense took up 44.52 percent of the total salary cap ($44,807,210). It's a safe bet that will change this offseason.
Anyway, (mimicking my
Patriots colleagues blog
) here's a snapshot of their 2014 salary-cap situation by position:
Quarterback
Under contract:
2
Total cap value:
$6,447,926
Percentage of team cap:
7.1
Top cap charge:
Robert Griffin
III ($5,759,754)
Running back
Under contract:
6
Total cap value:
$5,171,921
Percentage of team cap:
5.7
Top cap charge:
Roy Helu
($1,506,563)
Wide receiver
Under contract:
4
Total cap value:
$11,577,219
Percentage of team cap:
12.75
Top cap charge:
Pierre Garcon
($9,700,000)
Tight end
Under contract:
3
Total cap value:
$3,569,357
Percentage of team cap:
3.93
Top cap charge:
Logan Paulsen
($2,236,666)
Offensive line
Under contract:
9
Total cap value:
$27,204,967
Percentage of team cap:
29.97
Top cap charge:
Trent Williams
($10,980,393)
Defensive line
Under contract:
6
Total cap value:
$24,621,156
Percentage of team cap:
27.12
Top cap charge:
Barry Cofield
($7,667,500)
Linebacker
Under contract:
5
Total cap value:
$5,201,881
Percentage of team cap:
15.58
Top cap charge:
Ryan Kerrigan
($2,774,639)
Cornerback
Under contract:
3
Total cap value:
$1,956,138
Percentage of team cap:
2.15
Top cap charge:
David Amerson
($875,205)
Safety
Under contract:
3
Total cap value:
$1,616,719
Percentage of team cap:
1.78
Top cap charge:
Trent Robinson
($570,000)
Specialists
Under contract:
4
Total cap value:
$3,415,000
Percentage of team cap:
3.76
Top cap charge:
Sav Rocca
($1,362,500)
February, 4, 2014
Feb 4
2:30
PM ET
Monday was the first day teams could start releasing players -- and therefore putting in waiver claims when applicable. The Redskins obviously did not release anyone Monday. Nor did they claim anyone off waivers. As of now, Washington will have approximately $30 million in salary-cap space (which could change once the NFL releases the cap figure for 2014). So the Redskins don't have to free up a lot of room. Except that re-signing
Brian Orakpo
could be expensive and they have an entire secondary of free agents -- so they'll have be to re-signed or replaced. At some point the Redskins might need more room.
Here are some Redskins players to watch now that they can make moves:
Defensive end Stephen Bowen
(potential savings: approximately $2 million): Bowen is scheduled to count $7.02 million against the cap in 2014. He also has just one year left on his original contract and if released, the dead money from his deal would count $5.04 million against the cap so the Redskins would save nearly $2 million. If not for his knee injury, Bowen would not be on this list. It's not as if he was playing great before his injury, though his play against the run remained solid -- and that was his primary job. But he had microfracture surgery this past season and that's never a good sign for a pro athlete. He turns 30 in March.
[+] Enlarge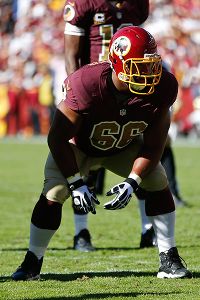 Geoff Burke/USA TODAY SportsWith a new regime in Washington, guard Chris Chester could be a cap casualty.
G Chris Chester
(potential savings: $2.7 million): He's signed through 2016, but will count $4.3 million against the cap this season. If they cut him, the final $1.6 million of his original $4 million signing bonus would go against this year's cap, giving the Redskins an additional $2.7 million in savings. Chester played better in 2012 than this past season, but the Redskins did not consider any of the young guards good enough to challenge him. It helps Chester that line coach Chris Foerster will return and that they'll use the same running game. But if the Redskins want to not only re-sign key players, but pursue other big free agents, then Chester could be a casualty. Jay Gruden's guards in Cincinnati all weighed over 300 pounds; Chester, at 305 pounds, is borderline here. He's also 31 and the Redskins have several young offensive linemen behind him. The reason you drafted them was for situations like this if you want to make a move. Of course, one of the young guards is
Adam Gettis
, who is lighter than Chester and the other is
Josh LeRibeus
, who messed up his second season with a terrible offseason.
DE Adam Carriker
(potential savings: $2.98 million): Most players who have had multiple surgeries on their quad in the past 18 months would not be in his situation, still pursuing a roster spot. The Redskins would have cut him last summer had he not worked the way he does. But Carriker will count $6.5 million against the cap in 2014. If they release him, it would save Washington $2.98 million. They could always re-sign him to a lesser deal; considering he's missed 30 games the past two years combined Carriker lacks leverage. As of now, Carriker would account for nearly 20 percent of the salary-cap space on defense. He might return and be fine, but that's an awful lot to commit to a player in his situation.
C Will Montgomery
(potential savings: $1.93 million): He'll count $3.43 million this season and, though he's signed through the 2016 season, his contract voids five days following the Super Bowl in February 2016. If they released Montgomery the Redskins could save $1.93 million against the cap. The Redskins would then need a starting center, of course, but could always move
Kory Lichtensteiger
from guard. Lichtensteiger will need to gain weight regardless; by the way, if they cut him it would free up $1.1 million.
RT Tyler Polumbus
(potential savings: $2.5 million: His base salary is $1.5 million and he also has an annuity that will pay him $1 million based on play time and would be considered likely to be earned, therefore it would count against the cap). If the Redskins find another starting right tackle, be it
Tom Compton
or someone else, they could free up extra money by releasing Polumbus, unless they want to keep him around as a swing tackle. Polumbus improved, but the Redskins could upgrade here.
P Sav Rocca
(potential savings: $1.2 million): He's entering the final year of his contract and will have a cap number of $1.36 million. If released, the Redskins would save $1.2 million. Rocca's been inconsistent the past two years and while this is moderate savings, they'd still have to sign a punter so it's not like they could use a lot of this savings and apply it elsewhere. But in the end they could save some money with another punter.
November, 11, 2013
11/11/13
4:15
PM ET
ASHBURN, Va. -- They wanted to surprise Minnesota. Instead, it surprised the
Washington Redskins
. And
Reed Doughty
blamed himself for the confusion.
Doughty
In the third quarter of Washington's 34-27 loss to the
Minnesota Vikings
, Doughty, the up-back in punt formation, signaled for a fake punt. But
Niles Paul
, split to the right and uncovered did not see the call. That led to an errant pass by punter
Sav Rocca
. The only positive for Washington is that a false start negated the play.
"Miscommunication, I'll leave it at that," Doughty said. "I didn't get that call the way I wanted to to everybody, and I thought we had that [play] available. I shouldn't have called that. It's my responsibility and I take ownership of that."
Doughty did say he thought the special teams had improved since the beginning of the season.
"I feel like we're playing faster, feel like more guys are making plays," Doughty said, "and I feel more guys are getting off blocks and guys are making good plays. We made strides in the return game last week. But when you have a miscue every game, it doesn't shed good light on us as special teams players."
But Doughty said the mistakes each game aren't making him pull is hair out.
"Not everything is going to go your way, but as long as you're focusing on details and paying attention to everything you can do, hopefully those results will come," he said. "They just haven't went our way."
November, 6, 2013
11/06/13
9:00
AM ET
When you enter the season anticipating a playoff run but reach the midway point just hoping to remain alive for playoff contention, then things haven't gone as planned. That about sums up the Washington Redskins' first half.
You can blame the rustiness of
Robert Griffin III
from his offseason knee surgery for some of the issues. That doesn't explain everything. Turnovers have killed Washington, much like the lack of them helped a year ago. And the defense has settled down after a rough start, though it's not a shutdown unit by any means.
There have been some strong individual efforts. Just remember, though, these grades are for a group, not a person.
October, 28, 2013
10/28/13
2:55
PM ET
A review of four hot issues following the
Washington Redskins
' 45-21 loss to the
Denver Broncos
:
[+] Enlarge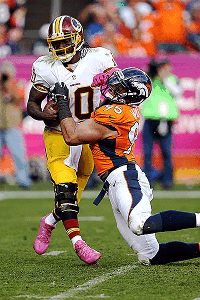 AP Photo/Paul SpinelliShaky pass protection hurt Washington QB Robert Griffin III during Sunday's loss at Denver.
The passing game:
Don't pin it all on QB
Robert Griffin III
, though clearly he has a lot to do with the inconsistency of the passing game. The Redskins have yet to find a solid No. 2 receiver to put alongside
Pierre Garcon
. The emergence of tight end
Jordan Reed
helps quite a bit, but the Redskins continue to get little production from the other wideouts; even the once sure-handed
Santana Moss
has dropped crucial passes. And the pass protection breaks down when defenses know what's coming. Denver hurt the Redskins with looks they either hadn't seen or didn't anticipate. At times the protection would slide one way only to have Denver send a stunt the other way. But Griffin will, and should, get plenty of blame. He's a developing passer hurt more by his lack of offseason work than most originally realized. He's still learning to read coverages at a faster speed. Griffin has made some strides, but not enough to carry the team as a passer.
Shanks for nothing:
Punter
Sav Rocca
had a terrific game for much of the day. Rocca averaged 43.2 yards on his first six punts, with one fair catch and four downed inside the 20-yard line. But after a three-and-out by the offense, Rocca's 15-yard punt enabled Denver to drive for a field goal and 10-point lead. Rocca was knocked in Philadelphia for these sort of lapses and he seemingly has had more of these shanks this season than in his previous two. They never occur at a good time.
Play calling:
The Redskins were imbalanced on first-down plays, tilting heavily toward runs. Until the fourth quarter Washington had called 13 runs on first down compared to six passes. In the first four drives of the fourth quarter -- the fourth drive started with 7 minutes, 54 seconds remaining and Denver leading by 10 -- the Redskins called four passes on first down and one run. Problem is, their passing game kept putting them in bad spots: Through the first four drives of the fourth quarter, Griffin completed only 2 of 6 first-down throws for 15 yards. He was sacked twice, lost a fumble on one and scrambled for 4 yards. So 10 first-down passing plays netted the Redskins 19 yards. Their 14 runs gained 70 yards (27 coming on one play). Go ahead and blame play calling all you'd like, but that obscures the bigger issue, which goes back to the passing game.
Improved play:
The special teams did a much better job in coverage, helped by Rocca's punts (until the last one). If the Redskins want to win a couple games in a row, and it's a possibility, then this unit needs to provide more games like Sunday. They managed a 34-yard punt return from
Josh Morgan
, after he fielded the ball inside the 10-yard line and somehow eluded two tackles. They still need more from their special-teams units.
October, 18, 2013
10/18/13
10:30
AM ET
So with the Washington Redskins sitting at 1-4, I start to get questions about Mike Shanahan's job security. You people know this organization too well. But Brandon Banks? Tanard Jackson? Ugh. They're both in here, too. There's even a Nick Williams sighting. There will be more in Part 2 of the mailbag Saturday.
October, 12, 2013
10/12/13
10:00
AM ET
October, 8, 2013
10/08/13
10:30
AM ET
Apparently there are times when giving up 50 points is not crushing for a defensive back. For
Washington Redskins
corner
DeAngelo Hall
, doing so in a game like Denver's 51-48 win over Dallas on Sunday, is, at least, acceptable.
"It's easier than when you get blown out 50-0," he said. "Those two offenses were having a field day. As a defensive player those games you don't mind being in. Obviously it doesn't look good on film but you can leave the game with your head held high like, 'Man I had a chance to make plays; this is where I messed up, this is what I've got to get better at.' You can live with that. They're not talking about Denver's secondary being the worst one. Denver won the game; they're talking about Dallas' offense was great. The NFL would like to see games like that. This is an offensive league. The offense definitely gets the glory."
The NFL evolved into a passing league long before this season. That doesn't mean the No. 1 goal for a defense is to stop the pass all the time. Rather, the goal is to make an offense one-dimensional and the Redskins say the best way to do that is by stopping the run. Of course, the Redskins did that versus Detroit and still allowed -441 total yards and 27 points.
"From a coach's perspective, if you can't stop the run there's really no answer," Redskins defensive coordinator Jim Haslett said. "If there's eight in the box and you're not tackling and getting run over or getting outmatched, it's a long day. There's nothing you can do about it. At least in the pass game there are things you can do. You can blitz, you can play coverage -- two deep, three deep. Our emphasis is always on stopping the run."
Don't expect that emphasis to ever change.
"If you let someone both run and pass then you're guessing with them every time and it's a long day," Haslett said. "At least get them into a situation where they have to throw the ball. Your opportunities for sacks and your opportunities for big turnovers obviously increases."
October, 7, 2013
10/07/13
12:30
PM ET
A review of four hot issues from the
Washington Redskins
coming out of their bye week.
Defensive breakdowns:
It's great for the Redskins defense that it entered the bye week after a strong performance; the unit needed confidence and a seven-sack game provided some. But the fact that Oakland's
Matt Flynn
was demoted to third string after that game tells you a thing or two. The Redskins have not fared well against good quarterbacks and have three of them upcoming -- Dallas'
Tony Romo
, Chicago's
Jay Cutler
and then Denver's
Peyton Manning
. The Redskins can't expect a shutdown performance, but is it asking too much to tackle better? If they do that and provide a steady four-man rush, they can reduce their issues. Getting end
Jarvis Jenkins
and linebacker
Rob Jackson
back from suspensions will help, but neither has been an impact player.
[+] Enlarge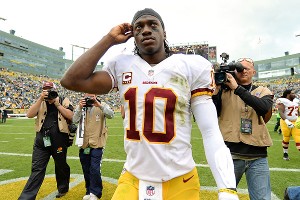 AP Photo/Greg TrottSo far this season, Robert Griffin III has looked nothing like the dynamic rookie QB he was in 2012.
Not so special:
Punter
Sav Rocca
has been too inconsistent. His hang time on some punts has been 3.0 seconds, a good second off the bottom of where it needs to be. Rocca's untimely shanks aren't what a struggling defense needs. But it's not just Rocca. Washington's longest kick return? Twenty-eight yards. The longest punt return? Eleven yards. There's also hidden yardage in what is lost because of poor decisions on both returns.
Chris Thompson
handles both duties, but never returned punts in college and clearly is still learning to make decisions when to field them. He's also adjusting to not having the same speed advantage he had in college. The blocking needs to be much better too.
Robert Griffin III's legs:
The second-year quarterback used his legs a lot more in Week 4 than in previous games. Griffin does not need to be a running machine to be effective, but his legs remain a valuable weapon for him. He needs to combine his legs with his growing penchant for keeping his eyes downfield. It led to big plays against Oakland. It's a way to make big plays with your legs and still reduce hits. This isn't about the zone-read, but it is about not just sitting in the pocket. The Redskins aren't built to have that sort of game.
Health issues:
The biggest one involves running back
Alfred Morris
, who bruised his ribs in the Sept. 29 win over the
Oakland Raiders
. The key will be what he's able to do later in the week and not Monday or even Wednesday. Morris is averaging 5.29 yards per carry and 2.30 yards after contact; both are stronger numbers than he posted a year ago. Tight end Jordan Reed's quad contusion was still an issue in the Redskins' last practice Oct. 1 before taking off for the rest of the week.
Fred Davis
should be healthy, so if Reed can't play they'll be fine. But Reed would help, too. Tight end
Logan Paulsen
's sprained left knee is an issue; losing him would hurt the blocking.