Washington Redskins:

Sean Lee
June, 2, 2014
Jun 2
11:45
AM ET
A few leftover notes for a Monday:
Clayton's a believer?
It's funny how wide-ranging the expectations are for the Redskins this season. Considering they only won three games, they should be improved. It's easy to write a script that sees them contending for a playoff spot:
Robert Griffin III
rebounds; the offense cuts down on turnovers; the pass rush helps enough to improve the defense; the special teams is much better. But it's also easy to temper those expectations: The defense didn't do enough to get better and is aging; first-year head coach; Griffin does not progress enough as a passer. I do think Griffin will improve just based on having a full NFL offseason for the first time. They also play in a division that is not strong. But there are still a lot of unknowns about this team (it is only June after all). Anyway,
ESPN's John Clayton likes them as well
. Check out his answer (or he's just not high on the Giants or Cowboys. Regardless, it's in his reply to a question on the Eagles) in this week's mailbag.
Comeback player of the year?
Griffin received an award no player really wants this past offseason: The Ed Block Courage Award. It means they had some sort of injury to overcome. But that now gives him a chance to earn another one – the Comeback Player of the Year -- and NFL.com's Chris Wesseling puts him at the
top of the list
of those who may win. As stated above, Griffin has had a good offseason and that should help his play on the field. I'd be surprised if he stays the same after spending more time on his fundamentals. The tough part is learning a new passing offense and that will require an adjustment. But it also will help having the talent he does around him in the passing game.
Sean Lee impact:
Though he plays for a rival, Dallas linebacker Sean Lee will continue to be on the Redskins' minds throughout spring workouts. Nobody wants to suffer the fate of Lee, who tore his ACL in an OTA workout last week. Redskins coach Jay Gruden said they discussed this with the players last week. The CBA is clear on contact during the spring (none is allowed). But it's tough to have 11-on-11 workouts without some banging, bumping and tumbling bodies. Gruden said they talked about staying on their feet, "doing the best you can to avoid any kind of drag downs, pull downs, contact. But every now and then you're going to have a collision, unfortunately, because it is football and guys are trying to show that they are doing right. We're trying our best to police that and keep people up. It's something we are definitely keeping an eye on."
Rookie learning:
At this time of year the coaches aren't just focused on whether one of the rookies does well on a play or not. They're having to learn so much that their heads are swimming with information. It can lead to slower play at times. Gruden said they're looking at other aspects perhaps more. "You look for mental toughness in rookies," he said. "You look for how they can handle some kind of adversity, some kind of failure and how they rebound from a poor play to the next play."
New way:
The Redskins' training camp will be different just based on the schedule. The last two summers, under Mike Shanahan, the Redskins would conduct a walk-through in the morning (at 10 a.m.) and practice at 3:20 p.m. Shanahan switched to a walk-through first in 2012 under the belief that they could have a meeting, go over it slowly on the field, meet some more and then practice what they learned at full speed. This summer, they'll go back to a more traditional way with an 8:35 a.m. practice and a 4:15 p.m. walk-through. Is one way better? Well, they tried both ways under Shanahan and won a division the first time and went 3-13 the next year. (Players typically felt Shanahan took care of them, too). The new way allows the players to work in less intense summer heat. Both coaches scheduled two days off before the first preseason game.
May, 29, 2014
May 29
8:35
AM ET
A little this and that for a Thursday morning:
In case you missed it, here are the rookies I took a look at in terms of how they fit with Washington now and in the future: Trent Murphy, Morgan Moses, Spencer Long, Bashaud Breeland, Ryan Grant, Lache Seastrunk and Ted Bolser.
The one rookie I did not go over in-depth is kicker Zach Hocker. It's simple: He might not be needed now because they already have a place-kicker in Kai Forbath. It's not like you typically groom kickers to replace a guy when he becomes a free agent. Yes, coach Jay Gruden said he'd consider keeping two kickers, but that means cutting from another position. So it's usually simple in these situations: If Hocker outperforms Forbath, he'll win the job. Practice will matter -- if a guy looks as bad as Shayne Graham did in practice a few years ago, they'll matter quite a bit -- but the games count more. Every single coach I've covered has looked at it that way.
I'd be more concerned about the punting situation considering the Redskins lack a proven punter. It's an issue. Robert Malone has experience (157 punts), but was sporadic; too many line drive returnable punts that offset booming ones. For a team desperate to fix special teams, the lack of action here has been curious.
With the media allowed to watch our first OTA session today, here's a primer I wrote on what I'll be looking for. It's a long list, so it's really something to watch over the course of the next few weeks and in minicamp. My main focus Thursday: Robert Griffin III. His progress is sort of important to the season, don't you think?
Another area to watch: inside linebacker. If Keenan Robinson is healthy and knows the defense, he's definitely a strong candidate to start. Teammates and coaches have always praised his talent, but those torn pecs keep sidelining him. However, he can move and if he proves he can play the run well, then they have an every-down linebacker.
If Perry Riley doesn't rebound with a better season, the Redskins do have more options between Darryl Sharpton and Akeem Jordan. But if the Redskins didn't value Riley, they wouldn't have signed him to a decent contract. (He'll count $3 million against the cap this season; not prohibitive, but the most expensive inside linebacker they have.) They should not make decisions on starters based on contracts, but it is an indication of their thoughts on a player (not to mention the market). But there's no doubt they want more from him than he delivered last season.
One name I left off the list the other day: safety Tanard Jackson. It's really hard to measure a safety until the games begin, but it'll be interesting to see how he's moving around after two seasons away from the game. ESPN980's Chris Russell tweeted last night that a source told him that Jackson has been "awesome."
Veterans, if they're trying hard, should stand out at this time of the year. (I always go back to receiver James Thrash; used to look great in the spring and then in training camp and we'd hear about a possible big role. Then he'd go back to his usual role.)
The point is, we need to see the safeties come up against the run and tackle; see their recognition at game speed. But if Jackson moves around well, that's a good start. Jackson was starting to play well when suspended in 2012. It would still be hard to rely on him, but if he gets close to what he was then if nothing else he's a better backup than what they currently have.
Another point to make: For all that will be written and said during the spring, nothing really matters until August and they're in full pads. But this is also the time of year when players are optimistic, having worked on some aspect of their game in the offseason that provides them – and the team – some level of hope.
Off topic, but it's noteworthy because it involves an NFC East rival. Sean Lee has missed a lot of time for the Cowboys – a combined 15 games the past two seasons. So they're used to playing without him. However, I wonder if they needed to rely on him more this season because of what else they lost. Here's a look at their situation.
January, 28, 2014
Jan 28
3:30
PM ET
Tight end
Jordan Reed
, a third-round pick from Florida, could easily end up being the best pick from this draft. Right now his only competition would be second-round cornerback
David Amerson
. Even if Amerson plays well, it's easy to see that Reed could become one of the better players at his position because of his game-breaking ability. Here's the book on his rookie season:
Stats:
Reed caught 45 passes for 499 yards and three touchdowns in nine games. He missed the final six games because of a concussion.
[+] Enlarge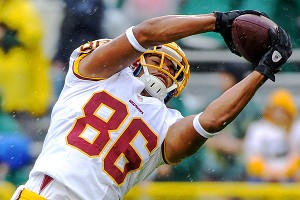 Benny Sieu/USA TODAY SportsRookie tight end Jordan Reed showed a lot of promise before a concussion ended his season.
Role:
Reed began the season as the No. 3 tight end, but surpassed starter
Fred Davis
as the primary pass-catcher within three games.
Highlight:
Reed caught nine passes for 143 yards and a game-winning three-yard touchdown grab in a 45-41 win against Chicago.
What I liked:
Just about everything, starting with his approach and his talent. Reed consistently stayed after practice to work on his game; after being drafted he hit the weights hard, and that helped him improve as a blocker. He understands what he must work on to improve. I list those things first because it's why the kid has a chance to be good for a long time. As for his game, there is a lot to like. Reed's athleticism was obvious in camp, and his ability to create separation is fantastic. There were times in games I saw him create five yards of space as he cut (against Chicago), just because of a hard plant the other way. He used footwork that he once used for basketball moves to separate from linebackers over the middle. He showed a knack for knowing when to sit in an area against zone coverage. Saw this against the Bears when the linebackers over the middle were less than seven yards apart. Rather than continue his route, he quickly sat and caught a pass. Reed became a trusted target because of his wide catch radius, as the coaches liked to say. Here's a better way: he's highly athletic and makes terrific adjustments on the ball. Sometimes they were so subtle that you forget it's hard for tight ends to make those grabs. On one out route, the ball was thrown inside, but Reed easily spun back the other way for the grab. There were many such examples, but it enabled
Robert Griffin III
to throw with more trust to Reed. Reed's blocking was better than anticipated after watching him in college, where he transitioned from quarterback. He did a good job blocking in space because of how he moved his feet -- it helped him a lot against Dallas linebacker
Sean Lee
on a screen. He typically did a nice job with his hands, though his blocking was definitely inconsistent. Reed plays with enthusiasm, though that was evident more so after his blocks than his big catches.
What I didn't like:
There wasn't anything I didn't like. But there were areas he must improve. His blocking needs to be more consistent. I saw improvement in this area. There were times early in the season when he would go to engage defenders, but lower his head too much when he blocked. I did not see that being an issue later in the season. But he must learn how to block for situations. At times he was beat not because he was overpowered, but because he failed to account for how his man was aligned compared to what he might have faced in other games. That didn't happen often, but it did occur. Durability will be a question until he plays an entire season. That's not to fault him for getting a concussion; it was bad enough to cause him to miss six games, so clearly there was a legitimate issue. But Reed knows that he entered the NFL with questions about his durability.
Projection:
He'll be a force at this position if he stays healthy. Reed had just started to become more of a downfield threat before he was hurt. The bulk of his passes before the Bears game in Week 7 were underneath routes, but he hurt Chicago on a couple downfield throws, burning the Bears secondary on some post-corners. That will increase in 2014. The Redskins averaged 37 fewer yards through the air with Reed absent the final six games. I don't know what Jay Gruden's plans are for him, but I do know that new offensive coordinator Sean McVay loves Reed and it's not hard for anyone to see the talent he has just by flipping on the film.
December, 22, 2013
12/22/13
7:30
AM ET
1. There's a good chance Sunday will be receiver
Santana Moss
' last home game. He'll turn 35 in the offseason and, though he can still contribute, it's hard to imagine him returning. That's not a guarantee, of course, and he could be re-signed on the cheap. I don't think he'll have a lot of suitors. It could be that Washington brings him back as insurance in case
Leonard Hankerson
's recovery from knee surgery takes a while (if this staff remains, Hankerson would get a lot of time in the slot). But even then Moss would still have to make the roster.
[+] Enlarge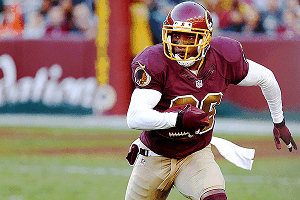 Geoff Burke/USA TODAY SportsSantana Moss has consistently provided the Redskins with production and professionalism.
2. For what he's done in Washington, he deserves as much applause as anyone. Moss has caught 567 passes with the Redskins. He's been as steady as anyone I've covered in Washington in terms of how he's dealt with the media. He doesn't come with an agenda; he doesn't shy away from any questions; he doesn't play games. Moss sits at his locker during the open locker room sessions, listening to music and if you ask for a minute he always accommodates. He's been a true pro since joining the team in 2005.
3. Corner
DeAngelo Hall
also could be playing his last home game. He said he'd love to return to Washington but, "I think I've done enough; I think a lot of guys have done enough to definitely get a job somewhere, whether we're playing for the
Washington Redskins
or one of these 32 teams. That's all we can do."
4. A win over Dallas would not suddenly erase the stench of this season, but it certainly would make next week feel a little better for the players. So this has become a de facto playoff game for them, knowing it's their last home game, knowing it might eliminate Dallas from playoff contention.
London Fletcher
's retirement added a little incentive. "It's not just for Fletch, it's for each other, it's for the fans, it's for the rivalry," Hall said. "But knowing it will be the last time out there with him, absolutely it gets you more excited to go out there and hit somebody and make a play and celebrate with him on the field."
5. It's not hard to see why Dallas' defense struggled a week ago. The Cowboys were decimated at linebacker and needed to shuffle players around, leaving some out of position. The same could happen Sunday. Without
Sean Lee
on the field, this defense really struggles. It's not just on coordinator Monte Kiffin.
6. Two other factors have led to the decline.
DeMarcus Ware
is fading as a player, which automatically weakens the pass rush. Ware has been in and out of the lineup for a couple years because of injuries and it's taken a toll. He made a couple plays against the Redskins, and can be a backside threat against the run. Still, the sense is that he's on the downside. Also, the Cowboys' transition to a 4-3 has been rocky. There are times when one defensive back, for example, is playing a leverage that does not match with another defensive back on his side. That leads to gaps; that leads to completions.
7. Keep this number in mind Sunday: 4.85. That's how many yards the Cowboys have allowed per carry this season, putting them 31st in the NFL. They also rank last in the NFL in allowing 297.36 passing yards per game. They've allowed 5.07 yards per carry in the past two games; the Packers ran well last Sunday in part because of a couple long runs rather than a steady diet of solid rushes.
8. And that's what Redskins running back
Alfred Morris
did against them in the first game, cracking a 45-yard touchdown run on a stretch-zone to the right. The linebackers flowed hard playside, he cut back and broke a tackle and scored. With all this shifting at linebacker, the ability to do that will be there again. Which, of course, will set up nicely for
Kirk Cousins
to run play-action off the stretch-zone. It can buy almost as much time as play-action off zone-read. The Cowboys used plenty of eight-man boxes in the first game, especially when facing I-formation. Hello, play-action. I'll be curious to see what defense Dallas plays inside the 10; some soft zones against Green Bay last week that led to easy scores. Later, the Cowboys played man in these spots.
9. The tricky part, of course, will be Washington's ability to stop the Dallas offense, which ranks seventh in the NFL in scoring at 25.4 points per game. But the Redskins have done a solid job against him over the years. In fact, Romo's career passer rating against them is 85.4, his worst against an NFC East team (not by a lot as it's 85.7 against Philadelphia; 95.4 versus the
New York Giants
). And another fact: that 85.4 rating is his second lowest against any team he's faced at least four times in his career. He has an 81.3 rating in four games against the
Chicago Bears
. Romo has thrown 22 touchdowns and 14 interceptions against the Redskins.
10. Romo owns four fourth-quarter comeback wins over Washington, his most against any team. He has three against Philadelphia and two over the Giants. Yes, he's had some spectacular interceptions to stymie fourth-quarter comebacks. Since 2006, he's thrown an NFL-high seven picks when tied or up by one score in the fourth quarter or overtime. And I don't get this stat: Dallas has thrown 65.4 percent of the time when leading this season, second to Cleveland.
DeMarco Murray
is a good enough back that this shouldn't be the case. They will try to spread the field and run him into a six-man box. That's why Murray has averaged 3.87 yards before any contact, most in the NFL.
December, 18, 2013
12/18/13
6:45
PM ET
ASHBURN, Va. --
Washington Redskins
tight end
Jordan Reed
was unable to practice again and will visit more specialists Thursday because of his concussion. But the Redskins still haven't ruled out the possibility of him playing again.
Reed, who has missed the past four games because of his concussion, already has seen several specialists.
Redskins coach Mike Shanahan said they'll go by the doctors' recommendation, which is why he said they have not yet shut him down for the final two games.
"We're going to do what we can to make sure that he's looked at carefully, and when the doctors say that he's ready to go, he'll be ready to go," Shanahan said.
Left tackle
Trent Williams
(knee) did not practice. Fullback
Darrel Young
(hamstring) was limited.
For Dallas, cornerback
Morris Claiborne
(hamstring), receiver
Dwayne Harris
(hamstring), linebacker
Sean Lee
(neck), defensive end
George Selvie
(back), linebacker
Ernie Sims
(groin), defensive end
DeMarcus Ware
(back) and receiver
Terrance Williams
(hamstring) did not practice.
Linebacker
Bruce Carter
(hamstring), defensive tackle
Jason Hatcher
(neck) and defensive end
Jarius Wynn
(chest) were limited.