Washington Redskins:

Terrell Suggs
June, 23, 2014
Jun 23
9:15
AM ET
Every practice he harped on the same thing: force turnovers. Brian Baker doesn't just want his outside linebackers to hit the quarterback, he also wants the ball out as well.
He's not the first coach to talk about this with his players, or even with the
Washington Redskins
. But Baker harped on it every practice and made it clear jarring the ball free is the goal.
"I tell them, 'Sacks get you paid; sack/strips win you games," said the Redskins' outside linebackers coach. "You look at the better pass-rushers in the league, those guys are getting the quarterback to choke the ball up. That defense is positively affecting the game. You sack the quarterback, it's just a tackle for a loss."
Redskins linebacker
Brian Orakpo
has not excelled in this area, with just six forced fumbles in his career. When he arrived at the quarterback in the past, he often did so without worrying about stripping the ball. He just wanted to get the guy down. He's admitted in the past it was not part of his mindset. If he creates more turnovers, his chance for the sort of contract he wants -- and one the Redskins would be willing to pay -- increase.
Baker said he knows how to change a player's mindset.
"Drill. All the time," he said. "Since I've been here, there has not been one time where we worked solely on wrapping up the quarterback. Maybe that will hurt us down the road, 'Oh, he never works on tackling the guy.' But we put a lot of emphasis on strips because it will definitely win games."
Among the top pass-rushers, here's how many fumbles they've caused:
Clay Matthews
(10);
DeMarcus Ware
(32);
Tamba Hali
(27);
Robert Mathis
(48, with the former defensive end causing eight as an outside linebacker this past season);
Terrell Suggs
(27);
Robert Quinn
(eight, though seven came this past season);
Greg Hardy
(six).
Obviously there are other good pass-rushers, but that provides a sample of what they've done.
Ryan Kerrigan
has 10 in his first three seasons.
"Everything we do from a pass-rush standpoint has a sack/strip element to it," Baker said. "If you can take a sack and now strip the quarterback where you're causing the turnover? Man, that is an impact play."
February, 17, 2014
Feb 17
3:45
PM ET
This was not supposed to be
Brian Orakpo
Day on the blog, but that's what it turned into. Not only is there discussion about whether or not he should receive the franchise tag, but now you have to wonder about the impact of Terrell Suggs' deal on Orakpo's next contract.
Orakpo
Suggs has the impressive career numbers and was the AFC Defensive Player of the Year in 2011. Orakpo has not come close to that sort of honor (it took Suggs nine years to reach that point). Suggs has played on defenses that are much better than any Orakpo has been on, which perhaps has given him more chances to rush the passer.
But there's a difference between the two and it's why Orakpo likely won't have to settle for a similar deal.
Suggs will turn 32 during the season and exiting his prime; Orakpo will be 28 next season, still in his prime (though it's always better to catch players at the beginning of their prime, not midway through it).
That's why the Ravens could reduce his salary Monday, taking him from a contract that would have resulted in a $12.4 million cap hit to $7.4 million. But he was able to receive an extension plus $16 million in guaranteed cash; that's not bad. So, in essence, he's getting $8 million per year the next two seasons. It's better than the deals received by 30-something pass-rushers
Dwight Freeney
and
John Abraham
a year ago, giving Suggs a good reason to take this deal. I'm guessing Orakpo will probably get a deal that averages around $10 million a year, just because he has a couple more years left in his prime.
And here's what ESPN.com's Ravens reporter Jamison Hensley, who has covered the team a long time,
wrote about the deal
: "There is some risk involved in extending Suggs. His game has been in decline the past two seasons. He missed half of the 2012 season after tearing his Achilles tendon and he picked up weight in the second half of the 2013 season, which led to one sack in his final eight games and a reduced number of snaps. But, considering what the Ravens have to address in the draft and free agency, they didn't have the luxury to spend money in free agency or use a draft pick on a pass-rusher this offseason."
The
linebacker it probably impacts more is Dallas'
DeMarcus Ware
, who is at a similar age and, like Suggs, was under contract.
Orakpo is coming off a strong finish -- seven sacks in his last seven games -- and had no issues with the torn pectoral muscle that sidelined him for 14 regular-season games in 2012. He's the best available pass rushing outside linebacker scheduled to hit the open market -- how good remains up for debate. I don't view him as elite, but rather as an above average player. Last offseason
Paul Kruger
received a deal that averaged $8 million per year in Cleveland with $20 million guaranteed (the number that matters most). Orakpo is better.
The demand for pass rushers hasn't lessened. In fact, while Seattle's secondary received a ton of attention (by myself included), it's the Seahawks' pass rush that allowed them to play a certain way.
It's hard to imagine that Orakpo won't benefit from his first foray into free agency, even after Suggs' deal. Their situations are different.
February, 14, 2014
Feb 14
9:30
AM ET
Washington Redskins
defensive coordinator Jim Haslett has two desires for next season: More sacks and more turnovers. If that happens, he knows what the result will be: more wins.
Haslett, speaking on ESPN980 Thursday for the first time since he was retained by the Redskins, also told Doc Walker and Brian Mitchell that improving the pass rush is a primary goal.
Haslett said that is one reason he hired Brian Baker to coach the outside linebackers (where the bulk of the pressure comes from in a 3-4 defense). Haslett sounded like a coach anticipating
Brian Orakpo
's return, too. Orakpo can be a free agent next month.
[+] Enlarge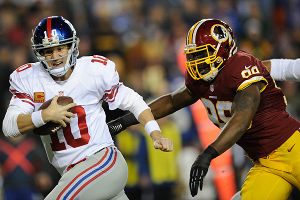 AP Photo/Nick WassDefensive coordinator Jim Haslett is expecting an improved pass rush next season, led by pending free agent Brian Orakpo.
"Can we get better? No doubt about it. I think Rak can get much better, and I know
Ryan [Kerrigan]
can get a lot better," Haslett said. "That's why we hired a coach to coach them on the rush element. We'll try to turn them loose more this year, do more with them game-wise. Don't worry so much if they lose contain, because they'll lose frickin contain half the time. Let's roll and make sure the tackles cover for them. Different things like that."
Orakpo and Kerrigan combined for 18.5 sacks this past season, which he pointed out was one less than Baltimore's duo of
Terrell Suggs
and
Elvis Dumervil
, and 3.5 less than Kansas City's tandem of
Tamba Hali
and
Justin Houston
.
Coaches often talk about pressures more than sacks (especially when the sack totals are low), but constant pressure also leads to more sacks. In 2011, with a healthy Orakpo,
Stephen Bowen
and
Adam Carriker
, the Redskins tied for 10th in the NFL with 41 sacks.
But in 2012 they finished tied for 23rd with 32, and this past season they were tied for 21st with 36.
Haslett pointed to turnovers as an area that must change. The Redskins only caused five fewer than they did in 2012 (going from 31 to 26 this past season). He dismissed yardage as a stat to measure a defense -- "That's kind of for losers," he said. (As an aside, I'll say this: Every coach I've covered will point to this stat when it suits them; every single coach. But I do agree that other stats matter, like points allowed and turnovers. They impact the game more. Yardage totals can be inflated by game situations).
"The object is to get the ball back from the offense and let them score points," Haslett said. "The offense has to control the ball and keep us off the field. Don't turn the ball over so we're on the field for 15-18 possessions like the last game of the year. And you win games. That's what we did down the stretch the year before; that's why we won seven in a row. That's our goal, we want to create more turnovers."
Haslett also said that "you'll see more of what we want to do from the standpoint of coverage."
He did not expand on that statement, but it stemmed from being asked how much more his personality would be revealed in the defense now that he's working for a coach who will stick to offense. Clearly, there was a difference of opinion in what previous head coach Mike Shanahan wanted and what Haslett wanted at times, whether it came from coverages or play calls.
"You've got to get these guys doing the same thing over and over and over to where they get good at what they do," Haslett said. "We bounced around early in the season. We had a heck of a preseason. We thought we were good, but that's preseason. It got your hopes up a little bit, but it wasn't really what we wanted to do.
"I think you'll see more of something we'll be good at. Whatever we do, we'll be good at. It doesn't make a difference what you're running ... We were in a four-man line 62 percent of the time last year anyway. But we're going to be good at what we do, and we're going to do it over and over and over until we get good at it."
November, 29, 2013
11/29/13
7:53
AM ET
Washington Redskins linebacker Brian Orakpo provided strong insight into his season, coming back from two torn pectoral muscles and answers whether or not he's an elite pass-rusher.
You've talked about shaking off the rust. When you look back early in the season, how did you see it affecting you?
Brian Orakpo:
It's kind of hard. It's not really rust. It is rust, but it's more so -- I'm trying to make it easier to understand. It's just going out there and believing. When you miss a year, your normal routine is just not the same. Going out there and playing full games, man, it's different. That means your vision is not correct, your tackling is not up to par as you'd like it to be. Everything comes into play and you can see that. Even though I'm still feeling good, I want to do more. As the season progresses, that's when I start to play a lot better and make more plays. That's what I mean when I talk about getting the rust off.
Do you feel you've gotten your strength back?
[+] Enlarge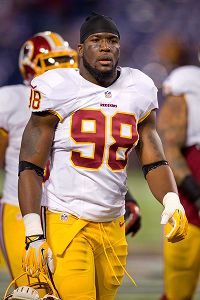 Bruce Kluckhohn/USA TODAY SportsAfter missing nearly all of the 2012 season with a pectoral injury, Brian Orakpo has collected 6.5 sacks in 2013.
Orakpo:
Strength-wise, I felt good. I just had to trust my body again because at times I'll be put in a position where I need to make a tackle with one arm and I wasn't too sure. Stuff like that I wasn't sure how my body would hold up going a full game again. You're scared because you don't want it to happen a third time. So you're going out there timid at times and really not being as aggressive. But as the weeks go on you get better and better. That's what's happening.
Are you past that point?
Orakpo:
I'm completely past that. It's night and day as far as where I began and where I am now.
You've talked about how you rush more by instincts. Can you have countermoves if you go by instincts? How do you feel you do there?
Orakpo:
It's hard to say. Everyone wants the countermoves, but the way we're predicated on rushing we don't have a lot of options to do it because we have a lot of other obligations. The time we do have, you have to understand we have rules within the defense. It's hard to do something outside of that because a lot of times we have a game on. We have interior guys rushing inside. We're basically coached and taught to contain rush the majority of the time. There are times you can use that and be effective. But at times you want to go inside, you want to do stuff but you can't because of the defense. That really goes a long way with trying to do the other stuff.
What is an elite rusher and do you feel you're in there?
Orakpo:
Absolutely I feel like I am. Absolutely. Anybody will tell you that.
What makes someone an elite rusher?
Orakpo:
Just being effective when he can. We don't rush a lot, me and Ryan [Kerrigan], like a lot of other 3-4 'backers, like people would think we do. We don't. You want to be effective, you see a lot of 3-4 'backers… we do way more than others in the league in terms of everything. I would love to work a tackle. It's a chess match. I'd love to work a tackle play after play. That's not the case so the times I do go out there we will give it our all as far as getting off the ball and trying to make a play happen. Another call may change what you're doing the next play. You don't have time to sit there and learn what you did on the previous play on a guy. You're very limited what you can do at times depending on the defense.
When you say you're doing more, you mean in coverage?
Orakpo:
Just from the 3-4 outside 'backer we play, it's very different from what
Terrell Suggs
does in Baltimore in his 3-4 and what DeMarcus [Ware] would do in Dallas where they're going forward at all times. We do way more than what a lot of guys are doing in the league. People need to understand that. We're not selfish players. I could go to the coaches and say, 'I'm tired of always dropping. I'm tired of doing this. I should be going for it. Look at all these guys with 10 sacks already. I only got 6 1/2. I can do that.' You're trying to be a team player. That's what I'm all about.
Sacks are good for your next contract, but obviously this team knows what you are doing.
Orakpo:
Around the league everyone knows what type of player I am. I have no worries in the world. Every day I have coaches tell me how much a player I am, how great a player and, 'I wish we had you on our team.' Steady compliments about what you bring to the table. That's what keeps me satisfied. These coaches praise me every day, what I'm capable of doing and what I do out there and how much my game progresses year after year. It keeps me trying to get better. That's what I can hang my hat on.