Washington Redskins:

Terrelle Pryor
August, 27, 2014
Aug 27
2:30
PM ET
When you're coming off a 3-13 season, any stretch on the
schedule
is pivotal. The Redskins do have a chance for a 2-0 start with games against Houston and Jacksonville to open the season. And then it gets interesting with four tough games: at Philadelphia,
New York Giants
, Seattle, at Arizona. That's two divisional games followed by two tough defenses, which makes the three games after that as pivotal a stretch as any. After that four-game stretch, the
Washington Redskins
host Tennessee before road games at Dallas and Minnesota. But those are three winnable games. If the Redskins struggle before this point, it's a chance for them to reach the bye with momentum for a second-half push.
Complete Redskins season preview
.
April, 29, 2014
Apr 29
5:20
PM ET
Jay Gruden made it clear -- once more -- that the zone read-option won't be a big part of their offense. Here's the thing: Even if the previous staff had stuck around, as
Robert Griffin III
had matured as a passer, and the offense evolved, the zone read option likely would have decreased anyway.
Gruden emphasized at his first news conference that the zone-read would remain in the playbook. In
subsequent interviews
, he has said it will be a part of the offense, but it also would depend on Griffin's comfort level running the play.
[+] Enlarge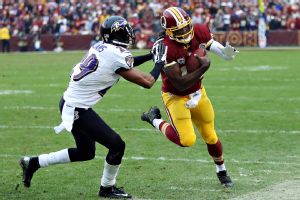 AP Photo/Paul SpinelliWashington QB Robert Griffin III will likely have fewer designed runs under new coach Jay Gruden.
Monday, Gruden told Andy Pollin on SportsTalk 570 that "it's not going to be a major part. I want to make sure that we have other things that we can do besides the read-option, because it takes a toll. You have to practice it a lot to be very good at it. It kind of takes away from the defense's ability a little bit, it takes away from other plays that you need to work on, your protection schemes, your running game, all that stuff. It just takes away from that. So we want to make sure that we work on the core running game that we have, the core drop-back passes we have. And then once we get going, we get those implemented, maybe sprinkle in some read-option."
The numbers say it wasn't a huge part anyway (and I'm excluding the zone-read, play-action passing game). In 2012, the Redskins ran the ball out of the zone-read look on 118 of 519 carries (22.7 percent), according to ESPN Stats & Information. In 2013, the Redskins ran it 83 of 453 carries (18.3 percent). Of course, had Griffin entered the season in different circumstances, and not been shut down for the final three games, the 2013 number would have been higher.
But as Griffin grows as a passer -- especially with the talent now around him -- the need for him to run out of the zone-read will lessen.
Here are some other relevant zone-read numbers from ESPN Stats & Info:
Griffin carried the ball more than any other quarterback in each of the past two seasons. He ran two more times than Cam Newton two years ago and two more than Terrelle Pryor this past season. Newton ran it 16 times less than Griffin this past season.

The Redskins were seventh in runs out of the zone-read compared to second in 2012. Even with a normal year for Griffin -- and if the team hadn't fallen behind in so many games -- the Redskins likely would have been no better than third. Philadelphia was first with 307 runs and Buffalo was second at 169. But the Redskins might have passed Carolina (106) or Seattle (101).

The Redskins averaged 5.33 yards per carry out of the zone-read in 2013 compared to 6.18 the previous year. The play works. But the offense will be more explosive when the passing game evolves.

Griffin averaged 5.46 yards per carry out of this look in 2013 -- a good number. But it was a drop-off from 2012 when he averaged 8.00. Running back Alfred Morris averaged 5.25 yards per carry from this look in 2012 and 4.53 yards per carry this past season.

Two teams carried the ball more than 55 times out of the zone-read in 2012 (Carolina and Washington). Eight teams carried it at least that amount in 2013.
November, 14, 2013
11/14/13
12:00
PM ET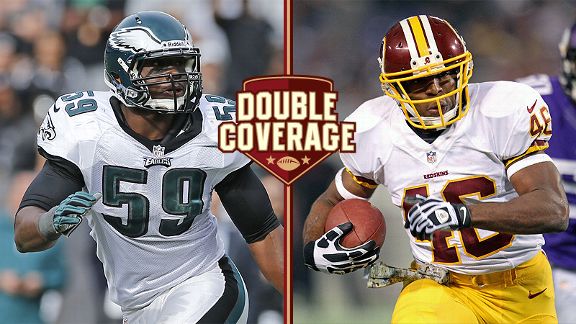 AP Photo, USA Today Sports ImagesExpect a closer game this time around between DeMeco Ryans' Eagles and Alfred Morris' Redskins.
Remember the Chip Kelly revolution? It was televised, on "Monday Night Football" no less, back in September. The first half of Kelly's first game as an NFL head coach looked more like the running of the bulls, and FedEx Field was Pamplona.
Things settled down considerably after that. As Washington comes to Lincoln Financial Field for the rematch, both teams look different at quarterback.
Robert Griffin
III was tentative that night in his first game back after knee surgery.
Nick Foles
was on the sideline as
Michael Vick
ran Kelly's uptempo offense.
The teams meet again with much on the line. The Eagles are 5-5 and, with the 5-5
Dallas Cowboys
on their bye, can slide into first place in the NFC East with a win. Washington is 3-6 and can get within one game of the division leaders. ESPN.com Eagles reporter Phil Sheridan and his D.C. counterpart, John Keim, dig a little deeper.
Phil Sheridan:
The Eagles haven't seen RG III & Co. since the season opener. They were able to do a good job of disrupting the rusty Griffin and bottling up
Alfred Morris
. How far have those two and the rest of the offense come since? Is RG III all the way back?
John Keim:
The offense has come a long way because Griffin's legs are once again a part of the equation. Without his legs he's an ordinary player and it's an ordinary offense. But with the threat of his legs and with Alfred Morris' running ability, the Redskins can use play action. When the Redskins can use play action their offense can be dynamic and explosive. When they can't? It's what you saw in the opener. Morris has had a terrific season and the only thing holding him back is more opportunities. I think Robert is back to being able to make plays and hurt teams in the pass game, except during times when you know they must throw the ball. Griffin isn't quite as explosive, but unlike in the opener he's now willing to run at any point and keep the ball on the zone read. He still has to develop as a passer, something that was true last season as well. He needs a full offseason.
The Eagles surprised the Redskins in that first game a little bit. How has the Eagles' offense changed or progressed since that game? And how much of that is because of the changes at quarterback?
Sheridan:
The Eagles' offense has had major growing pains. That first half at Washington got everyone excited about how Chip Kelly could revolutionize the NFL. And it has been more evolution than revolution since. With Nick Foles at quarterback, obviously there is less threat of the quarterback running 40 yards as there was when Michael Vick was in there. At the same time, Foles seems to keep the tempo up where Chip Kelly wants it, makes quick, smart decisions and generally runs the offense as it is designed. Vick is great or terrible. With the still mysterious exception of the Dallas game, Foles is reliably good and, at times, better than that. He doesn't fire the imagination the way RG III does, but he's a smart quarterback.
This offense had the huge advantage of sucker punching Washington in the opener. No film, no tendencies. Now that defensive coordinator Jim Haslett has had weeks of film to analyze, how do you think he'll approach the Eagles this time?
Keim:
I think the plan will be to stop running back
LeSean McCoy
and they felt good about how they played him in the second half of the opener, mainly by how they aligned their defensive linemen. They focused hard on stopping
Adrian Peterson
last week, but in doing so got hurt badly by play action, which the Eagles do well. I think more than anything the players will be less surprised by what they see. Those packaged plays destroyed the Redskins in the first half; you can talk all you want about keeping your eyes on your keys, but when you get in the game it's tough. They won't yet share their game plan with me (I hate that!). They went a lot off Oregon tape in the first game and a little off the preseason; now they have their own game against them and nine others. The problem they'll still encounter is trying to handle all those weapons.
So much talk about the offense, but how has the Eagles' defense progressed? Where have they struggled? What have they done well?
Sheridan:
Progress is exactly the right word, John. The Eagles got humiliated in Denver by that
Peyton Manning
guy. The final score was 52-20, but Manning could have scored another 20 if he'd been inclined and remained in the game. Since then, no team has scored more than 21 points against the Eagles. They've gotten some breaks. No
Aaron Rodgers
or even
Seneca Wallace
for most of Sunday's win in Green Bay.
Mike Glennon
and
Terrelle Pryor
aren't striking fear into defenses, either. But they also acquitted themselves well against
Eli Manning
and
Tony Romo
. Mostly, they have focused on fundamentals and the run game, with solid success. They did well against Morris in the opener and feel like they can force Griffin to beat them. I guess the difference is that this time, he can.
Bigger picture this time: Is there still a sense Washington is on the rise under Mike Shanahan or has this season lit a fire under his chair? Put another way: Does Washington still feel like it's in the division race in the wretched NFC East and is that a firewall for the head coach?
Keim:
I think they still feel they have a shot, which is probably different than saying they're in the race. To be in a race you have to win a couple of games and I think they understand that. Last year's streak is fresh on their minds, too, so they know it can be done. I think this season has to call into question more about Shanahan and the direction of the franchise. I think the offense is on the rise because they have excellent young talent. Some will point to the salary cap penalty and Griffin's injury to explain all their ills. Those do explain some problems and prevented them from addressing certain areas. (I think some people forget that free agency does not solve everything and never has in Washington.) But they clearly don't explain all of the issues. I also know in the summer the head coach was rather excited about what this team could do, knowing both the cap and Griffin's injury situation. Shanahan has one year remaining on his contract, so these next seven games could determine his future . I don't think he'll get fired, but will he be given an extra year? If they go, say, 5-11 can you give an extension? What helps Shanahan is that he has changed the culture at Redskins Park and I have a hard time seeing his players quitting on him. It gives them a chance to finish better than they started.
Because the NFC East is down and the Eagles are 5-5 they have to be viewed as contenders. But do you think they're a good team on the rise or do they have a ways to go?
Sheridan:
Maybe a little bit of both. Some of the offensive numbers are ridiculously good. We take 450-yard games for granted with Kelly's offense. Foles has thrown 16 touchdowns and zero interceptions. McCoy leads the NFL in rushing. The defense is solid, which is more than half the league can say. And yet the Eagles haven't won a home game, went two weeks in a row without an offensive touchdown and have gotten wins against pretty suspect quarterbacks. So a good team? Probably close. On the rise? That's where it all gets interesting. They are young on defense but getting a little older on the offensive line. The offensive stars aren't that old -- McCoy is 25,
DeSean Jackson
26 -- but they have wear on their treads. So much depends on Foles, I guess. If he's the real deal, then this team should continue to improve. If Kelly still feels he needs to find The Quarterback, then this season will feel more like a one-off than a stepping stone.
November, 4, 2013
11/04/13
11:00
AM ET
The
Washington Redskins
added a twist to their option game Sunday. You can thank the
Oakland Raiders
for showing them what would work against San Diego.

When the Raiders ran their zone-read option against the Chargers on Oct. 6 quarterback
Terrelle Pryor
had a good, but not great, day. He ran the option three times for 19 yards. But what he did was show the Redskins how the Chargers would defend this play.
Then the Redskins added their own wrinkle with the triple option. It worked twice – and should have worked the third time as well.
Against the Raiders, San Diego left the outside exposed on the first two runs. Pryor gained eight yards the first time because outside linebacker
Larry English
rushed hard upfield, then at the running back on the fake. The safety stayed back and the inside linebacker to that side did not fill the gap and wasn't very aggressive.
The next time, the end rushed upfield but with the Chargers in man coverage no one was left outside and, once more, a passive fill by the linebacker left the outside exposed. Six more yards. Finally, on the third time the Redskins saw how San Diego likely would adjust in their game. The Chargers brought safety
Eric Weddle
into the action as an eighth defender in the box and had him run at the quarterback while the linebacker defended the running back. Pryor gained five yards by reversing field and running the other way.
Flash ahead to Sunday. San Diego played it the same way as it did when it should have stopped Pryor. Weddle walked up as an eighth defender and ran at quarterback
Robert Griffin
III, with English targeting running back
Alfred Morris
. Play stopped, right? Nope. Griffin pitched to
Jordan Reed
and, with eight defenders pinned between the tackles, San Diego was in trouble. Tackle
Tyler Polumbus
and tight end
Logan Paulsen
doubled linebacker
Andrew Gachkar
, with Paulsen eventually driving him to the ground. Reed had room to the outside for an 18-yard gain.
On the 18-yarder to
Santana Moss
, the Chargers again used eight in the box. Moss lined up about five yards behind the left tackle. Again, the outside linebacker runs at Morris. This time San Diego's inside linebacker,
Manti Te'o
, rotated to the outside but did not fill the gap aggressively. Another double team with Polubmus and Reed; when Polumbus peeled off then Reed drove Te'o. That left Griffin one-on-one with the safety and when he forced him up, Griffin pitched to Moss who ran untouched for the first 13 yards.
The third one should have worked the same way, but Reed did not help Polumbus, who blocked down first, on a double team with the linebacker. Otherwise, it would have been the same scenario: a safety trying to stop both Griffin and Moss. Instead, it turned into a forward pass for two yards.
Regardless, the Redskins ran the triple option three times and gained 38 yards. The Raiders deserved an assist.
October, 8, 2013
10/08/13
1:30
PM ET
A weekly examination of the Redskins'
ESPN.com Power Ranking
:
Preseason:
10 |
Last Week:
25 |
ESPN.com Power Ranking since 2002
The
Washington Redskins
had a bye week -- and still the voters came away unimpressed. The Redskins dropped two more spots in ESPN.com's Power Rankings.

And that means they've fallen in the poll four times this season. That's what happens when you're 1-3. Yeah, they did what they should have done at Oakland before the bye, but that apparently did not inspire a nation to believe in the Redskins just yet. If they win at Dallas -- and then beat Chicago -- the Redskins will take a big leap.
Until then? They go backward after a bye -- and were leapfrogged by the team they last beat. The Raiders, though, are a different team with
Terrelle Pryor
at quarterback than the since-released
Matt Flynn
. Guess that's why they moved up six spots while the Redskins dropped two. The more
Robert Griffin
III returns to his old form, the more likely the Redskins can start moving up in the rankings and, more importantly, the NFC East.
The
Philadelphia Eagles
jumped Washington in the poll, moving six spots to 21 after a win over the
New York Giants
. Meanwhile, Washington's Sunday opponent, the
Dallas Cowboys
, improved their standing after a 51-48 loss to top-ranked Denver, moving up three spots to No. 15.
Washington is more worried about 1-3 than they are No. 27, and the Redskins come out of the bye with a chance to make a move in the NFC East against Dallas. Sunday's game matches the Redskins' 32nd-ranked defense (26th in total points) against the Cowboys' 10th-ranked offense (but second in points). Of course, the Cowboys enter with a defense ranked 28th (22nd in total points) against an offense eighth in total yards (but, more telling, 17th in points).
October, 7, 2013
10/07/13
7:00
PM ET
ASHBURN, Va. -- As
Washington Redskins
receiver
Santana Moss
watched a weekend of football, one thought ran through his mind.
"I was ready to get back to work," he said.
And there's a lot of work that remains for the Redskins. But they return to play Dallas with a chance to end up in first place in the NFC East. It's too early in the season to get caught up in the standings. But when you start 0-3, a two-game win streak, which includes a win at Dallas, would be meaningful.
"It's a huge game for us," Redskins rookie tight end
Jordan Reed
said. "Just to keep building our confidence."

Hall
The NFC East is hardly a daunting division these days, with Dallas and Philadelphia tied for first at 2-3. The Eagles play at Tampa Bay on Sunday.
"Real crazy," Redskins corner
DeAngelo Hall
said about the division. "In this league... to not have played good football at all and still have a chance to be talking about winning the division, we have a lot to play for. We have a chance to seize the opportunity Sunday night."
Washington's only win came before the bye week, a 24-14 victory at the
Oakland Raiders
, who were playing without starting quarterback
Terrelle Pryor
. The Redskins have not played anywhere near their level of performance during last season's seven-game win streak. Their defense is ranked last in the NFL; their offense has scored 10 first-half points through three games.
Their hope: the defense is coming off a seven-sack game and knows the Dallas offense well; quarterback
Robert Griffin III
continues to make progress; the running game has been solid and the injured players all
worked in practice Monday
.
But the Redskins know they can't keep digging a deep hole if they want to achieve what they hoped to this season. Moss said he doesn't need to tell the younger players about the importance of this game -- not from a rivalry perspective, but from what it means for the season.
"They know what's at stake," Moss said. "People get caught up into records. We could go into the break 4 and 0 and if we didn't handle business this weekend, then it doesn't matter. Right now 1 and 3 doesn't matter because we have a chance to get a W. That's how you have to look at it. You can't look at what's done or what's to come because you never know. You've got to handle your business right now."
September, 29, 2013
9/29/13
9:00
AM ET
1. Running back
Alfred Morris
is running the ball well and his 2.10 average yards after contact is second among running backs with at least 40 carries. Last year, he averaged 1.92 yards after contact (per ESPN Stats & Information). Yes, that's a hint to get him the ball more. I know the coaches understand this (I can hear you disagreeing, but trust me on this, last week notwithstanding). I'd like to see at least 10 first-half carries for him. As
Robert Griffin
III returns to form, rely on the guy who already is in form.
2. The issues that Griffin is having as a passer are similar to last season. He missed some guys, leaving the pocket a little early at times. He locked on receivers (saw it a few times last week, allowing corners to break hard on the ball) and he was a little off on some throws. But that's where Griffin's at as a passer and it's why his legs were so important to his game last season (and simply why they're important early in his career). But when you aren't making big plays with your legs, the rest of your game gets a harsher look.
3. It'll be interesting to see what happens with the
Oakland Raiders
' quarterback situation.
Terrelle Pryor
, who suffered a concussion Monday, does an awful lot to bail out their offense because of his legs. But is that because he's too indecisive throwing the ball or because of breakdowns in the offense? Pryor is a legitimate threat on the zone-read option and, because of his size, will eventually run up the middle instead of taking it wide. He's a long strider who runs more like a big running back than a quarterback -- and he will stiff-arm defenders. Pryor also has improved as a passer; less pushing the ball, stepping into it better. He's not polished, but is throwing better.
4. One thing to watch: If
Matt Flynn
plays -- and ESPN's Adam Schefter reported Sunday morning that he will start -- what will be the impact on the receivers?
Denarius Moore
is the Raiders' deep threat, but Flynn does not have as strong an arm as Pryor. Yes, he hit some deep balls with Green Bay in his start against Detroit once upon a time. But he also was throwing to a better group of receivers and had been in that system for much longer than he's been in Oakland's. However, this could increase the chances for possession receiver
Rod Streater
.
5. The real key, of course, is the Redskins' defense. They continue to suffer from numerous mistakes, missed tackles and breakdowns. It shows the state they're in that a game in which they allow 441 yards of offense and 27 points to an offense missing one of its playmakers is considered progress. I'm guessing the Lions didn't care that the Redskins stopped the run; they kept stressing the secondary by putting them in spots where they had to make a play or get burned.
6. It's a mistake to think the Redskins would be much better if they just played press coverage all game. They were burned on several occasions in that look against the Lions. This secondary is just not good enough to play one style.
7. The three-corner alignment suggests what we already knew: The Redskins have issues at safety. They just wanted their best defensive backs on the field and
Bacarri Rambo
has to prove he belongs in that group. However, with that you get occasional lapses by
Brandon Meriweather
. I'm still not sure why he drifted left on the touchdown pass to tight end
Joseph Fauria
last week. He should have stayed behind to double with
Brian Orakpo
, and
Matthew Stafford
was eyeing him the whole way. Meriweather's reputation in the past was that of a gambler who guessed wrong too often. He does add energy and is Washington's best safety, but it's something to continue watching. It's why other teams let him leave.
8. Eventually
David Amerson
might become a top corner; opinions are mixed. But, for now, his "rookie mistakes" have hurt the Redskins in the past two games, whether from guessing wrong or not making the proper reads or adjustments. And when he does it's often a play that goes for 30-plus yards. Can you blame that on coaching? Not sure how when you look at some of his mistakes and the fact that 10 other defenders played it right. Amerson is learning how much responsibilities can change week to week and he'll have to adjust. It will take a lot of studying and effort; will he put in that time? He will if he wants to succeed. In the meantime, there's no way every offensive coordinator won't test him. Or anyone else in the secondary for that matter.
9. A key to disrupting those quick passes? Interior pressure. That's why it was a good sign for the Redskins with how well nose tackle
Barry Cofield
played last week. He's beating double teams, something no one else up front has been doing. It was the best performance by a Redskins defender this season. If the Redskins stick with their base front, they should have good success against the Raiders' ground game -- especially with Flynn at quarterback, removing the zone-read option.
10. How good is the Raiders' defense? It was picked apart by
Peyton Manning
, but that's no disgrace. The Raiders will blitz; they like to use movement in the middle. But they'll also send corners off the edge. Corner
Tracy Porter
's presence is vital to this secondary. And
Charles Woodson
still has something left. Wish I could show you this, but instead I'll tell you: Against the Jaguars, Woodson ran to his right in pursuit of running back
Maurice Jones-Drew
in the red zone. Jones-Drew was cutting to the outside of his tackle, engaged in a block but falling. Woodson dived over the tackle, grabbed Jones-Drew by the pads and pulled him down. Just an unreal play.
September, 27, 2013
9/27/13
12:00
PM ET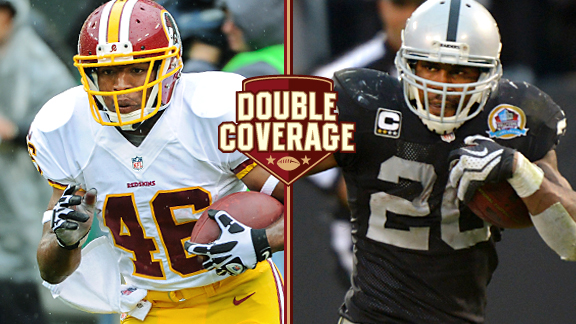 USA TODAY SportsAlfred Morris and Darren McFadden combined to account for three touchdowns in Week 3.
The
Washington Redskins
, with their still-healing franchise quarterback seemingly rounding back into shape, are 0-3 for the first time since 2001.
The
Oakland Raiders
, with their young quarterback in question after a concussion, are coming off a spanking on national television.
Something has to give Sunday at 4:25 p.m. ET in Oakland, right?
Washington team reporter John Keim and Raiders team reporter Paul Gutierrez break down this week's rematch of Super Bowl XVIII.
Paul Gutierrez
: John, there's a lot of uncertainty in the heart of Silver and Blackdom, what with
Terrelle Pryor
's first-ever concussion putting his availability to play Sunday in serious doubt. Many critics of running quarterbacks say this is the risk they take -- more hits. From afar, it seems the shine is off
Robert Griffin III
a bit, and not just because his team is winless and the catcalls have the young QB being called RG0-3. Is he already at a career crossroads, or are we simply seeing a young signal-caller dealing with adversity after a devastating injury?
John Keim:
I think it's a combination of both, Paul. Griffin does not want to rely on his legs as a quarterback, using them only as an occasional weapon. Eventually I think he'll get there, but he's not a refined passer just yet. So he still needs to evolve and that's where the injury comes in: He still needs his legs to be a dynamic player and because of the injury he's still not quite himself. When he was at Baylor they used a rather elementary passing game. I think he'll eventually blossom as a passer because he throws the ball well, is smart and works hard. But he's not at that point yet. Paul, along those lines, the Raiders' defense does not have good stats against the pass. Is that just because they've faced
Andrew Luck
and
Peyton Manning
in two of the first three weeks? Or are there real issues here?
Gutierrez
: True, the Raiders have faced Luck and Manning in two of their first three games and lost both. Yet stats-wise, Oakland is a middle-of-the-pack defense when it comes to defending the pass, ranking 16th in passing yards allowed per game. And really, at this stage, the Raiders will take it, especially after beginning the season with nine new starters on defense and then losing strong safety
Tyvon Branch
in Week 2 against Jacksonville on a blitz. What's really sticking in their craw is the lack of interceptions by the Raiders. As in zero. No picks. None. As
Charles Woodson
put it after the clinic Manning put on against them on "Monday Night Football," it's something the secondary especially has to make a concerted effort on this week. So I'd expect the Raiders to take a page out of Denver's defensive playbook by stacking the box and daring RG III to beat them through the air, rather than on the ground. If that is Oakland's strategy, might that backfire on the Raiders? Or does the threat of RG III turning the corner on a zone read actually open up the play-action pass?
Keim
: That's definitely the strategy I would take right now. Detroit did it last week, daring Griffin to beat them with his arm and not his legs. Actually, they weren't afraid of his legs. On one of the zone read runs he made Sunday, Detroit sent both the end and the linebacker at
Alfred Morris
. They were more worried about him running. It will be this way until Griffin shows that he not only can run, but can hurt a team while doing so. I will say that Griffin was really close to having a good game against Detroit. They were using more play-action -- and a 57-yarder off this play-action was dropped in the end zone. If not for that play and Griffin's late fumble off a 21-yard scramble, his game would look different. But even if the Raiders use eight in the box the Redskins will try to run. Everything works better when that's their focus and it sets up what was a lethal play-action game a year ago. What does your gut tell you about who will play quarterback this week for the Raiders? And could you break down where Pryor's game is, as well as Matt Flynn's? Obviously their offense would look much different with Pryor than with Flynn.
Gutierrez
: The gut, especially with Pryor having yet to be cleared to practice as of Wednesday, tells me that
Matt Flynn
will get the call. And the locals will not be happy. Pryor has become a huge fan favorite and his skills are as raw as he is electrifying. His pocket presence has improved as has his downfield passing. He simply does not look like the same scattershot guy who was a dark-horse favorite to be the Raiders' No. 3 quarterback after the draft. He has a presence about him that did not exist a few months ago and he is improving every week in this small sample size. Flynn, meanwhile, is the prototypical West Coast offense quarterback. He's accurate and mobile enough but needs time to let plays develop. He didn't get that in the exhibition season. He had a sore elbow and was under constant assault by the defense and had no time to pass. So the $6.5 million man was beaten out for the second summer in a row after signing a big-money deal. He admitted he was down but said it did not affect his preparation. And with Washington's defense giving up record-level points thus far, maybe the stars are lining up for the chosen quarterback, or the guy who was supposed to be the franchise quarterback. Then again, sometimes things don't go according to plan. Like Mike Shanahan and the Raiders. Hard to believe it's been a quarter of a century since he was hired by Al Davis in Los Angeles. Not so hard to think he still harbors resentment toward the Raiders. Has that come up at all during Raiders week? After all, he says Al Davis still owed him money.
Keim
: Mike talked about that today and says he had a lot of respect for Al, even though they had their differences. Knowing Mike, he'd still like to stick it to that franchise. He's a competitive guy who loves beating people or teams that he has a grudge with. He used to save articles when he was with Denver and then bring them out after the Super Bowl to remind the writers that they were wrong. And we all know the story about the time he was on the field before the game and one of his players threw a ball at Al (
Steve Young
, I believe). This is also the first time Shanahan has played an AFC West team since he left Denver. I'm sure those old feelings are still there; after all, he spent a brief time there and then spent a number of years wanting to beat them twice a year. Those feelings don't just fade away, especially in a guy like Shanahan. But right now, he has bigger things to worry about than any money Al Davis might have owed him. It seems like the Raiders have been without hope for a while. Where is the hope now -- and what should the Redskins be concerned with?
Gutierrez
: The hope, from the fans' perspective, resides in Pryor's arm and legs. Realistically, it's in the Raiders having some semblance of continuity. Consider: Since Jon Gruden was traded to Tampa Bay following the 2001 season, the Raiders have had seven coaches in 11-plus seasons in Bill Callahan, Norv Turner, Art Shell, Lane Kiffin, Tom Cable, Hue Jackson and now Dennis Allen. The message from general manager Reggie McKenzie is that he's getting closer to putting a product on the field that resembles his vision. The Raiders will have a lot of money to spend in free agency next year but McKenzie said he will not be shopping at Macy's. Hope and change -- you being in the District should be familiar with such talk, no? -- come with gradual improvement, and continuity being allowed to foster, so to speak.
.
September, 26, 2013
9/26/13
8:00
AM ET
The
Washington Redskins
defenders say they're preparing for both quarterbacks. Sounds as if the
Oakland Raiders
offensive players
will be doing the same
. With
Terrelle Pryor
suffering a concussion Monday against Denver, there's uncertainty over who will start at this position Sunday.
If Pryor can't play, then backup
Matt Flynn
will start. Pryor did not practice Wednesday, but he passed the first in a series of tests that would enable him to return. However, he's only been cleared to resume conditioning and participate in meetings. That's why some in Oakland
view Flynn as the likely starter
.
Pryor obviously offers a different threat than Flynn because of his athleticism. Flynn also is a career backup. From the Redskins' perspective, it's difficult to prepare for quarterbacks with two different styles. So they'll likely focus on the more multi-dimensional Pryor a bit more; it's easier to do it that way and then get Flynn than vice versa.
Flynn
said he's not out to make a point,
if he indeed does start.
"I'm not going to try and prove anything," Flynn said. "If I do get the chance to play, then I'll play the best I can. I'm going to go out there and lay it on the line and try to do the things I can to try help this team win. Nothing has shaken confidence in myself, so I'm going to go out there and I believe I can do it and do the best I can."
... Pryor's performance against the Denver Broncos
offers hope for the Raiders.
… Taking a look at how the Raiders
graded out against Denver
.
… Raiders cornerback Tracy Porter already returned to practice, but whether he'll play remains uncertain.
He's an important part of their secondary
.
… ESPN.com's Paul Gutierrez takes a deeper look at
Pryor and his game
.