Washington Redskins:

Tony Gonzalez
January, 27, 2014
Jan 27
8:30
AM ET
In case you were doing something productive last night and missed the Pro Bowl, here's how the Redskins' three players fared:
Trent Williams alternated between left and right tackle and did nothing of note. But that's probably a good thing considering how much pressure was applied on the quarterbacks all game. Players displayed much more intensity than a year ago when the game resembled flag football. And it was noticeable on pass rushes as the quarterbacks were under pressure much of the game (a combined nine sacks; makes sense as this sort of setup is not good for offensive linemen, who fare better when working as a group). But Williams did not give up any sacks. He did allow a little pressure in the fourth quarter off a stunt, but it did not result in a hit.
Linebacker Brian Orakpo never rushed the passer, but that's because the teams used a 4-3 front so he was dropping into coverage whenever he played. Orakpo played the strong side and often played man versus Atlanta tight end, and future Hall of Famer, Tony Gonzalez. There was one big gain on Orakpo's side when he dropped into zone and Gonzalez found a big opening on the right seam.
Running back Alfred Morris had the most noteworthy game with four receptions for 69 yards. He made someone miss every time he ran in the open field. Yes, it's an all-star game so there's a different sense of urgency perhaps by defenders and it might have impacted one 19-yard catch (at least initially). But, again, the hitting was pretty good much of the night so it's not like defenders were letting them do whatever they wanted.
Morris has caught 20 passes in his first two years combined, with a one-game high of three.
Morris ran the ball twice for 4 yards. I liked how he cleanly caught the ball, more so than he's shown the past two years. But Morris also fumbled at the end of one reception, when he ran into a group of defenders. He lost the ball after his first carry, too, but it came after he was down. I'd say this likely stems from not having any contact for nearly a month, but Morris also had some issues with this during the season.
Morris had a 27-yard catch and run, but that wasn't his best moment. Rather, that came when quarterback Cam Newton was in trouble and ran to his right, dumping the ball to his back. Morris should have lost a couple yards as Dallas' Jason Hatcher grabbed his jersey and spun him around. But he broke free and another defender grabbed his jersey, only to lose a grip. Morris then broke a tackle and managed a 19-yard gain. Morris broke a tackle on his next catch as well, pushing the ball inside the 5.
In Jay Gruden's three seasons with Cincinnati, there was only one season in which a running back caught more than 22 passes. But it happened to be this past season when rookie Giovani Bernard caught 56; he split time with BenJarvus Green-Ellis as the primary back (both players carried the ball at least 170 times). If Morris improved in this area it certainly would help and keep the defense guessing a little more. But if Morris is going to carry the ball around 300 times, then it's still wise to use Roy Helu in this area on third downs just to limit the punishment.
Alas, these three Redskins could not even get a win in the Pro Bowl as Team Rice beat Team Prime, 22-21, on a late touchdown and two-point conversion. That's nine straight games these three have lost. I'm guessing this one did not sting the same as the other eight.
January, 22, 2014
Jan 22
11:00
AM ET
A few thoughts come to mind on the topic of which player NFL players would most like to see in a Super Bowl:
Adrian Peterson received the most votes and there's obviously a great deal of respect for him. He's no doubt fun to watch. But that also means perhaps seeing an up-and-down Christian Ponder. No thanks. Now, if Peterson had gotten there with a Brett Favre several years ago? Very cool (unless you're a Saints fan).
But I'd love to see Peterson in that sort of spotlight, seeing him have the impact he did in the 2012 season. I also worry how much time he has left at an elite level. He's already played seven seasons. But it's remarkable what he's been able to do given the attention he faces from defenses, without the benefit of a consistent passing attack. So, yeah, I have no problem with him as the top choice.
Tight end Tony Gonzalez was second in the voting, three votes behind Peterson. Considering he's now retired, this won't happen, but it's always disappointing when an all-time great never reaches the ultimate game.
Think this is an offensive league? The highest vote getter among defensive players was J.J. Watt with four votes. That's 55 fewer than Peterson and one more than Cleveland left tackle Joe Thomas.
My favorite? Champ Bailey, who obviously will finally get the chance to play in this game. He received three votes. Bailey remains at or near the top of my list of favorite players to deal with. Doesn't mean I was extremely close to him. But I always respected his professionalism; he also was not afraid to express his confidence so you would get more than coachspeak from him. Never disrespectful, however. Bailey was as patient as they come in dealing with the media; he'd be stopped by one group of reporters outside the locker room, by another group just inside the doors and then be met at his locker by a few more. Yet he always answered the questions.
Redskins angle:
Quarterback
Robert Griffin III
was the only Washington player to receive any votes (he got three). If you're seeing him in a Super Bowl it probably means he returned to the dynamic ways of his rookie season. Who wouldn't want to see that on the biggest football stage of all?
But if I had to pick one Redskin?
Santana Moss
. Nobody has been through more garbage in Washington than Moss. Since being acquired in a trade in 2005, Moss has played on three playoff teams. But he's also been a part of five double-digit loss seasons, not to mention the worst part of it all: the death of his friend and teammate,
Sean Taylor
. Through it all Moss has acquitted himself well and with class.
Reed Doughty
and
Kedric Golston
were around for all those seasons as well, but Moss has them beat by a season and he's been a key part of the offense. Of course, this also could have been his last season in Washington.
December, 15, 2013
12/15/13
9:15
AM ET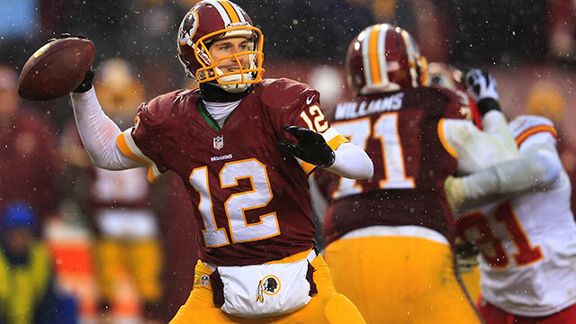 Rob Carr/Getty ImagesKirk Cousins gets his chance to start Sunday for the Washington Redskins.
1. If I'm
Robert Griffin
III, I'm wondering why the Redskins became worried about my health before a game against a bad defense that doesn't apply much pressure – yet left me in to face a good defense in bad field conditions the previous week. When there are so many other aspects to this story, and when so many leaks come out, it's hard not to wonder about every potential motive. Maybe it's as simple as being about his health. Maybe it's performance related. Maybe spite. Because of the distrust on either side this still doesn't feel all that simple.
2. Griffin was laughing and joking with a couple teammates in the locker room after practice, so it's not as if he's walking around defeated all the time. His practice demeanor, in the portions open to the media, did not seem any different. But there is little doubt that he remains bothered by this mess and can't wait to reach the offseason. This is just my opinion, but in reading the situation and being around Griffin, it's tough to see it ever working with him and coach Mike Shanahan. That' s not to blame one side or the other, but that's just the way it is.
3. If
Kirk Cousins
lights up the Falcons, there will definitely be some who will take that and use it as more criticism toward Griffin. Make no mistake, the second-year quarterback hasn't looked sharp at all in three of the past four games. He is a young quarterback enduring growing pains and definitely not always getting the help he needs from others. In the past four games he's faced two defenses currently ranked in the top 10 (New York and San Francisco) and two who are 20th or below (Philadelphia, Kansas City). If you're going to rip him, you need to be fair and point out everything. Griffin holds the ball too long and does miss open targets and does need to work on his pocket presence, learning to keep his eyes downfield and not stare down targets (
Derrick Johnson
nearly picked off two passes because of this last week). But if Cousins plays well Sunday, it doesn't mean that Griffin wouldn't have done the same against the NFL's 26th-ranked defense (20th against the pass, but opposing quarterbacks have an NFL best 104.3 passer rating against the Falcons; only one other team is close. Yes, the Redskins at 101.2).
4. I am curious to see Cousins play, just like everyone else. It certainly adds intrigue to the on-field performance in the next three games and will serve as a couple-hour diversion from the other mess surrounding the franchise. I have heard so many mixed opinions from NFL types who have studied or watched Cousins. Some love him; some consider him just a backup. The Redskins coaches, obviously, are in the former category. They really do believe Cousins can be a quality starter in the NFL. They also thought Pat White would be on someone's roster this season.
5. Cousins' understanding of the offense, helped by being in his second season and getting so many offseason reps, should help Sunday. Cousins said he felt better prepared for this game than he did a year ago at Cleveland, when he subbed for an injured Griffin. "I'm comfortable, I can be more decisive," Cousins said.
6. Atlanta's defense does have some talent, especially up front with tackle
Jonathan Babineaux
, who had a strong game against Washington last season. The Falcons will send the occasional blitz and they will also try to move around at times and disguise fronts and coverages. The problem is, that often gets them out of position and leaves gaps in the coverage. Looks like they try to make you work your way downfield, but if you're patient you will.
7. Another player to watch: running back
Alfred Morris
. The Falcons tend to flow hard to the play side, which means there could be good cutback lanes available. Morris did a terrific job setting up some runs against the Falcons last year, stringing out linebacker
Sean Weatherspoon
on one run before cutting inside. This isn't related, but watch out for tight end
Tony Gonzalez
near the goal line; the vet sells the run fakes well on play-action passes and the Redskins have been stung by that in the past.
8. For better or worse, way too much of this season has been about Griffin: When will he return? How does he look in camp? Is he ready? Do the coach and quarterback really not get along? Is he still hurt? Why is he struggling? Is he back to his old self? Is he a leader? Is he too tight with the owner? Every week a new line of questions. It'll finish up with questions about how he's handling his situation? Some of this Griffin brought on himself; the initial leaks in this whole story came from his side. But certainly not all of them. Now you have both sides leaking stories. It's just not healthy. If I were Griffin, I'd lay low. He can ultimately regain his standing just by going out and playing well next year. All would then be forgotten.
9. Will
London Fletcher
return next season? We still don't know, though I'd be surprised. Here's what defensive coordinator Jim Haslett had to say about Fletcher: "He's effective. He's not doing as much as he's done before in the past, coverage-wise, on third down but I think he's playing pretty well. ... Let me say this – how many linebackers do you know that are 38 years old that playing in the game? There's not many. ... Age catches up with everybody, and he's played a long, long time. He's had a great career and whether he plays another year or not, obviously that's up to him, but I think as you get older you can't do the things that you did when you were 28, 29, 25, 26. That's just life. That's how it works."
10. What happens if the Redskins get blown out and Cousins plays poorly? I can't say that I've heard a lot about that scenario. But if this really is becoming a standoff about money, then I don't know if something like that occurs that anything would change regarding Shanahan's status, unless one side buckles. It still would be a surprise to see him return for 2014. The same questions asked since the spring would return. Who wants that?
December, 13, 2013
12/13/13
3:55
PM ET
ASHBURN, Va. --
Washington Redskins
coach Mike Shanahan said tight end
Jordan Reed
has not been ruled out for the rest of the season. But he still doesn't know if, or when, he will return. Reed, who has missed the past three games with a concussion, is listed as questionable for Sunday's game at Atlanta.
It's hard to imagine Reed being able to play Sunday after not practicing Thursday or Friday, especially after suffering from the concussion this long. Reed had two concussions while at the University of Florida, which caused him to miss practice time. But Shanahan said on ESPN980 that backup tight end
Fred Davis
had a strong week of practice. However, Shanahan has said that before and Davis still hasn't been productive, for whatever reason.
Guard
Kory Lichtensteiger
(pinched nerve), safety
Brandon Meriweather
(sternum) and fullback
Darrel Young
(hamstring) are probable for Sunday.
For Atlanta, safety
Thomas DeCoud
(concussion) and running back
Antone Smith
(knee) are out. Tight end
Tony Gonzalez
(toe), safety
Zeke Motta
(hand), linebacker
Sean Weatherspoon
(shoulder) and receiver
Roddy White
(knee) are questionable. All were limited in practice Friday.