Washington Redskins:

Trent Robinson
March, 18, 2014
Mar 18
5:10
PM ET
Taking a look at the Redskins' safety position a week into free agency. Safety was said to be a primary target; it has not developed that way, however.
On the roster:
Brandon Meriweather
,
Jose Gumbs
, Trent Robinson,
Bacarri Rambo
and
Phillip Thomas
.
Added in free agency:
None.
[+] Enlarge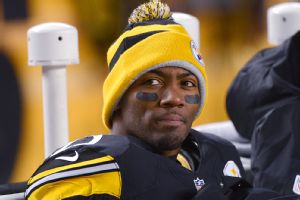 George Gojkovich/Getty ImagesVeteran Ryan Clark could be a short-term solution for the Redskins at safety.
In talks with:
Ryan Clark
. He visited last week and remains a possibility. He's also drawn interest from Baltimore and the
New York Jets
. There is no rush on his end to get a contract done so he's content to wait and see if the right offer materializes. Clark would be a short-term solution, but he could help develop some of the young players and be a respected voice in the meeting room.
Left in free agency:
The Redskins haven't lost any safeties in free agency.
Still unsigned:
Reed Doughty
. The Redskins backup strong safety, who is always pressed into a starting role, might return. But there's definite division over whether or not that should be the case. The real problem has never been Doughty, but the organization's inability to find a full-time starter ahead of him.
Still on the market:
Thomas DeCoud
,
Chris Clemons
,
Mike Adams
. Really, the list is not long and not impressive. Atlanta cut DeCoud after a poor season; he's best suited most likely near the line of scrimmage. With Meriweather back that's not necessarily what the Redskins need. Clemons has not drawn a lot of interest on the market. The Dolphins opted for
Louis Delmas
, who barely practiced last season. Adams wasn't anything special for the Broncos, but can play in the box, too. They signed
T.J. Ward
, but he's more of a strong safety whereas Adams is a free safety. The Redskins clearly did not view the other safeties as better than Meriweather. But they failed in their quest to land
Mike Mitchell
, who ended up with Pittsburgh. I don't know how close the money was, but it's clear they're not as aggressive as they once were and, as one agent said, general manager Bruce Allen likes to "slow play" this process.
What it means thus far:
It's not that the Redskins didn't view safety as a problem, but perhaps not to the extent that others did. By that, I mean almost everyone else. It's also true you can't solve every issue in one offseason. But they signed Meriweather to a one-year deal and it's hard to imagine Clark getting anything other than a one- or two-year deal. So that means Washington will be back in this spot relatively soon. However, it also gives them another year to see if one of the young players can develop -- or to draft someone in the second or third round and groom him for 2015. Perhaps one from among the group of four young safeties can develop in another year or so. Thomas must overcome a tricky Lisfranc injury; not impossible, but tough and it's not as if he was on the cusp of starting before getting hurt. In talking to several who scouted Rambo at Georgia, the problems he showed last year were the same he showed in college that caused NFL teams pause. Not a good sign. I can't imagine, though, that something else won't be done at this position.
February, 12, 2014
Feb 12
8:25
AM ET
With free agency starting next month, and with the Redskins able to finally spend, it's good to take a look at what they're working with at each position. Where do they have the money already allocated in 2014 – and where will they have to spend this offseason?
The answer to the latter question is obvious, especially when you look at the numbers: receivers, linebacker, corner and safety are not only spots that need upgrading because of talent, they need it because of numbers. Just look at the top wage earners in the secondary.
As of now, the Redskins have 17 defensive players under contract (for a total of $33,395,891). They have 24 players under contract offensively (for a total of $53,971,390). They will cut some players to free up more space, of course.
Here are some possibilities
.
And for those wondering about where the money was allocated last year, the big money was on offense ($53,362,266). Defense took up 44.52 percent of the total salary cap ($44,807,210). It's a safe bet that will change this offseason.
Anyway, (mimicking my
Patriots colleagues blog
) here's a snapshot of their 2014 salary-cap situation by position:
Quarterback
Under contract:
2
Total cap value:
$6,447,926
Percentage of team cap:
7.1
Top cap charge:
Robert Griffin
III ($5,759,754)
Running back
Under contract:
6
Total cap value:
$5,171,921
Percentage of team cap:
5.7
Top cap charge:
Roy Helu
($1,506,563)
Wide receiver
Under contract:
4
Total cap value:
$11,577,219
Percentage of team cap:
12.75
Top cap charge:
Pierre Garcon
($9,700,000)
Tight end
Under contract:
3
Total cap value:
$3,569,357
Percentage of team cap:
3.93
Top cap charge:
Logan Paulsen
($2,236,666)
Offensive line
Under contract:
9
Total cap value:
$27,204,967
Percentage of team cap:
29.97
Top cap charge:
Trent Williams
($10,980,393)
Defensive line
Under contract:
6
Total cap value:
$24,621,156
Percentage of team cap:
27.12
Top cap charge:
Barry Cofield
($7,667,500)
Linebacker
Under contract:
5
Total cap value:
$5,201,881
Percentage of team cap:
15.58
Top cap charge:
Ryan Kerrigan
($2,774,639)
Cornerback
Under contract:
3
Total cap value:
$1,956,138
Percentage of team cap:
2.15
Top cap charge:
David Amerson
($875,205)
Safety
Under contract:
3
Total cap value:
$1,616,719
Percentage of team cap:
1.78
Top cap charge:
Trent Robinson
($570,000)
Specialists
Under contract:
4
Total cap value:
$3,415,000
Percentage of team cap:
3.76
Top cap charge:
Sav Rocca
($1,362,500)
February, 11, 2014
Feb 11
9:49
AM ET
The
Washington Redskins
were hurt at safety because of injuries and, in truth, poor decisions from the past. They had several years to solve this position and have been unable to do so, because of bad signings (O.J. Atogwe), bad luck (
Phillip Thomas
' injury) or relying on players with checkered pasts (
Tanard Jackson
). Add it up and it left the Redskins with too many backup players pressed into roles they weren't ready to play (or could play). The defense had other issues to be sure, but upgrading here is a top priority in the offseason.
Meriweather
Brandon Meriweather
When he wasn't getting penalized or suspended for his hits, he was OK in his first full season following ACL surgery. Would he be better a year further removed from surgery? Meriweather had to play more free safety than desired because of the issues Washington had at this position. He's much better as a strong safety in the box. But like others at this position, he missed too many tackles. One reason Seattle is so good defensively stems from their tackling ability. That's not the case in Washington (or with the entire defense). That's a big reason the Redskins ranked 26th in yards after contact allowed (1,304), nearly 400 yards behind San Francisco and Seattle. Meriweather still tackles too high; that got him in trouble against bigger players (like Atlanta's
Steven Jackson
). He'd be out of position on occasion. The Redskins could do worse than Meriweather, but they can also do better. Plus, you have to worry about him getting suspended for a long time with one more bad hit. They could opt to re-sign him to a one-year deal and then see how Phillip Thomas develops.
2014:
Gone
Contract status:
Free agent as of March 11
Bacarri Rambo
Was pressed into a starting role because of what the Redskins didn't have more so than for his own performance. He seemed to be in the right position much of the time -- that was evident in training camp, too. But his tackling was a major issue, which was the case in the preseason and late in the season. He tried too often to make shoulder tackles and, against Kansas City for example, did so while turning his body. You just won't tackle good NFL players that way. And, at this position, you absolutely need a sure tackler. If Rambo had made plays, that's one thing. But he didn't make a single play -- a hit, a pass defensed -- that made you think, 'OK, that's why he's out there.' He needs to develop on special teams. It's darn hard to be a backup safety in the NFL who doesn't contribute on special teams.
2014:
Backup
Contract status:
Signed through 2016
Doughty
Reed Doughty
As usual, he was pressed into a starting job because the Redskins could not solve the safety position. At this stage it's no secret what sort of player Doughty is: He can help the Redskins in the box in a pinch, though he'll have some games where he misses tackles. He is not a starter on a good defense. But the guy is prepared, plays well on special teams and the coaches know exactly what they'll get from him. That's what you want in a backup. The Redskins must put themselves in a better position at this spot.
2014:
Backup/special teamer
Contract status:
Free agent as of March 11
Jose Gumbs
He needed to be better on special teams. That should be his calling card, but he was inconsistent. He drew a penalty in the finale for kicking a ball at the end of a punt, as if he were playing soccer -- not smart. But Gumbs, who had some strong hits this summer, can develop in this area. From scrimmage, he started one game (Denver) but left early because he was hurt. Late in the season he played in the dime packages and intercepted an overthrown pass against Atlanta.
2014:
Bubble
Contract status:
Exclusive rights free agent
Phillip Thomas
We barely got to see him play because of his Lisfranc injury. Before he was hurt, the coaches felt like he was just starting to get it at strong safety, especially in terms of knowing where to fit in the run game. He would have received a lot of opportunities this past season so it's a shame he got hurt. But we really don't know what sort of player he is or could become. You have to go back to his days at Fresno State, where he overcame a lack of blazing speed with preparation, which in turn helped his anticipation and allowed him to play to his speed. Not every player can say that. But in college he missed too many open field tackles. I'm curious to see what he'll do this summer, but would still want to pursue a starting strong safety and then see how Thomas improves.
2014:
Backup
Contract status:
Signed through 2016
Trent Robinson
A special teamer; he played 34 snaps on defense and 192 on special teams. Robinson flashed on special teams and can be developed in this area. Against New York in the finale, Robinson, working as a gunner, consistently beat his man downfield and was rarely touched.
2014:
Bubble/special teamer
Contract status:
Signed through 2014