Washington Redskins:

Von Miller
November, 8, 2013
11/08/13
3:40
PM ET
I've said this before, but I'll repeat it: I've just never felt the same vibe in the locker room as I did a year ago -- not only during the hot streak, but before it began. I wonder if some were so caught off-guard by what happened early -- after thinking they had taken a step as an organization -- that it caused more frustration than when they were 3-6 in 2012.

That's not a knock on the players per se; it's more about every season has a different feel. I remember thinking they could play better a year ago (no way did I think seven straight wins). They did enough things well to give off that feel, like running the ball well and having an electric quarterback and an opportunistic defense. They didn't just express confidence, but rather seemed confident. Just not the same now.

The NFC East is still not a good division. Dallas is banged up and playing at New Orleans while Philadelphia plays Green Bay (minus quarterback Aaron Rodgers). But I'd need more reason than that to think the Redskins could go on a 2012 type run. A lot more reason.

By the way, yes the Eagles catch a break playing the Packers without Rodgers. The Redskins caught one too playing a banged-up 1-7 Vikings team.

[+] Enlarge

Win McNamee/Getty ImagesAlfred Morris is part of a young nucleus that excited Redskins fans, but this season has turned sour.

If you're a fan, and my guess is if you're reading this then you are, this has to be one of the most disappointing seasons in a long time. The town had fallen in love with the Redskins again, because of Robert Griffin III, yes, but also because of guys like Alfred Morris. The future looked bright (and, offensively, it still does). Look what's happened; a fan base that has felt burned and misled for years probably feels that way once again. And probably will, at least until free agency when the flush-with-cash Redskins become active again.

There's still reason to be optimistic about the future. Except now you must cross your fingers.

Running quarterbacks have hurt Washington more than I thought. Christian Ponder has now played well in consecutive games, and a large part of the reason why is his ability to extend plays. Chicago's Josh McCown did the same thing in the second half against Washington.

If one guy gets out of his rush lane, those quarterbacks have taken advantage. And it stresses the coverage more than it can handle. You see the difference an explosive guy like Denver's Von Miller makes when a quarterback starts to get loose in the pocket.

The Redskins were said to be built to protect a second-half lead because of the presence of Brian Orakpo and Ryan Kerrigan. But in the past three games, when they had double-digit leads, the Redskins have recorded one sack and they did not apply a lot of pressure. Orakpo and Kerrigan are good pass-rushers capable of big games. But they're not a weekly menace. Not a knock; it's just who they are and they are good, but this is what I've heard from people who know a lot more football than me. It's just another factor. Nobody's closing.

But this is not about one player or even two players. It's not about one side of the ball, either. It's just that they can't play a complete game because one side always comes up short.

Not sure I've ever seen Santana Moss as speechless as he was in the locker room after the game. He had a crushed look on his face. Gave us short answers, something he never does.

You could also see on Kerrigan's face how much it bothered him that he dropped an interception. He knows that could have been the difference in the game. If he hadn't scored, he would have put Washington deep in Vikings' territory. Instead, the Vikings kept the ball and drove down for a touchdown and 28-27 lead. When Kerrigan says it will stick with him, you believe him.

I don't know if Kerrigan would admit this or not, but I wonder how much his knee bothers him. His hands and strength and relentlessness are why he's good. He can still do well. But it looked like a couple times Thursday where it might have been the case. Sometimes, though, you get an idea in your head -- that maybe it's still an issue -- and you see things differently. That's a long way to say: I'm not sure, but I wonder.
October, 29, 2013
10/29/13
9:00
PM ET
Reed

Griffin

Yes, the Redskins stopped running the ball in the fourth quarter (after running it on six of their eight plays in the third). But the first two series in the fourth quarter did not bother me. They threw the ball on their first three plays, but the first play begged for a pass: After playing a seven-man front for most of the game, Denver walked the safety up on the right side. He bit hard on the play fake; it was perfect for the play call until Robert Griffin III threw too far inside of Morgan. Sure, they could have run on second down instead of throwing long. But on third down Aldrick Robinson dropped a high, but catchable pass. The catch radius for some of these receivers is rather small. The next series ended after three downs, and one run, because of a sack/fumble.
The one drive that bothered me occurred after Denver went ahead 31-21 with just over 11 minutes remaining. At that point the Redskins had thrown five times in six downs and were not clicking. They had thrown on first down four straight times. But they went right back to the air on three straight passes, one of which was completed. They had just given up 31 straight points; there was still enough time to recover. Why not settle things down by starting this drive with a run? Bread and butter. This game did not come down to play calls; I can point to a number that should have worked because the calls were excellent. If you think this game was about play calls, dig deeper, please. But this is the sequence I would have at least opened with a run.
The Jordan Reed effect? On the Santana Moss dropped would-be touchdown, Griffin stayed patient in the pocket and let the route develop. A linebacker had dropped down the left hash, but when Reed, starting outside the numbers, cut inside, the linebacker started toward him. That left an alley for Griffin to hit Moss. Good throw; bad drop. But the attention paid to Reed helped.
The Redskins' offensive line was criticized for its pass protection, but the hits Griffin took were a group effort. Too often receivers weren't winning one-on-one's in time or Griffin was holding the ball a while. You're going to get hit in those cases. The line was not perfect and allowed pressure. There were definitely times that Griffin could not adequately follow-through because at some point every lineman, even left tackle Trent Williams, was driven either into him or right by him. And running back Roy Helu, while improved in protection, missed some, too.
This team, not just the line, is not yet built to win from the pocket, not with consistency. But if you want to rip on the line for protection have at it. Just sing their praises for the run blocking, too. It helped that Denver spent most of the game in a seven-man box (in a 3-4 look, though they occasionally used a four-man line as well). The Broncos' inside linebackers were usually aligned four or five yards off the ball. It's not as if they were stationary at the snap, but being this depth allowed the linemen to reach them better.
Guard Kory Lichtensteiger said Denver tested the line's rules in pass protection with some of their looks. You could see it on a second-and-10 in the fourth quarter. Denver stunted the right end through the middle with the rest of the line slanting to the left. A linebacker then blitzes behind the stunt. That meant Lichtensteiger had two defenders coming through his gap. He has to pick up the blitz, but with center Will Montgomery on a double team to his right, the end crashes through for a sack in 2.2 seconds.
Lichtensteiger did get beat for the hit that knocked Griffin from the game. Lichtensteiger tried to attack defensive lineman Terrance Knighton. But a swim move to the inside by Knighton defeated him. Lichtensteiger used the same tactic earlier to stop a rush. It can be tough when you're a smaller guard to just sit back and try to anchor. Lichtensteiger did a solid job in run blocking.
Denver linebacker Von Miller looked pretty good to me. That is all.
On the third play of the game, Garcon ran a crossing route against what appeared to be man coverage. But as he reached the middle, his man stopped and the safety who had been deep left came up to cover him. The safety dropped to an area Reed was going. This coverage change took care of the Redskins' two best targets. Griffin had to pull the ball down and run after being in the pocket for 3.7 seconds.
I remember this happening twice, but the Broncos clearly were ready for the cuts in which the wideouts go inside and then cut back out. Leonard Hankerson did this one time, with the defensive back staying slightly outside when he first cuts inside. It prevented him from being open when he cut back out. Same thing happened to Santana Moss on another play.
Pointed this out after the game, but I'll repeat it: Denver did a terrific job taking away Griffin's ability to run. It helps to have athleticism on the edge, which is why the Broncos showed so much of their 3-4 look. Shaun Phillips made one play on Griffin without being involved in the tackle. He played the zone read perfect: staying square while stepping upfield about two yards. That forced Griffin, after starting wide, to spin back inside. Had Griffin been able to go wide without obstruction, he had two blockers against two defenders. But, thanks to Phillips, the edge was lost. The safety, Duke Ihenacho, sprinted up and nailed Griffin. But Phillips made this play happen.
October, 28, 2013
10/28/13
6:25
PM ET
ASHBURN, Va. -- The first pass should have resulted in a first down around midfield. The second one could have been a big play deep in Denver territory. And the third would have picked up 20 yards and a first down.
They came one right after the other. They also illustrate an example of what went wrong with the
Washington Redskins
' passing attack during a 45-21 loss to the Broncos.
"It's a little bit of everything," Redskins coach Mike Shanahan said.
[+] Enlarge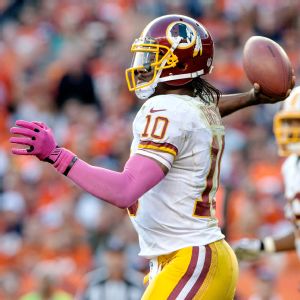 Dustin Bradford/Getty ImagesRobert Griffin III is averaging 7.0 yards per pass attempt this season compared to 8.1 during his rookie season.
And those three plays in the fourth quarter show what he's talking about. There were many examples from Sunday that could be used, this sequence illustrated their woes. Receiver
Josh Morgan
was wide open on a deep post, but quarterback
Robert Griffin
III threw behind him and the pass was incomplete instead of a first down just inside the 50.
On the second play, receiver
Pierre Garcon
broke through a double team beyond the Broncos' 35-yard line. It's a low-percentage pass, but Garcon did have a step on both defenders. Egregious? No. A missed chance? Yes.
Then, on third down, Griffin was under pressure but delivered a catchable ball as he was hit to receiver
Aldrick Robinson
. But Robinson, who had to reach up for the ball, failed to make the catch. Two promising plays, and a third opportunity, resulted in no yards and a punt.
"Sometimes it may be the quarterback's read," Shanahan said. "Other times it may be protection. Other times it may be a dropped ball. The offense just may be a little different than a year ago. A combination of all those things."
The numbers suggest the passing game is much different than a year ago. Griffin averages 7.0 yards per pass attempt compared to 8.1 as a rookie, perhaps a function of less play action (and therefore less ability to get the coverage out of position) as well as some bad throws. The receivers average just 11.8 per catch after securing 12.6 in 2012. Some frustration is growing; after Sunday's game Garcon said, "If you suck at passing, you suck at passing." Not everyone was that blunt.
"I can't point to one thing or two things," said Redskins receiver
Santana Moss
, who dropped a touchdown pass in the second quarter. "You have to make plays when the play gets presented to you. If you don't make plays, you're in the situation we're in now."
There was pressure on Griffin when linemen missed their men; Griffin was drilled by
Terrance Knighton
after guard
Kory Lichtensteiger
missed his block. Another time left tackle
Trent Williams
slipped and linebacker
Von Miller
beat him for a sack/fumble. Add it up and there are too many things going wrong in the passing game. They were all on display Sunday as Griffin completed 15-of-30 passes for 132 yards and was sacked three times.
Before the season started Griffin had hoped he could grow as a passer without the benefit of a full offseason. That's not how it's played out.
"Everything is a growing experience," Shanahan said. "The more reps you get the better off you get. But if you ask if there's one reason, I can't say just one. It's a combination of a lot of different things. Sometimes you may see a guy wide open and it may be a missed read or it may be a dropped ball, it may just be a missed assignment. It may be somebody getting beat. It's all those things."
October, 27, 2013
10/27/13
8:45
AM ET
While the Indianapolis Colts did a good job applying pressure on Denver quarterback Peyton Manning, they were helped by playing at home. The Broncos had to go with a silent count, which enabled the Colts' line to get a better jump. It also meant that Manning could not keep them off balance, or draw them offside, with a hard count. Much harder to get a jump against a quarterback such as Manning when playing on the road. The Colts also made Denver one dimensional by taking a double-digit lead, which helps any pass rush. Before Sunday, Denver's protection had been strong.

Interior pressure is the key against Manning and that means pressure from nose tackle Barry Cofield. Indianapolis' Cory Redding did a good job applying pressure inside last week and Cofield's game is comparable, in terms of technique and how they use their hands. Reserve nose tackle Chris Baker will have a role here, too, at times. Know this about Baker: He graded out near perfect last week, with one blemish. That means two strong games for him in the past three weeks. But with end Stephen Bowen hurting, they'll need more from backup Jarvis Jenkins. He needs to start making an impact.

The outside linebackers, Brian Orakpo and Ryan Kerrigan, have to at least apply pressure. Again, the pressure Sunday won't be measured in sacks. They need to create a tight pocket for Manning and that can mean just pinching the ends. Orakpo will face left tackle Chris Clark, who had a tough go at times versus the Colts' Robert Mathis, who used quickness and an occasional bull rush to apply heat. Orakpo can definitely use a bull rush; Mathis also had some success with spin moves, something Orakpo has only occasionally done.

The problem I have with this game? It's a details game; the so-called little things. That means penalties. That means special teams. (I just heard you gulp). The special teams has to be good, mainly to change field position – the Colts did a great job of pinning Denver deep, with 11 of its 17 drives starting at its own 20 or worse. That's significant. They could use a jolt from the return game as well, something they have not received this season. Washington will not win this game with just a good showing from the offense.

The tricky part is that Denver will use a lot of three-receiver sets, leaving a defense with six defenders in the box. So you must play the run well in this situation; the Colts did a solid job of it by using stunts or slanting the line. Look for Washington to do the same when confronted with this look.

Good luck blitzing Manning. He's the NFL's top-rated passer when facing five-plus rushers as well as when getting six or more. Against a five-plus rush, Manning has completed 44-of-64 passes for 588 yards nine touchdowns and an interception. When facing six or more, Manning has completed 14-of-20 passes for 237 yards, six touchdowns and no interceptions, according to ESPN Stats & Information. His passer rating? 149.4. The Redskins will blitz some, but without Reed Doughty or Brandon Meriweather at safety they'd better get home.

Denver likes to play a lot of man coverage, which usually bodes well for Robert Griffin III's ability to run. Both Dallas and Chicago used a lot of man coverage; it can make stopping the outside zone a little tougher if the linebackers can be sealed. It also means the defense must have disciplined rush lanes. Or else.

Griffin and the offense have fared much better against five-plus and six-plus rush situations the past two games. Griffin was the NFL's top-rated passer in both situations last season. This season? He's 13th against six-plus rushers, having already faced it 34 times compared to 24 all of last season. Griffin has completed 17-of-33 passes for 206 yards, three touchdowns and no interceptions against that look. But in the past two games, with his legs returning, he's encountered that rush only seven times, completing 5-of-7 passes for 80 yards – and leaving him fifth in quarterback rating (98.5) and seventh in passer rating (109.2).

I agree with corner DeAngelo Hall when asked if Sunday would provide a measuring stick for the defense. "Not really. Anytime you go against a guy like Peyton, he's going to test every aspect of your team, whether it's safety play or linebackers. He'll get the offense in the best situation. We'll disguise things, we'll mix things up. But is it a measuring stick? I don't think so. He'll be Peyton regardless of what we do. We're not going to make our names or lose our names off this one game. Their receivers are damn good receivers, too." Translation: "We're without both starting safeties, with no experienced backups. Don't judge us."

It'll be interesting to see what Denver linebacker Von Miller does in his second game back. Miller apparently put on 10 to 15 pounds from workouts during his six-game suspension. But has that taken away from his explosiveness? The Redskins say it hasn't, that he looked good against the Colts. I agree; for a guy who hadn't played yet this season, Miller looked pretty good. Miller typically lines up on the left side, which means right tackle Tyler Polumbus has a pivotal matchup. Miller will line up on both sides, but mostly on Polumbus' side. You must stay low and balanced – and beware his spin move, which he used a few times on the left side. In the past, he's done a good job against the zone read option, too. One more thing on him: He will try to jump the snap count, which will be easier to do at home than last week in Indy's closed stadium. A quicker get-off and with one game played, Miller could be primed for a big day.
October, 24, 2013
10/24/13
7:45
AM ET
Peyton Manning misses practice!
It certainly makes for a good, screaming headline and it's accurate.
Manning did miss practice Wednesday
, the first time he's done so with Denver. But it also was no big deal – and Manning said he'll likely be back on the practice field Thursday.
Manning has been beaten up the past two games, sacked four times in a loss to the Indianapolis Colts on Sunday and hit hard a few times the previous week versus the Jacksonville Jaguars.
"I plan on being out there [Thursday],'' Manning said. "I'm going to start there."
... So Manning threw some
wobbly passes
against the Colts (and other teams in the past). So what? And for all the talk about the Colts shutting him down, Manning did fare rather well in the fourth quarter and nearly pulled off the comeback.
... If the Denver Broncos want to win a championship, they'll need to diversify their offense and
start running the ball more (and better)
. Despite their offensive prowess, they average 3.8 yards per carry, which ranks 22nd in the NFL.
... Manning has Wes Welker and Demaryius Thomas, but
Eric Decker might be his favorite target
.
... Here's some good insight from my ESPN.com Broncos counterpart, Jeff Legwold, into
Denver's defense and special teams
after what they did against the Indianapolis Colts. It'll give you a tip or two.
... And here's
one on the offense
from Legwold (he's been on the beat there a while; he knows his stuff). He talks about why Welker is so tough to cover later in games.
... Why Washington Redskins tight end Jordan Reed is a
tough matchup
for the Broncos.
... More insight from the Denver Post in a
Broncos mailbag
. You can learn a thing or two here.
... Taking a look at linebacker Von Miller's
first game back
following his six-game suspension for drugs.