Washington Redskins:

Wes Welker
October, 30, 2013
10/30/13
10:45
AM ET
Through three quarters the defense was outstanding. They did what they needed to do: create turnovers; play sound, disciplined coverage (with minimal exceptions) and force long drives. It's difficult to force three-and-outs with Denver so any time the Broncos punt it's a win. And any time you cause four turnovers you should win. The offense kept putting the defense in bad spots in the third quarter and certainly they got worn down. But they also allowed scoring drives of 11 and 16 in consecutive series, before the offense had imploded. It's no shame to surrender scoring drives to Denver, but the defense had a chance to get off the field a couple times and failed. They needed to play perfect and that's asking a lot.
Corner DeAngelo Hall is playing more consistent than when he made the Pro Bowl after the 2010 season. Hall did an outstanding job against receiver Demaryius Thomas (35 of his 75 yards came off a screen pass). Hall played physical against him leading to two interceptions. On the first, which he returned for a score, Hall jammed him and Thomas fell. Easy pick. On the second, Hall played tight man coverage and when the wobbly pass was coming down, Hall turned briefly. Then he turned back to Thomas and simply took the ball away. Where would this team be without Hall?
There was a stark contrast between the quarterbacks in the pocket, as there should be given Peyton Manning's experience and talent level. Robert Griffin III will never reach that same level in the pocket; they're just different quarterbacks. But Griffin can improve and become good. Anyway, Manning does a tremendous job anticipating routes and coverages. It's why he rarely gets hit. He had one route in which he dumped the ball to what looked to be his third target, but unloaded it in 2.0 seconds. When Griffin would get hit, at least 2.5 seconds had usually elapsed.
Another time Manning connected with Wes Welker on a 16-yard pass over the middle. As Manning starts to throw, Welker is behind two Redskins in zone coverage (Josh Wilson and Nick Barnett) and not open. By the time Welker reaches the open middle, the ball is there. Great example of anticipation and throwing guys open. Of course, Manning's anticipation got him in trouble on Jordan Pugh's interception. E.J. Biggers covered Welker one-on-one at the line with Pugh over the top. Manning anticipated a win and didn't hesitate; Welker didn't win -- Biggers did a great job on this play -- but if you have receivers you trust to win these matchups, then you let it go. More often than not you will be rewarded.
Really liked how end Stephen Bowen played, especially with a bad knee. Bowen does an excellent job of staying low before the snap, enabling him to play with more power and shoot through faster. On a three-yard Knowshon Moreno run in the second quarter, Bowen took on a double team. He stayed low and held his ground, with his legs more outstretched than usual and his knees almost touching the ground. Linebacker Perry Riley stayed free because of it and made the tackle, along with Rob Jackson. But Bowen made the play. Another time he stayed low as he slanted to the right, causing disruption on a run to the left that end Jarvis Jenkins turned into a zero-yard run.
Denver runs an awful lot of picks; they weren't illegal and they weren't always effective. But it's how Welker scored the first touchdown. Thomas ran at Wilson, playing man coverage in the slot against Welker, who was then wide open for an easy six-yard score. Thomas played it almost like a pick-and-roll, turning and extending his hands for the pass. Wilson avoided some of these screens other times, going underneath. But rookie corner David Amerson got caught too over the top and had to widen his depth to avoid the screen, leading to a 19-yard catch-and-run by Eric Decker.
By the way, Amerson did a good job on Decker. Manning tested him twice in a row earlier in that series with two deep passes. But Amerson played tight coverage and Decker wasn't open.
Give Manning enough plays, he will hurt you eventually. He caught Washington on a slot corner blitz on the 35-yard screen touchdown pass to Thomas, who had three blockers to handle three defenders. On the 35-yard screen for a touchdown to Moreno, the Redskins had Chris Baker and Jarvis Jenkins in at tackle. My wonder: If Barry Cofield and Bowen had been in, would they have noticed the screen earlier? Baker and Jenkins were intent on getting to Manning; both tackles had strong moments at other points, by the way. Still, the only person who recognized it was linebacker Perry Riley, but when he ducked around two blockers and forced Moreno back inside, no one was there. Manning also caught Washington with one defensive back at the goal line (Jose Gumbs) on the fourth-and-1 touchdown pass to tight end Joel Dreessen early in the fourth, tying the score.
Bacarri Rambo played more aggressive and decisive than at any point since camp opened. Jose Gumbs is good to have on special teams.
Aside from one play, linebackers Ryan Kerrigan and Brian Orakpo had quiet days (though Orakpo also had a batted pass that forced a field goal). Manning neutralized them with quick throws (he also got Kerrigan to jump offsides on a hard count, taking it from third-and-7 from the Washington 25 in the third quarter).
On a third-and-10 late in the third quarter, the Broncos got away with two holds. Bowen and Cofield ran a perfect stunt, with Bowen crashing into the center to free up Cofield. But as Cofield runs past the left guard, as he falls, grabs his jersey. Meanwhile, the center, as he's going to the ground, tugs Bowen's jersey with his right hand. It slowed them down enough to enable Manning to complete a 13-yard pass to Welker en route to a game-tying touchdown.
October, 24, 2013
10/24/13
6:45
PM ET
ASHBURN, Va. -- The supposed blueprint was revealed Sunday night when the
Indianapolis Colts
shut down the
Denver Broncos
. They made quarterback
Peyton Manning
look bad.
There's just two problems: The Colts did do a terrific job, yet the Broncos still scored 30 points and had the ball with a chance to drive the field for the lead. And Manning, while more mortal than other games, still managed 386 passing yards and three touchdown passes.
Still, the Colts held Denver to a season-low point total in their 39-33 victory. In the first six games Denver had scored 40 or more points four times -- and more than 50 twice. Manning has thrown 25 touchdown passes and only three interceptions.
"He's one of the best, if not the best, that ever played the game," Redskins defensive coordinator Jim Haslett said.
[+] Enlarge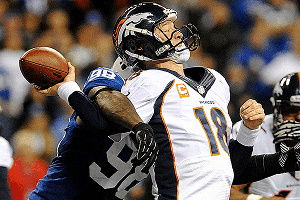 Thomas J. Russo/USA TODAY SportsRobert Mathis and the Colts were able to sack Broncos QB Peyton Manning four times on Sunday.
Still, the Colts beat him. Here's what the Colts did well:
Be physical with the receivers
The Redskins have done a solid job in recent weeks at disrupting the timing of receivers. At times they'll jam immediately off the line. Other times they'll let them run a couple yards then get their hands on them. That's what Indianapolis did Sunday. The Colts did not play press coverage the whole game, but they did cover well most of the night; downfield passes were always contested with tight coverage.
That's why Redskins corner
DeAngelo Hall
said one key is to "try to win one-on-one matchups."
It'll help if Washington can at least apply solid pressure with its four-man rush. With safety
Brandon Meriweather
suspended and safety
Reed Doughty
likely questionable because of his concussion, the Redskins will be thin at that spot. To put one safety deep in this situation would be difficult, though
E.J. Biggers
' speed allows him to cover a lot of ground -- which is why they'll use the corner at safety, likely with three other corners.
Indianapolis also did a good job being disciplined in coverage and tackling after the catch. Also, the corners understood where their help was on plays, something that could be trickier for Washington if it must incorporate inexperienced safeties.
The coverage ploy worked great for three quarters Sunday. But it's hard to stop this offense all game. Of Denver's top seven plays in terms of yards gained, six occurred in the fourth quarter and represented 186 of their 429 total yards.
Keep disguising coverages
It's obviously difficult to confuse Manning, one of the smartest quarterbacks in history. But it can happen.
On a second-and-10 in the first half, the Colts showed a two-deep look and what appeared to be man coverage. That's not surprising; it's a look they showed often. The left outside linebacker covered tight end
Julius Thomas
off the line with the left corner playing off on receiver
Eric Decker
. Then Decker broke inside and, as Manning readied to throw, the Colts revealed zone coverage with the linebacker,
Jerrell Freeman
, breaking off Thomas and deflecting the pass.
"If he sees something and it looks different he can find a weakness," Redskins corner DeAngelo Hall said. "But if we're showing the same thing and we're playing a bunch of different things out of it, hopefully we can fool them a couple times. Indy did the same thing. They attacked with their front and in the back end everything looked the same."
Field position
Denver had 17 drives against the Colts, but 11 were from their own 20 or worse. And six were inside the 20. The Broncos scored only 10 points on these drives 11 drives while 23 were scored when they started a drive outside their own 35-yard line.
That, of course, means the Redskins' special teams would have to perform better than they have the past two games when they've allowed two punt returns for a touchdown and a 90-yard kickoff return.
In the past two games combined, the Redskins' opponents have had 23 possessions; nine have been at their own 35 or better with eight at the 20 or worse.
Pressure
It's not just about hitting Manning or sacking him. Both can be difficult because of how quickly he delivers the ball. In the first half Sunday, the Colts did a good job of pinching the pocket, more often than not using four-man rushes. They'd send the occasional blitz, or stunt the outside linebackers to the middle. But, mostly, it was about four rushers (who also did a good job against the run, using some stunts to offset being forced into six-man boxes because of the three-receiver sets).
Indianapolis applied pressure inside, too, preventing Manning from stepping into his throws -- and leading to passes losing steam in the end.
"You don't want him to step up and put everything into his throws," Redskins linebacker
Ryan Kerrigan
said. "You don't want him to have a comfortable pocket to sit in either. So getting that collapse and getting a good push, especially from the interior guys, will be key."
But be warned: Manning twice in the fourth quarter stepped up into the pocket, through a gap in the rush, and completed a 49-yard pass to
Demaryius Thomas
and, two plays, later a 31-yarder to him for a touchdown. Manning is not a running quarterback; he's also not a statue.
Still, as Wilson said, "You don't let Peyton sit there and pick you apart. You have to move him around. He doesn't like to do that."
Linebacker
Robert Mathis
had two sacks and four quarterback hurries. On one of his sacks, he just beat left tackle
Chris Clark
with speed around the edge, with Manning using play-action. Another time, out of a two-point stance, Mathis launched into Clark's chest and drove him back for a pressure. He also tried some spin moves inside as Clark occasionally set too wide despite having help from the back. Redskins linebacker
Brian Orakpo
will need to take advantage.
"The Colts did a good job of getting some pressure on him," Haslett said. "That's the key to the game. That [and] stopping the run."
October, 24, 2013
10/24/13
7:45
AM ET
Peyton Manning misses practice!
It certainly makes for a good, screaming headline and it's accurate.
Manning did miss practice Wednesday
, the first time he's done so with Denver. But it also was no big deal – and Manning said he'll likely be back on the practice field Thursday.
Manning has been beaten up the past two games, sacked four times in a loss to the Indianapolis Colts on Sunday and hit hard a few times the previous week versus the Jacksonville Jaguars.
"I plan on being out there [Thursday],'' Manning said. "I'm going to start there."
... So Manning threw some
wobbly passes
against the Colts (and other teams in the past). So what? And for all the talk about the Colts shutting him down, Manning did fare rather well in the fourth quarter and nearly pulled off the comeback.
... If the Denver Broncos want to win a championship, they'll need to diversify their offense and
start running the ball more (and better)
. Despite their offensive prowess, they average 3.8 yards per carry, which ranks 22nd in the NFL.
... Manning has Wes Welker and Demaryius Thomas, but
Eric Decker might be his favorite target
.
... Here's some good insight from my ESPN.com Broncos counterpart, Jeff Legwold, into
Denver's defense and special teams
after what they did against the Indianapolis Colts. It'll give you a tip or two.
... And here's
one on the offense
from Legwold (he's been on the beat there a while; he knows his stuff). He talks about why Welker is so tough to cover later in games.
... Why Washington Redskins tight end Jordan Reed is a
tough matchup
for the Broncos.
... More insight from the Denver Post in a
Broncos mailbag
. You can learn a thing or two here.
... Taking a look at linebacker Von Miller's
first game back
following his six-game suspension for drugs.
October, 23, 2013
10/23/13
6:10
PM ET
ASHBURN, Va. --
Washington Redskins
receiver
Leonard Hankerson
did not practice Wednesday after hurting his foot playing with his kids on Tuesday, coach Mike Shanahan said. He did not go into detail on the severity of the injury. Nor is it known whether Hankerson will return to practice Thursday.

If Hankerson can't play,
Josh Morgan
would return to the lineup as the starting Z receiver. Neither player has been a consistent threat, so it wouldn't be a big drop-off from one to the other.
Defensive end
Stephen Bowen
was limited because of his torn posterior cruciate ligament. Bowen played with a similar injury two years ago in his other knee, and is hopeful that he'll play Sunday. Safety
Reed Doughty
(concussion) and backup nose tackle
Chris Neild
(calf) also were limited in practice. When asked whether he still had symptoms from his concussion, Doughty would only say he'll see how he's feeling Sunday.
For Denver, cornerback
Champ Bailey
(foot), receiver
Eric Decker
(toe), quarterback
Peyton Manning
(ankle), tight end
Joel Dreessen
(knee), tackle
Orlando Franklin
(ankle), guard
Chris Kuper
(ankle), defensive end
Shaun Phillips
(hamstring), receiver
Wes Welker
(ankle) all did not practice. Defensive tackle
Mitch Unrein
(groin) and linebacker
Wesley Woodyard
(neck) were limited.