Women's Basketball:

California Bears
March, 10, 2013
3/10/13
3:30
AM ET
Some updates after Saturday's conference tournament games:
NOTABLE
• With the announcement that Wichita State won the tiebreaker in the Missouri Valley Conference and will be the top seed in the tournament, we will follow suit and move the Shockers back into the field as the automatic qualifier. Creighton stays in the field as the last team in.
• Wichita State's return to the field takes up another spot, and that, plus its quarterfinal loss to fellow bubble team Saint Joseph's, cost Duquesne a spot in the field. The Dukes are now the first team out.
• UCLA's huge and convincing win over California in the Pac-12 semifinals, coupled with Texas A&M's victory over Tennessee in the SEC semifinals, mixed up the Nos. 3 and 4 seeds a bit. The Bruins and Aggies are both now No. 3 seeds. Nebraska (a loser in the Big Ten semifinals) and Dayton are now No. 4 seeds.
• Tennessee Martin became the first official entrant into the NCAA tournament field with an overtime win over Tennessee Tech in the OVC tournament final.
• Stetson became the second official automatic qualifier by upsetting Florida Gulf Coast in the championship game of the Atlantic Sun. The Eagles went unbeaten in regular-season conference play and won the league by four games over the Hatters, but Stetson is headed to the NCAA tournament.
• Princeton followed suit later Saturday to become automatic qualifier No. 3 by clinching the Ivy League with a win over Brown.
LAST FOUR IN
West Virginia
Saint Joseph's
South Florida
Creighton
FIRST FOUR OUT
Duquesne
Ohio State
Florida Gulf Coast
Kansas
NEXT FOUR OUT
Florida
Minnesota
Illinois
Arkansas
CONFERENCE BREAKDOWN
Big East: 8
SEC: 7
Big Ten: 6
Big 12: 6
ACC: 5
Pac-12: 4
Atlantic 10: 3
MVC: 2
AUTOMATIC QUALIFIERS
Princeton
Stetson
Tennessee Martin
January, 30, 2013
1/30/13
11:24
PM ET
Let's just call it what is was: Awkwaaaarrrd.
Oregon coach Paul Westhead was on the Pac-12 conference call Tuesday morning talking up the strength of the league, and musing about the challenging weekend in front of his struggling Ducks -- a Friday night game against No. 4 Stanford, followed by a Sunday matchup against No. 6 Cal, the two teams tied atop the conference standings at 7-1.
"I still think Stanford is the premier team right now," Westhead said, admitting surprise that the Cardinal were beaten by Cal two weeks go to end Stanford's 81-game conference win streak. "I'm always an advocate that until somebody beats you and pushes you aside, you are still the best. It was obviously a big win for Cal a couple of weeks ago, but I still think Stanford is the better team in our conference."
While he talked, Cal coach Lindsay Gottlieb waited on the open phone line to go next. Asked whether she heard Westhead's comments, she chuckled and said, "I heard it."
NNo one has more respect for Stanford than me and our program," Gottlieb said. "History has proved that they are the champions and I firmly believe they are until somebody knocks them off."
Westhead, and even Gottlieb, are espousing an old-school coaches' view. If you are Stanford and you've won 12 straight conference titles and taken every other team in the conference to the proverbial woodshed over these past few years, you get to be considered the best team until somebody else takes your title.
But Gottlieb also knows the Bears have something a little special going as well.
"Do I feel good that we are making a name for ourselves nationally? Yes," Gottlieb said. "But do I think that we will always, in some ways, be compared to Stanford relative to their success? Probably."
Gottlieb's graciousness aside, if the Bears needed a little more incentive to play in Eugene on Sunday against the 1-7 Ducks, they probably have it.
December, 20, 2012
12/20/12
2:14
PM ET
The Pac-12's women's basketball coaches have spent years trying to convince others -- and sometimes themselves -- that their league is a rougher, tougher place than it is perceived to be.
This year, though, the Pac-12 has a strong case for folks to buy what they are selling.
[+] Enlarge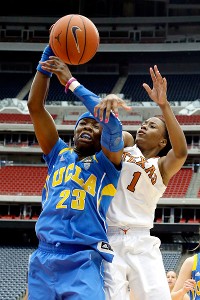 AP Photo/David J. PhillipUCLA's Markel Walker is averaging 8.8 rebounds and a team-high 15.1 points.
Colorado's entrance into the Associated Press Top 25 after an upset win over Louisville ran the Buffs' record to 9-0 and marked the first time since 2006 that the West Coast's top conference has had four teams ranked nationally.
The Pac-12 has the No. 1 team in the country in Stanford. California is eighth, followed by No. 12 UCLA and No. 25 Colorado. Five teams -- Colorado, Stanford, Utah, Cal and UCLA -- have one loss or less. Seven teams, including Washington and Arizona, have at least seven victories. Nine teams, including Arizona State and Oregon State, are above .500.
And there are upsets to brag about. Stanford defeated top-ranked Baylor. UCLA took down Oklahoma and Texas. Colorado beat Louisville. Even 3-5 Washington State is getting some momentum out of a home win over Ohio State last weekend.
"I don't think I remember a time when I've felt so much momentum," said UCLA coach Cori Close, whose team is 7-1. "We can talk about the Pac-12 and rah-rah about it all we want, but until you go and beat people … There are a whole slew of programs who are not just talking, but are backing it up with their play right now."
Injuries across the league kept the Pac-12 from a stronger season in its new configuration a year ago. Teams such as UCLA, Southern California, Washington and Utah had significant injuries issues and it hampered the league's overall strength.
"I think this season is the norm," Utah coach Anthony Levrets said. "I think what we saw last year was an enigma. The conference of champions was the conference of injuries. I think this league is really good and it's really deep."
Oddly, USC is one of the teams on the outside looking into all that success. The Women of Troy are young -- with three freshmen in the starting lineup -- and struggling with a strong schedule, including relatively close losses to Nebraska, Gonzaga and Texas A&M.
USC hosts No. 4 Duke on Saturday.
"I think the Pac-12 is showing that it can stand equal with anyone and I'm enjoying it, but I just wish we were part of it," USC coach Michael Cooper said. "Duke is coming in and if we play and compete, maybe we'll get our win among the rest of them."
The Pac-12 has to hope that for all this improvement, March will be kind. The conference hasn't sent more than three teams into the NCAA tournament field since 2006-07.
Stanford coach Tara VanDerveer, whose team has won 12 straight league titles and hasn't lost a conference game since 2009, said she is thrilled to see the upgrade in conference competition. Having more teams upgrade the conference RPI only helps the pace-setting Cardinal.
Stanford is about to hit its toughest stretch of the nonconference season after Wednesday's game with South Carolina, followed by a Saturday match at Tennessee and then the Dec. 29 clash with Connecticut -- expected to be a 1-2 showdown -- at Maples Pavilion. That stretch is followed by a Pac-12 opening set against Utah and Colorado, which are a combined 16-1 so far.
"I've known for a long time that we have really good talent," VanDerveer said. "Teams are making some noise out here and it's great. We want to keep it going for us as well."