Women's Basketball:

Duke Blue Devils
March, 24, 2014
3/24/14
8:41
PM ET
DURHAM, N.C. -- A bad weekend for the postseason fortunes of teams from the Triangle stretched into Monday, as No. 7 seed DePaul ensured that No. 2 seed Duke joined the men's teams from Duke and North Carolina on the NCAA tournament sideline. Led by 22 points from Megan Rogowski and 18 points from Megan Podkowa, the Blue Demons beat the Blue Devils 74-65 at Cameron Indoor Stadium.

With the loss, Duke became the first No. 1 or No. 2 seed to fail to reach the Sweet 16 since the Xavier team that included Amber Harris and Ta'Shia Phillips was upset on its home court by Louisville in 2011, Shoni Schimmel's first NCAA tournament. The last such team from a major conference that failed to reach the third round was No. 2 seed Texas A&M in 2010.

Key stat: 21 turnovers. Duke cleaned up its ball control a little as the game progressed, but the tone was set early as the Blue Devils struggled to deal with the full-court pressure and frequent traps applied by the Blue Demons. The question ever since Duke lost the services of both Chelsea Gray and Alexis Jones was how it would fare against a pressure defense in the postseason. The answer was not well enough. Duke's three primary replacement ball handlers combined for 16 turnovers and could not get enough looks for Elizabeth Williams, who was otherwise dominant.

Turning point: Duke carried over the momentum it seized in the closing minutes of the first half and took its first lead of the game on Richa Jackson's layup with a little more than 18 minutes remaining. Coming back the other way, DePaul's Podkowa hit a 3-pointer from the top of the key to put the Blue Demons back in front 30-28. Getting any kind of shot to fall seemed to settle the Blue Demons, who quickly pushed that small margin back out to something between five and eight points through much of the second half.

Duke didn't get back to within a single possession until seven minutes remained, at which point two quick baskets from Jasmine Penny and Brittany Hrynko extended the lead yet again.

Key player: Playing the role Tricia Liston might have played had she made a different decision in the recruiting process (DePaul was in the running for her until she signed with Duke), Podkowa was fearless on a big stage. She finished with 18 points and five rebounds, and even came up with a pair of blocked shots on Duke's Williams among three total.

How it was won: Both teams had potential advantages that could have been decisive in a vacuum: Duke's superior size, and DePaul's perimeter depth and quickness. The Blue Devils never got a chance to fully exploit the former because the latter made life miserable for anyone in a Blue Devils uniform who tried to handle the ball.

Add in just enough 3-pointers, after a rough start from behind the arc, and DePaul's formula worked.

What's next: DePaul advances to the Sweet 16 in Lincoln, Neb., and will play the winner of Tuesday's second-round game between No. 3 seed Texas A&M and No. 11 seed James Madison. This is DePaul's first trip to the tournament's second week since 2011, when it lost to Duke in a regional in which Connecticut was the top seed.

March, 5, 2014
3/05/14
1:31
PM ET
ESPN analyst Debbie Antonelli breaks down the games of a member from each of the teams in espnW.com's Total Access series on Duke, North Carolina and NC State.
Diamond DeShields, North Carolina
Antonelli explains why North Carolina's Diamond DeShields is the most talented freshman in the country.
Markeisha Gatling, NC State
Antonelli discusses why NC State's Markeisha Gatling is one of the hardest players to defend in the post.
Tricia Liston, Duke
Debbie Antonelli details what makes Tricia Liston so effective in Duke's offense.
March, 10, 2013
3/10/13
7:53
PM ET
Some updates after most of Sunday's conference tournament games (through games as of 7:30 p.m. ET):
NOTABLE
• Saint Joseph's upset of top-seeded Dayton in the Atlantic 10 semifinals solidified the Hawks' place in the NCAA field, moving three spots above the Last 4 In on the S-curve.
• Dayton's chances at a No. 3 seed disappeared with that loss. The Flyers remain a No. 4 seed for now.
• South Florida pushed itself up the board with an impressive showing in a loss to Notre Dame in the Big East quarterfinals. The Bulls have no bad losses and, despite just two top-50 wins, seem safe at this point.
• Liberty became the fourth automatic NCAA qualifier with its 15th Big South tournament title in the last 17 years by beating Longwood.
• After winning the ACC tournament title, Duke is solidly the top No. 2 seed, but the Blue Devils are not in a position to overtake Stanford for the final No. 1 seed.
LAST FOUR IN
South Florida
West Virginia
Charlotte
Creighton
FIRST FOUR OUT
Duquesne
Ohio State
Florida Gulf Coast
Kansas
NEXT FOUR OUT
Florida
Minnesota
Illinois
Arkansas
CONFERENCE BREAKDOWN
Big East: 8
SEC: 7
Big Ten: 6
Big 12: 6
ACC: 5
Pac-12: 4
Atlantic 10: 3
MVC: 2
AUTOMATIC QUALIFIERS
Duke
Liberty
Princeton
Purdue
Stetson
Tennessee-Martin
March, 7, 2013
3/07/13
12:45
AM ET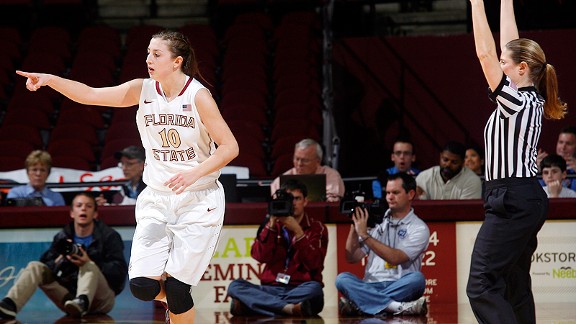 AP Photo/Phil SearsLeonor Rodriguez is one of five seniors on fourth-seeded Florida State.
Last year, Georgia Tech came achingly close to being the first team since Clemson in 1999 to break up the Duke/North Carolina/Maryland monopoly on winning the ACC women's basketball tournament.
This year, is there anyone outside those three that can actually take home the trophy from Greensboro, N.C.? Probably not.
It looks like there will be five ACC teams in the NCAA tournament: Duke, UNC, Maryland, Florida State and Miami. The only road into the Big Dance for the other seven teams -- which all have losing records in the league -- is by winning the tournament and automatic bid, which seems extremely unlikely.
So then what is at stake in Greensboro? Florida State and Miami, both 11-7 in ACC play, would like to bolster their NCAA résumés a bit with at least one more win. North Carolina, the No. 3 seed, wouldn't mind another shot at top-seeded Duke, which beat the Tar Heels twice in the regular season.
And Maryland, which has won more ACC tournament titles than any program (10) will try to add to that total as the school's time in the league nears an end. No matter how geographically and traditionally illogical it is, the Terrapins will be moving to the Big Ten. That's expected to be in 2014.
The Terps held off Georgia Tech 68-65 in last season's championship game. Despite injuries and graduation taking such a toll on the Terps this year, they've still earned the No. 2 seed.
"I'm obviously very proud of our team in terms of how we've battled through the adversity this season," Maryland coach Brenda Frese said. "Never using injuries as an excuse, just really playing to get better. Obviously [with] the play of Tianna Hawkins and Alyssa Thomas, we've been fortunate."
The Terps lost twice to Duke -- the first time when the Blue Devils still had point guard Chelsea Gray, and the second after Gray had suffered a season-ending knee injury. Maryland also lost at North Carolina in early January, and at Florida State on Feb. 28.
That win was much-needed by the fourth-seeded Seminoles, who've been inconsistent. They have victories over the Terps and Tar Heels in their last eight games, but also losses to NC State, Virginia Tech, and Virginia. The Hokies are the last-place team in the ACC.
So what gives with the Seminoles' highs and lows?
"I don't know exactly why that is," Florida State coach Sue Semrau said. "But at the same time, I know that we're capable of a lot. That's a mystery to me and to my staff. Maybe it plays in a little bit to human nature.
"Certainly having five seniors going into the ACC tournament, this being their last chance at it, I think the excitement level is high."
North Carolina's program has nine ACC tournament titles, but the last was in 2008. That one was the fourth straight league tourney title for the Tar Heels, who've been pretty steady this ACC season. Their only ACC losses were the two to Duke, plus at Maryland, and at Florida State.
"These kids have really worked hard, and we are very balanced," UNC coach Sylvia Hatchell said. "Our seniors have done a great job. Tierra Ruffin-Pratt is not really a point guard, but we've played her at point guard and she's accepted that role and just done a fabulous job for us. And I'm just so proud of her because this is the first time she's been healthy since she's been here at UNC."
Ruffin-Pratt leads the Tar Heels at 14.8 points per game. Meanwhile, UNC's Xylina McDaniel was named ACC freshman of the year; she averages 12.4 points and 7.2 rebounds.
Ultimately, though, this still seems like Duke's tournament to win, despite the loss of Gray -- who was having an All-American season -- on Feb. 17 when she was hurt against Wake Forest.
The Blue Devils' only ACC loss came at Miami on Feb. 28 to a Hurricanes team that really needed that win for their NCAA tournament hopes.
Duke has won the ACC tournament title seven times, two of those with Joanne P. McCallie as coach. The Blue Devils are hosting the NCAA tournament's early rounds this year, and they seem pretty secure as an NCAA No. 2 seed regardless of what happens in Greensboro.
Of course, Duke would like another ACC trophy. But McCallie is looking at more the big picture for both the Blue Devils and the ACC. As in, getting a team to the Final Four. The last ACC team to make it that far was North Carolina in 2007; McCallie took her Michigan State team out of the Big Ten that far in 2005.
"The days of talking about the ACC and the Final Four are past days, not more the current ones," McCallie said. "So I think it's extremely important that we get teams to the Final Four and the biggest stage."
How they play in Greensboro might help in that process for the Blue Devils.
February, 12, 2013
2/12/13
12:28
AM ET
Maryland coach Brenda Frese torched the officials' ears Monday in a 71-56 loss at Duke, getting an early exit after picking up two technical fouls late in the game. She didn't like the fouls that the referees were calling, nor the ones that she thought they should have called. But what really hurt the Terrapins was … the Terrapins who are hurt.
Refs are always a target for frustrated coaches, but Frese just as well could have been yelling at a medical diagram. Specifically, one that showed a torn ACL. Because that injury has been a source of a lot of misery for the Terps this season.
After having lost guard Anjale Barrett to graduation, the Terps also have seen guards Brene Moseley and Laurin Mincy go down with ACL injuries. As did post player Essence Townsend.
[+] Enlarge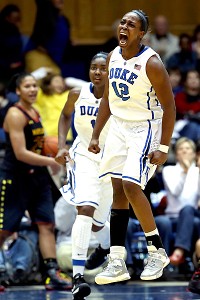 AP Photo/Gerry BroomeDuke's Chelsea Gray exploited Maryland's depleted backcourt, scoring a career-high 28 points.
The missing guards have been a void that Maryland admirably has filled for much of this season. However, the Blue Devils took advantage in a big way Monday.
Duke point guard Chelsea Gray had a career-high 28 points in a game that the home crowd in Durham, N.C., thoroughly enjoyed.
After all, three weeks ago, Duke had to choke down yet another spoonful of bitter medicine from UConn in a nationally televised Monday night game. That was Duke's first (and still only) loss of the season, and Gray was flummoxed by the Huskies' Kelly Faris. Gray was limited to 1-of-6 shooting for two points, with her four assists offset by four turnovers.
It wasn't really a back-to-the-drawing board loss for Duke, but it was a take-stock game for Gray. The 5-foot-11 junior out of California has evolved into one of the women's college game's best floor generals, but it didn't show against UConn.
Since that humbling by the Huskies, Duke not only hasn't lost, the Blue Devils really haven't had a close game. They've beaten Clemson, Boston College, Miami, North Carolina, Virginia and Maryland by an average of 22.3 points.
At 12-0 in the ACC, Duke has a two-game lead over North Carolina and Maryland, which are tied for second. With UNC coach Sylvia Hatchell trying for her 900th victory on Feb. 3 in Chapel Hill, N.C., the Blue Devils said, "Forget it. You'll have to get that somewhere else." They squashed the Tar Heels in a game that actually wasn't as close as the 21-point margin.
Then Monday, Gray took command against Maryland, not just offensively but as the spark plug of a defensive effort that made things really hard for the Terps. Alyssa Thomas and Tianna Hawkins were a combined 7-of-30 from the field, totaling 20 points. The Terps had 24 turnovers.
Yet despite Maryland's struggles, the Terps were down just 57-50 with 4 minutes, 3 seconds left. It was still a winnable game for Maryland, which was pretty remarkable all things considered.
But then Thomas missed a shot, Gray got a layup, and Frese lost her cool. Actually she seemed on the verge of that all night. Two technicals during a TV timeout sent Frese to the locker room and Gray to the foul line.
Swish, swish, swish, swish. It was that kind of night for Gray. And with those free throws, Duke had a 13-point lead that the Blue Devils were not in danger of losing the rest of the way.
Duke still has to face Maryland (Feb. 24 in College Park, Md.) and North Carolina (March 3 in Durham) again during the regular season. Can the Blue Devils run the table in the ACC, and perhaps bump up from what is projected right now as a No. 2 seed in Bracketology by Charlie Creme? Yes and yes, especially if Gray is able to keep performing the way she did Monday.
However, we do need to point out, again, that Maryland was still within seven points late in this game. The Blue Devils must take note of that … but so should the Terps.
Because despite everything that was going wrong, Maryland remained in contention. There's nothing the Terps can do about the guard shortage that has been a burden they've had to bear all season. But the odds of both Thomas and Hawkins struggling so much on the same night are probably low.
Which means Round 2 between Duke and Maryland should be very compelling.