Women's Basketball:

Kansas State Wildcats
January, 16, 2013
1/16/13
11:34
PM ET
MANHATTAN, Kan. -- It's a familiar scene after Baylor games, even those in "enemy" territory. Little voices crying out, "Brittney, Brittney, Brittney!" Little hands frantically working cell phone cameras. Little faces creased by huge smiles.
"You should have seen it at TCU," one of Baylor's traveling party said of the lengthy gauntlet of young fans who awaited senior center Brittney Griner earlier this month as she tried to make her way to the team bus in Fort Worth, Texas. "But it's like this everywhere."
At Bramlage Coliseum on Wednesday, Griner gave the audience what it wanted. OK, well, not the upset Kansas State folks hoped for. Baylor (15-1 overall, 5-0 Big 12) has now won 14 in a row against the Wildcats.
[+] Enlarge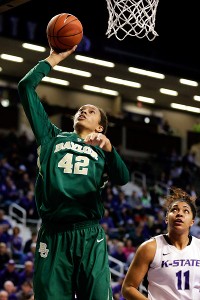 AP Photo/Charlie RiedelBrittney Griner had 29 points and seven rebounds against an undersized K-State squad.
But Griner did have a one-handed dunk -- the 10th slam of her college career -- late in No. 1 Baylor's 90-69 victory over the Wildcats. And the K-State fans applauded that.
Griner finished with 29 points, seven rebounds and three assists against a K-State squad that is practically all guards. The undersized Wildcats have to try to beat teams from behind the arc, and they gave it their best Wednesday. K-State was 13 of 44 from long range.
"They spread the floor on you, and they wanted to bring Brittney away from the basket," Baylor coach Kim Mulkey said. "They made a lot of shots. In the second half, we made a few adjustments on the defensive end. I don't like the fact that we gave up 69 points, but I guess you're going to give up points when they shoot that many 3's.
"I thought we pretty much scored well. When you shoot almost 60 percent from the field, you're shooting pretty well. But they run a style of offense that is kind of out of the ordinary, because they're small and all shoot the 3-ball."
You might assume teams such as K-State stretch Griner a bit out of her comfort zone defensively … but the truth is, she looked pretty comfortable handling it. This isn't new, of course, but it's still something to truly appreciate about Griner. Defensively, she does everything most great post players do, but also a lot more.
Mulkey talked about how Griner's length and athleticism help her both pressure the ball but also recover well if someone gets around her. The Wildcats didn't shoot that many 3-pointers just because that's their style, but also because they got so few looks anywhere inside the arc. The Griner-led defense saw to that.
"It's just knowing how to help my team out on help side, but also knowing where my man is," Griner said. "In case they kick it to her, I can get out in time to block the shot or at least have a hand up."
Mulkey said, "I thought Brittney was aggressive. And you guys got to see the dunk. It happens quickly, don't blink."
What doesn't happen quickly, though, is a Griner getaway after games. Initially headed up the ramp at Bramlage on the way to the bus after exiting the locker room, Griner couldn't ignore the little voices.
She came back to pose for pictures with kids, even one boy who was wearing a burnt-orange Texas shirt here in Wildcat country. Two grinning youngsters were swept up effortlessly by Griner for a photo, one in each arm.
You could call that her last power move of the night.
January, 3, 2013
1/03/13
1:08
PM ET
LAWRENCE, Kan. -- A little-known fact for those outside of the Midwest: Kansas and Kansas State have one of the longest rivalries in all of collegiate women's basketball. Both programs date back to the late 1960s, well before Title IX was signed into law in 1972.
That legislation spawned the majority of women's hoops varsity programs across the nation, but the Jayhawks and Wildcats were ahead of the curve. Wednesday night at Kansas as the Big 12 season got underway, they met for the 105th time … and, no, I actually have not attended all those games.
But growing up in Big Eight territory and being a Kansas resident for the last 16 years, I have seen many, many versions of the Sunflower Showdown. For the last decade, the Wildcats have found a way to win a lot of the time.
The tables were turned Wednesday, though, to both the joy and relief of a veteran Kansas squad. The No. 21 Jayhawks won 72-63 -- just the third victory for KU against K-State since 2001. The Wildcats still lead the overall series, 62-43.
"It's a big rivalry, and we know they're going to fight us to the last second," said KU senior post Carolyn Davis, who has her own personal bad history against the Wildcats. Last February in a loss at K-State, she suffered a severe knee injury that prematurely ended her season.
For KU coach Bonnie Henrickson, the Wildcats have been a longtime pain in the neck; she's now 3-15 against them. And she didn't try to downplay how important it was for the Jayhawks to not only get off to a good start in Big 12 play, but to do it against the Wildcats.
"We actually talked about it in the locker room before we left Cal," Henrickson said of the Jayhawks' last game before the holiday break, a Dec. 21 loss to the Bears. "We said, 'Beat K-State. Beat them while you're home on break; do your cardio, your workouts.' We said the same thing on New Year's Eve: 'Beat K-State tonight, curfew at 11.'"
It was indeed necessary for the Jayhawks to visualize defeating the Wildcats, since it has happened so rarely in recent years. In the case of senior point guard Angel Goodrich, Tuesday was the first time. She was with KU the last time the Jayhawks beat K-State -- Feb. 7, 2010 -- but had suffered a torn ACL a month earlier and was out of action. The only other time since 2001 that Kansas beat the Wildcats was in February 2007 in overtime.
Why has K-State been such a hard matchup for Kansas, even in some seasons when the Jayhawks appeared to be the better team?
"In rivalry games, it will come down to your willingness to compete, to bring great energy, and pay attention to detail from a scouting standpoint," Henrickson said. "In years past, I thought they got us in those three areas. Walking away from a lot of those games, that's where I thought we dropped the ball."
Wednesday, KU fans grimaced as the "small-ball" Wildcats -- they started a five-guard lineup -- took a 36-34 lead at halftime. But the Jayhawks played a much stronger second half for the win. Goodrich had 17 points, nine assists and five rebounds. Sophomore guard Natalie Knight had 16 points, and Davis scored 14.
Davis -- who like Goodrich is a WNBA prospect -- is not yet her old self, which is understandable. She not only tore her ACL last year against K-State, but also dislocated the knee. She feels that she's getting back into shape; Wednesday, she played 36 minutes.
"I feel like I get a little bit more every game," Davis said. "I'm still waiting for that game to not think about it at all, but it's something I've worked on mentally. One thing I need to pick up is to be more aggressive, but that comes with confidence and being able to trust yourself to push it. I'm getting better."