Women's Basketball:

LSU Lady Tigers
January, 3, 2014
1/03/14
1:22
AM ET
A whole lot was going on Thursday as conference play began for several teams and some disturbing WNBA news broke. One night is still just one night in a long basketball season, but this was an interesting one on many fronts.
We'll start in Knoxville, Tenn., where Lady Vols coach Holly Warlick no doubt was feeling agitated before No. 5 Tennessee's game with No. 16 LSU. Warlick doesn't like to go against LSU coach Nikki Caldwell, the former Tennessee player and assistant. Warlick and Caldwell have been such good friends for so long, it just doesn't feel comfortable for either one when their teams face off.
[+] Enlarge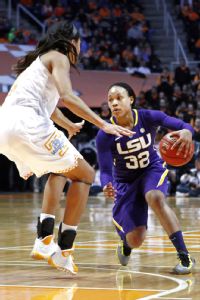 AP Photo/Wade PayneDanielle Ballard's 25 points helped lead No. 16 LSU past No. 5 Knoxville.
But they're both in the SEC, so there's nothing to be done but endure it. And there was also something else going on: Tennessee was retiring the jersey of Candace Parker, who led the team to NCAA titles in 2007 and '08.
So there was a lot swirling around in the Thompson-Boling Arena atmosphere Thursday, and it didn't end up being a good mix for the hosts. Tennessee staged a furious rally late, but it wasn't enough as LSU pulled the upset, 80-77, led by Danielle Ballard's 25 points.
Parker's second-to-last game playing for Tennessee -- the 2008 national semifinals -- was against LSU, and the Lady Vols' got the buzzer-beating victory, 47-46. Then Parker and her fellow seniors spurred Tennessee to the NCAA title against Stanford.
Next, Parker was taken first in the WNBA draft by the Los Angeles Sparks, for whom she won the league's MVP and rookie of the year award later in 2008. But Parker hasn't gotten a league title in her sometimes injury-plagued WNBA career, and the Sparks' future in Los Angeles is now up for speculation.
It was reported Thursday that the team's ownership group is relinquishing the franchise, a move that seemed to take everyone by surprise. As we wait to see the resolution of what might happen with the Sparks, you have to wonder what it might mean for the WNBA future of Parker, who was the league's MVP this past season.
As for the Lady Vols' future in 2014, this is certainly not the way they wanted to get started in SEC play. It's only one game, but the way they allowed LSU to dictate play for a lot of the second half -- and Tennessee's 20 turnovers to LSU's 14 for the game -- have to be concerns for Warlick. Next up for Tennessee is a trip to Georgia on Sunday.
[+] Enlarge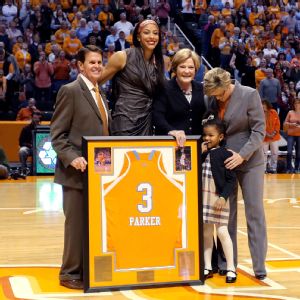 Randy Sartin/USA TODAY SportsCandace Parker is the sixth Lady Volunteer to have her jersey retired.
As for LSU, its losses have been to Louisville and NC State. This was a key win on the road, especially being able to withstand Tennessee's late run.
•
Big 12 first look:
The league's two undefeated teams, No. 11 Oklahoma State and No. 14 Iowa State, stayed that way with victories over Texas and TCU, respectively. Tiffany Bias had 23 points and six assists for the Cowgirls in their 67-61 triumph over the Longhorns in Stillwater, Okla. Nicole "Kidd" Blaskowsky came off the bench for 24 points and nine rebounds for the Cyclones, who crushed the Horned Frogs 71-49 in Fort Worth, Texas.
We're a little over a week away from the Oklahoma State-Iowa State showdown, which is in Ames, Iowa, on Jan. 11. Between now and then, the Cowgirls still have to face West Virginia and Kansas State, while the Cyclones take on No. 25 Oklahoma and Texas Tech.
•
Big Ten tip-off:
Speaking of undefeated teams, Indiana remained so with its 86-84 upset win over No. 22 Iowa. But No. 17 Purdue lost its Big Ten opener, 89-78 at Ohio State.
And No. 18 Nebraska nearly fell victim to the upset bug, too, but held off Northwestern 66-65.
March, 4, 2013
3/04/13
12:18
AM ET
Tennessee's seniors had their moment Thursday in Knoxville, Tenn., when the Lady Vols clinched the program's 17th regular-season SEC title with a win over Texas A&M. Kentucky's seniors had their moment Sunday, when they defeated Tennessee in front of a packed Memorial Coliseum in Lexington, Ky.
So which seniors will be the ones celebrating next Sunday in Duluth, Ga., at the conclusion of the SEC tournament? Those from Tennessee, Kentucky, or another school?
[+] Enlarge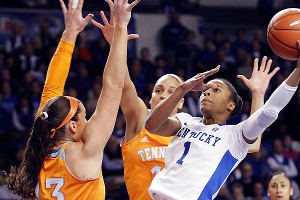 AP Photo/James CrispDespite beating Tennessee on Sunday, A'dia Mathies and Kentucky remain the No. 2 seed in the SEC tourney.
Tennessee, which showed terrific resilience all this season, still goes in the favorite, regardless of Sunday's 78-65 defeat. While there's no such thing as a game you don't care about losing, this loss really doesn't mean anything to Tennessee.
The Lady Vols already have the No. 1 seed in the league tourney, which gets underway Wednesday with the No. 12-13 game.
Tennessee, picked by the league's coaches to finish fifth in the SEC in Holly Warlick's first season as head coach, was tripped up just twice in conference play.
Their first league loss was to Missouri on Feb. 3, which you might call quite improbable considering the Tigers finished their inaugural season in the SEC 6-10. But, in fact, Missouri proved itself a dangerous team when it was hitting 3-pointers; the Tigers set a league record with 253 this season. The previous mark was 248 by South Carolina in 1994.
The Lady Vols regrouped after that loss, just as they did in a season-opening stumble at Chattanooga. Which, let's be frank, was a blow to their pride. But it was also a good lesson for the young Tennessee players that nothing was going to come easy this season -- and it hasn't.
Like countless other squads, the Lady Vols have been very much affected by injuries. Among them is sophomore forward Isabelle Harrison, who has missed eight games, including Sunday's contest; she suffered another injury Thursday after being out almost a month.
But with the steady improvement of freshman Bashaara Graves and sophomore Cierra Burdick (when she was healthy), the unrelenting competitiveness of junior Meighan Simmons, and the senior leadership of Taber Spani and Kamiko Williams, Tennessee has overcome a multitude of challenges. Spani and Williams, who left Sunday's game with an ankle injury, will be going for their fourth consecutive SEC tourney title. No program has ever won the event four times in a row.
The Lady Vols, who won their 17th SEC tournament last year, will open play at noon ET Friday against the winner of No. 8 seed Arkansas versus No. 9 Florida.
Kentucky is the No. 2 seed, and on Friday will face the winner of No. 7 Vanderbilt versus No. 10 Missouri. A'dia Mathies, who helped Kentucky make the Elite Eight as a freshman in 2010 and as a junior last year, went out of Memorial Coliseum for the last time as a winner, scoring 16 points Sunday.
The Wildcats were picked to win the SEC, but instead were second at 13-3. Their losses were at South Carolina (by five), at home to Georgia (by four), and at LSU (by four).
So might any of those three teams challenge for the SEC tournament title? And how about Texas A&M, which is in its first year in the league?
We'll start with No. 3 seed Georgia, the "home" team, so to speak, with the tournament in the Peach State. The question is, will Georgia bring its offense along on the hour's drive west from Athens to Duluth?
The Lady Bulldogs don't need a lot of points, as they are most comfortable with games in the 50s and 60s. But they can't afford a freeze-out like they endured at Mississippi State, with a 50-38 loss last Thursday. Georgia's last SEC tourney title came in 2001.
Texas A&M is the No. 4 seed, but the Aggies have been in a slump to close out the regular season, losing four of their last five. South Carolina, the No. 5 seed, got stung by a huge game from Missouri's Bri Kulas in a 65-58 loss last week. The Gamecocks, who have never won the SEC tournament, are 3-3 in their last six games.
The hottest team in the league is No.6 seed LSU, which has played its way into the NCAA tournament field with six wins in a row. Last year, LSU was the No. 4 seed and made it to the SEC final.
Tennessee won that matchup 70-58 and went on to the Elite Eight, where it fell to eventual NCAA champion Baylor.
The SEC tournament has been the domain of the Tennessee teams the last nine years, with either the Lady Vols or Vanderbilt winning. Will Tennessee's seniors make history with four in a row? Or are there a few upsets brewing?
Considering where they were picked, the Lady Vols have already overachieved this season. But with that program's history, that's not how they'll see it. They want yet another SEC tourney crown.