Women's Basketball:

Oklahoma Sooners
March, 7, 2013
Mar 7
6:41
PM ET
LAWRENCE, Kan. -- TCU coach Jeff Mittie was familiar with Big 12 play, because for years he scheduled nonconference games against that league's schools. But after TCU's first season as a member of the Big 12, Mittie acknowledges it's a very different thing to go through the league season.
"We've played a tough nonconference schedule before," Mittie said, "but now we're doing this in the Big 12 nine weeks in a row, playing every few days. I believe the battle scars we're getting this year will pay dividends down the road.
[+] Enlarge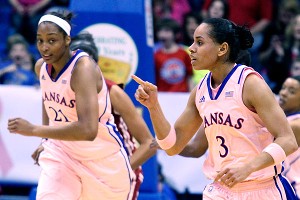 Courtesy of Tara Bryant/University Daily KansanCarolyn Davis and Angel Goodrich are hoping to boost Kansas' NCAA tournament résumé.
"This league, other than Baylor, is maybe not as top-heavy as it's been in the past, but there are a lot of good teams that can win some games in the NCAA tournament."
Top-ranked Baylor went through its second consecutive undefeated conference regular season and is the overwhelming favorite to win the Big 12 tournament, which begins Friday in Dallas. From the standpoint of who's going to win the championship, the Big 12 seems to have about as much drama as Daniel Day-Lewis versus "the other guys" in this year's best-actor noncompetition at the Oscars.
Instead, the drama in Dallas will have to come from other story lines. Can Kansas, which ended an 11-season NCAA tournament drought last year, claw its way into the Big Dance this year? Can teams such as No. 2 seed Iowa State, No. 3 Oklahoma and No. 4 Texas Tech do much to improve their NCAA tournament seeding?
And how will the tournament be received in Dallas as a stand-alone event? For the first time since the conference's formation in 1996-97, the women's and men's hoops tournaments are not in the same city on the same week.
Certainly, it's an easy drive for Baylor Nation, about an hour and a half north from Waco on Interstate 35. The Lady Bears and the other top-six seeds have a bye into Saturday.
The new Big 12 school that's even closer to the tournament site -- the American Airlines Center -- is TCU, which will drive about 45 minutes from Fort Worth. While the Frogs' fans haven't had much to cheer about this season, TCU still has a chance to play spoiler in this tournament, along with trying to set a positive tone for next season.
No. 10 seed TCU takes on No. 7 Kansas on Friday. The teams met in the regular-season finale in Lawrence on Tuesday, when the Jayhawks held on for a 74-67 victory. KU had to rally from a 22-point halftime deficit to beat the Frogs 76-75 when they met at TCU on Feb. 13.
TCU went 2-16 in league play, but those two wins were against Iowa State and No. 5 seed Oklahoma State. The Frogs have improved during this season, even if their record doesn't show it.
"Physically, we've got to get bigger for this league," Mittie said. "The Mountain West was such a motion [offense]-based league. Everybody could shoot the 3, from the center to the point guard. You didn't have the rebounding that we've seen this year. With the exception of us, I don't think there's a bad rebounding team in this league."
Kansas, at 17-12 overall and 8-10 in the Big 12, is on the wrong side of the bubble and -- as has been the case in previous seasons -- can look back at several woulda/shoulda/coulda games.
The Jayhawks must beat TCU again to keep their NCAA tournament hopes alive. The winner of that game faces Iowa State. The other teams on that side of the bracket are Oklahoma and No. 6 seed West Virginia.
In this way, Kansas at least has a better chance of picking up more than one Big 12 tourney victory. The Jayhawks split with the Cyclones, Sooners and Mountaineers this season. In fact, all the teams on this side of the bracket have the advantage of not having to face Baylor until the championship game.
Friday's other action pits No. 8 seed Kansas State versus No. 9 Texas to see which team has to slog through another loss to Baylor.
It has been a reorganizing year, if you will, at Texas under first-year coach Karen Aston. The Longhorns went 5-13 in the league, with some upheaval on the team getting used to the new staff. It will soon be time for Texas to turn its attention to next season, which is probably just as well.
Meanwhile, K-State has battled gamely this season despite being devastated by injuries. The Wildcats were able to upset Texas Tech at home March 2 and even stayed close to Baylor into the second half of their regular-season finale March 4 in Waco. Then Baylor ran away, Brittney Griner finished out a 50-point performance, and the Wildcats were left feeling there really just wasn't much else they could have done.
You could say that for all the league's schools in regard to facing Baylor this season and last. The Lady Bears haven't had any real lulls during this dominance, and it's unlikely you'll see a let-up during the league tournament.
So the title game Monday might not be a thriller. But keep an eye on the other things that might happen in Dallas before then that could affect the rest of March Madness.
February, 17, 2013
Feb 17
12:12
PM ET
Oklahoma's Nicole Griffin has a problem many people wish they had: She can eat and eat, but it's really hard for her to put on weight. Which would not be much of an issue if she wasn't playing center in Division I basketball.
Since she is, Griffin has done what she can to "muscle" up. At 6 feet, 6 inches, she's still quite lean, but weight training has helped. And she looks at the bright side.
[+] Enlarge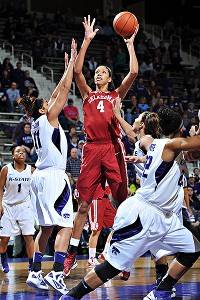 Peter G. Aiken/USA TODAY SportsOklahoma post Nicole Griffin has averaged 14.2 points and 5.6 rebounds in her last five games.
"I've gotten used to it," Griffin said. "I eat all the time, and it doesn't matter. I've been like this my whole life, and nothing is going to change. I wish I could get bigger, but I think I have it a lot better than people who always have to lose weight."
Griffin and the No. 22 Sooners head into Sunday's game against Kansas (ESPN2, 2:30 p.m. ET) about as irritable as someone on a constant diet. Thursday, they fell from second place to third in the Big 12 with a 72-68 loss at home to No. 24 Iowa State. The Sooners watched the Cyclones go to the line 34 times, making 27 free throws. Four of the Sooners starters fouled out of the game, and the other -- Griffin -- finished with four fouls.
A junior out of Milwaukee, Griffin has played well of late, averaging 14.2 points and 5.6 rebounds in her last five games and was named Big 12 co-player of the week Monday. For the season, her averages are 11.5 ppg and 4.7 rpg.
"She's never going to put a lot of bulk on," Sooners coach Sherri Coale said. "So you work on things like intensity and ball security.
"Another thing you have to stress with players like her is keeping a low center of gravity, because with her length it's so easy for her to get knocked off balance. She has to really play with her hips low and feet wide. She's gotten tons better."
Griffin and the Sooners have six more regular-season games, two of which will be against the Jayhawks. Kansas (15-8, 6-6) is tied for fifth in the 10-team Big 12. The Jayhawks are trying to solidify their case for the program's second consecutive NCAA tournament berth after an 11-year absence from the Big Dance.
While Oklahoma had a very frustrating game this past week, Kansas pulled a needed victory out of the fire. The Jayhawks trailed TCU by 23 points at halftime Wednesday in Fort Worth, Texas. But KU rallied for a 76-75 victory, led by senior guard Monica Engelman's career-high 26 points. That kept TCU winless in conference play in the Horned Frogs' first season in the Big 12.
It was a victory Kansas had to have, and the Jayhawks' second huge comeback of this Big 12 season. On Jan. 30, they trailed Iowa State by 18 with just less than nine minutes remaining, and were still down 14 with about five minutes left. But the Jayhawks forced overtime, where they won 78-75.
Sunday is KU's "Play4Kay" game at Allen Fieldhouse in Lawrence, Kan. The Jayhawks have defeated the Sooners just once in their previous 16 meetings, dating back to 2000. That win was last March, a victory that was crucial on Kansas' résumé for making the NCAA tournament.
While no coach, of course, will publicly say it's a race for runner-up behind Baylor this season in the Big 12, the Lady Bears are expected to go unbeaten in league play for the second year in a row.
But second place -- currently occupied by 9-4 Iowa State -- remains up for grabs. Oklahoma is 8-4; Texas Tech is 8-5.
Like many teams, the Sooners (18-6 overall) have been seriously affected by injuries. They lost post players Kaylon Williams (Achilles' tendon) and Lyndsey Cloman (back) before the season began. Then guards Maddie Manning and Whitney Hand both were lost to ACL injuries in November and December, respectively.
So players such as Griffin, who averaged 5.7 points and 3.9 rebounds last season, had to step forward.
"She doesn't have naturally soft hands, but she's improved dramatically because she's really worked on it," Coale said. "You do things like one-hand catches and different-sized ball tosses; just lots of repetition.
"[Kaylon] Williams may have been our most improved player coming into the season, and we lost her before we ever got started. That would have been a really nice rotation to have with Nicole. So instead, she had to figure out that she really can play hard for 30 minutes or more; she'd never seen herself as that type of player."
Griffin has averaged 28.4 minutes this season; 29.6 in conference play.
"She had to get through that mental hurdle of what her capacity was," Coale said. "She's become reliable. Her confidence has soared. Now, she wants the ball.
In the past, she wasn't sure she could make something happen when she caught it. After she put in the work, she knew something good could happen."