Women's Basketball:

San Diego Toreros
January, 14, 2014
Jan 14
11:29
PM ET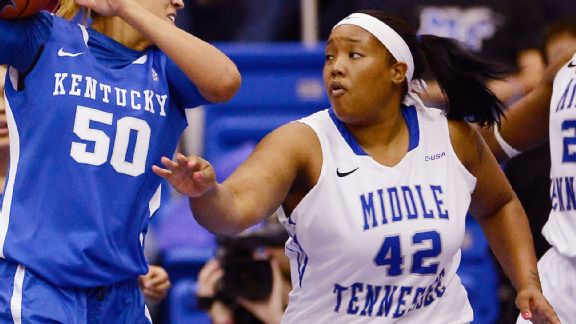 AP Photo/Mark ZaleskiKeKe Stewart averages 10.2 points for Middle Tennessee (13-3).
Sensing uncertainty on the other end of the phone call as to his mental state the day after a loss against Saint Mary's that featured one of the stranger endings this season will produce, Kelly Graves just chuckled.
"It's just a game," he said.
As in, it's not life or death, and the gregarious coach who built Gonzaga into a program that isn't expected to lose conference games wasn't going to let the result alter that. But the game is also his profession, and Graves can shift from zen to flinty in the blink of an eye, or perhaps the bounce of a basketball, when it comes to it.
And so he did when he started to speak about preparations for a game against Pacific the following day.
"Today was more of a focus, if you want to know the truth, on toughness and rebounding and those kind of things," Graves said at the time of the off-day practice between games. The way he said it left little doubt it wasn't a fun practice.
Gonzaga went out the next day and beat Pacific by 15 points. It didn't finish with an advantage on the boards, but to be fair, it didn't have many opportunities for offensive rebounds when it shot 57 percent from the floor.
It was a good answer, but it wasn't the full answer.
Five days later, Gonzaga limited Portland to 15 points in the first half. Not stingy enough? It held the Pilots to nine points in the second half. It piled up 17 more rebounds than a team that would soon thereafter upset San Diego.
Next time out, Gonzaga held BYU to 42 points, 30 below the Cougars' average. It pounded BYU on the boards.
San Diego followed and fell just as meekly, 79-50 on the scoreboard and 49-40 on the boards.
Three games, two against fellow WCC title contenders, and Gonzaga allowed just 116 points.
"I'm interested to see how we respond," Graves said after the Saint Mary's loss and before the recent run. "Let's see if we're tough. We've got talent. Let's see how tough we are. We've shown it this year at times. I'm not down on my team. We lost last year at Saint Mary's and then won [15] in a row against the others. So it's not the fact that we lost there that concerns me, it's kind of how we did it.
"We'll see what we're made of. We'll see if we're tough enough to get back up."


This isn't the perch he was concerned about, but Gonzaga is back up to the No. 1 spot it technically never lost.
After a brief stay in Spokane for the games against BYU and San Diego, Gonzaga returns to the road. Its next four games are all on the road, just as four of the past six were.
2. Bowling Green (13-2, 3-0 MAC; Creme's projected seed: No. 11)
Bowling Green keeps quietly rolling along. The Falcons eased to four wins since the last rankings, all by relatively comfortable double-digit margins. One possible concern is some carelessness with the ball early in conference play. They are seven turnovers in the red through three games, essentially the same as they were through 12 games out of conference. Why bring that up? Because Saturday's game at fellow MAC unbeaten Central Michigan comes against a team that loves nothing more than ratcheting up the pace of play. On the plus side, always a good rebounder and opportunistic defender, post player Jill Stein has also contributed double-digit points per game of late.
3. Middle Tennessee (13-3, 2-0 Conference USA; Creme's projected seed: No. 10)
[+] Enlarge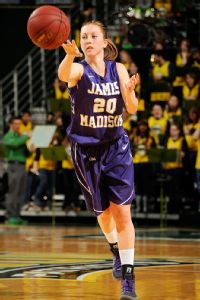 Rafael Suanes/USA TODAY SportsKirby Burkholder dropped 37 points to help James Madison end Delawares 44-game CAA winning streak.
As always seems to be the case, we arrive in the middle of January, look around and realize Middle Tennessee has built itself a pretty good résumé. The Blue Raiders make the big move in the rankings, but they will be pressed to live up to it right away. Wins against North Texas and Louisiana Tech opened the ledger for the first season in a new conference, but Wednesday's home game against UTEP could be decisive (there is no return leg in El Paso, unless the teams meet there in the final of the conference tournament). KeKe Stewart's recent shooting exploits aside, it's about turnovers and defense. Ebony Rowe is shooting 56 percent on offense; the rest of the team is at 35 percent.
4. James Madison (11-4, 1-0 CAA; Creme's projected seed: N/A)
The idea that there is no such thing as a good loss is completely hogwash. Maybe there's no such thing if you're looking from the inside out. But for the rest of us looking in from the outside, a 74-71 loss on the road against then-No. 10 North Carolina on Jan. 2 was absolutely a positive marker (as was an overtime loss at home against Vanderbilt a few weeks earlier). In both of those games, James Madison finished with decisive edges on the boards. Meanwhile, was there some pent up frustration from the Elena Delle Donne years in the CAA opener against Delaware? Kirby Burkholder went for 37 points in an 87-51 win that ended Delaware's 44-game conference winning streak.
5. Dayton (9-4, 2-0 Atlantic 10; Creme's projected seed: No. 10)
It's time to bring the Flyers back from purgatory. Since a brutal loss at Vanderbilt and another at Central Michigan in back-to-back games around Thanksgiving, Dayton has started to roll. A December win against Washington State looks better by the day, the Flyers won a rematch against Central Michigan on Dec. 30 and rolled to wins in their first two A-10 games. In fact, each of an active streak of seven consecutive wins came by double-digit margins. But like Middle Tennessee, there is no time to rest. George Washington visits Thursday and suddenly looks like a serious contender in the A-10, and Fordham arrives Sunday as another upper echelon team in the league.
6. Marist (11-5, 5-1 MAAC; Creme's projected seed: No. 9)
Marist isn't in first place in the MAAC, which is news all on its own. A 73-71 loss at home against Iona on Monday gave the Gaels sole possession of first place and snapped that program's 29-game losing streak against the Red Foxes. That probably leaves Iona fans wondering just why we're still talking about Marist in this space. But for the time being, the overall résumé (wins against Oklahoma, Bowling Green and St. Bonaventure, a game given away at Ohio State and a reasonable showing shorthanded against Kentucky) still hold sway. In the most recent rankings, this was mentioned as possibly Marist's best shooting team. Well, the 3-point shot has gone missing in MAAC play. But more important is a defense allowing opponents to shoot 40 percent on the season. That isn't Marist basketball.
7. Chattanooga (14-3, 6-0 Southern; Creme's projected seed: No. 12)
It is said every year in this space, so why break tradition. The Southern Conference might be more low-major than mid-major, but it's marathon of a conference season makes it almost impossible to emerge unscathed. Chattanooga nearly stumbled Sunday, needing overtime to come away from Appalachian State with a win. In fact, three of four conference games played this month were decided by single digits (although its scoring margin in SoCon games is still nearly double that of any other team). In conference play, Taylor Hall ranks sixth in the league in points per game, fifth in rebounds per game, second in assists per game, second in steals per game and 10th in blocks per game.
8. San Diego (15-2, 4-2 WCC; Creme's projected seed: No. 10)
The West Coast Conference always had the potential to cannibalize itself, and while Gonzaga holds down the top spot, we're starting to see the effects of the strife as San Diego and others slip. Playing on the road for the first time in nearly a month, San Diego lost at Gonzaga by 29 points and, perhaps even more surprisingly, by 21 points at Portland two days earlier this past week. Of course, this rankings period also includes home wins against Saint Mary's and Pacific, so it wasn't all bad for the Toreros. The problem in both losses was getting beaten soundly on the boards, the first instances all season in which San Diego lost the rebounding battle. A home game against BYU awaits this week.
9. BYU (14-3, 4-2 WCC; Creme's projected seed: N/A)
Like San Diego, BYU lost without putting up much of a fight at Gonzaga and likewise lost another game somewhat surprisingly, if only because it came at home against what is admittedly a good Pacific team. But, a word which seems to be the theme of the moment for the WCC, the Cougars also produced a win against Saint Mary's in the ranking period. Turnovers have been a bugaboo. BYU has more assists than turnovers on the season, but that number is reversed in WCC play. After averaging 15.9 turnovers per game out of conference, BYU averaged 19.3 in its first six league games. That includes Jennifer Hamson and Lexi Eaton, outstanding players who are otherwise carrying the load offensively but who also have 48 turnovers between them in WCC play.
10. Saint Mary's (14-3, 4-2 WCC; Creme's projected seed: N/A)
There are host of teams knocking at the door -- beating on it, really -- but Saint Mary's adds to the WCC's continued hold on places. At least for now. By now, we've gotten to the losses the Gaels suffered against BYU and San Diego, but there is also that win against Gonzaga that came since the most recent rankings. This team still has Jackie Nared and Danielle Mauldin, and it still has return games at BYU and San Diego in which it can even those scores. Now here's the problem. Opponents are shooting 46 percent against Saint Mary's in conference play. It's a small sample size, but that's still a big problem. Good news comes with five of the next six games at home.
Next five: No. 11 George Washington (12-4), No. 12 Iona (13-2), No. 13 UTEP (13-2), No. 14 Fordham (14-3), No. 15 Saint Joseph's (12-4).


December, 11, 2013
12/11/13
1:20
PM ET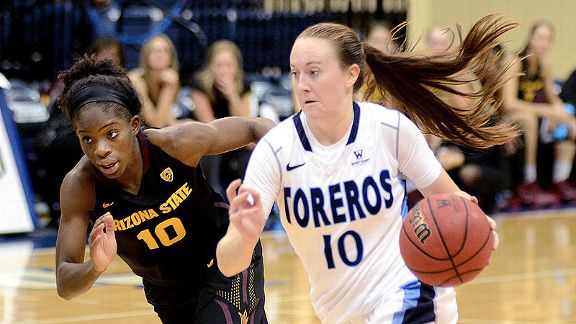 Courtesy of University of San Diego Amy Kame and San Diego are 9-0, which includes a win over Arizona State.
What college soccer fans have known for years looks increasingly a fact of life in basketball. Teams that treat the West Coast Conference as a little guy put themselves at risk of a big surprise.
Gonzaga's win at Wisconsin on Tuesday night finished a Midwestern sweep that began with a win at Ohio State and cemented the Bulldogs as the team atop the rankings. But this isn't just about the WCC's flagship program, the one with three Sweet 16 appearances and a regional final since coach Kelly Graves arrived. Four teams from the conference appear in this week's rankings, teams with a combined 33-2 overall record and 9-1 record against major conferences this season.
What used to be the six power conferences, including the old Big East, were the only leagues a season ago that ranked ahead of the WCC in RPI. Two seasons ago, the WCC ranked eighth among all conferences. That is in contrast to the previous decade, when the league finished better than 12th on just two occasions. Credit the arrival of a proven program like BYU with some of the improvement, but it's also about growth from programs like Saint Mary's and San Diego, which advanced to the semifinals of the WNIT two seasons ago, finished second in the league for the second season in a row last season and now finds a home in the mid-major rankings for the first time.
We're not quite talking soccer yet, where the WCC owns three national championships since 2000 and claims names like Brandi Chastain, Megan Rapinoe and Christine Sinclair as its own. But if you want to find the best basketball beyond the big conferences -- and better basketball than quite a few teams in those conferences -- turn your gaze westward.
1. Gonzaga (8-1)
There aren't many firsts left for Gonzaga. And while this isn't making a first Final Four, wins at Ohio State and Wisconsin in recent days did represent the first time the program won multiple road games (not including neutral-site games) in the same season against teams from the ACC, Big 12, Big East, Big Ten, Pac-12 and SEC. Tuesday's win against the Badgers was far from perfect, but it showed what the program is these days. It was Gonzaga that came in ranked and had both the size inside (four points, four rebounds and two blocks in 16 valuable minutes for Shelby Cheslek) and the depth on the bench (10 points in 11 minutes from Danielle Walter) to grind out a win. Now comes the biggest test, as the Bulldogs (and assistant coach Nicole Powell) head to Stanford on Saturday.
2. Bowling Green (8-1)
Bowling Green is working with an NFL schedule in December. Five Sundays, five games. And that's all. As long as they aren't the kind of Sundays the Cleveland Browns endure, that should work out all right. At least they seem to have more depth than the Browns. Five players led the Falcons in scoring at least once in the first nine games. Junior Deborah Hoekstra made 23 fields goals in limited minutes over her first two seasons. She hit 15 shots in the past two games, shooting 78.9 percent in the process to become the first of those leading scorers to do so in back-to-back games. After UMass this Sunday, Bowling Green heads to Purdue on Dec. 22 to try and improve to 3-0 this season against the Big Ten.
3. UTEP (8-0)
UTEP doesn't do itself any favors on the perception front by stocking its early schedule with home games, but it passed its first road test of the season with a win at New Mexico State on Dec. 3, sweeping the home-and-home nonconference series with the Aggies. That sets the stage for two big tests in the coming weeks, first against Georgia Tech on a neutral court in Puerto Rico on Dec. 20 and then at Texas A&M on Jan. 2. Redshirt senior Kristine Vitola, who missed most of last season with an ACL injury, seems to be moving fine defensively. The 6-foot-4 post began the week as one of just 13 players nationally averaging at least three blocks per game.
4. BYU (9-0)
A loss against Weber State, a team whose only Division I wins came against Air Force and Utah Valley, would have been difficult to explain. Instead, the Cougars get to discuss a 14-0 run in the final three minutes to pull out a 90-85 win on the road Tuesday in a game in which they trailed by as many as 24 points in the second half. Not bad for the third road game in a week, travel that spanned more than 3,000 miles. Lexi Eaton averaged 22.7 points in the three road games, and her return to form after last season's torn ACL continues to change the face of this team. This weekend's game against Utah and the following weekend's games against Utah State will be challenging for obvious reasons of geography (not to mention Utah's Michelle Plouffe and Utah State's Jennifer Schlott).
5. Saint Joseph's (9-1)
Make it eight wins in a row for Saint Joseph's. Maryland transfer Natasha Cloud and Erin Shields might well be the nation's best mid-major backcourt, not to mention a duo worth including in any discussion, mid-major or otherwise. Cloud is starting to put together a season like Chelsea Hopkins did at San Diego State a season ago, where it feels as if a triple-double is in play every time she takes the court. What's worth watching is whether sophomore Sarah Fairbanks, only two points behind Shields for the team lead, is really in the midst of a breakthrough season and provides consistent frontcourt scoring. The only game in the next two weeks is a big one, at Syracuse on Dec. 21.
6. Albany (7-0)
A win against Marist remains far and away the best win on the résumé, which might suggest a rude awakening awaits when Albany visits Duke next Thursday, but at least wins are coming on the road -- at Providence, Dartmouth and NJIT in the past two weeks. One thing to watch is defense. Even before the Great Danes conceded 52 percent field goal shooting against NJIT on Tuesday, the defensive numbers weren't living up to those that made the team such a headache for opponents a season ago. The offensive numbers are up, and Shereesha Richards has been stand-up-and-take-notice brilliant, but Albany still hasn't found the 3-pointers to replace those lost from Lindsey Lowrie.
7. San Diego (9-0)
The opening week win against Arizona State remains the centerpiece result for San Diego, but the team picked second in the WCC preseason poll, ahead of both BYU and Saint Mary's, is rolling along. Since Thanksgiving, the Toreros beat Weber State, Cal State Fullerton and Seattle University by 20, 23 and 23 points, respectively. San Diego is dominating teams on the boards to this point, its advantage of 12.3 rebounds per game over opponents ranking just outside the top 10 nationally. One big reason on a team with good size across the floor is 6-foot-3 junior Sophia Ederaine. Already a proven shot blocker in limited minutes in her first two seasons, Ederaine is averaging 7.4 rebounds and 1.8 blocks in a potential breakout season.
8. Saint Mary's (7-1)
Saint Mary's shoots the ball well on two-point field goals, it shoots the ball well from the 3-point line and it shoots the ball well from the free throw line. It rebounds the ball well. The one factor that is the same in all of those situations is that it has the ball. The Gaels committed 29 turnovers in a 94-92 loss at Sacramento State on Dec. 5, and against a team with such a penchant for 3-pointers, the wasted possessions proved costly. Even with that game, however, Kate Gaze had 27 assists and 16 assists in three games since the last rankings, compared to 24 assists and 25 turnovers in the first five games of the season. A trip to USC on Dec. 19 looms large among remaining nonconference games.
9. James Madison (6-2)
A Thanksgiving tournament in Naples, Fla., proved a mixed bag for James Madison, which opened with a good win against a fresh UCLA team but then lost the next two days to Mississippi State and Wright State, respectively. Going on the road for a win at Pittsburgh just three days after that tournament was a commendable bounce back. No team on this list has played fewer home games than James Madison, which travels to a tournament at St. John's this weekend. Even when it finally hosts another game in Harrisonburg, it will be against Vanderbilt on Dec. 18. Of note, James Madison had 145 fewer turnovers than its opponents last season. So far this season, it has just five fewer.
10. Chattanooga (5-3)
Chattanooga dropped games against Minnesota and Hawaii at a Thanksgiving tournament hosted by the latter, and had to rally from 14 down midway through the second half to avoid a loss in the tournament finale against Colorado State. A lot of teams give up points to Rachel Banham, and plenty of teams stumbled against the Rainbow Wahine on that trip, but rationalization only goes so far. Chattanooga didn't lose back-to-back games at any point a season ago. Still, it had to be encouraging to see Ashlen Dewart, who didn't reach double figures in points in any of the three games in Hawaii, bounce back with 25 points and 10 rebounds in Tuesday's win against Jacksonville State.
Next five:
Dayton (2-4), Marist (4-4), Florida Gulf Coast (5-3), Sacramento State (6-1), St. Bonaventure (8-3)