Women's Basketball:

Tennessee Lady Vols
January, 3, 2014
Jan 3
1:22
AM ET
A whole lot was going on Thursday as conference play began for several teams and some disturbing WNBA news broke. One night is still just one night in a long basketball season, but this was an interesting one on many fronts.
We'll start in Knoxville, Tenn., where Lady Vols coach Holly Warlick no doubt was feeling agitated before No. 5 Tennessee's game with No. 16 LSU. Warlick doesn't like to go against LSU coach Nikki Caldwell, the former Tennessee player and assistant. Warlick and Caldwell have been such good friends for so long, it just doesn't feel comfortable for either one when their teams face off.
[+] Enlarge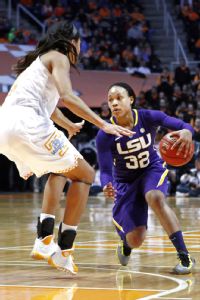 AP Photo/Wade PayneDanielle Ballard's 25 points helped lead No. 16 LSU past No. 5 Knoxville.
But they're both in the SEC, so there's nothing to be done but endure it. And there was also something else going on: Tennessee was retiring the jersey of Candace Parker, who led the team to NCAA titles in 2007 and '08.
So there was a lot swirling around in the Thompson-Boling Arena atmosphere Thursday, and it didn't end up being a good mix for the hosts. Tennessee staged a furious rally late, but it wasn't enough as LSU pulled the upset, 80-77, led by Danielle Ballard's 25 points.
Parker's second-to-last game playing for Tennessee -- the 2008 national semifinals -- was against LSU, and the Lady Vols' got the buzzer-beating victory, 47-46. Then Parker and her fellow seniors spurred Tennessee to the NCAA title against Stanford.
Next, Parker was taken first in the WNBA draft by the Los Angeles Sparks, for whom she won the league's MVP and rookie of the year award later in 2008. But Parker hasn't gotten a league title in her sometimes injury-plagued WNBA career, and the Sparks' future in Los Angeles is now up for speculation.
It was reported Thursday that the team's ownership group is relinquishing the franchise, a move that seemed to take everyone by surprise. As we wait to see the resolution of what might happen with the Sparks, you have to wonder what it might mean for the WNBA future of Parker, who was the league's MVP this past season.
As for the Lady Vols' future in 2014, this is certainly not the way they wanted to get started in SEC play. It's only one game, but the way they allowed LSU to dictate play for a lot of the second half -- and Tennessee's 20 turnovers to LSU's 14 for the game -- have to be concerns for Warlick. Next up for Tennessee is a trip to Georgia on Sunday.
[+] Enlarge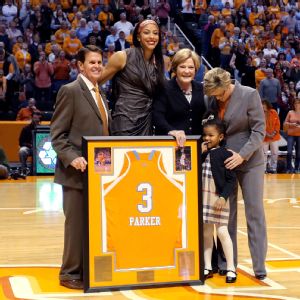 Randy Sartin/USA TODAY SportsCandace Parker is the sixth Lady Volunteer to have her jersey retired.
As for LSU, its losses have been to Louisville and NC State. This was a key win on the road, especially being able to withstand Tennessee's late run.
•
Big 12 first look:
The league's two undefeated teams, No. 11 Oklahoma State and No. 14 Iowa State, stayed that way with victories over Texas and TCU, respectively. Tiffany Bias had 23 points and six assists for the Cowgirls in their 67-61 triumph over the Longhorns in Stillwater, Okla. Nicole "Kidd" Blaskowsky came off the bench for 24 points and nine rebounds for the Cyclones, who crushed the Horned Frogs 71-49 in Fort Worth, Texas.
We're a little over a week away from the Oklahoma State-Iowa State showdown, which is in Ames, Iowa, on Jan. 11. Between now and then, the Cowgirls still have to face West Virginia and Kansas State, while the Cyclones take on No. 25 Oklahoma and Texas Tech.
•
Big Ten tip-off:
Speaking of undefeated teams, Indiana remained so with its 86-84 upset win over No. 22 Iowa. But No. 17 Purdue lost its Big Ten opener, 89-78 at Ohio State.
And No. 18 Nebraska nearly fell victim to the upset bug, too, but held off Northwestern 66-65.
November, 11, 2013
11/11/13
12:42
AM ET
If you are a women's basketball fan, there are some names you've likely heard a lot, but you might not have seen the players yet. Monday, you'll have the chance.
North Carolina hosts Tennessee (ESPN2 and WatchESPN, 9 p.m. ET; Stanford plays UConn at 7 p.m. ET on ESPN2 and WatchESPN) in a game that will be an early showcase for some of the top freshmen this season.
The Tar Heels' Diamond DeShields, Stephanie Mavunga, Allisha Gray and Jessica Washington comprised what was generally ranked the No. 1 recruiting class this year. North Carolina also has two redshirt freshmen, Hillary Fuller (foot) and Hillary Summers (knee), who sat out last season with injury issues.
[+] Enlarge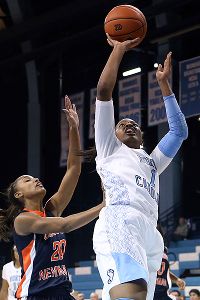 Andy Mead/YCJ/Icon SMITar Heels freshman Stephanie Mavunga debuted with a double-double (16 points, 13 rebounds) in Friday's season opener.
Meanwhile, Tennessee's much-heralded Mercedes Russell and Jordan Reynolds will be in action for the Lady Vols. Redshirt freshman Andraya Carter, who played in seven games last season before being sidelined by shoulder surgery, will be facing North Carolina for the second time in her college career. Tennessee's 102-57 victory over the Tar Heels on Dec. 2, 2012, was Carter's last game before redshirting.
Both sets of rookies already have been in action this season. Tennessee opened on the road Friday, beating Middle Tennessee 67-57. Russell, a 6-foot-6 center, had 11 points and seven rebounds in her debut. Carter had 10 points and four rebounds; Reynolds didn't score but had two rebounds. All three of them came off the bench, as Tennessee has a more experienced lineup than does North Carolina.
For the Tar Heels, the freshmen are going to have to immediately step into some key roles. In UNC's 87-26 shellacking of Air Force on Friday, Mavunga started her Tar Heel career with a double-double: 16 points and 13 rebounds. DeShields had 16 points; she and Mavunga were in the starting lineup, along with sophomore Xylina McDaniel, and juniors Brittany Rountree and Latifah Coleman.
Gray (13 points), Washington (seven), Summers (five), and Fuller (three) all came off the bench.
While Tennessee was tested in its opener at Middle Tennessee, North Carolina will face its first formidable competition in the Lady Vols. It should be an interesting look at both the present and the future for both squads.
March, 4, 2013
3/04/13
12:18
AM ET
Tennessee's seniors had their moment Thursday in Knoxville, Tenn., when the Lady Vols clinched the program's 17th regular-season SEC title with a win over Texas A&M. Kentucky's seniors had their moment Sunday, when they defeated Tennessee in front of a packed Memorial Coliseum in Lexington, Ky.
So which seniors will be the ones celebrating next Sunday in Duluth, Ga., at the conclusion of the SEC tournament? Those from Tennessee, Kentucky, or another school?
[+] Enlarge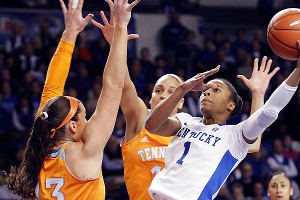 AP Photo/James CrispDespite beating Tennessee on Sunday, A'dia Mathies and Kentucky remain the No. 2 seed in the SEC tourney.
Tennessee, which showed terrific resilience all this season, still goes in the favorite, regardless of Sunday's 78-65 defeat. While there's no such thing as a game you don't care about losing, this loss really doesn't mean anything to Tennessee.
The Lady Vols already have the No. 1 seed in the league tourney, which gets underway Wednesday with the No. 12-13 game.
Tennessee, picked by the league's coaches to finish fifth in the SEC in Holly Warlick's first season as head coach, was tripped up just twice in conference play.
Their first league loss was to Missouri on Feb. 3, which you might call quite improbable considering the Tigers finished their inaugural season in the SEC 6-10. But, in fact, Missouri proved itself a dangerous team when it was hitting 3-pointers; the Tigers set a league record with 253 this season. The previous mark was 248 by South Carolina in 1994.
The Lady Vols regrouped after that loss, just as they did in a season-opening stumble at Chattanooga. Which, let's be frank, was a blow to their pride. But it was also a good lesson for the young Tennessee players that nothing was going to come easy this season -- and it hasn't.
Like countless other squads, the Lady Vols have been very much affected by injuries. Among them is sophomore forward Isabelle Harrison, who has missed eight games, including Sunday's contest; she suffered another injury Thursday after being out almost a month.
But with the steady improvement of freshman Bashaara Graves and sophomore Cierra Burdick (when she was healthy), the unrelenting competitiveness of junior Meighan Simmons, and the senior leadership of Taber Spani and Kamiko Williams, Tennessee has overcome a multitude of challenges. Spani and Williams, who left Sunday's game with an ankle injury, will be going for their fourth consecutive SEC tourney title. No program has ever won the event four times in a row.
The Lady Vols, who won their 17th SEC tournament last year, will open play at noon ET Friday against the winner of No. 8 seed Arkansas versus No. 9 Florida.
Kentucky is the No. 2 seed, and on Friday will face the winner of No. 7 Vanderbilt versus No. 10 Missouri. A'dia Mathies, who helped Kentucky make the Elite Eight as a freshman in 2010 and as a junior last year, went out of Memorial Coliseum for the last time as a winner, scoring 16 points Sunday.
The Wildcats were picked to win the SEC, but instead were second at 13-3. Their losses were at South Carolina (by five), at home to Georgia (by four), and at LSU (by four).
So might any of those three teams challenge for the SEC tournament title? And how about Texas A&M, which is in its first year in the league?
We'll start with No. 3 seed Georgia, the "home" team, so to speak, with the tournament in the Peach State. The question is, will Georgia bring its offense along on the hour's drive west from Athens to Duluth?
The Lady Bulldogs don't need a lot of points, as they are most comfortable with games in the 50s and 60s. But they can't afford a freeze-out like they endured at Mississippi State, with a 50-38 loss last Thursday. Georgia's last SEC tourney title came in 2001.
Texas A&M is the No. 4 seed, but the Aggies have been in a slump to close out the regular season, losing four of their last five. South Carolina, the No. 5 seed, got stung by a huge game from Missouri's Bri Kulas in a 65-58 loss last week. The Gamecocks, who have never won the SEC tournament, are 3-3 in their last six games.
The hottest team in the league is No.6 seed LSU, which has played its way into the NCAA tournament field with six wins in a row. Last year, LSU was the No. 4 seed and made it to the SEC final.
Tennessee won that matchup 70-58 and went on to the Elite Eight, where it fell to eventual NCAA champion Baylor.
The SEC tournament has been the domain of the Tennessee teams the last nine years, with either the Lady Vols or Vanderbilt winning. Will Tennessee's seniors make history with four in a row? Or are there a few upsets brewing?
Considering where they were picked, the Lady Vols have already overachieved this season. But with that program's history, that's not how they'll see it. They want yet another SEC tourney crown.
January, 29, 2013
1/29/13
12:18
AM ET
After viewing the film "The Impossible" (family struggles to survive/reunite after the 2004 tsunami) and a major tearjerker "Downton Abbey" episode (no spoilers for you stragglers who are still in the dark), I figured I did enough blubbering over the weekend.
So I was really hoping for a great, old-fashioned, fun, competitive, down-to-the-wire basketball game on Monday night. Well … we almost got that.
[+] Enlarge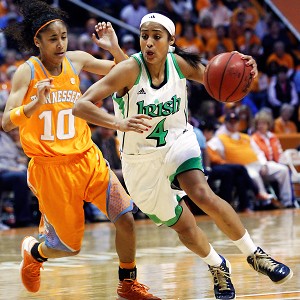 AP Photo/Wade PayneAfter going 0-20 against Tennessee, the Irish and Skylar Diggins have won three in a row against the Lady Vols.
Let's say this of the Skylar Diggins Show versus last Monday's Kelly Faris Show: At least it was compelling enough for hoops fans to want to watch Notre Dame-Tennessee until the very end, which could not be said for UConn's dismantling of Duke.
The Irish further solidified their No. 2 ranking and added to the all-important "body of work" with their 77-67 victory at No. 9 Tennessee. Diggins had a career-high 33 points, plus 5 assists and 4 steals. And every time Notre Dame needed a big play on offense or defense, Diggins either made it herself, or helped her teammates do it.
It was a virtuoso performance by Diggins, who is showing her mettle in an impressive way as she heads down the stretch of her senior season. Notre Dame has won 14 consecutive games since its only loss of the season, Dec. 5 against Baylor. Diggins was 4-of-19 from the field for eight points in that game, and was red-eyed in disappointment after it.
Since then, she has averaged 17.8 points and put the kibosh on any chatter that she might not actually be one of the WNBA's top three draft picks in April. Diggins is showing the maturity and leadership that you'd expect from a player who has taken so much on her shoulders.
Diggins' big moments and her consistency in Monday's game were in contrast to the Tennessee guard duo of Meighan Simmons and Ariel Massengale. They combined for 14 points and 11 assists, which were not big-enough numbers against this strong of a foe.
Plus, like most of the rest of the Lady Vols, they didn't shoot well. Tennessee made 22 of 66 shots from the field, and neither defended nor rebounded well enough to offset that.
Tennessee prevailed on the boards 47-42, but when your offense goes on the kind of dry spells that the Lady Vols did, you need a bigger rebounding margin than that.
On a night when the school honored head coach emeritus Pat Summitt with a banner, some of her greatest past players were in attendance. They watched as Notre Dame did what the Irish never could do when the likes of Michelle Marciniak (the Irish transfer), Chamique Holdsclaw, Tamika Catchings and Candace Parker were wearing orange: To wit, beat Tennessee.
[+] Enlarge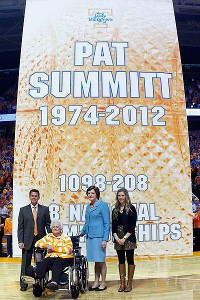 AP Photo/Wade PayneDave Hart, Tennessee's athletic director, Pat Summitt's mother, Hazel Head, and Tyler Summitt's fiancee, AnDe Ragsdale, helped honor the legendary coach Monday.
The Irish started their series 0-20 against the Lady Vols, with the breakthrough finally coming in the 2011 Elite Eight. Last season, the Irish made it two in a row versus Tennessee with a win at Notre Dame. Monday's game was the first Irish victory in Knoxville, Tenn.
The Lady Vols now have some things to work on and some things to worry about. The latter -- health/depth -- especially involves sophomore forward Isabelle Harrison, who came into the game with some knee worries and exited in the first half with more of them as she had to be helped off the court. Tennessee really can't afford to lose any more players, but the Lady Vols will have to find a way to adjust if Harrison is out a significant time.
Tennessee is still atop the SEC; there are nine games left in the regular season and the Lady Vols' toughest matchups most likely will come Feb. 28 against Texas A&M and March 3 at Kentucky.
The biggest plus for Tennessee on Monday was that the game had the look of a potential blowout during the second half, but it didn't turn out that way. The Lady Vols fought back with the kind of hustle that reminded you of Tennessee teams of old. But Diggins shut the door by reminding everybody that she is one of the best players in the women's college game right now.
And for Notre Dame coach Muffet McGraw, who banged her head against the orange wall so many times, this recent "mastery" over Tennessee must feel good. Yes, she has Diggins. But considering that Notre Dame lost three starters from last season's NCAA runner-up team, McGraw has to be one of the top names in the discussion of national coach of the year.
Will the Irish face any real challenges again until their regular-season finale March 4 against UConn? Notre Dame still has to travel to Villanova and DePaul, plus host Louisville and Syracuse. Those four teams are in the top half of the Big East.
But the Irish know they are in the hunt again for the No. 1 seed in the NCAA tournament, and that awareness might provide them extra protection against overlooking anyone, or having UConn on the brain.
Until, that is, it really is time for them to think of the Huskies again.