Continuing with our softball preseason top 20, we come to the No. 12 team, Fresno State. Speaking of a dozen, Margie Wright's program has reached the Women's College World Series 12 times, more than any program outside the Pac-10.
12. Fresno State
Last season: 54-13 (Lost to Cal in the Fresno Regional)
Preseason talking point: Was Fresno State's Morgan Melloh the most valuable pitcher in the country last season as a freshman?
[+] Enlarge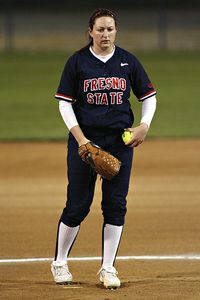 Keith Kountz for ESPN.com
Morgan Melloh might not dominate the way her competition does, but she is more productive.
My initial inclination was to dismiss the question out of hand (it happens rather frequently when I'm talking to myself, actually). All a person had to do was watch Katie Burkhart shut down batters in the Women's College World Series to see how valuable she was to Arizona State's first national championship. And Angela Tincher's presence in Oklahoma City was compelling evidence of how important she was to a Virginia Tech team that didn't have a great offense.
Melloh had a nice debut campaign, stepping in for absent Canadian Olympian Robin Mackin (who has since transferred to Nebraska), but could it really measure up to her elders' performances?
Consider how her share of the load for the Bulldogs compared with those shouldered by Burkhart and Tincher, in terms of percentages of a team's innings pitched, strikeouts and wins, as well as the difference between that pitcher and her teammates in batting average against.
Melloh for Fresno State
77.4 percent of innings
88.3 percent of strikeouts
77.8 percent of wins
+.100 points batting average against
Burkhart for Arizona State
65.8 percent of innings
78.2 percent of strikeouts
62.1 percent of wins
+.123 batting average against
Tincher for Virginia Tech
72.6 percent of innings
86.2 percent of strikeouts
77.6 percent of wins
+.124 batting average against
If it's a question of dominance, Burkhart and Tincher have a decided edge. Opponents hit for a considerably worse average against both (.133 against Burkhart and .114 against Tincher, compared to .181 against Melloh). And Burkhart and Tincher, the nation's two leading strikeout pitchers, obviously had an advantage in strikeout rate.
But strictly in terms of raw production, it's tough to top Melloh. Granted, a pitcher on a lousy team could theoretically score well in those categories simply by being the best of a bad lot, but Melloh did it for a team that won 54 games and came within a run of a super regional.
Relying so heavily on one pitcher might not be an ideal situation (look at the 527 pitches over 32 2/3 innings Melloh had to throw over the final two days of regional play, including the seven earned runs she allowed to Cal in its extra-inning clincher). And with four other pitchers on the roster this season, not to mention a bevy of returning offensive talent, she should have more support this season. But it's nice to know you've got her if you need her.