Friday, March 30, 2012
So, what about Cappie Pondexter?

---
By Mechelle Voepel



DENVER -- Of the 12 players who won gold in women's basketball with Team USA at the 2008 Beijing Games, six were named to the 2012 Olympic squad Friday.

Of those who weren't: USA Basketball legend and four-time Olympic gold medalist Lisa Leslie has retired; Tina Thompson, DeLisha Milton-Jones and Katie Smith are all in their late 30s, while Kara Lawson is in her early 30s. They were not part of the finalists' pool of potential 2012 Olympians.

The one 2008 Olympian who was a strong candidate for 2012 but wasn't named as one of the 11 on the team is guard Cappie Pondexter of the New York Liberty.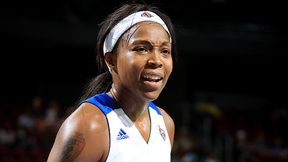 Nathaniel S. Butler/NBAE/Getty ImagesCappie Pondexter was the seventh-leading scorer in the WNBA last season.





It's possible Pondexter, the seventh-leading scorer in the WNBA last season and a past WNBA Finals MVP, still could be named to the Olympic squad when USA Basketball selects its 12th and final member for 2012. Or she could be an alternate in case there is a serious injury to someone on the U.S. team before the Olympics.

"These players are all playing overseas, and then they'll play in the WNBA [before it breaks in mid-July for the Olympics]," said Team USA national team director Carol Callan, who is on the selection committee. "Sue Bird just broke her nose, for example. So we know there is still a lot of basketball between now and London, and somebody could get injured and not be able to play. We have the flexibility to move in a more experienced player if there's a need at a certain spot."

Which leads one to believe if there isn't an injury (Bird's oft-broken beak won't keep her out), a younger player such as Baylor center Brittney Griner may get the nod.

Why wasn't Pondexter, who is definitely one of the top scoring guards in the world, one of the 11 named? Callan and U.S. coach Geno Auriemma, who isn't on the selection committee, said it was just a part of the tough process of putting together the team.

Yet there is also the fact that Pondexter didn't play in the 2010 World Championships; she told USA Basketball back then that she was too tired from her just-completed WNBA season to compete. However, Pondexter did attend Fashion Week in New York City during the time the U.S. team was practicing for those worlds, which did raise some eyebrows.

Callan on Friday tried to defuse speculation that Pondexter's choice back then was in any way related to USA Basketball's decision for 2012. But, if nothing else, it did help make way for a player such as Lindsay Whalen to get a spot on the 2010 world championship team, and now she is one of the Olympians.

"Cappie played USA Basketball starting when she was about 18," Callan said. "All of these players have shown a loyalty to us over time; that's why these are such hard decisions. Cappie's decision not to play in the World Championships was perfectly fine, so that's not it. But it's very difficult to say, 'Who's spot would she take?' I think we're really pleased with what we have, but Cappie's still in the mix, as well."

A diplomatic answer, for sure. Pondexter turned 29 in January and her scoring isn't all she brings; she's also one of the best perimeter defenders in women's hoops. But it's not as if the U.S. team isn't very strong at guard even without her.

As Auriemma said, "When you're picking this team, the committee is trying to take in consideration so many things. When we went to the World Championships two Octobers ago, that team we took there had an unbelievable run. That was a phenomenal team. We played tremendous basketball and won a gold medal against the Czech Republic on their home court.

"If the committee had asked me, 'What do you want the Olympic team to be, I would have said, 'Hey, give me that [World Championship] team back.' And I think the changes that the committee made to that team have made this team better."

jQuery(window).load(function() {jQuery('#video7757986').html('');});


---