Women's Basketball:

A'dia Mathies
March, 4, 2013
3/04/13
12:18
AM ET
Tennessee's seniors had their moment Thursday in Knoxville, Tenn., when the Lady Vols clinched the program's 17th regular-season SEC title with a win over Texas A&M. Kentucky's seniors had their moment Sunday, when they defeated Tennessee in front of a packed Memorial Coliseum in Lexington, Ky.
So which seniors will be the ones celebrating next Sunday in Duluth, Ga., at the conclusion of the SEC tournament? Those from Tennessee, Kentucky, or another school?
[+] Enlarge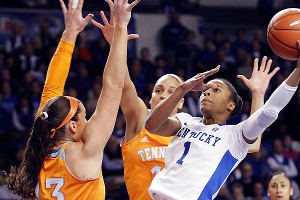 AP Photo/James CrispDespite beating Tennessee on Sunday, A'dia Mathies and Kentucky remain the No. 2 seed in the SEC tourney.
Tennessee, which showed terrific resilience all this season, still goes in the favorite, regardless of Sunday's 78-65 defeat. While there's no such thing as a game you don't care about losing, this loss really doesn't mean anything to Tennessee.
The Lady Vols already have the No. 1 seed in the league tourney, which gets underway Wednesday with the No. 12-13 game.
Tennessee, picked by the league's coaches to finish fifth in the SEC in Holly Warlick's first season as head coach, was tripped up just twice in conference play.
Their first league loss was to Missouri on Feb. 3, which you might call quite improbable considering the Tigers finished their inaugural season in the SEC 6-10. But, in fact, Missouri proved itself a dangerous team when it was hitting 3-pointers; the Tigers set a league record with 253 this season. The previous mark was 248 by South Carolina in 1994.
The Lady Vols regrouped after that loss, just as they did in a season-opening stumble at Chattanooga. Which, let's be frank, was a blow to their pride. But it was also a good lesson for the young Tennessee players that nothing was going to come easy this season -- and it hasn't.
Like countless other squads, the Lady Vols have been very much affected by injuries. Among them is sophomore forward Isabelle Harrison, who has missed eight games, including Sunday's contest; she suffered another injury Thursday after being out almost a month.
But with the steady improvement of freshman Bashaara Graves and sophomore Cierra Burdick (when she was healthy), the unrelenting competitiveness of junior Meighan Simmons, and the senior leadership of Taber Spani and Kamiko Williams, Tennessee has overcome a multitude of challenges. Spani and Williams, who left Sunday's game with an ankle injury, will be going for their fourth consecutive SEC tourney title. No program has ever won the event four times in a row.
The Lady Vols, who won their 17th SEC tournament last year, will open play at noon ET Friday against the winner of No. 8 seed Arkansas versus No. 9 Florida.
Kentucky is the No. 2 seed, and on Friday will face the winner of No. 7 Vanderbilt versus No. 10 Missouri. A'dia Mathies, who helped Kentucky make the Elite Eight as a freshman in 2010 and as a junior last year, went out of Memorial Coliseum for the last time as a winner, scoring 16 points Sunday.
The Wildcats were picked to win the SEC, but instead were second at 13-3. Their losses were at South Carolina (by five), at home to Georgia (by four), and at LSU (by four).
So might any of those three teams challenge for the SEC tournament title? And how about Texas A&M, which is in its first year in the league?
We'll start with No. 3 seed Georgia, the "home" team, so to speak, with the tournament in the Peach State. The question is, will Georgia bring its offense along on the hour's drive west from Athens to Duluth?
The Lady Bulldogs don't need a lot of points, as they are most comfortable with games in the 50s and 60s. But they can't afford a freeze-out like they endured at Mississippi State, with a 50-38 loss last Thursday. Georgia's last SEC tourney title came in 2001.
Texas A&M is the No. 4 seed, but the Aggies have been in a slump to close out the regular season, losing four of their last five. South Carolina, the No. 5 seed, got stung by a huge game from Missouri's Bri Kulas in a 65-58 loss last week. The Gamecocks, who have never won the SEC tournament, are 3-3 in their last six games.
The hottest team in the league is No.6 seed LSU, which has played its way into the NCAA tournament field with six wins in a row. Last year, LSU was the No. 4 seed and made it to the SEC final.
Tennessee won that matchup 70-58 and went on to the Elite Eight, where it fell to eventual NCAA champion Baylor.
The SEC tournament has been the domain of the Tennessee teams the last nine years, with either the Lady Vols or Vanderbilt winning. Will Tennessee's seniors make history with four in a row? Or are there a few upsets brewing?
Considering where they were picked, the Lady Vols have already overachieved this season. But with that program's history, that's not how they'll see it. They want yet another SEC tourney crown.
February, 18, 2013
2/18/13
10:37
PM ET
You could call one the "Candy Man" and the other the "Music Man." Both are two of women's college basketball's best salesmen.
Texas A&M's Gary Blair and Kentucky's Matt Mitchell faced off Monday with their teams locked in a battle with Tennessee atop the SEC. The No. 8 Wildcats' 70-66 victory over the No. 10 Aggies gives us a pretty good idea of what the SEC tournament could be like next month.
Just when you think you're sure what's going to happen, you find yourself saying, "Oh, hold on a minute …"
[+] Enlarge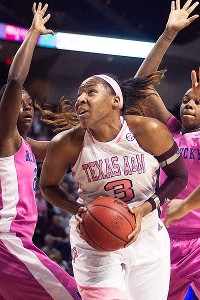 AP Photo/Patric SchneiderKelsey Bone and Texas A&M are in third place in the SEC, behind Tennessee and Kentucky.
It looked as if Kentucky was about to run away with it in the teams' second matchup of the season, as the Wildcats were up by 14 with just less than 9½ minutes left. But the Aggies rallied to push it to the final seconds, when Kentucky guard Bria Goss secured the victory with two free throws.
Blair, an ambassador for the women's game since the 1970s, has been known to toss candy into the stands to thank fans for their support. Mitchell is a music buff who doesn't mind flexing his vocal chords, dancing, playing the guitar and having a lot of fun goofing on himself and his giggling players on his coach's show. Both coaches have done a great deal to boost women's basketball attendance with not only their affable personalities, but also by the winning teams they put on the floor.
This is Texas A&M's first season in the SEC. In the Aggies' first meeting with the Wildcats on Jan. 10 in Lexington, Kentucky slowed Texas A&M's offense in the second half and won 65-62. Aggies junior center Kelsey Bone had 27 points and 15 rebounds.
"In that game, we got off to a really good start and played good for 30 minutes," Bone said ahead of Monday's matchup. "But then instead of everybody looking to score, it was probably too much of just trying to get the ball to me. We have to do a better job of keeping everybody involved."
On Monday in College Station, the other Aggies were more in the scoring mix, led by freshman Courtney Walker's 20 points. But Bone, bothered by cramps that limited her in the second half, had just nine points on 4-of-8 shooting.
It was a gutsy road win for Kentucky, who overcame senior guard A'dia Mathies' foul trouble. She still finished with a team-high 13 points.
After letting a win get away by falling to Georgia at home, 75-71 on Feb. 3, Kentucky has won four in a row -- three of those on the road. The Wildcats, who were the preseason SEC favorite, are 23-3 overall and 11-2 in the SEC. Tennessee is 11-1 in the conference -- their surreal Feb. 3 loss at Missouri is the lone blemish -- but must finish the regular season against Texas A&M (in Knoxville, Tenn.) and Kentucky (in Lexington)
Kentucky has three games left before the SEC tournament: at LSU, at Mississippi and then the finale showcase against Tennessee. That game (March 3, 3:30 p.m. ET on ESPNU) already is an advance sellout at Kentucky's Memorial Coliseum.
Meanwhile, Texas A&M -- (20-6, 10-2) -- has four regular-season games left: at home vs. Mississippi, on the road at Vanderbilt and Tennessee, and at home against LSU.
The Aggies started this season with three consecutive defeats: close losses to Louisville and Penn State, but then a blowout to Connecticut. Blair said the Huskies "put on a clinic" that probably helped the Aggies a lot, especially Bone, who was embarrassed by how thoroughly the Huskies dominated them.
Blair really hoped to prevail in the rematch with Kentucky, but the Aggies still have a lot they can accomplish in their inaugural SEC season. And the conference tournament -- March 6-10 in Duluth, Ga. -- is going to be quite an entertaining battle.