Commentary
Ten reasons Red Sox will repeat
Updated:
February 15, 2014, 12:39 AM ET
By
Gordon Edes
| ESPNBoston.com
Last spring, the Red Sox were not picked to advance to the World Series by any of ESPN's 43 or so "experts," a panel that included yours truly.
I've learned my lesson. Here are 10 reasons the Red Sox will repeat as Series champions:
10. Baseball is overdue for a back-to-back winner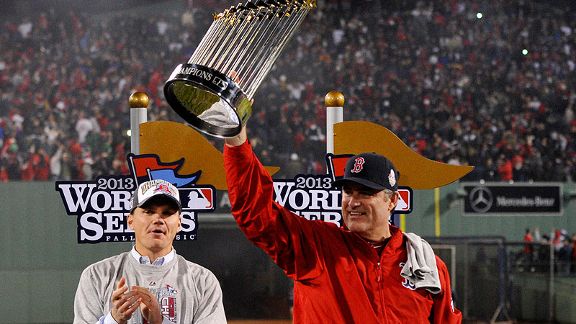 Robert Deutsch/USA TODAY SportsThe Red Sox have won it all three times in a decade, so why can't they do it in consecutive seasons?
No one has won consecutive championships since the New York Yankees won three straight from 1998 to 2000. We're looking at 14 seasons. Only once has baseball gone longer without a back-to-back champion -- the 15 seasons between when the Yankees won back-to-backers in 1977 and '78, and the Toronto Blue Jays went back-to-back in 1992 and '93.
In the '70s, repeating was the norm. Before the Yanks did it, the Oakland Athletics won three in a row ('72-74), and the Cincnnati Reds won two ('75-76). The Yankees have been repeat champions five times in their history, including winning five in a row from 1949 to '53 and four straight from 1936 to '39. The Red Sox have done it once in their history (1915-16). Time to do it again.
9. The Sox shortstop is 21. The Yankees shortstop turns 40 on June 26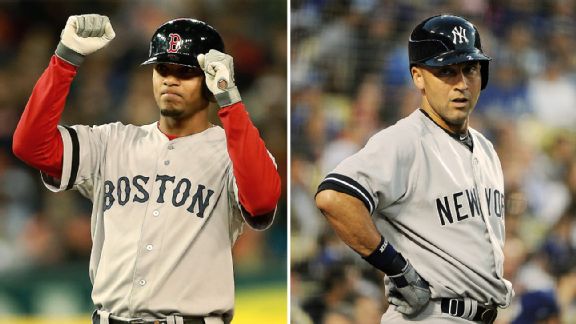 Getty ImagesBoston is hoping that youth and Xander Bogaerts will prevail over experience and Derek Jeter.
Derek Jeter never ranked higher than No. 5 on the Baseball America top prospects list. In 1996, at the age of 22, he was the American League rookie of the year and led the Yankees to the first of four World Series titles in a span of five seasons.
More On The Red Sox

Gordon Edes and the rest of the ESPNBoston.com team have the Red Sox covered for you. Blog

The Red Sox shortstop, Xander Bogaerts, comes into the season ranked as the No. 2 prospect in baseball. Hey, Baseball America's projections are not an exact science, but Bogaerts is 21 years old and has already played in a World Series, showing remarkable composure. Jeter posted a slash line of .314/.370./430/.800 in his rookie season with 10 home runs. The 2014 Bill James Handbook projects a slash line of .283/.357/.450/.807 for Bogaerts in his rookie season with 19 home runs. That's only an educated guess, to be sure, but impressive nonetheless.
No team with a shortstop 40 years or older has ever gone to the World Series. Only four seasons have passed since the Texas Rangers went to the World Series with a 21-year-old shortstop, Elvis Andrus.
8. You say PECOTA, I say ...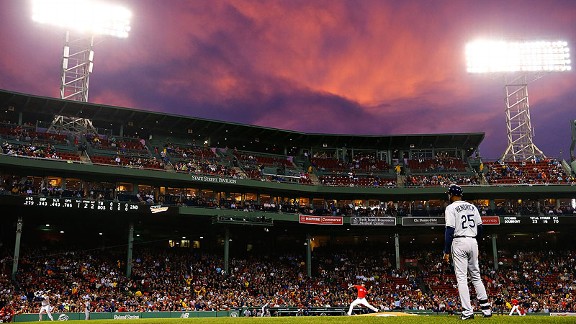 Jared Wickerham/Getty ImagesAmerican League supremacy could boil down to Red Sox vs. Rays, according to the sabermetricians.
PECOTA is an acronym for Player Empirical Comparison and Optimization Test Algorithm. Some very bright people who work for Baseball Prospectus, who are now routinely jumping to jobs with big league clubs, devised the system as a way of predicting performance. As BP justifiably boasts, it has proven to be one of the best predictive systems in the industry. For the details, go to BaseballProspectus.com.
Well, the new PECOTA numbers are out, and they're projecting the Sox and Tampa Bay Rays to win 89 games apiece, more than any other team in the American League. They're also projecting the Sox to score more runs than any team in baseball, even without Jacoby Ellsbury at the top of the lineup. That should earn them a ticket into October.
7. It's a blue-state thing
Over the past 80 seasons, repeaters have tended to come with a Democrat in the White House: Bill Clinton (Yankees and Jays), Jimmy Carter (Yankees), John F. Kennedy (Yankees), Harry Truman (Yankees), FDR (Yankees). The exceptions were Gerald Ford (the A's and Reds) and Dwight Eisenhower ('53 Yanks). To join this list, Barack Obama needs John Lackey, not John Boehner.
6. You take Wilt-Magic-Kobe, I'll take Russell-Bird-Pierce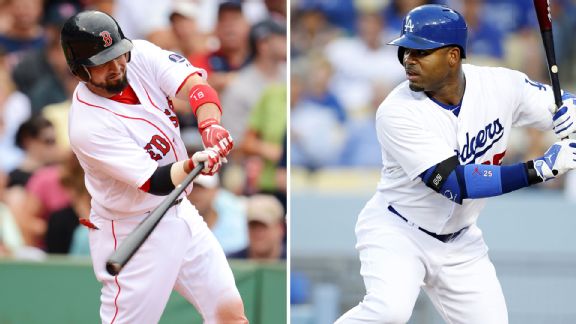 Getty ImagesThere's just no way that Shane Victorino's Red Sox could be felled by Carl Crawford's Dodgers, right?
If the forecasts hold true, the Los Angeles Dodgers will emerge as National League champions. L.A. and Boston have played each other for a championship 11 times, all in the NBA. The Celtics have won eight times, the Lakers three. Carl Crawford will not be celebrating at the Red Sox's expense.
5. The fallacy that everything broke Boston's way last season
Simply not true. David Ortiz could hardly run in spring training. Mike Napoli had a hip condition that made him wonder how long he'd be upright. Stephen Drew was KO'd by a concussion. Dustin Pedroia tore a thumb ligament in the season's first game. Two closers went down with season-ending surgery. So did the left-handed setup man. Clay Buchholz started the season as the best pitcher in the league, then went down for three months with shoulder bursitis. Shane Victorino played with sore hamstrings, a bad back and a painful wrist for much of the season.
The Sox won anyway, because of their depth. They might be even deeper this season, especially on the pitching side, where Jake Peavy will be here for a full season, Felix Doubront showed up in prime condition and there are loads of kids looking for innings. The left side of the infield is a little thin, but there's time to address that, and a healthy Pedroia should do even more damage than he did last season.
4. Something to be said for Junior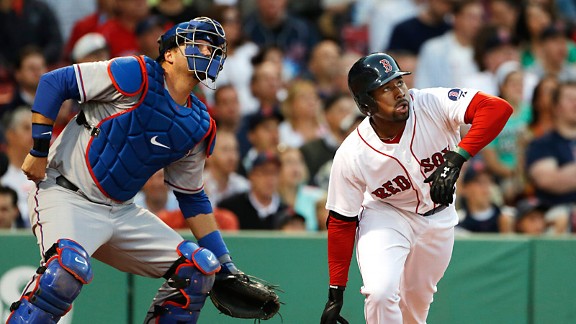 AP Photo/Elise AmendolaJackie Bradley Jr. looks to have the ability and mentality to be Boston's next impact outfielder.
Sox rookie center fielder Jackie Bradley Jr. insists that you add the "junior" any time you refer to him by name. He's proud of his papa.
2013 Red Sox: A season to celebrate
The worst-to-first Red Sox completed a storybook season by winning their third World Series in 10 years. Here's a look at the best of the season. Gallery

• Scenes from Sox rolling rally


• Sox celebrate after clinching


• Scenes from the World Series


• Victorino slams Tigers in ALCS

We're impressed by the number of juniors who have had a major impact on the game. To name a few: Willie Howard Mays Jr., Ken Griffey Jr., Cal Ripken Jr., Brooks Robinson Jr., Early Wynn Jr., Harmon Clayton Killebrew Jr., Edwin Lee Mathews Jr. Even the guy credited with inventing the game was a junior: Alexander Joy Cartwright Jr.
Hey, we're not saying JBJ will wind up in that kind of company, but, obviously, an extra couple of letters at the end of a name can't hurt.
3. Beating the odds becomes them
Last spring, the Bovada online sportsbook gave 13 teams better odds than the Sox to win the World Series, led by the Washington Nationals at 7-1. The Blue Jays were 8-1; the Los Angeles Angels 9-1. We all know how that worked out for the Nats, Jays and Angels; the Nats finished with baseball's 12th-best record, while the Jays and Angels both lost more games than they won.
The wiseguys still like other teams more than the Sox: The Bovada book currently lists the Dodgers as 7-1 favorites, followed by the Detroit Tigers at 8-1, with the Yankees and Sox both at 12-1. Let the bettor beware.
2. The Ortiz legacy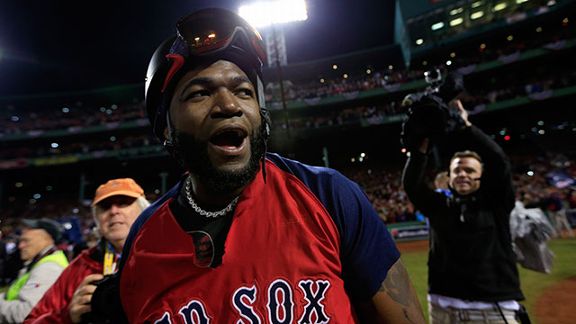 Jamie Squire/Getty ImagesWould a fourth world championship cement Big Papi's place as the greatest Red Sox ever?
So, if he wins a fourth Series ring, where does that place Ortiz in the Red Sox GOAT discussion? After last October's tour de force, does he now warrant top-five consideration? Top three? Top two? If nothing else, a fourth ring should put Ortiz on the Sox payroll for life. And we all know how important contracts are to him.
1. In Boston, a miracle every 100 years
This season is the 100th anniversary of the "Miracle" Boston Braves, who were in last place on July 4, 1914, but went 70-19 over their last 89 games to win the National League pennant, then swept the heavily favored Athletics in the World Series. Compared to that, the task facing the Sons of John Farrell is a snap.
Red Sox reporter, ESPNBoston.com
Has covered Red Sox for 15 years
Award-winning beat reporter
Joined ESPNBoston.com in 2009
EDITORS' PICKS
The Bruins jumped out to a big lead and cruised to their sixth consecutive victory over Arizona.