Andrew Bynum traded for Luol Deng
In a move that has the Cleveland Cavaliers thinking about the present and the Chicago Bulls thinking about the future, the teams executed a major trade late Monday. The Bulls are sending two-time All-Star Luol Deng to the Cavs for Andrew Bynum, three future draft picks and major salary savings.
The Cavs, looking to end a three-year playoff drought, are attempting to make a run by acquiring Deng to shore up the small forward position. They parlayed Bynum's team-friendly contract into a piece to put next to young guards Kyrie Irving and Dion Waiters.
Deng, 28, is averaging 19 points, 6.9 rebounds and 3.7 assists in 23 games. He has been bothered by an injured Achilles that caused him to miss nine games over the past six weeks. He has returned to play in the Bulls' past three games. The Cavs, who have lost eight of their past nine games and have been missing Irving with a knee injury, are hoping Deng helps them turn things around.
Cavs owner Dan Gilbert welcomed Deng via Twitter early Tuesday.
Welcome @LuolDeng9 to the Cleveland Cavaliers!

— Dan Gilbert (@cavsdan) January 7, 2014
"We have worked to acquire and maintain flexibility in order to capitalize on opportunities such as this," Cavs general manager Chris Grant said. "Luol reflects all that we are striving for in building our team. He's a tremendous defensive player that can impact the game on both ends of the court with a team-first mentality and is a high character leader."
More from ESPN.com

The Chicago Bulls didn't want to move Luol Deng. They had to. Aside from the money aspect, this will have an impact on the Bulls' core, writes Nick Friedell. Story
---

The Bulls' decision to trade Deng to the Cavs for Bynum was truly a deal driven mostly by finances -- major ones, writes Kevin Pelton. Story

---

The toughest Bull since Michael Jordan, Luol Deng will be missed, especially by his former coach, Tom Thibodeau, writes Jon Greenberg. Story
• Bulls not rebuilding, and not tanking
• Thibs unhappy? Bulls get it
• Paxson: Rose will be 'great' again
• Noah plays for Deng, excels
• Don't count on Bulls tanking
• Thibs, Deng were good pairing
• Next? Best fits for Bynum


• Grantland: Different thoughts
• Vote: Who made out better?
• Bulls Blog | ESPN Chicago
The Bulls, who are facing a lost season after a bevy of injuries, including a season-ending knee injury to Derrick Rose, are focusing on the upcoming draft and next season. Chicago waived Bynum by 5 p.m. Tuesday, clearing his $12.3 million salary off their books. That will enable the Bulls to get below the luxury tax threshold, which, combined with the savings from not having to pay Deng the balance of his $14.3 million salary, will save the team more than $20 million.
"What was unusual about this, unique about this was the Andrew Bynum contract," Bulls executive vice president of basketball operations John Paxson said. "The fact that we get him in the deal and obviously we will waive him, it gives us tremendous financial flexibility moving forward. The thing that we are assured of in talking to [Bulls chairman] Jerry [Reinsdorf] in going through this process is that the things that we benefit from financially, we are going to, in the future, put back into this basketball team."
Bynum is expected to clear waivers and become a free agent by the end of the week. Though he was suspended by the Cavs for one game for conduct detrimental to the team and excused from team activities, he is expected to be chased on the open market. The Los Angeles Clippers, Miami Heat and New York Knicks are among the teams expected to consider offering him a landing spot.
In addition to the savings, the Bulls got a future first-round draft pick owed to the Cavs by the Sacramento Kings from a 2011 trade for J.J. Hickson. The Bulls will get the Kings' pick if it falls outside the top 12 in 2014 or outside the top 10 picks in 2015, 2016 or 2017. The Bulls also got the 2015 and 2016 second-round picks the Portland Trail Blazers owed the Cavs. In a final piece, the Bulls will be able to swap draft positions with the Cavs in 2015 as long as the Cavs' draft pick is outside the top 14 picks.
The Bulls had said they wanted to keep Deng, whom they drafted in 2004 and signed to a $71 million extension in 2008. But talks on a new contract for Deng, who is scheduled to be a free agent at the end of the season, had stalled and the savings and the draft considerations were enticing.
Paxson said the Bulls presented Deng and his agent with a contract extension in the past week but were rejected. Realizing just how far apart they were with Deng, Paxson said the Bulls decided they had to trade him.
"We have great respect for Luol Deng as a player and a person," Bulls general manager Gar Forman said. "The moves made today will put us in a better position to make the entire roster stronger for the future and to compete for a championship."
[+] Enlarge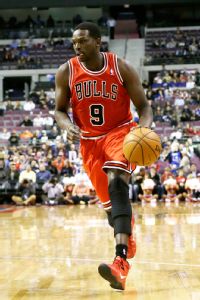 AP Photo/Carlos OsorioLuol Deng, 28, is averaging 19 points and 6.9 rebounds this season.
Deng leaves the Bulls as the fourth-leading scorer in franchise history behind Michael Jordan, Scottie Pippen and Bob Love.
"I thanked him for all that stuff that he did. It's almost 10 years," Bulls coach Tom Thibodeau said. "I think he was a big part of lifting the team out of the five or six years in the lottery before he got here. Then what he did for me. You couldn't ask anything more of a player. Practice hard, be a great leader, play for the team, be selfless. Whatever I asked him to do, he did. And he bought in from day one, from the minute I got here. So I appreciated that and I thought when you look at what he did, the way he worked and the way he performed, those are two things I value greatly."
Deng offered a goodbye to Chicago via his Twitter account.
"You will hear a lot of can't and a lot of won't, but you give it everything you can because you believe in yourself and your teammates. You push yourself with your heart, mind and soul, and smile every night knowing you put love and passion into it. Thank you, Chicago," Deng wrote.
In addition to their own draft pick, the Bulls also own the Charlotte Bobcats' 2014 first-round pick if it falls outside the top 10. They also own the rights to star Spanish forward Nikola Mirotic, who they hope to bring over to play next season.
Last summer, the Cavs had more than $15 million in salary cap room left after they failed to trade for the Lakers' Pau Gasol. They took a measured risk on Bynum, who missed the 2012-13 season with knee injuries. The Cavs were the only team to offer Bynum a significant contract and they protected it with provisions that enabled them to execute this trade before his full contract became guaranteed Tuesday.
Bynum averaged 8.4 points and 5.3 rebounds in 24 games, 19 of them starts. But he consistently had issues with fellow teammates and coaches, which led to the suspension and the Cavs' decision to trade him.
The Cavs had extensive talks with the Lakers in another attempt to get Gasol over the past week. The Lakers remained firm in their stance not to deal the four-time All Star without receiving assets of value until the very end of negotiations, when the Cavs ended the talks to focus on the Bulls' offer.
The Lakers were in a similar position as the Bulls, with Kobe Bryant injured and with the option to trade for and waive Bynum to save $20 million. The Lakers believe, according to sources, that they will have other ways to get below the luxury tax threshold before the trade deadline and that Gasol still holds value around the league.
ESPNChicago.com's Nick Friedell and ESPNLosAngeles.com's Ramona Shelburne contributed to this report.
ESPN.com
ESPN.com NBA writer since 2010
Covered Cleveland Cavs for seven years
Author of two books
EDITORS' PICKS
Tom Brady is relying on garlic and film study four days before the Super Bowl.

Who is more responsible for the Patriots' wild run of success: Tom Brady or Bill Belichick?