Chris Johnson lands with Jets
Updated:
April 17, 2014, 12:39 PM ET
By
Rich Cimini
| ESPN.com
After a relatively conservative first month of free agency, the New York Jets made one of the splashiest moves of the offseason, signing former Tennessee Titans running back Chris Johnson to a two-year deal worth up to $9 million, a league source told ESPN NFL Insider Adam Schefter.
The base value of the deal is $8 million, and includes another $1 million in incentives, according to league sources. Johnson's deal has a team option for the second year at $4 million, which would have to be picked up in February 2015, a league source told Schefter.
The team took to Twitter on Wednesday to confirm the signing:
We've signed @ChrisJohnson28. - http://t.co/bsZv0lOfPP Welcome CJ2K to #JetsNation! pic.twitter.com/rNlcNPrDO0

- New York Jets (@nyjets) April 16, 2014
"I've always been a big fan of the Jets," Johnson told the team's official website. "There was some thought into this, but just at the end of the day, I was comfortable here. I just felt like it was the right situation."
Released April 4, Johnson generated little interest on the open market. He visited with only one team -- the Jets -- and wrapped that up Tuesday. The team wanted to get him signed before the start of its offseason program next week. No other team was identified as a serious suitor.
More from ESPN.com

Chris Johnson, a former 2,000-yard rusher, brings credibility to a Jets offense devoid of stars and playmakers -- and he doesn't need a GPS to find the end zone, Rich Cimini writes. Story
---

The days of Chris Johnson ranking among the elite fantasy RBs are over, as Christopher Harris writes. Story
---

Field Yates ponders what the Jets' offense will look like with Michael Vick, Eric Decker and Chris Johnson in the fold. Story
"I see this as a team on the rise," Johnson told the team's official website. "This is a winning team. They didn't make the playoffs last year, but I think they were a game out of the playoffs with a rookie quarterback. So I feel like this is a team that can do some good things."
For years, Johnson was one of the sport's elite players. He has rushed for at least 1,000 yards in his each of six seasons, including 2,006 yards in 2009. But declining production, coupled with a large salary, led to his ouster.
The Jets were reportedly one of four teams that inquired about trading for Johnson, but they didn't want to pick up his salary ($8 million) or surrender a draft pick, not when his release was expected.
New York finished sixth in rushing last season and has every running back returning in 2014, yet felt the need to add more speed. Johnson, 28, is one of the fastest backs in the league, although he's coming off a season in which he averaged a career-low 3.9 yards per carry.
Johnson's health is a question. He underwent surgery in late January to repair a torn meniscus in his right knee and resumed running only about a month ago. He said after the season that he first hurt his knee in Week 3. He didn't miss any games and became the fifth player in league history with 1,000 rushing yards in each of his first six seasons. Obviously, the Jets feel confident he will regain his explosiveness.
Johnson's Streak
Chris Johnson's run of six straight 1,000-yard seasons is the longest active streak in the NFL. In fact, no other player has a current streak longer than three seasons.
Consecutive 1,000-Yard Seasons
Active Streaks
Player
Streak
Seasons
Chris Johnson
6
2008-13*
Frank Gore
3
2011-13
Marshawn Lynch
3
2011-13
4 players tied
2
*- Includes 2,006 yards in '09 season
--ESPN Stats & Information
There's also a question about Johnson's role. He was a workhorse with Tennessee, averaging 290 carries per season, but he likely will have to accept a reduced role as part of a committee approach. The Jets' other veteran backs are Bilal Powell and Chris Ivory, who rushed for a team-high 833 yards. Ivory's power game should pair nicely with Johnson.
"I think I'm going to fit in pretty well," Johnson told the team's official website. "Just talking to (offensive coordinator Marty Mornhinweg) and to (coach) Rex (Ryan), who's a guy that likes to run the ball, I think I'm going to fit in very well. We talked about all those things, catching out of the backfield, getting the ball to me in space."
Johnson's pass-catching ability is another reason the Jets signed him. He's not a prolific receiver, but he averages 45 receptions per season. With 42 catches last season, he was one shy of the Jets' team leader, wide receiver Jeremy Kerley. Johnson had as many receiving touchdowns as any player on the Jets.
Johnson became the Jets' third high-profile addition on offense, joining quarterback Michael Vick and wide receiver Eric Decker.
Once known as CJ2K, Johnson brings star power to the position, the first true breakaway back of the Ryan era. Ryan coached Thomas Jones and LaDainian Tomlinson, both accomplished runners, but they weren't home run threats.
SportsNation: Jets sign Chris Johnson

Is signing Chris Johnson a good move for the Jets? Can Johnson still be an elite running back? Cast your votes! »
Some will argue that Johnson no longer has that dimension, as he managed only five runs of at least 20 yards last season.
There has been a dramatic decline in all aspects of his game since 2011, when he signed a four-year, $53.5 million contract extension.
Shaky offensive-line play, a change in offensive coordinators and the knee injury contributed to Johnson's downturn, but scouts also have noticed that he's not as elusive as he once was. He doesn't force as many missed tackles as he did in his vintage seasons. In 2009, the year he dominated the league, he had 22 runs of at least 20 yards.
ESPN New York Jets reporter
Longtime Jets beat writer for New York Daily News
Syracuse University graduate
THE NFL ON ESPN.COM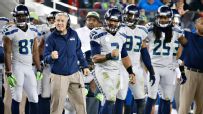 Russell Wilson has been stellar for Seattle -- but he's had plenty of help along the way.
EDITORS' PICKS
Bill Belichick addressed the media Saturday and was adamant that the Patriots did nothing wrong preparing footballs.