Andre Carter done for season
Updated:
December 20, 2011, 6:25 PM ET
ESPNBoston.com
As expected, the New England Patriots placed defensive end Andre Carter on injured reserve Tuesday with what the team called a "leg injury."
NFL Playoff Scenarios

Which teams hold the tiebreakers, and what's left on the schedule? ESPN breaks it down entering Week 17. Story
• Blog: Week 17 clinching scenarios
• Figure it out: Playoff machine
• Insider: Playoff predictor

Carter was carted off the field during Sunday's game against the Broncos after suffering what the Patriots first described as a knee injury late in the first quarter. After the game, Carter's agent told ESPN's Josina Anderson it was a "quad-related injury" and that the defensive end would need surgery. A source told ESPN.com that X-rays on the knee were negative.
While the loss of Carter -- who earned AFC defensive player of the week status for his four-sack game against the Jets on Nov. 13 -- could hamper New England, coach Bill Belichick wasn't about to throw in the towel. The Patriots will just have to carry on without him, he said.
"Whatever 11 guys we put out there will have to get the job done," Belichick said with a shrug at his news conference Tuesday. "Whatever (offensive packages) they put out there we have to be ready to defend them."
Mark Anderson, who came into the league in 2006 with the Bears and spent the majority of last year with the Texans, sparkled as Carter's primary replacement Sunday in New England's 41-23 victory in Denver. His biggest contribution was a strip-sack of Tim Tebow and a fumble recovery on the play, sparking a Patriots turnover-fueled second-quarter surge.
But Anderson, a six-year pro speaking Tuesday after practice, realizes Carter's injury has left a hole in the Patriots.
"Andre is a leader on this team," said Anderson, in his first year with New England. "We're going to miss him. As a team, a lot of people are going to have to step up and fill his shoes."
He added: "You have to be ready when your number is called. I'll do my best."
Belichick was noncommittal when asked if Anderson, a 6-foot-4, 255-pounder, will receive the bulk of the playing time in Carter's absence or if there would be more of a rotation with other defensive linemen in the mix. But he did offer praise for Anderson's contributions this season.
"He's had a pretty good year," Belichick said. "He's been a pretty consistent player for us all year. He's a good athlete. He works hard."
Carter, who had 10 sacks in 13 games this season, seemed to have a sense of humor about the injury, tweeting early Monday: "On the brighter side. I think I can do the stanky leg dance."
He took a more serious tone in another tweet: "God is great. Thank you for showing me and my family support this season. It's been a blast. Wouldn't change it for anything."
More on the Patriots

Mike Reiss has the Patriots blanketed for ESPNBoston.com. Check in for all the latest coverage. Blog

• Send a question for Mike's mailbag
In a move that registers as a mild surprise after Carter was placed on the IR, the Patriots announced the release of defensive end Eric Moore Tuesday. Moore was not at practice Tuesday, which was the first sign that his status with the team might be in jeopardy.
Moore was signed by the Patriots Dec. 10, one day after second-year player Jermaine Cunningham injured his hamstring in practice. Moore played in the team's win at Washington one day later, taking over Cunningham's role on the punt return unit. He didn't play on defense against the Redskins, and logged 11 snaps Sunday in Denver.
The release of Moore could be good news for practice squad defensive end/linebacker Markell Carter. Carter, the team's sixth-round draft choice from Central Arkansas, recently had his salary boosted from $149,000 to $306,000, a sign that the team views him as a player on the rise.
"Since he's been here, from training camp up to this point, I'd say he's certainly made progress," director of player personnel Nick Caserio said. "The biggest thing with him is that he's coming from a lower level of competition, and that situation as well as not having an offseason program. He's worked hard. He's a player, whether it's during practice on the 'look' team, whether it's defensive snaps, post-practice, in meetings, he's worked hard and applied himself. He's made progress and I think that's what you want to see with any young player. We're happy to have him in the program."
In addition to putting Carter on IR, the Patriots also announced the signing of defensive lineman Cedric McKinley to the practice squad.
ESPNBoston.com's Mike Reiss contributed to this report. Information from ESPNBoston.com's Steven Krasner was used in this report.
NFL WEEK 16 PREVIEW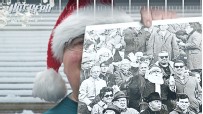 WEEK 16 PICKS
POWER RANKINGS
MNF: Falcons at Saints, 8:30 ET
HOT BUTTON: Non-QB MVP
HOT READ: Booing Santa in Philly
FINAL WORD
JOHN CLAYTON/ADAM SCHEFTER
COMMENTARY/BLOG POSTS
SPORTSNATION
NFL DRAFT
EDITORS' PICKS
Over two weeks into free agency, where do the Patriots stand? Depends on how you look at it.