Commentary
Manning barges into Brady country
Both quarterbacks are elite, but Eli has earned postseason bragging rights -- for now
Dating back to the 2007 playoffs, Eli Manning has been a better postseason quarterback than Tom Brady.
And that's no insult to Brady.
Between the past three games and his performance four years ago, Manning has put together an impressive body of work. With a win Sunday, Manning will have won eight of his past nine postseason games. His brother Peyton has never done that. Nor did Brett Favre or John Elway.
According to the Elias Sports Bureau, Manning would join this list of quarterbacks to win eight of nine postseason games: Montana, Aikman, Plunkett, Roethlisberger, Brady and Starr.
Brady, of course, won his first 10 postseason games, and was 14-2 going into Super Bowl XLII. However, his recent postseason struggles have been well-chronicled in New England.
Including that Super Bowl, Brady has lost three of his past five playoff games. True, that includes a pair of wins this January. But his two-interception performance against the Baltimore Ravens in the AFC Championship Game raised familiar alarms.
Brady saw his streak of 35 consecutive games with a touchdown pass snapped. It was also the first time in almost 10 years that he didn't throw a touchdown pass in a postseason game.
Dating back to the 2007 season, Brady is 4-3 in the playoffs with 16 touchdowns and 10 interceptions. Those numbers got a big boost from a six-touchdown game against the Denver Broncos on Jan. 14. In that same time frame, Manning is 7-1 with 14 touchdowns and four interceptions.
Tom Brady vs. Eli Manning, postseason since 2007
| -- | Brady | Manning |
| --- | --- | --- |
| W-L | 4-3 | 7-1 |
| Yds per att | 6.74 | 7.18 |
| TD-Int | 16-10 | 14-4 |
| 25-yard passes | 6 | 14 |
| Passer rtg | 90.0 | 93.2 |
The New York Giants could become the first team to win the Super Bowl after a four-game losing streak during the regular season. They are also the first team to reach the Super Bowl after being outscored in the regular season. Manning's regular-season numbers don't compare to those of Brady, Drew Brees or Aaron Rodgers. But when the calendar turns to January, Manning is in that elite group.
He has eight touchdowns to just one interception this postseason, and could join Kurt Warner and Joe Montana as the only quarterbacks to throw 10 or more touchdowns in a single postseason. Brady has currently matched his career high with six touchdowns, and all of those came in one game.
The most stunning aspect of Manning's accomplishments? He's doing much of it away from home. Only one of his seven postseason wins came at home, and he's led the Giants to an NFL-record six straight playoff wins on the road or at neutral sites.
Most wins by starting QB in road or neutral-site games, postseason history
Quarterback
W-L
Eli Manning
6-1
Tom Brady
6-3
Terry Bradshaw
6-3
Roger Staubach
6-3
Joe Montana
6-5
>>Source: Elias Sports Bureau
On Sunday, either Brady or Manning will become the first quarterback with seven career postseason wins away from home.
Brady and Manning can each point to a specific quarter as emblematic of his recent postseason performance.
For Brady, the first quarter has been a clear issue. He's thrown an interception in the first quarter in four straight postseason games. Consider that in his first 15 postseason games, Brady didn't throw a single interception. But in his past six, he's thrown six interceptions. Compared with the regular season, the contrast is even more stark. Brady has one first-quarter interception in his past 34 games.
Tom Brady in first quarter, postseason career
| -- | 1st 15 Games | Last 6 Games |
| --- | --- | --- |
| TD-Int | 4-0 | 2-6 |
| Yds per att | 6.20 | 5.17 |
| Passer rtg | 89.4 | 43.8 |
For Manning, his success is directly tied to success in the fourth quarter. Dating back to 2007, Manning has thrown six touchdowns and just one interception in the fourth quarter of postseason games. That's good enough for a 114.9 NFL passer rating.
This year, it's been an extension of regular-season heroics. Manning threw 15 passing touchdowns in the fourth quarter in 2011. That broke an NFL record Peyton Manning previously shared with Johnny Unitas.
Eli Manning this season (including playoffs)
| -- | 1st 3 Quarters | 4th Quarter/OT |
| --- | --- | --- |
| Comp Pct | 58.8 | 66.2 |
| Yds/att | 7.9 | 8.9 |
| TD-Int | 19-11 | 18-6 |
| Total QBR | 54.1 | 72.7 |
Another area where Eli has differentiated himself is under pressure. That's been a saving grace for a Giants team with a notably weak offensive line. Manning was pressured 220 times during the regular season. Compare that with just 142 pressures of Brady.
The contrast has been even greater in the postseason. Manning has been pressured 61 times on 133 passing plays. Compare that with 13 pressures for Brady on 72 passing plays.
Yet Manning is 23-43 when under pressure during this postseason. Brady, by comparison, is 7-23 when under pressure in his past three postseasons combined.
Away from home and under pressure, Eli's putting his name along with Brady's among the elite postseason quarterbacks.
Jeremy Lundblad is a senior researcher with ESPN Stats & Information. He provides statistical analysis for ESPNBoston.com.
ESPN Stats and Information
Senior researcher
Provides statistical analysis for ESPNBoston.com
SUPER BOWL XLVI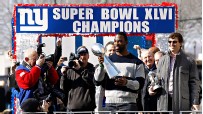 SUPER BOWL XLVI: Giants 21, Patriots 17
SPORTSNATION
PRO FOOTBALL HALL OF FAME
MORE NFL COVERAGE
NFL DRAFT
EDITORS' PICKS
Who is more responsible for the Patriots' wild run of success: Tom Brady or Bill Belichick?