Belichick: Wanted an explanation
Updated:
September 24, 2012, 10:45 PM ET
By
Field Yates
| Special to ESPNBoston.com
FOXBOROUGH, Mass. -- New England Patriots coach Bill Belichick on Monday said he did not mean to disrespect the official whose shirt he grabbed as the official was running off the field after the Patriots' 31-30 loss to the Baltimore Ravens, saying he was trying to find out whether the game-winning field goal was under review.
Justin Tucker's 27-yard field goal as time expired sailed just over the right upright, and several Patriots -- including Vince Wilfork -- were pleading with officials that the ball was actually wide of the goalpost.
MacMullan: Patience With Refs Flagging

Sunday night's game between the Patriots and Ravens proved it: The NFL's replacement refs have to go, Jackie MacMullan writes. Story
"From the sideline I saw the ball go pretty close to the upright. I couldn't obviously tell from where I was at where exactly it went," Belichick said in a statement at the beginning of his Monday news conference. "But I saw players waving that it was no good, then I saw the officials giving the signal that it was good, and I just wasn't sure from where I was standing whether the ball, when it went over the crossbar, was above the upright or in between or not in between the upright.
"So by rule, if the ball isn't over the crossbar, and it's either inside or outside of the upright, that's reviewable. If it's over the crossbar, over the top of the upright rather, then it's not reviewable. I couldn't tell, from my angle, when the ball crossed the crossbar, where it was. So I didn't know whether or not that play was going to be under review or whether it wasn't.
"So when the game was over, I went out and I was really looking for an explanation from the officials as to whether or not the play was under review. I did try to get the official's attention as he was coming off the field to ask that, but I really wasn't able to do that."
Ray Anderson, the NFL executive vice president of football operations, said in a statement that the league is reviewing the incident as well as the conduct of Ravens coach John Harbaugh.
On Sunday night, as the officials continued to walk past Belichick without acknowledgement, Belichick grabbed the last one to get his attention. But the official did not break stride.
After the game, Belichick deferred comments about the officiating in the game and said he didn't think he would be fined by the NFL.

"I've coached in this league a long time," Belichick said Monday. "I've never been penalized, never had any incidents with officials or anything like that. I have never meant any disrespect or in any way tried to abuse or be disrespectful to the officials and the job that they do. I was trying to get an explanation for obviously an important call/play in that game. That's the No. 1 thing between coaches and officials, it's always at the forefront, just communication of what's going on and what's happening."
Belichick then recalled a game at Foxborough Stadium in 2000, his first year as Patriots coach, in which quarterback Drew Bledsoe was ruled to have fumbled as time expired in a game against the Dolphins.
"As I was walking off the field with (referee Johnny Grier) at that time, I talked to him about, 'This seems like an incomplete pass, there should be more time on the clock, we should have another play here,'" Belichick explained. "(His response was) 'No, that's the ruling, the game's over.' We go back into the locker room, 10 minutes or so later, Johnny comes back and says they are reviewing the play and we may have to go back out and finish the game. About five minutes after that, players got dressed, we came back out for a final play in that game.
"So I've been through a situation at the end of a game where it's over but it's not over, that type of thing. That was really the situation last night. I was trying to get the official's attention to get an explanation on it. In no way was I ever trying to do anything other than that."
Field Yates covers the Patriots for ESPNBoston.com.
ESPN Insider
Field Yates has previous experience interning with the New England Patriots on both their coaching and scouting staffs. A graduate of Wesleyan University (CT), he is a regular contributor to ESPN Boston's Patriots coverage and ESPN Insider.
NFL WEEK 3 COVERAGE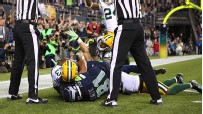 Follow the NFL on ESPN on Facebook
Fantasy Football on ESPN.com
Clayton's Last Call | NFL Nation blog
Leaders | Studs & Duds | QBR
MNF: SEAHAWKS 14, PACKERS 12
COMMENTARY/BLOG POSTS
INSIDER ANALYSIS
FANTASY COVERAGE
STATS & INFO
SPORTSNATION
2013 NFL DRAFT
EDITORS' PICKS
Clay Buchholz is now looking and sounding like a pitcher with a new grip on his career.