Commentary
AFC title will be won in the trenches
Patriots' winning formula: Power running on offense, weathering storm on defense
Every week leading into the Patriots' next game, ESPN NFL analyst Tedy Bruschi and ESPNBoston.com Patriots reporter Mike Reiss preview the matchup. This week, it's Sunday's AFC Championship Game against the Denver Broncos at Sports Authority Field at Mile High (CBS, 3 p.m. ET)
Mike: Let's start with the Patriots returning to the conference championship game for the eighth time in Bill Belichick's 14 years as coach.
Tedy: It's unheard of. The percentages of being in the game that gets you to the Super Bowl are pretty high in New England. It's something we never took for granted in the locker room, because the AFC Championship is special. Most of the time, you're fighting in the regular season to get that bye, and when you get that and then win one game, it puts you into the game that could send you to the Super Bowl.
Mike: You always say the goal is to get three sets of hats and T-shirts each year -- division, conference, Super Bowl. Bring us inside the locker room to what a week like this was like.

Tedy: Honestly, it really wasn't much different than any other week, and the more I've thought about it, that's a testament to Coach Belichick's approach. No matter what point of the season it is -- the offseason, preseason, regular season -- you notice him this time of year in the locker room and coaching the team, and it's not much different than you've seen every day over the course of the entire season. I think that helps a lot of young players deal with the pressure. When you're playing in the regular season and the emphasis is so strong and at such a high level, Bill doesn't have to up his intensity for the postseason, because it is already been at that point. When you lose during the regular season, at any point -- whether it was to end a 21-game winning streak or any loss -- there is hell to pay. So everything is emphasized from Day 1 to a championship level. So once you get to those championship games, the pressure isn't really felt by players.
Mike: It's hard to believe this will be the Patriots' first road playoff game since 2006, the AFC Championship Game at Indianapolis. There are some common threads there: The offense didn't have big-name receivers, and players were battling some illnesses leading into that game. The extra hand-sanitizing stations have been set up in the team's locker room this week, and the noise has been turned up at practice.
Tedy: It will be a new experience for a lot of these players, playing in the playoffs on the road. But it still goes to the previous point. It doesn't matter that it's on the road, because when have you ever heard Coach Belichick, in a news conference, saying the team needs the home fans to be really loud. You don't often hear players talk about it either. That would de-emphasize the importance of the job that needs to be done by each individual person. To say it's tougher because you'll be on the road goes against his coaching style. So the emphasis is that everything inside the locker room, and inside of the team, is greater than the situation, greater than the location where the game is played, greater than what it is on the line. What's most important is how you do your job, and that takes away some of the pressure.
When you're sitting there as a player, and you're in a Wednesday meeting, then Thursday and Friday, do you think Bill even mentions that it's the AFC Championship Game? All he's talking about is assignment football. It puts you in a mindset of, "Is that all I have to do? Well, that's easy."
Mike: Would he mention the higher stakes at all?
Tedy: Maybe Saturday night, after you've had your meal and you go into the team meeting before you break up as a unit and positional meetings, that's when Bill could bring everything full circle and give you a little bit of a taste of what's on the line if he feels it's appropriate. There have been years before AFC Championships and Super Bowls where he's done that and mentioned the magnitude of the game you're about to be in. Just a touch. He doesn't want to put too much pressure on because he knows it goes back to what's most important, and he'll bring up specific players and a specific job that needs to be accomplished on offense, defense and special teams. But during the week, the magnitude of the game will be de-emphasized. I mention this because I played in five conference championships under Belichick, six overall, and sometimes I have to remind myself that I did. It surprises me because going through that experience, it was almost like they weren't AFC Championship Games. To this day, they weren't. It was just a game.
Mike: A big part of this game will be how the Patriots defend Peyton Manning and a passing attack that is as deep as any in the NFL. At this point, is it about new wrinkles or more a case of Manning knowing what's coming and simply having to execute.
[+] Enlarge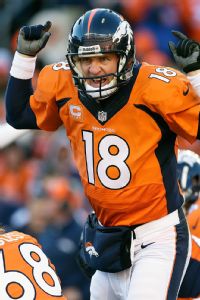 AP Foto/Charlie RiedelPeyton Manning is probably going to be able to figure out the Patriots' defensive formation, which makes execution the biggest key for New England.
Tedy: I don't know if the Patriots have the personnel or the flexibility right now to do things that, say, the San Diego Chargers were doing on defense. A safety like San Diego's Eric Weddle, when you watched him in the regular-season matchup against the Broncos and some in the playoffs, he's the type of safety who has the knowledge, freedom and comfort level to move everywhere on the field. So he could line up in the deep left part of the field, come down to the left part of the box and then move over to the right side all the way over to the receiver, and then drop back into coverage to disguise a slot blitz that is coming from the left. I'm not sure if Devin McCourty and Steve Gregory have that type of freedom for the Patriots, or if they want McCourty to be that guy because he's needed as the last line of defense. So basically, the Patriots will disguise if they can. But this is also a defense where there are so many moving pieces they first want to know what they are doing and they are where they are supposed to be. So the work Peyton has to put in to figure out what they have to do might be less. Thus, he's probably going to know what you're in and it's all about defending it well. There might be more points scored in the first quarter of this game than the entire NFC Championship Game.
As a defense, you can get certain tendencies from the Denver formations: the stacked receivers, anticipating the rub route or the quick wide receiver screens, the double-ins. The Z-delay, which is what we used to like to call it, is when the No. 2 receiver runs up the field and the No. 1 receiver will run a little delay off the line of scrimmage and sprint across the formation for a quick shallow crossing route. Those are things you know you'll see every single time you play Peyton. Having said all of that, and having Manning and Tom Brady on the other side of the ball, what's interesting to me is that the team that runs the ball and stops the run is going to be the big difference.

Mike: It's interesting you say that, because in our weekly "Hot Button" segment, the point was made that run defense might be more important than pass defense. Let's get into that a little bit.
Tedy: Go back to when we were previewing the Nov. 24 game between the teams. At the time, I said that Broncos center Manny Ramirez was a liability along the offensive line. But after that game, and watching it further, I was wrong about that. The Broncos dominated on the line of scrimmage, especially in the run game up the middle. So, for the Patriots, the biggest factors in this game are how defensive tackles Sealver Siliga, Chris Jones and Joe Vellano will play. Siliga didn't play in the Nov. 24 game because he was still on the practice squad. Ramirez really manhandled Jones and Vellano. How you can tell, when watching on TV where you see the sideline angle, is when you can easily spot the No. 66 and you read the numbers on the back of jersey. That happened in the first matchup, when Ramirez got his hands on Jones or Vellano, and turned them to the sideline where you could see the 66 and "Ramirez" on the back of his jersey. That's a clean read for running back Knowshon Moreno, and that's where he is going to take the ball, because Ramirez is turning the defensive lineman and putting him in a gap where he wants them to be. As my fellow analyst on "NFL Live," Mark Schlereth, likes to say, that's called dispensing justice. So that's what the battle is to me. And that's where I think the Patriots want the battle to be also. Once again, I think they're OK with allowing 200 yards rushing rather than Peyton going off for 350.

Mike: Manning was content to hand the ball off that game, in part because of challenging windy conditions, and the Broncos rushed for 280 yards. But given the result and a weather forecast that calls for temperatures in the 50s with light wind, it seems fair to wonder if he might approach things a little differently.
Tedy: An interesting aspect of this is how much does he trust his defense. This might be another game of each quarterback trying to play keep-away, or each of them trying to protect their defense. Do they take the approach of scoring points in a shootout, or control the clock by running the ball. I think both of these teams will try to do the latter. The most glaring weakness to me, based on the first game with the Patriots, is that run defense. The Patriots can't bring another guy down in the box to stop the run because that could open things up for Demaryius Thomas, or Julius Thomas, to get a quick 20-30 yards in one chunk.
Mike: Julius Thomas didn't play in the Nov. 24 game, so it's a swap of tight ends. The Patriots had Rob Gronkowski that day but don't have him. The Broncos get Thomas back. That's advantage, Broncos.
Tedy: The addition of Thomas obviously makes this much tougher on the Patriots. It's going to take a big part of the emphasis off the receivers. They're going to want to defend from the inside-out, and when you hear Belichick talking about Julius Thomas at his news conference about how he's 6-foot-6 and the threat that he is, you almost get the sense he's going to do something to try to take him away. That's an emphasis that the Patriots didn't have the last game.
[+] Enlarge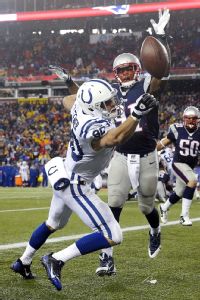 AP Photo/Matt SlocumLinebacker Jamie Collins held tight end Coby Fleener in check last week; he faces a taller task in containing 6-foot-6 Julius Thomas on Sunday.
Mike: That could be where rookie linebacker Jamie Collins becomes a key piece in the Patriots' game-plan. We saw him split out wide on Coby Fleener in Saturday's win over the Colts and he can run well. You give Manning another weapon, and it's almost like it isn't fair.
Tedy: After the 2006 AFC Championship Game, I went up to Peyton after the game, hugged him, congratulated him, because that's when I finally knew they had it. It was the first time they beat us in a meaningful game. I told him, "You earned it, and you deserve this." That's how much I've always respected him as a competitor. He's the most dangerous opponent I've ever gone up against, the most respected opponent I've ever played against. There is no one else that can challenge you mentally, intellectually and physically. You rarely get that. Pre-snap, you have to think, "What's the down and distance, what's the situation, what's the formation, what's he saying? Does it matter?" And once the ball is snapped, he has the ability to do whatever he chooses.
Mike: There's been plenty of media-driven talk about the Manning versus Brady storyline this week, but the way the Patriots have been winning lately isn't necessarily with Brady's arm. So will it be ground-and-pound again? Or do the Patriots try to exploit what looks like a vulnerable secondary? I wonder if they feel like they have the weapons to get consistent separation to do the latter.
Tedy: We started this year talking about the new stars of the Patriots offense being the offensive line. That's right where we are now to finish this thing out. To get to the Super Bowl, this is who they have to be. At the beginning of the season, the running game had to buy time for Gronkowski to get back and Danny Amendola to be available again and to give these young receivers time with Brady. They did that. The passing offense took off once Gronkowski came back, and now he's gone again. It all comes down to physical football now. This team is doing its best 2004 imitation that it possibly can.
[+] Enlarge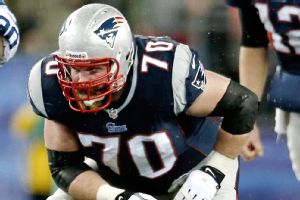 AP Photo/Michael DwyerTedy Bruschi thinks Logan Mankins will need to be the Patriots' MVP against the Broncos.
The run game is what it's all about. For the Patriots to win offensively, it's going to be about running the ball. Logan Mankins has to be the MVP of this game -- not only as a direct point-of-attack blocker, but also as a puller on the power-O plays. When he comes around and meets Danny Trevathan or Wesley Woodyard in the hole, he has to win. There were times in the last game when he planted Trevathan on his back. There were times in the last game when Trevathan stood him up in the hole. Mankins is a focal point. Center Ryan Wendell also has to come up big.
Mike: If that line can protect Brady and give him time, he might also see some favorable matchups in the passing game. The Broncos are thin at cornerback, which led them to sign former Patriots defensive back Marquice Cole this week.
Tedy: The Chris Harris injury is big. He was one of their best players in the secondary, with the ability to play inside and out, and also left or right. That's rare. His teammates marveled at his ability and coverage skills. He's well respected. That's almost like the Patriots losing someone like Rob Ninkovich because he does so many things -- off the line linebacker, edge-setter in a 3-4, a 4-3 defensive end getting to the passer. That type of versatility and flexibility, that's what Harris brought. So now I ask the question, "Will Denver be less multiple?" The Patriots will have to make a sideline adjustment once they see how the Broncos are matching up and they look for the guy they want to attack. Not having Von Miller is a big difference for them compared to Nov. 24. But not having Gronkowski is a big difference for the Patriots.
Mike: I think we should finish with special teams and coaching. The Patriots ranked No. 1 in the annual special teams rankings compiled by Rick Gosselin of the Dallas Morning News, while the Broncos were 29th. Those are hidden things that can often be overlooked. Also, the Patriots were one of the NFL's least penalized teams this year and the Broncos were one of the most. Something to consider. As for the coaching, what do you think?
Tedy: I'm still interested to see Fox in a pressure situation. Offensive lineman Zane Beadles mentioned it this week, how the Broncos won last week's game against the Chargers with the ball in their hands -- third-and-17 and finishing the drive. If it's close in this one, what decisions does Fox make late in the game?
AFC Championship Game: Pats-Broncos
It'll be Tom Brady vs. Peyton Manning (again) for a shot at the Super Bowl. Ranking their 14 clashes

• Bruschi's Breakdown

Picks


• MacMullan: Brady, Belichick driven »
• MacMullan: Kraft's 20-year reign »
• Reiss: Pats' depth paying off »
• Yates: Running game resurgence »
• Hot Read: Brady-Manning centers »
• Bruschi: Pats must pick their poison »
Mike: As for Belichick, one of the questions some have asked if this is his best coaching job in his 14-year tenure with the team.
Tedy: When I think back, 2001 was a good one. Matt Cassel in 2008 was pretty good; 2006 was a pretty good job. Know what? I'd put this one up there at the top. I tried to explain this last week on NFL Live -- how he was coaching a team in constant transition. Many coaches will say "We need you to do this within our scheme and do it the best you can." But Bill caters to his players' strengths and will adjust the way he attacks teams. This offense has reinvented itself multiple times this season based on the strength of the players. On defense, you saw things like using linebacker Brandon Spikes as almost another defensive lineman after the season-ending injury to Vince Wilfork in late September. And how he's coached up others. So I want to say, "Yes, this is his best coaching job." The second would be the year Cassel came in (2008). An underrated one to me is the 2007 team. Why I say that is because it wasn't scheme-wise, but that year was the best year I ever saw him apply mental pressure on a team to continue to be great. He knew what he had and he knew the obstacle was going to be staying focused and not allow complacency to set in.
Mike: Let's wrap it up with our predictions. If the Patriots can keep the Broncos to a 50 percent or less success rate in the red zone, where Denver ranked No. 1 in the regular season, I think they win the game because of their ball-control power-running approach. It's a tall task, but in a season in which they've surprised at almost every turn, I think they'll find a way. Patriots 27, Broncos 24.
Tedy: The Brady versus Manning matchup has been overplayed this week. To me, it's Manning versus Belichick and Brady versus Fox. Bill has always come up with a winning plan versus Peyton and if the ball's in Tom's hands at the end of the game he will find the answer. See you in New York, Reiss. The Patriots will get their second set of hats and T-shirts. Patriots 37, Broncos 34.
Columnist, ESPN.com
Tedy Bruschi spent his entire 13-year career with the New England Patriots after being drafted in the third round out of Arizona. He played in five Super Bowls, winning three. He retired prior to the 2009 season.
ESPN New England Patriots reporter
Covered Patriots since 1997
Joined ESPN in 2009
Team Marketing A Football Life: Bill Belichick DVD Shop »