Originally Published:
February 7, 2012
1. Ellis' Career Night Not Enough For Warriors
By Ethan Sherwood Strauss
TrueHoop Network
OAKLAND, Calif. -- "Are you an All-Star?" I asked Monta Ellis at the end of his postgame interview. Head slightly hanging from a cavernous, rumpled brown overcoat, Ellis looked up. He had scored a spectacular 48 points on 29 attempts, only to see the Golden State Warriors lose 119-116 to the Oklahoma City Thunder on Tuesday. He had just missed a possible game-winner, after making so many impossible shots. "Who cares? I'm a basketball player. I'ma' go play my heart out every night. That's it."
Interview over.
While you could certainly quibble with Ellis' efficiency, his shot selection, his gambler's interpretation of defense, he does play a dogged brand of ball in an outpost that rarely gets the national shine.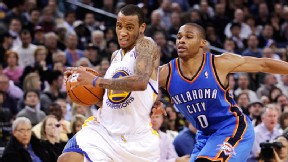 AP Photo/Paul Sakuma
He will likely miss the All-Star Game cut, mostly on account of these aforementioned quibbles. Still, it is difficult not to empathize with Ellis on a night like this, when it all comes together in the name of futility. For a stretch, Ellis owned Oracle Arena like no one had since Baron Davis garnished Andrei Kirilenko's flat top. It was a career high en route to yet another low -- in a long slew of them.
The sense of near-victory and acutely felt defeat came through in Mark Jackson's lamentations about fourth-quarter calls that went against David Lee and Monta Ellis: "These are calls that you cannot get back. But they hurt us. I don't accept 'my bad' from my players all night long, and it's getting old, accepting 'my bad' from these calls."
Stephen Curry, who pitched in an efficient 16 points and 10 assists, echoed the sentiment: "We felt good, just a couple calls didn't go our way."
Despite the final score, despite Kevin Durant's brilliant slaloms to the hoop (33 points, 7 boards, 10 dimes), the Warriors believed that they had this game earned and won.
In the glow of victory, Durant had a different take: "We want to strive toward perfection. We want to be one of those teams that are looked at as a really good team, and tonight we kind of had too many lapses. As a leader, I'm a little upset at myself for letting that happen."
Ethan Sherwood Strauss covers the NBA for the TrueHoop Network. Follow him on Twitter.
2. Around The Association
Ellis
Monta Ellis, Warriors: Ellis totaled a career-high 48 points, but a potential go-ahead 3 was one of the few shots not to fall in the Warriors' 119-116 loss to the Thunder in Tuesday's thrilling nightcap.

Bobcats' frontcourt: Charlotte probably feels pretty comfortable here. The Bobs' starting frontline played anything but big, as the trio of Bismack Biyombo, Boris Diaw and Tyrus Thomas finished a combined 4-for-17 for nine points in a loss to the Celtics.
"I'm most definitely not retiring. The way my career has gone and the body of work I've put in, I definitely want to walk out on both feet. I don't want to go out like this"
-- Chauncey Billups, who will miss the rest of the season after tearing his left Achilles tendon.
8. Bird's Eye View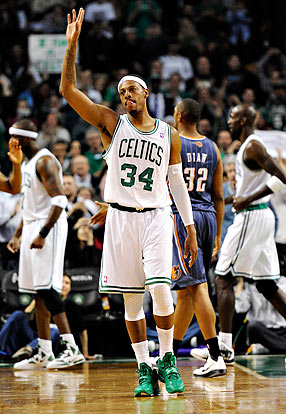 Bob DeChiara/US Presswire
Paul Pierce salutes the Boston crowd after passing Larry Bird for second place on the Celtics' all-time scoring list in a 94-84 win over Charlotte.
By Elias Sports Bureau
Brown
Bobcats reserve Derrick Brown made all 10 of his field-goal attempts against the Celtics on Tuesday night, becoming only the second non-starter in the past five seasons to go 10-for-10 or better from the field in an NBA game. Darren Collison was 10-for-10 off the bench for New Orleans on March 27, 2010 versus Portland.
Brown was also only the second player in the past 30 seasons, starter or sub, to have such a game versus the Celtics. The Knicks' Johnny Newman made each of his 11 field-goal tries at Boston on Jan. 6, 1988.