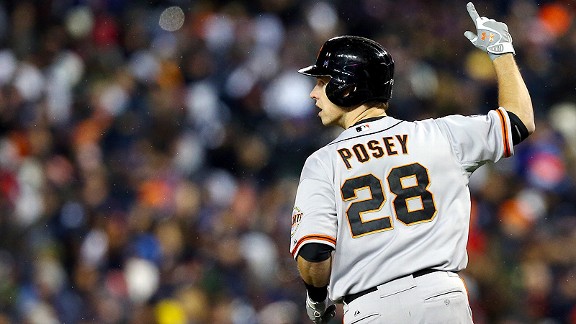 Ezra Shaw/Getty ImagesBuster Posey tells Greeny, Golic and Herm Edwards about winning the NL MVP award and much more.
• 2012 NL MVP Buster Posey talks about the road back from his season-ending injury in 2011, the Giants' run to a World Series title, his future as a catcher and more. Posey

• Broncos WR Eric Decker dishes on being Peyton Manning's teammate, the evolution of Denver's offense, illegal hits and more. Decker

• ESPN NFL analyst Ron Jaworski weighs in on the Jets' QB situation, the injury to Ben Roethlisberger, whether the Saints can reach the playoffs, Peyton Manning and more. Jaworski

• ESPN NFL analyst Herm Edwards comments on whether Tim Tebow should replace Mark Sanchez as the Jets' starting QB, Chip Kelly and more. Edwards

• ESPN football guru Mel Kiper Jr. covers Kansas State-Baylor, Stanford-Oregon, Heisman Trophy candidates, the QB class in the 2013 NFL draft and more. Kiper Jr.

• ESPN MLB Insider Buster Olney dishes on the debate over the AL MVP award, Miami's reaction to the Marlins-Blue Jays trade, R.A. Dickey's future with the Mets and more.
Olney

• ESPN NASCAR analyst Dale Jarrett gives his take on Brad Keselowski's lead over Jimmie Johnson heading into the final race of the Chase for the Sprint Cup and more. Jarrett

• Greeny and Golic share their thoughts on Miguel Cabrera's AL MVP award, whether Bud Selig should stop the trade between the Marlins and the Blue Jays and more. Listen

• Greeny and Golic make their picks for Week 11 of the NFL season in the "Stone Cold Lead Pipe Locks." Locks »
• Greeny and Golic react to the news that Hostess will be closing its business. Golic is devastated. Listen